If you enjoy cruising, you're not alone. According to the Cruise Lines International Association, in 2019 the global cruise industry welcomed nearly 30 million passengers. During that time the industry created jobs for 1.8 million people worldwide and contributed more than $154 billion to the global economy. Now that cruising is back to pre-pandemic operations, the seafaring future looks bright for cruise lines: CLIA is expecting a full recovery by the end of 2023 … and even an increase of 12 percent over 2019 numbers in 2024.
To meet that demand, more than a dozen new ships will set sail on the high seas in the coming months. Cruise lines making a splash with their latest and greatest are Carnival Cruise Line, Celebrity Cruises, Emerald Cruises, Explora Journeys, MSC Cruises, Norwegian Cruise Line, Regent Seven Seas Cruises, Seabourn, Silversea Cruises, Viking and Virgin Voyages.
In addition to different-sized ships that appeal to all types of cruisers, ports of call range in size, too. From those that host some of the world's biggest cruise ships to small towns and even villages that welcome smaller ships, the variety of port sizes is nearly as diverse as ship sizes and itineraries.
Here we take a look at five of the world's largest cruise ports according to Marine Insight, one of the largest online maritime training and educational platforms in the world. Perhaps unsurprisingly, the top three are in Florida.
The title of "Cruise Capital of the World" goes to PortMiami, and for good reason. The port surpassed its previous world record by 22 percent with a total of more than 6.8 million passengers for the 12-month period ending September 2019; it's considered a preferred departure destination for those sailing to the Caribbean, Mexico and destinations beyond. PortMiami is the home port for 12 cruise lines and a port of call for 11 more. The port is easy to get to, too, situated just 10 minutes from Miami International Airport.
The second-largest cruise port in the world sits about 45 minutes east of Orlando International Airport. Thirteen cruise lines make Port Canaveral their home port — MSC Cruises joined the mix for its 2023 sailings — and sail two- to 14-day itineraries to Bermuda, the Bahamas and the Eastern and Southern Caribbean.
Nearly 4 million passengers pass through Port Everglades and its eight cruise terminals annually. Nine cruise lines and their 33 ships sail from the port, which lies just 10 minutes from Florida's Fort Lauderdale-Hollywood International Airport. In addition to a $100 million-plus investment to renovate Cruise Terminal 25 from which Celebrity Cruises' Edge and Apex sail, Cruise Terminal 4 is undergoing renovations and will reopen this year as the Disney Cruise Line terminal.
According to Marine Insight, more than 2 million cruise passengers pass through the Port of Cozumel, or San Miguel de Cozumel, annually. That number far exceeds the number of people who live on the Mexican island, totaling 100,000. In actuality, three terminals welcome ships large and small, and size determines which terminal the ships visit. Cozumel International Airport lies about 15 minutes from the port.
Considered one of the most popular cruise destinations in the world, Nassau Cruise Port in The Bahamas welcomes 3.7 million passengers annually. Eight cruise lines sail from the port, which is undergoing a $300 million redevelopment project. When completed, the port will have a sixth berth to accommodate large cruise ships, a new terminal building, a Junkanoo museum, event and entertainment spaces, local shops and more.
MAKING A SPLASH
The world's largest cruise ship now makes Port Canaveral its home. Royal Caribbean Cruises' Wonder of the Seas, which accommodates nearly 7,000 passengers, will sail from Florida's east coast for at least two years. The cruise line also made waves in Texas last fall when it opened the world's first zero-energy cruise terminal in Galveston. The innovative facility generates 100 percent of its needed energy through on-site solar panels. This innovation led the terminal to be named the first LEED Zero Energy facility in the world. In addition to the terminal, Royal Caribbean also introduced the largest ship sailing from the Longhorn State: Allure of the Seas.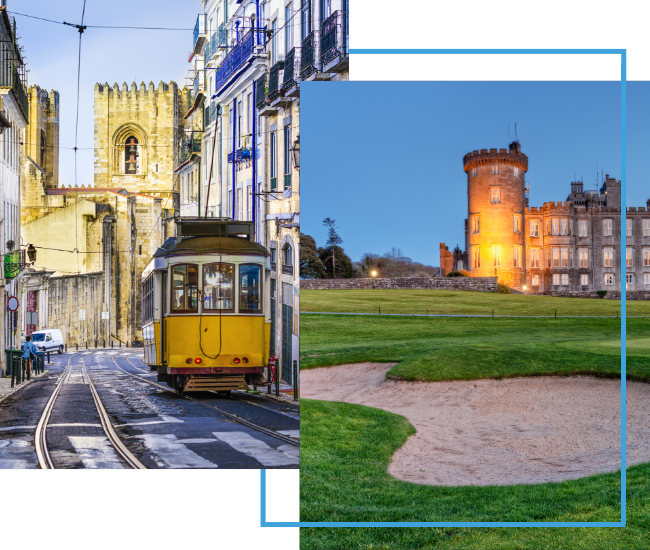 FX Excursions
FX Excursions offers the chance for once-in-a-lifetime experiences in destinations around the world.
Explore Excursions
Pleasant weather, autumn foliage and vibrant flowers are among the many delights awaiting nature lovers at botanical gardens and arboretums across the United States. However, some of these green spaces take on additional color this month and through Halloween when enterprising gardeners, landscape architects, management and other creative minds cast a spell with themed environments running the gamut from spooky to utterly bewitching.
Sponsored Content
Exclusive Sailing with Global Traveler
For travelers who love all things autumn, Crystal Springs Resort, New York City's closest destination resort, features special offers and experiences to meet the demands of everyone's fall bucket list. Located only 80 minutes outside New York City in Sussex County, New Jersey, Crystal Springs Resort offers a quick getaway to enjoy fall foliage. Are any of these new offers or experiences on your bucket list?