Western Europe, from Amsterdam and Paris to Berlin and Barcelona, is familiar ground for many a traveler, but a cruise along the Atlantic coast provides a fresh view of the continent's riches. Even in the peak coastal cruising season from May through October, sightseers seldom overrun the harbors, islands, towns and villages along Europe's west coast, and they offer plenty of breathtaking sights and experiences. Moreover, a west coast cruise can be the most cost-efficient and convenient way to explore several countries in a single, carefree trip. Passengers can move from country to country without changing planes, trains or hotel rooms. In addition to hassle-free transportation, superior room and board, free entertainment and other enrichments, a luxury cruise along the Atlantic coast brings the opportunity to explore an exotic, rarely visited location nearly every day.
Regent Seven Seas' Copenhagen-to-Barcelona cruise down the Atlantic seaboard Sept. 20–Oct. 12 includes unique ports of call: Saint-Malo, France, a port in Brittany near enough for a shore excursion to the fabled cathedral of Mont Saint-Michel; Brest, France, home to Océanopolis, the only ocean discovery center of its kind in Europe; Bordeaux and Le Verdon, in the heart of France's most famous wine region; Bilbao, Spain, a venerable Basque city with its own Guggenheim Museum; La Coruña, Spain, where the light emitted by a 2,000-year-old lighthouse, the Roman Tower of Hercules, is visible 32 miles out to sea; and Porto, Portugal, the world's Port wine capital and site of a UNESCO World Heritage-designated old town. This 22-day cruise also calls on Northern Europe (St. Petersburg; Malmö, Sweden; the English Channel) and the Mediterranean (Lisbon, Seville, the Strait of Gibraltar). Regent Seven Seas is also slated to make a quicker, 10-night sailing from London (Southampton) to Barcelona Oct. 4–14, 2016, with similar stops along the coast. In either case, the vessel, the 700-passenger Seven Seas Voyager, is an exceptionally luxurious one; its fares include round-trip airfare, unlimited shore excursions and drinks and gratuities.
Like Regent Seven Seas, most luxury cruise lines sweep up or down the coast of Western Europe as they reposition their vessels to the far more popular sailing destinations of Northern Europe and the Mediterranean. Atlantic coast cruises are, in fact, something of a rare treat. Windstar Cruises will be sailing its 312-passenger Wind Surf just once next year from Dublin to Lisbon on a Best of Europe's West Coast cruise. The eight-day passage departs Dun Laoghaire on Aug. 31, 2016, and weighs anchor at Ireland's Waterford and England's Isles of Scilly before reaching Brest, France, and two marvelous ports along Spain's Atlantic coast: Vigo, with its medieval El Berbes Quarter, and El Ferrol, once the Spanish Armada's base of operations, now the maritime realm of the twin antique cities of San Felipe and La Palma. The Wind Surf continues down to Portugal, with overnights in Porto and Lisbon.
Another luxury line, Azamara Club Cruises, offers a Western Europe cruise designed for wine enthusiasts, but passengers won't be able to pop the cork on this trip until Sept. 4, 2017. The 12- night Wines of Western Europe cruise on the 686-passenger Azamara Journey leaves from Southampton near London and stops at St. Peter Port, Guernsey, in the Channel Islands before indulging in three nights in Bordeaux and two nights at Saint-Jean-de-Luz, the Basque beach town where France's Sun King, Louis XIV, married Spain's Marie-Thérèse in 1660. The cruise saunters on to Pasajes, Spain, gateway to the wines and tapas of San Sebastian, and from there to Bilbao, Porto and Lisbon, where wines and brandies are at the forefront of each shore excursion.
Celebrity Cruises will sail the same Southampton-to-Lisbon route along the Atlantic coast on a 14-night voyage this fall, embarking Sept. 13. The emphasis, however, is not so much on wine regions as on the warm islands of Western Europe, namely the Azores and especially the Canaries, Western Europe's tropical surprise. Travelers on the 2,852–passenger Celebrity Eclipse will spend their days ashore at Ponta Delgada in the Azores and then at many locations across the Canary Islands, including Tenerife (site of a Baroque church, lush gardens and a park that served as a setting for Star Wars), Las Palmas (where Columbus made his last overnight stop before setting out for the New World), Fuerteventura (a UNESCO Biosphere Reserve of mesmerizing sands and winds) and Lanzarote (home to museums, galleries, a grand castle and beaches, all encapsulated in a primeval volcanic setting).
Some of the most frequent cruises along Europe's western coast are offered, not surprisingly, by English-based lines, which cater to British passengers but take along plenty of North Americans and Europeans. P&O Cruises offers roundtrips out of Southampton from September to January, transporting visitors a week at a time to Spain, Portugal and the Canary Islands. Cunard Line does likewise. A 12-night roundtrip from Southampton on Cunard's 2,620–passenger Queen Mary 2 sailing Dec. 3–15, for example, calls on Madeira and Lisbon in Portugal, Tenerife and Lanzarote in the Canaries and Vigo in Spain. Cunard's 2,014-passenger Queen Victoria makes similar 12-night passages with slightly different ports of call. Such roundtrips from Southampton, with their emphasis on sunny ports in the Canaries, make for a refreshing extension after a European business trip, tour or vacation.
While any cruise along Europe's west coast remains a bit off the beaten course compared with a sailing in the adjacent Mediterranean or the far reaches of Northern Europe, such an in-between voyage gives passengers a wide new perspective on what the continent can offer. Thus, Viking Cruises, the monarch of European river cruising, which this year undertakes its first ocean cruises aboard the all-new 930-passenger Viking Star, is making the Atlantic coast the centerpiece of its inaugural 15-day Passage Through Western Europe itinerary. Featuring five countries and 11 ports, private veranda staterooms and an onboard cultural curriculum, the Viking Star sails from Bergen, Norway, to Barcelona with stopovers in London; Paris (Le Havre); Cherbourg, France; La Coruña, Spain; Porto, Lisbon; and Seville. The Aug. 8 departure should sell out soon, but already three more Viking sweeps along Western Europe's beguiling coastline are scheduled for 2016.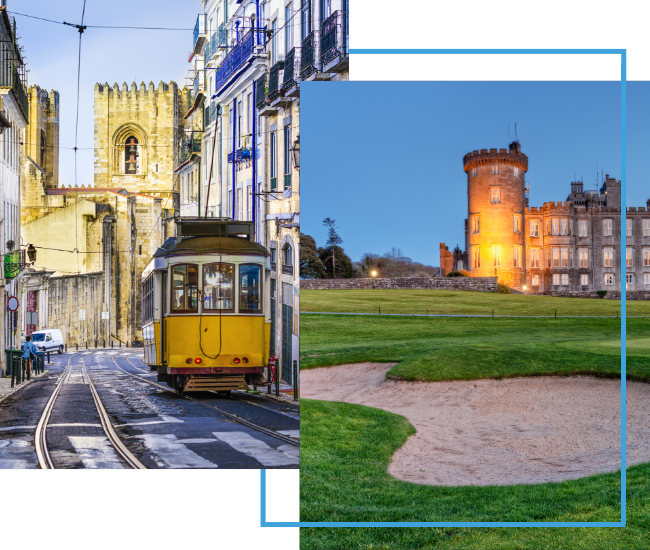 FX Excursions
FX Excursions offers the chance for once-in-a-lifetime experiences in destinations around the world.
Explore Excursions
There's no doubt the northern lights are awe-inspiring and spectacular. Unfortunately, they're also fickle and fleeting, and despite your best-laid plans of checking this item off your bucket list, sometimes Mother Nature's luminescent show just doesn't cooperate. But one cruise line has a new fail-safe in place.
Sponsored Content
Whether it's the people, the craic (fun) or the coasts, travelers always find something to love about the island of Ireland. What fills your heart?
Think you need a degree in sailing to enjoy a yachting holiday? Dream Yacht Worldwide, a leader in yacht charters, wants you to relax and enjoy the journey. Newly expanded to include the British Virgin Islands, Martinique, Tahiti and the Seychelles, the "Easy Crewed" offered by Dream Yacht Worldwide also include charter options in Greece and Croatia.