Cruises offer a deluge of opportunities to overindulge, but cruise lines also increasingly cater to passengers who want to disembark in better shape than when they boarded. This means more than expanding gym space or updating exercise equipment. New programs to maintain (or even improve) health and wellness for mind as well as body are multiplying.
While buffet-and-booze cruises with Broadway-style shows and high-tech amusements are just the ticket for many holiday passengers, others seek more healthful alternatives. The "goop at Sea" cruise epitomizes this trend, as Gwyneth Paltrow brings her own health and wellness brand, goop, to a Barcelona-based Mediterranean voyage. The inaugural cruise — originally scheduled to depart in August but postponed until 2021 due to the coronavirus pandemic — will sail aboard Celebrity Cruises' new 2,910-passenger ship, Celebrity Apex. Talks and workshops will center on the wellness of mind, body and soul. Goop's own staff will tailor healthful meals, and passengers can meet with trailblazing healers.
Likewise, Crystal Cruises' massive 71-day sailing aboard Crystal Symphony from Athens to Auckland, departing Oct. 11, 2021, features a "Mind, Body & Spirit" theme. Experts on tai chi, yoga and Pilates will be on hand; the spa will utilize principles of feng shui to achieve stress reduction and rejuvenation; and passengers can employ weighted vests and walking poles for a "Walk-on-Water" on the 360-degree Promenade Deck. Meanwhile, Silversea Cruises also turned its spa and fitness facilities toward holistic and ancient wellness practices by adding programs in acupuncture and fat-burning nutrition. And Lindblad Expeditions now offers a wellness program on all its National Geographic ships with the philosophy that nature is revitalizing and the wilderness is its tonic. Certified Wellness Specialists lead morning stretching and exercise programs, aerobic shore walks and individualized spa and massage treatments.
Oceania Cruises makes wellness a major focus on its cruises worldwide, both on board and on shore. Its Wellness Discovery Tours feature some 50 shore excursion options, from mineral baths in Rome and reflexology on a rice barge to meditation with a monk and traditional dance therapy. Passengers can also practice beach yoga and tai chi or partake of Chinese traditional medicine remedies. All of Oceania's ships serve gourmet "Vitality Cuisine" in the Grand Dining Room and raw juices and smoothies at Waves Grill. The cruise line also moved beyond lobster and caviar with plant-based health-and-wellness treats including "cheese burgers," "ice cream" and "crème brûlée."
Since 2016 Dr. Andrew Weil, a pioneer in integrative medicine combining physical, social, environmental and spiritual well-being, has presided over the wellness and spa programs of Seabourn Cruises. Each of Seabourn's ships has a Mindful Living Coach certified in yoga and meditation to conduct seminars and classes. The new spa treatments (an Earth Grounding Massage and a Restorative Salt Stone Massage) flow from a similar mind-body perspective. Seabourn's two annual "Voyages to Wellness" cruises, one in Arabia, the other in the South Pacific, are often led by Dr. Weil himself. The cruises offer daily morning meditations, yoga exercises and stretch and Pilates classes, as well as seminars on managing stress, anxiety and chronic pain; heart health; diet and nutrition; hypnosis; aging; vitality; laughter; and sleep.
Nearly every major cruise line now offers its own menu of wellness programs, including New Age spa treatments, alternative health workshops, mind-body exercise sessions, plant-based dining options and special shore excursions. The newest luxury at sea, it seems, is self- improvement rather than self-indulgence.
TO SLEEP, PERCHANCE TO DREAM
Experts concur a good night's sleep is key to health and wellness, especially on a cruise where the setting is new, the pace of life is unpredictable and the bed is unfamiliar, perhaps even uncomfortable.
To ensure sufficient shut-eye at sea, Regent Seven Seas Cruises goes the extra league. Exclusively for guests of the Regal Suite on the Seven Seas Splendor, the new "Restorative Sleep Ritual" should eliminate the need to count sheep (or dolphins). This wellness program begins with the Serene Spa & Wellness "Around the World Massage," fusing a Swedish rubdown with treatments employ- ing bamboo stalks, heated volcanic rocks, coconut poultices, Moroccan argan oils and mind-soothing scents from India and Egypt.
The centerpiece of the ritual is a milk bath. Described as "transcendent" and "nourishing," the milk bath is steeped in vitamins, amino acids and herbs designed to soften and rejuvenate the skin.
All that remains is a bed every bit as comforting as the spa treatment and milk bath, and Regent Seven Seas' answer is a $200,000 Vividus bed, handcrafted in Sweden by certified bed artisans over a nine-week period, its many luxuriant layers handstitched together to create a zero-gravity, floating platform completely detached from all earthly cares.
With its "Restorative Sleep Ritual," Regent Seven Seas believes it can deliver the "most natural, deeply relaxing sleep in the world." Or, at least, at sea.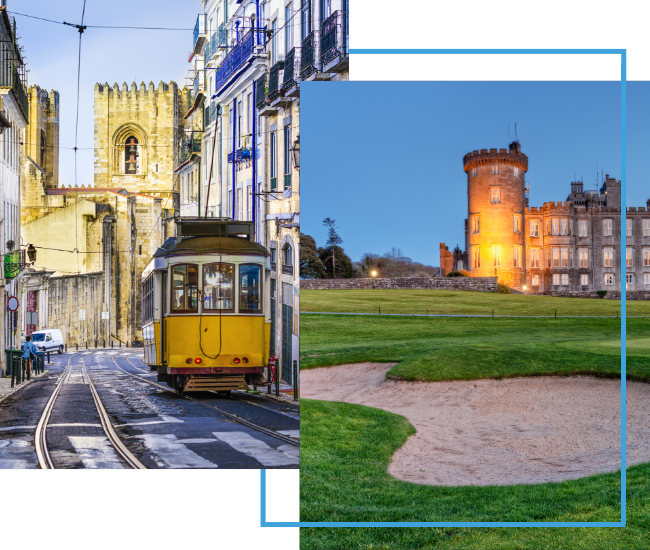 FX Excursions
FX Excursions offers the chance for once-in-a-lifetime experiences in destinations around the world.
Explore Excursions
There's no doubt the northern lights are awe-inspiring and spectacular. Unfortunately, they're also fickle and fleeting, and despite your best-laid plans of checking this item off your bucket list, sometimes Mother Nature's luminescent show just doesn't cooperate. But one cruise line has a new fail-safe in place.
Sponsored Content
Exclusive Sailing with Global Traveler
Think you need a degree in sailing to enjoy a yachting holiday? Dream Yacht Worldwide, a leader in yacht charters, wants you to relax and enjoy the journey. Newly expanded to include the British Virgin Islands, Martinique, Tahiti and the Seychelles, the "Easy Crewed" offered by Dream Yacht Worldwide also include charter options in Greece and Croatia.