One of the prime pleasures of a cruise is a shore excursion at an exotic port of call, but passengers can sometimes make a lesser-known expedition without ever leaving the ship: an inspection tour of all that lies below the passenger decks. If offered at all, a behind-the-scenes jaunt is limited to just a handful of lucky voyagers on a day at sea, and it throws open plenty of forbidden hatches, providing a peek into the inner workings of the ship, from galley to laundry to engine room.
We took our first tour of a cruise ship's off-limits lower decks aboard Holland America Line's ms Rotterdam. This 1,404-passenger vessel provided plenty of forbidden corridors to explore, starting with its considerable 24-hour-a-day galley — block after block of kitchen areas lined with stainless steel counters, shelves, grills and ovens. Greeting our below-decks tour group, Executive Chef Thomas Schumann likened this culinary enclave's "well-organized chaos" to that of a beehive, where some 69 chefs and 21 "blue boys" (assistant staff) buzz about in constant flight. Altogether the kitchen crew draw down 10 pallets of food from the stores daily, including 100 pounds of butter and more than 150 pounds of sugar. Chef Schumann confided the kitchens dare not ever run out of two things: coffee (brewed with pillow cases as filters) and rice (some 300 pounds a day, fueling the largely Indonesian and Filipino crew). "Without coffee, we can't stay awake," the chef explained; without rice, "the crew will sit down and work no more."
The tour moved from the kitchen to the trash room — the ship's sewage and recycling center — where an environmental officer briefed us on how the ship responsibly handled 40 tons of sewage and four tons of ground-up food daily. Each passenger produced nine pounds of solid waste a day, and below deck is where it was all sorted out.
From there, we moved past a phalanx of storage rooms holding provisions for a two-week cruise, upwards of 200 pallets of fresh produce, dairy products, flour, pasta, rice, ales, fine wines and French Champagnes by the caseload. We turned back at the engine control room and retraced our steps through the maze to the laundry center, its rooms and halls piled high with stateroom towels and sheets, wide folding machines befitting a sheet-metal factory and washing machines the size of bank vaults.
Three below-deck areas surprised us on the ms Rotterdam. First, the ship's own compact but fully equipped wood shop, staffed by three carpenters and two upholsterers, who were working together on rebuilding a stateroom bed when we dropped in. Second, a tailor shop, where three tailors not only repaired and altered all the ship's uniforms but created uniforms from scratch. Third, the morgue, a room with the capacity to store at cold temperature up to three bodies. Cruise lines do not like to advertise this fact, but they are required by law to maintain facilities for coffin storage, one of cruising's darker secrets.
Holland America's slightly larger vessels, including the ms Eurodam and ms Westerdam, offer similar inside-the-ship walkabouts. Their "Behind the Scenes Tour" ($150 per person) provides plenty of facts, figures and photo ops while also loading tour participants with complimentary Champagne, hors d'oeuvres and souvenirs.
Many cruise lines do not offer behind-the-scenes tours, citing security and insurance liability concerns, and some ships offer back-of-the-vessel tours as perks for their most upscale guests only. Holland America is not the only line, however, that regularly opens its inner workings to everyone. Princess Cruises operates its "Ultimate Ship Tour" ($150 per person) on sea days once or twice per sailing. The three-hour excursion begins with a backstage theater tour, with a chance to meet and quiz cast members and production staff. A galley inspection follows, during which the executive chef presents passengers with French Champagne, canapés and an official chef 's jacket. After a swing through the engine control room and the incinerator complex, passengers enter the print shop. The ship's printer keeps personalized stationery on hand for each tour participant. Princess also includes a look at the digital photo lab, the medical center and the non-stop laundry, which washes and dries 20,000 towels a day. Tour guests receive a souvenir bathrobe, then scurry up to the bridge for a final toast and a signed photo with the captain.
Not to be outdone, Carnival Cruise Lines conducts a "Behind the Fun Tour" ($95 per person) that covers the 12,000-meals-a-day galley, the laundry and the bridge, adding stops at the crew's dining hall, training center and gym. Carnival's below-deck excursion, limited to 16 participants, runs three and a half hours. Gift baseball caps and a picture with the captain top off the tour.
Cunard Line's "Behind the Scenes Tour" ($120) begins in The Royal Court Theatre's costume shop, which stores 3,000 costumes, then takes passengers down through the galley; the butcher shop; food stores; and the mooring deck, where crew deploy anchors, winches and windlasses. The main crew passageway — known as Burma Road — runs the length of the ship. Cunard limits the behind-the-scenes tours on Queen Mary 2, Queen Elizabeth and Queen Victoria to groups of 16; offered once per voyage, tours last three and a half hours.
Celebrity Cruises' "Inside Access" tour ($150) runs the galley-to-bridge gamut, too, with calls at the crew's gym, offices and mess hall and a special wine-paired lunch in the dining room. Royal Caribbean International's "All Access Tour" ($150) also throws open the hatches on what lies below and finishes on a high note among officers on the bridge. Norwegian Cruise Line's standard "Behind the Scenes" tour covers similar ground, while their extended seven-hour tour ($150) adds a saké tasting, a sushi-making demo, pre-dinner cocktails and dinner at Cagney's Steakhouse.
Each of these behind-the-scenes tours gives passengers a rare opportunity to stroll the hidden decks where the crew eats and sleeps, the cooks tend the lobster and the laundry staff wash and fold tons of towels and linens — a lower deck hive that keeps the upper decks shipshape, the cruise on an even keel and the passengers extremely well-fed.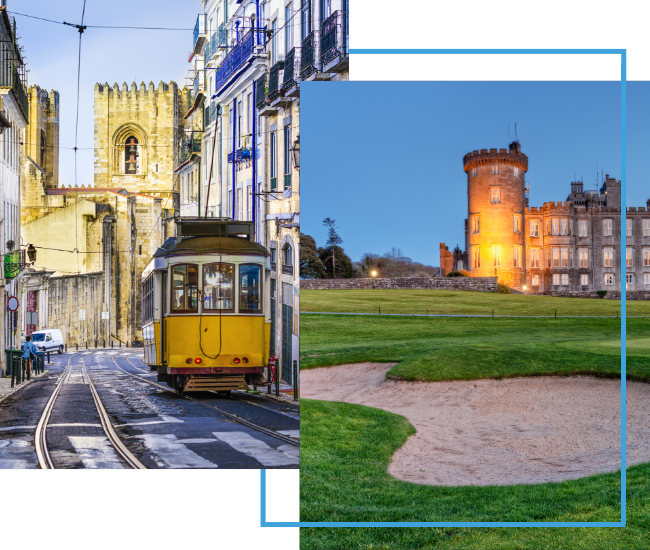 FX Excursions
FX Excursions offers the chance for once-in-a-lifetime experiences in destinations around the world.
Explore Excursions
Did the new film Oppenheimer rouse your interest in the nefarious world of international espionage? You can go straight to the real-life setting for covert actions this November (Nov. 10–12), when La Fonda on the Plaza in Santa Fe hosts a specially themed "Spies, Lies and Nukes" weekend. The hotel actually served as the retreat location for Manhattan Project scientists, who stayed at La Fonda on the Plaza to take a break from the stress of their work. During the weekend, the property's La Fiesta Lounge will make a tasty nod to those days by serving up a special Atomic Martini.
Sponsored Content
The Global Business Travel Association (GBTA) believes business travel is a fundamental force for good and brings the industry together to connect, innovate and set new standards. With members from across the globe, GBTA engages the many voices of business travel to build a collective future, providing a platform for buyers and suppliers to come together, connect with peers, grow their network and shape the future of the industry.
Ever want handcrafted martinis and freshly shucked oysters delivered straight to your room? The Read House's New Martinis & Pearls service has you covered. Shining in 1920s-themed decor, the historic hotel in the heart of Chattanooga offers a true Gatsby-esque experience, now further elevated with this upscale amenity. Guests can now indulge in their perfectly chilled martini, made to order, and "pearls" (oysters) in the comfort of their room.