For 20 consecutive months, the world's seas and waterways were nearly devoid of travelers, furloughed by viral winds, and the ships of major cruise lines remained anchored in a ghostly quarantine stretching around the globe. Only this summer has the maritime lockdown begun to loosen, ports reopen and regulations relax to the point where operators can set sail on a course toward normalcy. The restart has been rocky, however, and it would require a boatload of crystal balls to predict precisely when — and even if — cruise lines can resume full operations. Passengers are therefore advised to scrutinize a cruise line's refund policies before taking the plunge.
Nevertheless, with a robust demand to return to sea, the pent-up desire to explore and vacation at sea unleashed a typhoon of bookings. If all holds tight, 2022 could be the most spectacular cruising year on record.
To match this rising tide of expectations, cruise lines are launching a host of new ships and calling on a variety of fresh destinations in 2022. The calendar of next year's sailings is rife with bucket-list voyages and other bounty, reminding passengers of what they've been missing.
For example, 2022 coincides with Regent Seven Seas Cruises' 30th anniversary. All five of its all-inclusive ships will be back on the waters, beginning with a 16-night Miami-to-San Diego journey via the Panama Canal, departing Jan. 3, 2022. This is just the first of 17 brand-new cruises Regent has slated to welcome travelers back to cruising.
Next year also coincides with an important Holland America Line celebration, the 150th anniversary of the maiden voyage of its first vessel, Rotterdam, in 1872. Holland America's newest Rotterdam ship (the seventh vessel to bear the name), is scheduled to recreate that historic trans-Atlantic voyage, departing the Netherlands (from Rotterdam, of course) Oct. 15, 2022, for New York City, a 12-day cruise that's nine days shorter than the original crossing.
Hurtigruten Expeditions celebrates its return to cruising in 2022 going pole-to-pole on a single voyage — a 93-day super-cruise aboard the world's first battery-hybrid-powered ship, the 530-guest MS Roald Amundsen. Departing from Vancouver, Canada, the route includes stopovers in the Aleutian Islands, Greenland, Newfoundland, Labrador, Boston, Miami, the Caribbean, Belize and the Panama Canal on the way to Antarctica.
Seabourn will launch its newest ship, Seabourn Venture, in 2022, a purpose-built expedition vessel with 132 "oceanfront" suites, furnished private verandas, 24 Zodiacs, eight dining options and team leaders on hand. Notable 12-day itineraries in April include an "Inaugural Wild & Ancient British Isles" London-to-Edinburgh cruise and a "Scottish & Norse Legends Expedition" from Edinburgh to Tromsø. The two voyages can be seamlessly combined and then extended further with an 11-day Arctic expedition.
The opposite end of the Earth is the setting for what Atlas Ocean Voyages calls "the most adventurous destination wedding on Earth." In 2022 this line will offer complimentary marriage ceremonies and vow renewals on a Valentine's Day "Happy Ever Atlas" cruise to Antarctica. The cruise begins with free airfare from Orlando, Florida, to Ushuaia, Argentina, where the 196-passenger World Navigator departs for the south polar region. The wedding ceremony takes place on the ship's bridge or on land, with seals and penguins standing in as witnesses. (Among the booty for newlyweds: custom-made penguin jackets.) The new year will also mark the launch of Atlas's second ship, World Traveler, which begins with all-inclusive, high-end voyages in the Mediterranean, Adriatic, Ionian and Aegean seas.
NEW SHIP CALENDAR
Here's a sampling of new ships slated to debut in 2022. Many were delayed by the pandemic, and accompanying supply-chain issues and other factors continue to make launch dates uncertain.
JANUARY sees the introduction of the 378-passenger Viking Octantis, an expedition ship, to be followed by its twin, Viking Polaris, in August. Both carry submarines and host working research scientists.
MARCH welcomes the 3,660-guest Discovery Princess with the "largest balconies at sea," and Royal Caribbean International's 6,988-guest Wonder of the Seas, sailing the Caribbean and Europe.
APRIL creates a splash with the 3,260-passenger Celebrity Beyond, the third ship in Celebrity's Edge Series.
MAY finds the 930-passenger Viking Mars orbiting northern Europe, while the 702-guest Azamara Onward (earlier the Pacific Princess) makes its debut.
JUNE belongs to the 4,000-passenger Disney Wish, with the AquaMouse water attraction clinging to its upper decks.
AUGUST offers a month of debuts, from Norwegian Cruise Line's 3,215- guest Norwegian Prima to Virgin Voyages' 2,770-guest Resilient Lady, as well as the 386-passenger Viking Mississippi and American Cruise Line's 175-passenger American Symphony, both plying the Mississippi River.
NOVEMBER witnesses the 6,500- guest Carnival Celebration, with the BOLT roller coaster on board.
DECEMBER presents three new super- ships: P&O Cruises' 5,206–6,264-guest Arvia, powered by LNG; the 6,850- guest MSC World Europa, featuring advanced wastewater systems; and the 930-passenger Viking Neptune, embarking on a world cruise from Ft. Lauderdale.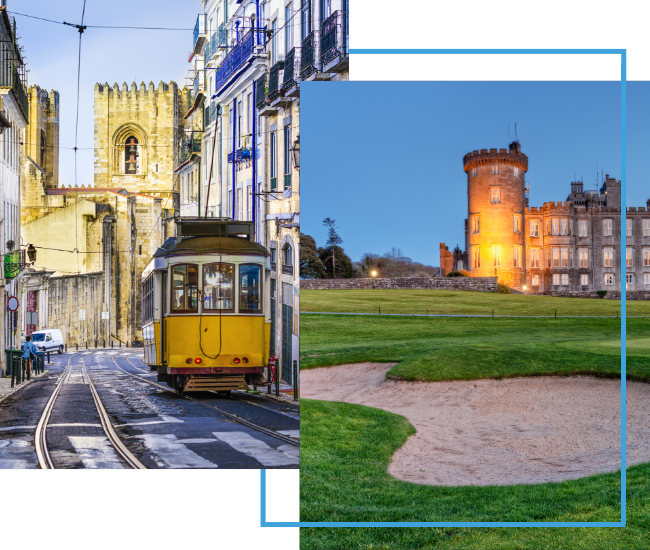 FX Excursions
FX Excursions offers the chance for once-in-a-lifetime experiences in destinations around the world.
Explore Excursions
Think of Tokyo and your mind may wander to the neon signs and bustling crowds of Shibuya and Shinjuku, or the tranquility of the Meiji Jingu shrine, but this huge city offers much to those who explore away from the main tourist areas.
Sponsored Content
Are you looking to enhance your business trip with a little leisure? Look no further than Portugal, a country renowned for its captivating blend of history, culture and natural beauty. And with TAP Air Portugal, you can effortlessly transform your business trip into an unforgettable bleisure adventure. Discover why Portugal and TAP Air Portugal are the perfect combination for an enriching and rejuvenating experience.
Automotive museums of all sizes will always capture the imaginations of car and racing aficionados. However, the best deliver a lot of substance beyond the machine itself. Some place an emphasis on science and technology or history, while others display iconic cars from film and television. Museums established and operated by the world's top automakers (think Mercedes, BMW, Audi and Porsche in Germany, and Toyota, Honda and Nissan in Japan) have built-in followings.