I hadn't even made it to my first cup of coffee when I got an early phone call from my sister, who lives two time zones away. "OMG, Kristy, Patsy Cline came on twice while I was driving the kids to school today," she laughed. "You know what that means, right?" We both gasped and then instantly began singing the lyrics to "La Bamba," an inside joke we'd shared since our family's Alaskan cruise decades ago when we, unintentionally, won the ship's karaoke contest among a sea of Patsy Cline tributes.
Our family of four often traveled together thanks to my father's job with the airlines, but few vacations cemented our relationship more than our week spent on board Norwegian Cruise Line while crossing the icy waters of Alaska. Known as "The Last Frontier," Alaska is home to more than half of the world's glaciers, the tallest mountain in North America and the largest bears on the planet. In fact, Alaska's expansive wilderness combined with its sparse population (around 730,000) means there is one bear for every 21 people living in Alaska. Not only the largest state in America — larger than Texas, California and Montana combined — but Alaska also boasts the longest coastline in the country. A cruise up and down the length of the state allows visitors the chance to see it in a way that otherwise proves impossible.
When we set off on our Alaskan adventure, we did so with my grandma, my aunt and uncle, and my two young cousins. We weren't the only three- generational party, though, as many passengers traveled with family and friends in larger numbers. Alaskan cruises are geared for multigenerational travel, and many cruise lines operating in the state offer cabins able to accommodate three, four or even five passengers. Norwegian Cruise Line even offers staterooms with adjoining doors, how our family was able to enjoy our private suite while staying connected to the rest of our group.
The challenge of multigenerational travel lies in trying to entertain each member of the party, but this is where Alaska cruises excel, providing options both on and off the ship for passengers of all ages. Besides the karaoke competitions — which my sister and I entered because all the other singers picked Patsy Cline songs, and we wanted to provide musical diversity, winning with our crowd-participated version of "La Bamba" — our cruise offered elegant seafood dinners, chances to hike, spaces for luxuriating and so many opportunities to spot wildlife both on land and at sea.
Above all, Alaska cruises have something other destinations and voyages simply can't compete against … Alaska itself. Passengers can spot wildlife in their natural habitats, glide past ancient glaciers, hike to historic peaks, dance beneath the northern lights, support family-run businesses in remote port towns or just sit back and take in the luxuries on board. The vast landscape of Alaska attracts passengers from all generations, an appeal which, in turn, creates a cruising culture in Alaska that boasts some of the most interesting offerings for guests to enjoy both on and off the ship. On any given day guests can opt for adventure or leisure, tours by seaplane or tours by wheelchair-accessible boat, and even choose from luxury or budget options.
One of the hidden beauties of an Alaskan cruise: The entire vacation doesn't need to be fully booked before embarkation. There is room for spur-of-the-moment decisions, flexibility for last-minute excursions, and always the chance to decide to stay on board and find a special spot for watching wildlife while the rest of the guests leave for more adventurous pursuits. Many of Alaska's port towns rely heavily on cruise tourism; therefore, local businesses make it easy for passengers to get bespoke experiences while supporting the local economy. Our family rented a car from a local business in Skagway to drive alongside the scenic White Pass railway and explore the Klondike Gold Fields at our own pace, but then we opted instead to book a shore excursion to Mendenhall Glacier since it guaranteed a whale sighting.
Local Alaskan businesses get excited to see ships enter port, eager to help visitors fall in love with the landscape they call home. In Skagway locals have embraced the cruising way of life. "Most locals take pride in providing world-class hospitality and services to our guests," explained Jaime Bricker, tourism director, Explore Skagway, "and most want to share genuine information and recommendations for the authentic Alaskan experience."
Most cruises start in either Seattle (where most of the big ships depart) or Vancouver (home to many of the mid-sized cruise lines), while some longer cruises travel as far as San Francisco (like Princess Cruises' 10-night sailing). The season begins in May for Alaskan cruises and lasts until the end of September, when the days begin to get shorter and colder.
Dozens of cruise lines enter Alaskan waters, each with its own personality and specialty. The bigger ships (such as those of Holland America Line, Princess Cruises, Norwegian Cruise Line, Disney Cruise Line, Royal Caribbean, Carnival) provide the most options — including budget-friendly — for multigenerational parties, in which ships feature waterparks or raceways on top and casinos and spas below deck. Lines with smaller ships (such as Oceania, Regent Seven Seas, Seabourn, Silversea Cruises, Windstar Cruises) offer exclusive opportunities for remote wilderness experiences and bespoke itineraries. For instance, guests on board Seabourn have unlimited access to an expedition team of marine biologists, photographers and naturalist experts but also have the chance to experience a 3-Michelin-starred chef 's menu at The Grill by Thomas Keller. Smaller ships aren't bound by the major ports and often tie up to inner piers in lesser-known fishing villages.
Some lines offer adults-only cruises (Viking Ocean Cruises) and expedition cruises (Alaskan Dream Cruises), but ultimately every passenger seeks the same thing regardless of vessel: again, Alaska. The sights are breathtaking, where porpoises chase the wake of the ships as icy glaciers loom in the distance. My family spent many mornings watching wildlife from our private balcony with steaming mugs of tea, imagining as we passed by dense forests and rocky outcroppings all the life happening all around and below us.
Passengers on Alaskan cruises can choose their level of activity, and it's not uncommon to eavesdrop on stories in the dining rooms about exciting bird sightings or thrilling snorkeling trips in the glacial waters of Ketchikan. The adventures don't stop once the ship enters its final port, as many passengers opt to add on land tours either before or after their cruise. Cruise tours prove great ways to experience parts of Alaska not easily accessible from the shore, like Mount Denali, Denali National Park and Fairbanks.
Memories are often forged in moments, and the moments passengers experience while cruising through the waters of Alaska overflow with an unforgettable amount of excitement, wonder and beauty. Our family did not return home the same; and even if it's something as silly as hearing someone singing the song "Crazy," we're able to relive those moments together instantly, despite the time zones that now stand between us.
LODGING
The Edgewater, A Noble House Hotel
This Seattle hotel's location on Pier 67 puts guests next to the cruise terminal, but its rooms stay cemented in history after The Beatles fished from their suite in 1964.
2411 Alaskan Way, Seattle, Washington
$$
The Ritz-Carlton, Half Moon Bay
For San Francisco sailings, this destination hotel is worth the short drive south from the pier. Personal firepits and a nightly bagpiper serenade enhance the sunsets over the bay.
1 Miramontes Point Road, Half Moon Bay, California
$$$$$
Silverbow Inn and Suites
Starting or ending your voyage in Juneau's favorite downtown boutique inn often includes rooftop hot tub sessions overlooking three different mountains.
120 Second St., Juneau, Alaska
$$$
DINING
The Cookery
This restaurant in downtown Seward serves the freshest seafood on the Kenai Peninsula. Local beers and global wines round out the farm/ sea-to-table experience.
209 Fifth Ave., Seward, Alaska
$$$
Skagway Brewing Company
Local brews and freshly smoked salmon are always on tap in this recently renovated brewhouse. Expect hearty lunches and an incredible burger menu which includes bison, salmon, chicken and more.
204 Fourth Ave., Skagway, Alaska
$$$
Sweet Mermaids
Stop in for a hearty lumberjack breakfast with Raven's Brew coffee, or just take a to-go "Kraken Pack" (soup and sandwich) while in port at Ketchikan.
340 Front St., Ketchikan, Alaska
$$
INFO TO GO
While some cruise lines (like Silversea) offer door-to-door inclusive fares that incorporate transfers, not all cruisers are so lucky. Thankfully, accessing cruise ports proves easy, and most cruise companies provide some sort of transportation from partner hotels. Most Alaska cruises depart from Seattle, but some depart directly from Juneau while others begin farther south in San Francisco. It's a matter of what cruisers want to see and how long they're willing to be on board; they'll likely find an option perfectly suited for their preferences. Passengers flying in to Seattle arrive at Seattle-Tacoma International Airport, a 30- to 45-minute drive to the port. San Francisco cruises depart roughly 30 minutes from San Francisco International Airport, while Juneau cruises embark just 8 miles from Juneau International Airport. You can often hire Ubers and metered taxis if the cruise line does not provide transfers.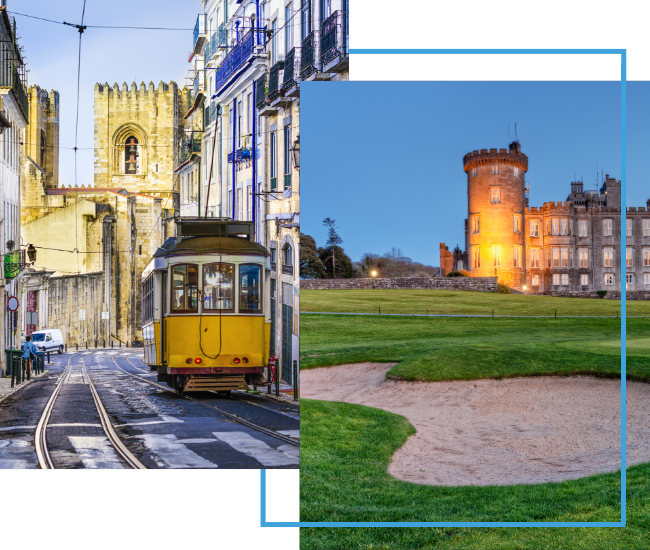 FX Excursions
FX Excursions offers the chance for once-in-a-lifetime experiences in destinations around the world.
Explore Excursions
More than 22 million visitors pour into Bangkok each year, adding to the roughly 11 million residents of the Thai capital famous for its bustling streets. Packed with food carts, markets and cultural spectacles, life in Bangkok is unusually defined by its vibrant street scene, both day and night. That means you don't necessarily need a solid plan when heading out on any given evening.
Sponsored Content
United Airlines is in the midst of a major initiative to modernize its fleet over the next several years. After first announcing the plan in 2021, planes fitted with United's signature interior are finally beginning to appear across the airline's narrowbody fleet of Boeing and Airbus planes. United flyers are sure to notice these enhancements from the moment they step on board: Each new or updated plane sports remodeled seats, seatback entertainment screens for everyone, Bluetooth connectivity and more, all adding up to a better experience on every journey.
As first-time restaurateurs, but with plenty of hospitality-related experience, Ria and Kevol (Kev) Graham were not entirely comfortable opening their first restaurant in the Brooklyn neighborhood of Williamsburg, where several upscale restaurants and 5-star hotel dining is just a block away. And to make matters worse, they opened in July 2020, when New York City was in the middle of the COVID-19 pandemic.