When Francesco I set sail from Naples in 1831, she was weighted down with aristocrats and card-carrying nobility garlanded in jewels and finery, each of whom responded to the siren call of a seductive advertising promotion. Embarking upon a floating version of the era's popular European Grand Tour, those who crossed the ship's gangplank were technically the first passengers on record to sail as leisure guests aboard a vessel in the Mediterranean.
It's unlikely anyone aboard Francesco I had an inkling the waters beneath the ship's hull would someday be ruled by a booming cruise industry. Sailing under the colorful flag of the Kingdom of the Two Sicilies, the long-ago expedition delivered its glittering passenger-guests to the former Constantinople and ports in Italy, Malta and Greece. Nearly 200 years since that initial passenger cruise, these same Mediterranean ports and their historical sites remain perennial favorites with cruise goers.
Because of the popularity of the region to all travelers, many cruise enthusiasts discovered the pleasures of traveling during the shoulder season between busy summer and the hectic winter holidays. Often dubbed as "quiet" or "off-season" excursions, lines including Viking, Holland America Line, Hapag-Lloyd Cruises, Crystal Cruises, Cunard Line, Seabourn Cruise Line, Silversea Cruises and Regent Seven Seas Cruises continue to provide luxurious accommodations and offer stellar entertainment and dining throughout autumn and into winter.
"Don't forget to pack your appetite," said Michael Smith, senior vice president, Guest Experience & Product Development, Holland America Line. "The Mediterranean features the freshest fish, and guests can indulge in regional cuisine on board with local flavors on the shipboard menus. Ashore, guests can explore tastes of the Med on a culinary shore excursion. Be sure to book your tours early so you get your top choices. Many regions also have fall festivals, so do some research to see if there are some local foods you can only taste in the fall."
The deep body of water lapping the shores of countries in the Mediterranean region has been called many things. Known by early Romans as Mare Magnum ("great sea"), it was identified as the Roman Sea by ancient Iranians, and the Syrian Sea by the Carthaginians. These days, cruise enthusiasts know it as a sea of intriguing ports that provide gateways to fascinating historical towns, rich cultures and fabulous cultural experiences.
Shore excursions to take in walled towns, sun-dappled cobblestone streets, ancient fortresses and towering castles are always a huge enticement. During the latter part of the year, cooler weather and fewer crowds make exploration on foot particularly pleasurable. Popular port cities may look especially alluring when there's no line of tourists queueing at the entrance to a museum in Alexandria, scrambling to board a tram in Lisbon, or vying for a table at a beguiling streetside café in Athens.
In autumn, the heat in Jaffa will have abated, enticing you to linger a little longer at a shop on a rambling side street, and the daytrip to marvel at Pompeii's ruins will likely yield a host of memorable photos that don't require jockeying for a shot devoid of hosts of nameless strangers.
In the Mediterranean, dreamy interludes are a given. Who knows? During the slower, more tranquil fall cruise season, such grand perks may even leave you feeling just a bit like the privileged passengers aboard Francesco I as they stepped from the ship into the streets of an ancient port of call.
WARDROBE ASSISTANCE
Packing for the busy summer season usually means sandals, cool linens and light-colored fabrics. In the fall, however, chilly breezes are likely to sweep across the immaculate decks of even the most elegant ship.
"For fall Mediterranean cruises, packing a varied wardrobe is key, as the days can start cool and get warm — much like summer in Northern Europe and Alaska," advised Holland America Line's Smith. "Forgo the shorts and tanks that work for a summer Med cruise and pack hooded layers and light sweaters that you can remove quickly when the sun comes out."
Smith adds that fall in the region also brings more rain, so having a light rain jacket on hand is a good idea. Occasional showers aside, there are definite upsides to autumn's changing weather.
"The sun won't be quite as fierce, which makes walking the hills of Santoríni or the winding streets of Rome a much more enjoyable experience," Smith pointed out. "And, of course, if you're sailing with us on Holland America Line, don't forget to pack some orange clothing or accessories for the Orange Party — held on every cruise to celebrate the Line's Dutch heritage."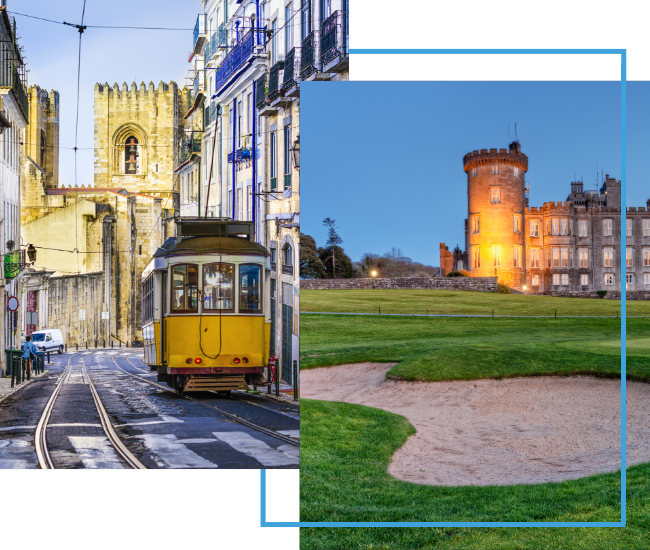 FX Excursions
FX Excursions offers the chance for once-in-a-lifetime experiences in destinations around the world.
Explore Excursions
The Perelman Performing Arts Center (PAC NYC), the cultural cornerstone and final public element of the World Trade Center site, opened this September.  The new performing arts center in Lower Manhattan provides a dynamic home for the arts, serving audiences and creators through flexible venues enabling the facility to embrace wide-ranging artistic programs.
Sponsored Content
Experience the life-changing destination of Greece by exploring its island gems in the Ionian Sea. Scattered off the western coastline of Central Greece, to the south of Peloponnese, the Ionian Islands are an island group comprising large and small islands.
Whether you call secondhand fashion treasure troves "thrift stores," "fripperies," "charity shops," "vintage boutiques" or something else, shifting the paradigm from "old clothes" to "new finds," you may find the best, most conversation-starting souvenirs inside these shops and neighborhoods located in the world's most fashionable cities and a few unexpected places.