A dream cruise is synonymous with relaxation and rejuvenation, experiences enhanced not only by sailing without a care across vast, tranquil seas but also by a trip now and then to the onboard spa. What began as a few massage tables folded into a windowless annex on many a large cruise vessel blossomed into a state-of-the-art, full-service spa facility. Cruise ships steadily expanded their range of hands-on treatments to the point that, for some passengers, a cruise is less about calling on exotic ports and more about immersing oneself in an extended spa experience.
Chances are the operator of that spa at sea is Steiner Leisure, which began as a family-run salon in 1920s London and established its first seagoing services on the Cunard Line in the 1940s. Today Steiner runs the spa and salon business on more than 150 ships, including virtually all the large and premium cruise lines, from Carnival and Crystal to Seabourn and Silversea. Steiner's nautical staff numbers well over 2,500 — each week providing 30,000 massages; 15,000 facials; and 6,000 manicures to keep passengers shipshape. The main competition to Steiner is Canyon Ranch SpaClub, which owns and operates the spas on Regent Seven Seas Cruises, Oceania Cruises, Cunard's Queen Mary 2 and, debuting this month, on Celebrity Cruises.
While various massages — from Swedish to Thai, with plenty of exotic variations in between — are by far the most popular treatments at sea, followed by cosmetic procedures such as facials, medical spa treatments are on the rise. The leading medi-spa choices are ionithermie cellulite reduction, which employs an algae wrap and electrical stimuli to detoxify and lose inches; dermal filler injections to restore youth to skin; whitening treatments for tooth enamel; and Botox, the popular treatment that promises to smooth the waves. Such anti-aging wonders are a regular feature of many spas at sea, administered by medical professionals.
Other new trends include a boom in side-by-side massages for couples, the proliferation of private spa villas for rent by the hour, and the introduction of both staterooms and menus that are custom-tailored for spa-struck passengers.
Both of Azamara Club Cruises' ships, the Journey and the Quest, responded to these trends with spas that offer a wide range of traditional and exotic treatments, from aroma stone therapy and lime and ginger salt glows to tri-enzyme resurfacing facials. Azamara's Journey for Two program for couples combines tooth whitening, microdermabrasion and Swedish massage. There's also an independently run acupuncture clinic aboard Azamara, and passengers can opt for massages in their staterooms.
Norwegian Cruise Lines augmented its Mandara Spa offerings with a spa-user's menu devised by Cooking Light Magazine. Health-oriented passengers will find low-calorie items among dining options as well as low-sodium, low-cholesterol and vegetarian entrées. Desserts come in sugar-free and fat-free versions, all the better to keep passengers trim at sea.
Few ships offer quite as complete a spa package as Costa Cruises' Luminosa, Pacifica and Serena, where the two-story Samsara Spa leans toward Asia in its offerings and décor. Ayurvedic treatments using oils and herbs are a hallmark spa treatment; a Japanese tea ritual concludes each session; and Ristorante Samsara serves healthful dishes created by Ettore Bocchia, the founder of molecular cuisine.
Costa was the first major cruise line to make a big splash with its "destination spa" facilities. Spa enthusiasts could book spa-oriented staterooms for the entire voyage, eat three meals a day in spa restaurants, enjoy in-cabin massages, try out a medi-spa procedure, secure priority appointments and barely have time to enjoy a port of call.
Other cruise lines followed in Costa's wake, notably Celebrity Cruises with its AquaSpa and AquaClass spa cabins. As Celebrity transforms its current spas to new Canyon Ranch SpaClubs offering spa, beauty salon, wellness and fitness amenities, AquaClass spa-inspired staterooms continue to provide unlimited access to the Persian Garden and priority seating in the exclusive and chic restaurant Blu, so passengers can eat, sleep and dream while enwrapped in a spa-at-sea nirvana. AquaClass staterooms offer multistreaming showerheads, herb teas and health-oriented cabin menus. A spa concierge does the bookings, and passengers have complimentary access to the sauna, steam room, tropical rain shower and heated ceramic lounges of the ocean-view Persian Garden. The Persian Garden is also the setting for two special spa events, a Couples Night and a Girlz Night, each featuring hand, foot and scalp massages; a visit to the scrub bar; and a mini-facial.
While smaller premium cruise lines such as Seabourn have less space to devote to spas than today's mega-ships, they offer up a variety of fine services. The Seabourn Odyssey, for example, devotes two decks to spa facilities that include a thermal suite with two herbal saunas, a large hydrotherapy pool and even a waterfall. To bolster the experience, the ship also offers Spa Villas that passengers can secure for a few hours, an afternoon or the day. Spa Villas feature a bathtub, a daybed, living space and a balcony, and include a 150-minute spa treatment.
Not everyone takes the full plunge into myriad treatments available on a "destination spa" cruise ship, but a special indulgence or two can work wonders. After all, from head to toe, even the tiniest spa treatment adds a certain glow to a cruise.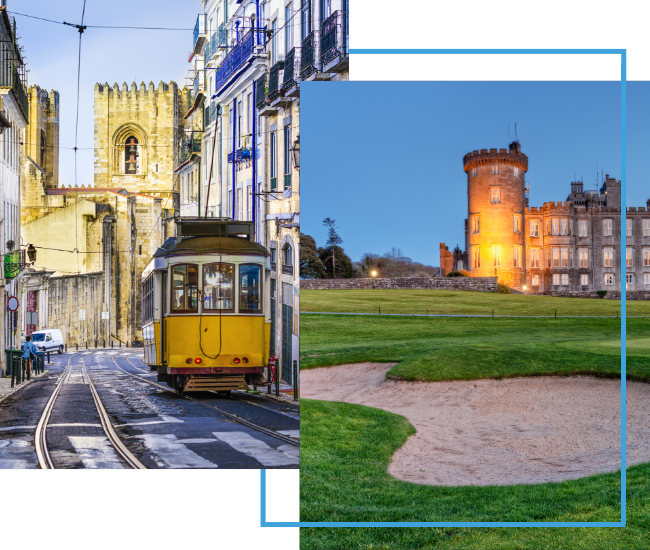 FX Excursions
FX Excursions offers the chance for once-in-a-lifetime experiences in destinations around the world.
Explore Excursions
Pleasant weather, autumn foliage and vibrant flowers are among the many delights awaiting nature lovers at botanical gardens and arboretums across the United States. However, some of these green spaces take on additional color this month and through Halloween when enterprising gardeners, landscape architects, management and other creative minds cast a spell with themed environments running the gamut from spooky to utterly bewitching.
Sponsored Content
Learning more about our readers' travel habits and preferences ensures Global Traveler delivers the content you desire. As the travel industry has adapted and changed over the last few years, it's more important than ever to connect. To best meet your short- and long-term travel content needs, please help us!
For travelers who love all things autumn, Crystal Springs Resort, New York City's closest destination resort, features special offers and experiences to meet the demands of everyone's fall bucket list. Located only 80 minutes outside New York City in Sussex County, New Jersey, Crystal Springs Resort offers a quick getaway to enjoy fall foliage. Are any of these new offers or experiences on your bucket list?