Powered by oars and, later, the wind, the world's first seagoing vessels were, as we would call them today, zero-emission. That all changed in the 18th century when industrial-age engineers figured out how to harness the steam engine's power for maritime use. Diesel engines soon followed and, before long, ocean liners plied seas around the world.
These days, as concerns about the environmental impact of cruise ships continue to garner attention, cruise line engineers work overtime to develop ways to mitigate the effect ships have on the ocean without sacrificing comfort or safety. Best known for atmospheric voyages through the fjords, islands and villages of coastal Norway, Hurtigruten was one of the first lines to recognize the need to minimize the environmental impact of its ships. In 2019, with the launch of the first hybrid cruise ship, MS Roald Amundsen, it did just that, using electrical propulsion to cut emissions, with innovative sustainable technology reducing the ship's fuel consumption and CO2 emissions by 20 percent.
In 2023, more than 200 years after engines became standard equipment on ships, Hurtigruten is going back to the future with the announcement of the development of the world's first zero-emission ship, which the company hopes to launch in 2030. It named the initiative Sea Zero.
"We are developing the concept for a very innovative cruise design and researching to find the optimal design methods suitable for zero-emission ships," said Henrik Burvang, manager, Research and Innovation, VARD, the design and shipbuilding company behind the concept visuals. "In the process, we are developing new design tools and exploring new technologies for energy efficiency."
For propulsion, for example, the vessel will utilize not only 60-megawatt, cobalt-free rechargeable batteries — which can go up to 350 nautical miles between charges — but a trio of 164-foot-tall, high-tech sails called wing-rigs, as well. Fully retractable solar panels cover the wing-rigs, allowing the ship to take advantage of Norway's nearly darkness-free summers to produce electricity. To further improve efficiency, the ship will include retractable smart propellers, a super-slick hull coating and a guidance system that utilizes artificial intelligence gleaned from 130 years sailing the Norwegian coastline to plot a speedy course with minimal resistance. Passengers can get in on the initiative thanks to a cellphone app that allows them to operate their cabin's ventilation system while tracking their in-suite energy use.
Beyond its remarkable computing power, what sets the AI-based guidance system apart from its predecessors is its size: Instead of taking up a huge swath of space atop the ship, the bridge — or steering and navigation area — will be reduced to the size of a cockpit. Hurtigruten plans to take full advantage of this premium perch by reconfiguring it so guests can fully enjoy the nearly 360-degree view.
Luxury line PONANT also has big plans for 2030 with the launch of its all-new Swap2Zero ship, which will utilize a suite of decarbonization technology building blocks including sail power; organic solar devices integrated into the vessel and its sails, a low-temperature fuel cell that recycles water and heat, a high-temperature fuel cell that will also produce hot water, onboard carbon capture technology that will significantly reduce exhaust emissions, and a customized energy management system that will control and distribute power without relying on generators.
"PONANT is a company of sailors focused on exploration and innovation, and it is this pioneering spirit that is inspiring the whole Swap2Zero programme [sic]," said Hervé Gastinel, CEO, PONANT. "This is much more than a new ship. We want to offer a new mode of navigation and actively contribute to decarbonization of the maritime sector. Our in-house R&D team has brought together the best specialists in shipbuilding and renewable energy to imagine and develop an energy model that aims at zero emissions. With Swap2Zero, we are building a French technological showcase to convince other stakeholders to commit to carbon neutral navigation."
Moving off the tracks and on to the sea, Orient Express set its sights on 2026 for the launch of its newest vessel, Silenseas, which, at 720 feet long, will be the world's largest sailing ship. The vessel will sail with a revolutionary technological design known as SolidSail: three rigid sails set on 330-foot-tall tilting masts capable of ensuring up to 100 percent of the propulsion in suitable weather conditions.
Of course, tech advances in the cruise industry will enhance the onboard experience, as well. Take a close look at renderings of Princess Cruises' Sun Princess, which takes to the sea in 2024, and you'll notice the 857-foot-long ship — the line's largest — features not one but two eye-catching glass domes, one floating atop the ship and the other extending from the side like a giant futuristic bay window.
Inspired by the terraces of Santoríni, The Dome is a multilevel covered deck and first true glass-enclosed dome ever constructed on a cruise ship. During the day, the space serves as a regular indoor/outdoor pool; at night, the pool becomes a stage, transforming The Dome into an entertainment venue featuring acrobatic performances created in partnership with the renowned Cirque Éloize. Performances will also take place at Princess Arena, where more than 1,000 seats can be configured in a variety of ways to maximize sight lines to the in-the-round stage. The three-story sphere project ing from the side of the ship houses a space called The Piazza, offering an airy, suspended space to take in ocean views from every direction.
There's no doubt families aboard Sun Princess will flock to Park19, an activity zone where they can zoom along the perimeter of the deck strapped into the harness of the first roll glider at sea. The Sea Breeze Rollglider, which zips around on an elevated track, is ADA-accessible.
Celebrity Cruises' newest vessel, Ascent, will have a wealth of tech-driven entertainment options when it takes its maiden voyage in November 2023, including an all-new Le Petit Chef dinner, which pairs table animation with a menu; within The Theatre, floor projection technology paired with a 110-foot LED screen that wraps around the stage will create the most immersive performance experience at sea.
In drawing plans for Silversea Cruises' just-launched Silver Nova, engineers went out of the box with an asymmetrical design that, beyond adding visual interest, allows for cool outdoor spaces such as an outward-facing pool deck, an open- air sky bar and an infinity-edge whirlpool that extends over the ship's port side. Whisper-quiet engines mean cabins can be placed throughout the ship, providing a unique horizontal orientation. The ship is also expected to become the world's first low-emissions cruise ship with advanced hybrid technology that utilizes fuel cells and emits zero local emissions while in port. Both Silver Nova and Royal Caribbean's newest ship, Icon of the Seas, making its debut in 2024, will feature Royal Caribbean Group's pioneering waste management system. The system converts the ship's solid waste to synthesis gas, which the ships can use directly as energy. Food waste will also be reduced, thanks to a revolutionary AI program that adjusts food production in real time.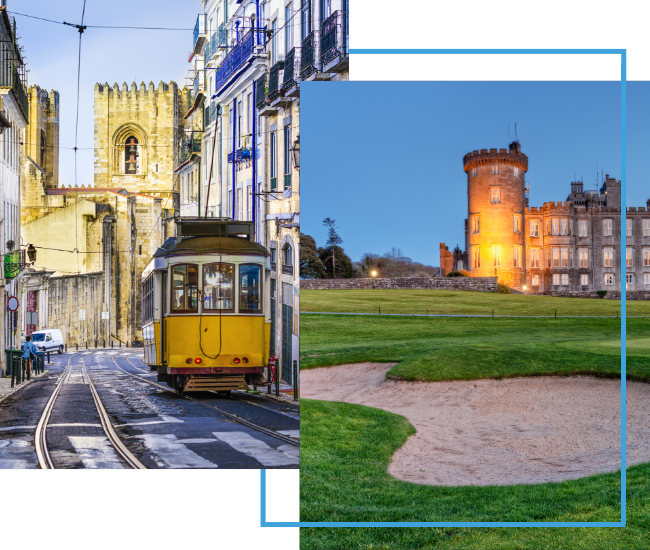 FX Excursions
FX Excursions offers the chance for once-in-a-lifetime experiences in destinations around the world.
Explore Excursions
The prospect of a post-visit treasure hunting session inside the shops of landmark museums such as the Louvre in Paris, the Uffizi Gallery in Florence and The British Museum in London can be irresistible. However, some of Europe's smaller and more unusual museums boast retail spaces with a surprising "wow" factor, often as well-curated as the galleries.
Sponsored Content
One affordable plan can protect an entire year of trips: business or pleasure, short or long, domestic or international.
Hyatt Hotels recently announced plans to add more than 30 new luxury and lifestyle hotels and resorts to its U.S., Canada, Latin America and Caribbean portfolio through 2025. These new hotels and resorts span many of Hyatt Hotels' brands including Park Hyatt, Dream Hotels, Thompson Hotels and Destination by Hyatt.