With the exception of the Caribbean, the Mediterranean is the most popular cruise destination on the planet, and the western portion, stretching from Portugal and Spain to France and Italy, contains the most stylish ports in the cruising world, including Monaco, Saint-Tropez and the whole Riviera. Passengers have the full lineup of major cruise lines to choose from, but smaller luxury lines are truly in their element here. The selection of the perfect Western Mediterranean cruise comes down to what you want to see within its broad confines and which fine cruise line can get you there in style.
Windstar Cruises is one quite posh choice with interesting itineraries in the West Med. Its eight-day Treasures of Southern Spain and Morocco (departing April 16, 2016) starts in Lisbon and takes passengers first to the Kasbah in Tangier, Morocco, followed by a stop in Málaga, Spain, Picasso's picturesque hometown. There are calls in Granada for a tour of the fabled Alhambra Palace and in Cartagena, home to celebrated Roman ruins.
The final port of call is Ibiza, an ideal spot for beach time and shopping in a Mediterranean Old Town replete with drawbridges and Gothic architecture. A highlight of this cruise is Windstar's signature private event in the Roman amphitheater at Tarragona, a UNESCO World Heritage site. Here passengers are treated to tapas and sangria while enjoying the cavortings of a troupe of traditionally costumed entertainers known as Catalan giants and big-heads, plus the building of a breathtaking human tower by the Castellers.
The cruise ends in Barcelona, but the 148-passenger, fourmasted Wind Star with computer-controlled sails continues on from Barcelona through the Western Mediterranean with a six-day Islands of the West Med voyage. Its first destination is Palma on the island of Mallorca, succeeded by stops on three more islands: Italy's Sardinia, home to the walled city of Alghero and Neptune's Grotto; France's Corsica, featuring the medieval city of Bonifacio; and Elba, the Italian island famed for its Renaissance museums and villas. Windstar's private event on this cruise takes place on Mallorca at the March Palace, a private mansion studded with artworks by Rodin, Dalí and Henry Moore. By combining these two Windstar cruises, you can take in a wide sweep of the iconic islands and turquoise seas that lie between Lisbon and Rome.
Oceania Cruises offers another banquet of Western Mediterranean delights on Barcelona-to-Rome voyages aboard the aptly named 1,258-passenger Riviera. A 10-day cruise takes in Marseille, jet-setting Saint-Tropez and the Côte d'Azur resort of Cannes in French waters, followed by a stop in the casino and beach mecca of Monte Carlo. The sailing concludes on Italy's west coast with calls at the village of Portofino, the cliffs of Cinque Terre, the galleries of Florence and the leaning tower of Pisa. Oceania's elegant ship offers a multitude of onboard diversions, too, from putting greens and artists-in-residence workshops to Bon Appétit magazine cooking classes. Oceania's other itineraries in the West Med include an 11-day cruise that anchors at Gibraltar and a 12-day cruise in late spring that adds Corsica and Valencia, Spain.
Silversea provides a twist to the popular Rome-to-Barcelona itinerary on its eight-day cruises by calling on Sorrento (gateway to the Amalfi Coast and Mount Vesuvius); Trapani (on the isle of Sicily); Cagliari (on Sardinia); and Porto Mahón, the main town on Spain's Balearic Island, renowned for its Neolithic monuments. Silversea's 540-passenger, high-end, all-suites Silver Spirit also comes into port on the African edge of the Western Mediterranean at Tunis for a look at the ruins of ancient Carthage.
Crystal Cruises covers the breadth of the Western Mediterranean on its voyages spanning Lisbon and Rome that include three-day stays in Monaco during the Grand Prix auto race in May. Some of Crystal's cruises also extend to Morocco's Tangier and Casablanca and Spain's Canary Islands. Crystal's two highly rated luxury liners, the 1,090-passenger Crystal Serenity and the 960-passenger Crystal Symphony, are packed with pastimes, from digital filmmaking classes and PGA golf instruction to Hollywood movie presentations and its own Monte Carlo-style casino.
For passengers with a surfeit of time to sail the southern shores of Western Europe, Seabourn runs a 21-day Mediterranean Nights cruise that makes a round-trip voyage from Monaco encompassing a bewildering array of delights, including Corsica, Sardinia, Florence, Malta, Amalfi, Saint-Tropez, Marseille and Barcelona. The 450-passenger Seabourn Sojourn is well suited to a leisurely, stylish sailing of the Mediterranean, with spacious suites and a large full-service spa.
Offering a cruise experience closer to that of a private yacht than a small cruise ship, SeaDream Yacht Club's SeaDream I plies the West Med beginning in April next year, capped by two seven-day autumn voyages that can be combined: Rome to Cannes and Cannes to Málaga. The Rome itinerary includes visits to Sorrento and the isle of Capri in Italy and Corsica and Saint-Tropez in France. From Cannes, the next cruise returns first to Saint-Tropez and then continues westward to two charming French ports: Cassis, which lies just east of Marseille and is notable for its maritime bluffs, and Collioure, a Catalan commune with a striking 12th-century castle. Collioure is also celebrated for its anchovies (the world's best, some say) and was long the home of Master and Commander novelist Patrick O'Brian. SeaDream's Western Mediterranean wanderings finish up with four magical stops in Spain at Barcelona, Valencia, Cartagena and Málaga. The SeaDream I mega-yacht accommodates 112 passengers, carries a nearly equal number of crew members, offers gourmet cuisine and refined service and maintains a sophisticated but relaxed atmosphere devoid of onboard casinos and stage shows.
All in all, there are plenty of ways to experience the pleasures of the West Med, no matter which ports or sailing vessel one favors.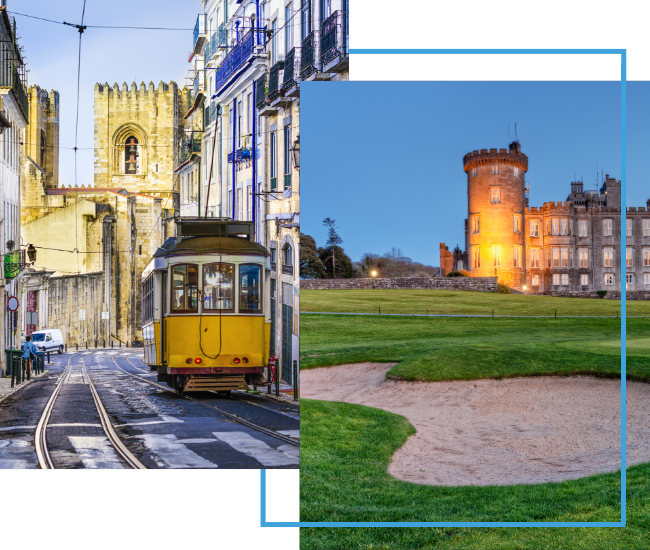 FX Excursions
FX Excursions offers the chance for once-in-a-lifetime experiences in destinations around the world.
Explore Excursions
It's time to start dreaming of your next trip. Here's some destination inspiration for you. Take a visual journey through these U.S. Christmas markets with us.
Sponsored Content
The Islands of Tahiti offer a range of captivating activities for travelers with diverse interests, from hiking to breathtaking waterfalls, riding horses on secluded beaches; swimming with sharks; or immersing in Polynesian culture through traditional dance, music and art. For watersports enthusiasts, the crystal-clear lagoons offer exhilarating experiences like surfing, kiteboarding and paddleboarding. And if you're looking to relax, the pristine beaches, overwater bungalows and tropical sun offer the perfect setting. With 118 islands and atolls to explore, island hopping is an excellent way to experience the full diversity of The Islands of Tahiti. With its blend of adventure, culture and relaxation, The Islands of Tahiti offer a truly unique travel experience.
Everyone loves a good Christmas tree, but these iconic hotels around the world take it one step further with designer-styled trees illuminating lobbies and public spaces, wowing all who enter. From Lela Rose to Louis Vuitton, don't miss these ultra-luxury trees redefining tree decorating as we know it.