Americans looking for the gentle rhythms and relaxed atmosphere of river cruising don't need to fly to Europe. Vessels ranging from replica paddle wheelers to sleek, contemporary ships cruise not just the ever-popular Mississippi and Columbia rivers but the Ohio, the Cumberland, the Tennessee and even the Hudson.
The Mississippi remains the most popular, with multiple lines offering options ranging from short jaunts between New Orleans and Vicksburg on the 386-passenger Viking Mississippi to Viking's 22-day Grand Mississippi cruise from New Orleans to Minneapolis/St. Paul.
Channeling the romance of the steamboat era, American Queen — the largest steamboat ever built — is a paddle wheeler complete with extravagant period décor. Along with multiple Mississippi itineraries, American Queen Voyages operates paddle wheelers on the Ohio River between Louisville, Kentucky, and Pittsburgh.
American Cruise Lines combines those two rivers in a 15-day itinerary from St. Louis to Pittsburgh, one of several cruises it offers on its three ships in America's heartland. Exploring the Cumberland and Tennessee rivers, American Queen's paddle wheelers introduce guests to Chattanooga, Nashville and Memphis. Farther north, American Queen cruises extend from Chicago and Detroit through the Great Lakes and into Canada as far as Toronto and Montréal.
These two lines are also the major players on the Columbia and Snake rivers in the Pacific Northwest, both tracing the route of Lewis and Clark on paddle wheelers. The smaller ships of UnCruise Adventures add active land and water experiences including kayaking, whitewater rafting, trekking and e-bike trips. Cruises begin or end in Portland, Oregon, and the highlights include the 80-mile-long Columbia River Gorge and Hells Canyon, the deepest in North America.
On the other side of the continent, New England's coast and islands are a favorite haunt of cruisers, especially in the fall when red and yellow leaves paint the scenery. Several major lines operate fall foliage cruises that call at the major cruise ports of Boston and Portland, Maine, often including Halifax, Nova Scotia, and Saint John, New Brunswick, in the itinerary.
While large ships can no longer call at Bar Harbor, Maine, popular for touring Acadia National Park, passengers on smaller ships can visit it and other charming coastal towns. American Cruise Lines calls at an astonishing list of these, offering by far the widest choice of itineraries. The eight-day Maine Coast & Harbors cruise calls at Portland, Bar Harbor, Bangor, Camden, Rockland, Boothbay Harbor and Bath, while the 10-day New England Explorer adds Boston, Gloucester, Martha's Vineyard and Provincetown, Massachusetts; and Newport, Rhode Island. A 15-day Grand New England cruise covers the coast from Bar Harbor to Block Island, Rhode Island.
In the fall American adds a foliage cruise of the Hudson River that visits New York City, Catskill, Albany, Kingston, Hyde Park, West Point and Sleepy Hollow.
Cruises calling at ports along the entire East Coast are less common, although several lines have repositioning cruises as they move ships seasonally from the northeast to the Caribbean. Again, American Cruise Lines offers the greatest variety and frequency.
The longest itinerary is a 22-day sailing from Washington, D.C., around the Florida Keys to Tampa, calling at Charleston, Savannah, St. Augustine and Key West. Shorter itineraries highlight Florida's Gulf Coast, the Historic South & Golden Isles from Charleston to Amelia Island and ports around the Chesapeake Bay that were instrumental in the American Revolution.
Fort Lauderdale is an occasional staging point for cruises to U.S. ports in Puerto Rico and the Virgin Islands, and San Juan provides the base for Scenic Group's newly announced itineraries this fall and winter on the sleek 100-passenger yacht Emerald Sakara.
Well-known for all-inclusive luxury cruises on European rivers, Scenic Group makes its debut in U.S. waters with the 8-day Hidden Charms of the Caribbean, exploring the U.S. and British Virgin Islands and on to Saint Bart's and Saint Kitts. The longer 15-day Discover the Caribbean in Depth itinerary from San Juan calls at more islands, including Martinique, Saint Lucia and Guadeloupe.
Americans can choose from a dizzying variety of river and ocean sailing experiences, all without that long trans-Atlantic flight. Welcome aboard!
ALASKA ADVENTURES
The options for sailing through the dramatic fjords, bays and passages of Alaska include everything from the ocean liners of Princess Cruises, Royal Caribbean, Cunard Line, Celebrity Cruises, Norwegian Cruise Line and Viking to the all-inclusive luxuries of Silversea Cruises or an Aleutian Islands adventure with UnCruise.
With one of the highest crew-to-guest ratios in the industry, Silversea schedules more than 80 Alaska cruises each season, including an 18-day Expedition Cruise from Nome, Alaska, to Vancouver on the 274- guest Silver Wind. Or explore the Inside Passage, Kenai Fjords and the Inian Islands under sail on Windstar's 312-passenger yacht Star Breeze, launching Zodiacs from the ship for a closer look at the wildlife.
UnCruise offers the most adventurous Alaska option: the eight-day Aleutian Islands Adventure, with Kodiak, Katmai and the Kenai Wilderness, on the 36-passenger Safari Explorer. Guests investigate hidden coves and narrow fjords by kayak, paddleboard and skiff.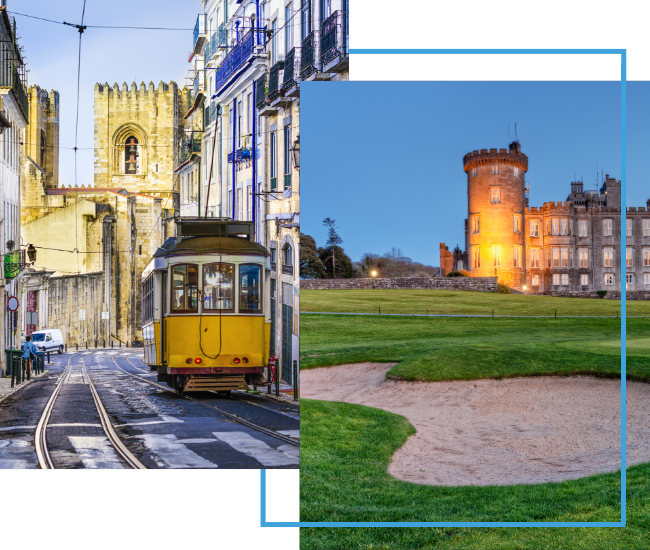 FX Excursions
FX Excursions offers the chance for once-in-a-lifetime experiences in destinations around the world.
Explore Excursions
It's time to start dreaming of your next trip. Here's some destination inspiration for you. Take a visual journey through these U.S. Christmas markets with us.
Sponsored Content
Are you looking to enhance your business trip with a little leisure? Look no further than Portugal, a country renowned for its captivating blend of history, culture and natural beauty. And with TAP Air Portugal, you can effortlessly transform your business trip into an unforgettable bleisure adventure. Discover why Portugal and TAP Air Portugal are the perfect combination for an enriching and rejuvenating experience.
Everyone loves a good Christmas tree, but these iconic hotels around the world take it one step further with designer-styled trees illuminating lobbies and public spaces, wowing all who enter. From Lela Rose to Louis Vuitton, don't miss these ultra-luxury trees redefining tree decorating as we know it.