The general forecast for cruises is perhaps a bit surprising: clear sailing ahead. But buoyed by strict new health protocols and the pent-up demand for vacations at sea, most major cruise lines do indeed expect a full deployment for their fleets in the coming months. Bookings for 2021 are pushing record levels, and Regent Seven Seas Cruises' 2023 World Cruise is already sold out.
One tempting way to celebrate the return of sea travel is to book a holiday cruise. These voyages-with-a-theme should be booked well ahead of departure, however, when itinerary and onboard options are many and discounts are still available. Christmas season, in particular, is an immensely popular time to sail, with heightened passenger fees to boot. This is when big cruise lines, like big-box stores, are primed to do their biggest business. Booking Christmas at sea as much as a year in advance is wise.
One luxury operator that knows how to celebrate the holidays is Celebrity Cruises. Its decks, theaters and dining halls quickly transform for Easter, Passover, Halloween, Hanukkah, Thanksgiving and, most spectacularly, Christmas and New Year's sailings. Celebrity's Christmas holiday cruises, departing mid- to late December, visit not only key Caribbean ports and Mexico but also Chile and Argentina in South America and Vietnam and Thailand in Asia. Santa appears on board for all these cruises, along with carolers, Tannenbaums and holiday-themed shows.
Seabourn also trims its decks in seasonal style for special holiday- themed voyages worldwide. In December 2021, Seabourn offers Christmas cruises from Bali to Auckland, Miami to Los Angeles (via the Panama Canal), Bridgetown to Barbados, Singapore to Hong Kong, Buenos Aires to Santiago, and Sydney to Auckland. Regent Seven Seas Cruises, elegantly decorated for the season (down to sprigs of mistletoe), marks Christmas with cruises in the South Pacific; the Panama Canal; the Western Caribbean; South America; and the Atlantic Ocean from Cape Town to Rio de Janeiro, a 34-day crossing. And every December Cunard Line's grand RMS Queen Mary II marks the festive season with voyages to Canada and to the Caribbean roundtrip from New York City. Carnival Cruise Line does much the same, offering mitten-free, round-trip sailings to the Caribbean from Charleston, South Carolina.
Family note: From a kid's perspective, nobody out-Disneys Disney Cruise Line, of course. The gingerbread houses are gargantuan; the central Christmas tree rises three decks high; and on Disney's private Caribbean island, Castaway Cay, passengers can hop on Santa's wintry sleigh in the heart of the tropics.
Perhaps the most heralded Christmas voyages of all, however, are the Christmas Market river cruises in Europe. These voyages are best-sellers but, compared to other forms of European tours, not extravagantly priced. Viking River Cruises, Crystal River Cruises, AmaWaterways, Avalon Waterways and Uniworld Boutique River Cruises are among the finest operators, giving holiday passengers a wide choice of historic Christmas markets, ports, rivers and inland waterways to explore on the shorelines of the Rhine, the Danube, the Seine, the Loire and more. Christmas Market cruises enable passengers to experience not only traditional open-air seasonal shopping but also castle tours, classical concerts and mulled wine tastings along the way. Crystal River Cruises, an ultra-luxury operator, provides no fewer than 26 Christmas Market cruises each year, with 2021 departures from Vienna, Amsterdam, Basel, Budapest and Vilshofen Nov. 25–Dec. 17.
If every cruise is a holiday, then a cruise during a major holiday can prove the most festive of all.
RISING TO THE OCCASION
A cruise is an excellent way to celebrate life's momentous milestones, from graduations and birthdays to anniversaries, retirements and reunions. Pick a premium or luxury line and a beguiling destination for starters. Then check out cruise lines that provide perks and over- the-top options for passengers celebrating special occasions.
Princess Cruises, the line that hosted the original Love Boat TV series, casts a romantic glow on private celebrations, with packages that zero in on anniversaries, honeymoons, renewal of vows and engagements. Its "Everything but the Proposal" engagement offer ($695), for example, includes the services of a videographer, a specialty restaurant dinner, a side-by-side massage and an in-cabin breakfast. Princess notes anniversary celebrations are the single leading reason passengers cite for a cruise. More than 5 million passengers have celebrated a birthday and more than 10 million have celebrated an anniversary aboard a Princess vessel.
Couples sailing to celebrate special occasions on Azamara Club Cruises' Azamara Journey or Azamara Quest are often directed to the "Nights in Private Places" offer ($395). Available each night to a single party only, the program unfolds on a private terrace containing a thalassotherapy pool and a daybed with overnight linens for sleeping under the stars. A personal butler pours the Champagne, delivers the canapés, sets the candlelit dinner and, the next day, serves breakfast for two.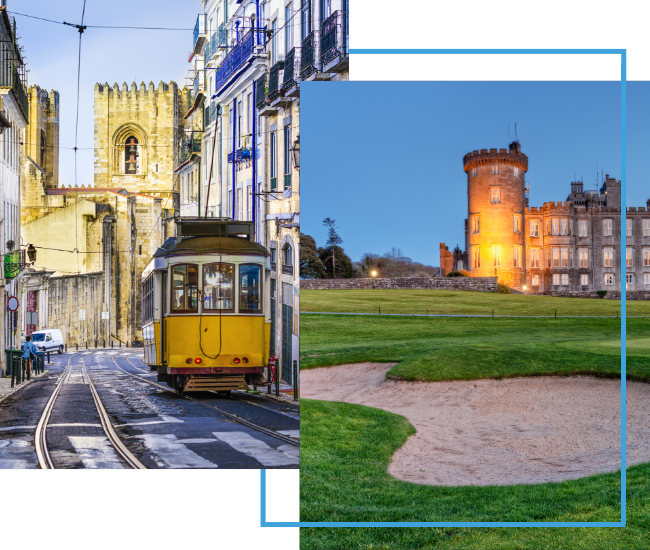 FX Excursions
FX Excursions offers the chance for once-in-a-lifetime experiences in destinations around the world.
Explore Excursions
There is something magical about sipping a glass of local wine while watching the sun slip into the Aegean Sea as the afterglow tinges traditional, white-washed Cycladic houses with glorious shades of rose, purple and gold. Ancient Greeks believed Helios, the Sun God, caused sunsets by driving his fiery chariot into the sea. Standing at water's edge in Mykonos, watching the sky slowly turn from purple to inky black, you almost believe it.
Sponsored Content
Whether it's the people, the craic (fun) or the coasts, travelers always find something to love about the island of Ireland. What fills your heart?
The prospect of a post-visit treasure hunting session inside the shops of landmark museums such as the Louvre in Paris, the Uffizi Gallery in Florence and The British Museum in London can be irresistible. However, some of Europe's smaller and more unusual museums boast retail spaces with a surprising "wow" factor, often as well-curated as the galleries.