A YEAR AGO, OPRAH WINFREY took the helm, along with "chief officer" Gayle King and mates from O, The Oprah Magazine, to launch the ultimate girls' getaway cruise. The event sold out in less than 24 hours, and the ensuing spectacle, aboard Holland America Line's Nieuw Statendam, consisted of a three-day cruise to the Bahamas out of Fort Lauderdale. Nearly 2,400 women (and 59 men) helped Oprah celebrate her 65th birthday with a non-stop party at sea that included Oprah talks, meditation and fitness classes, book club readings, health and beauty sessions, fashion shows and shopping marathons — in short, all the workshops and workouts women dreamed of finding time for in their busy lives on land.
While Holland America is noncommittal about an Oprah repeat, women seeking a revitalizing escape from the pressures and restrictions of home and workplace have plenty of cruise options. A girlfriends' getaway cruise, whether organized by an agency or the participants themselves, gives women travelers a chance to experience the good life in the exclusive company of girlfriends or female family members, with no men or kids in tow.
While full-bore girlfriends' getaway cruises on the scale of the Oprah special are rare, there are operators who plan small-group experiences focused on women that are conducted on regularly scheduled cruises. Stitchin' Heaven, for example, offers a dozen 4- to 11-night getaways for quilters and stitchers in 2020 aboard Royal Caribbean's big ships out of several U.S. ports, including Miami; Galveston; Seattle; and Cape Liberty, New Jersey. These cruises enable women to visit the Caribbean, Central America, Canada or Alaska as regular passengers while participating in stitching seminars conducted by several experts. Quilters have exclusive 24/7 access to work spaces and Bernina sewing machines, and they can bring their own precut fabric and patterns or purchase a prepaid, precut quilt package.
Cruise & Crop offers quite similar small-group, 3- to 10-day cruises for those interested in a wider range of crafting, from scrapbooking to beading. Most of the nearly 30 cruises listed for 2020 sail out of Florida to the Caribbean, but there are also crafting cruises to Alaska, Hawai'i, New England, Canada, Northern Europe and the Mediterranean. U.S. departure points are Tampa, Port Canaveral, Miami, Galveston, Honolulu, Seattle, Baltimore, Boston and Cape Liberty.
Most girlfriends' getaways at sea are not organized around a shared hobby or special interest, of course. A regular booking with other women is all that's needed, although the assistance of a travel agent specializing in cruises can simplify planning, especially in matters of stateroom selection, destination, pricing and choice of a cruise line that lives up to one's dreams. Mega-ships offer the most options for onboard activities, from spas, shops and swimming pools to shows and special dining spots. Women are free to spend time together or pursue personal interests as they wish, to get personal or indulgent or even a bit rowdy. When fitness or exploration are strongly shared interests, however, small ships may be the best choice for a getaway. Wilderness Women Expeditions, for example, conducts sailings to such exotic locations as Egypt, the Greek Isles, Desolation Sound (British Columbia) and the Exuma Islands (the Bahamas) for small all-women groups (just six to eight participants) with female skippers at the helm.
Whether lasting a weekend or a week, a girlfriends' getaway combines freedom and exhilaration in a way no other experience can, and ocean and river cruises have long served as the perfect setting for such a venture, with a treasure chest of resort luxuries, special activities and exotic sights, along with leagues of unfettered time to explore what women share together.
GALS ON CANALS
Barge Lady Cruises conducts tours on 50 vessels along 30 European waterways, but for a girlfriends' getaway, the specially designated choices are the six-night itineraries that tie up near medieval villages, châteaus and vineyards along the canals of the French countryside.
The 12-guest Luciole traverses the Canal du Nivernais in Northern Burgundy. It takes in the church of Auxerre with its fabulous stained- glass windows. The six-guest Magnolia sails on the Canal de Bourgogne in Southern Burgundy and features truffle hunting and dinner at a French home.
The luxurious eight-guest C'est la Vie runs along the Canal de Bourgogne in Northern Burgundy, highlighting the vineyards of Chablis. It also sails along the Canal de Briare in the Upper Loire region, visiting the Gien tableware factory and the Château de la Bussière, famous for its angling-themed art collection.
BARGE LADY CRUISES
bargeladycruises.com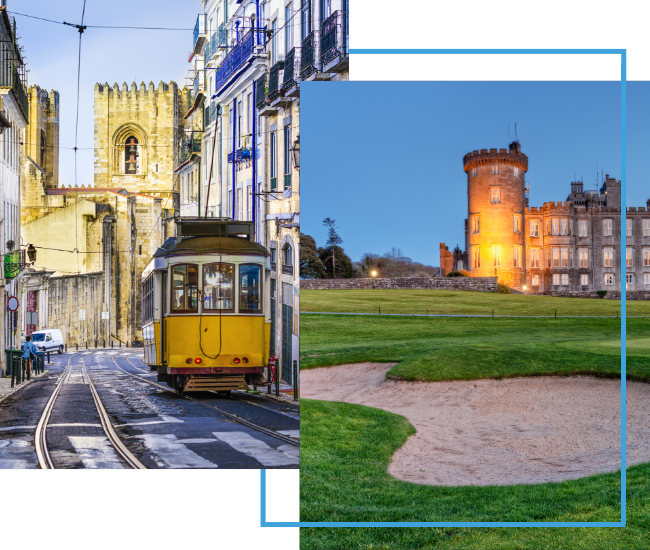 FX Excursions
FX Excursions offers the chance for once-in-a-lifetime experiences in destinations around the world.
Explore Excursions
Corsica with steep, gray cliffs overlooking the Mediterranean and sandy beaches attracting summer visitors, is a French-governed island sometimes confused with Sardinia and Sicily, Italian islands to the south. Fortunately, all three islands share the same love for good wine, food and sun-splashed beaches.
Sponsored Content
From the moment you step onboard Air Tahiti Nui's Tahitian Dreamliner, you will be transported to The Islands of Tahiti. The French Polynesian carrier considered every detail to awaken its passengers' senses, creating the feeling you are already on the Islands while 30,000 feet in the air.
If you're ready to do a little holiday catch-up with your besties, make a beeline for Conrad New York Downtown. The lobby metamorphosed into a holiday forest of heavenly scented, decorated Virginia Spruce trees. Make your first stop ATRIO Barista Station in the lobby for a complimentary hot spiced apple cider (until Dec. 3) or hot chocolate (Dec. 22­–24).