River cruises are riding a tide of popularity worldwide, and cruise lines are racing to construct new vessels that deliver unprecedented levels of luxury. Following in the wake of the oceangoing "blue-water" cruise industry, river cruise lines are responding to the desire for ever-more deluxe accommodations.
A river cruise delivers much that an ocean cruise can't: easy access to major inland ports (such as Vienna and Paris), spectacular inland scenery (from the Mississippi to the Yangtze river basins) and fewer full days at sea (yielding more to see while sailing within eyeshot of shore). River cruises generally provide more complimentary shore excursions than blue-water cruises, as well as less formal dress codes and far calmer waters — a godsend for those prone to seasickness. Big cruise ships boast larger staterooms and suites, far more dining options, a wider range of spa treatments and more in the way of onboard entertainment and fitness facilities than river cruise ships, which simply don't have space to devote to resort activities, casinos and the like. Nevertheless, river cruise lines are finding ways to upgrade and enlarge their staterooms, create new leisure and dining options and introduce other blue-water amenities.
A case in point is the American Empress, a sternwheeler launched in April to cruise the Columbia and Snake rivers of the Pacific Northwest. The 223-passenger vessel was constructed at Nichols Brothers boatyard on Washington State's Whidbey Island in 2003 with the perfect length and draft to navigate America's secondlargest river system, but the ship was mothballed for five years. With the rugged scenery of the Columbia Gorge, Native American and pioneer history and world-class wine country still big draws, its new owners (the American Queen Steamboat Co.) gambled that the ship would succeed as a thoroughly redesigned luxury vessel. They initiated a $55 million makeover, creating upscale staterooms and new dining venues.
We surveyed the ship in dry dock in Portland, Ore., last fall, when its garish red and gold interiors were about to be demolished. On a shakedown cruise this spring, we were stunned by its transformation. Bright and shiny, the American Empress had become a sleekly modern cruise ship with only a few touches — chandeliers, coffered ceilings — remaining from its ornate past. The 112 staterooms have outside views, most with their own verandas, and all come with Keurig coffee brewers, flat-screen TVs and Clarins toiletries. The spacious Paddle Wheel Lounge is equipped with four PCs and a library. The Astor Dining Room serves three full-service, sit-down meals daily with a changing menu of fresh seafood, soups, breads, salads, berries and desserts, as well as complimentary Oregon, Washington and California wines at dinner.
Epitomizing the current trend toward increased luxury, the American Empress converted what appeared to be an upper-deck ice cream parlor into the 55-seat River Grill & Bar, the ship's specialty dinner restaurant. Its open kitchen is surrounded on three sides by counter stools, affording a close-up view of the chef in action, grilling lobster and wild salmon. Wall-toceiling sliding glass doors surround the tables, and a sweeping open deck at the stern hosts alfresco dining. Meanwhile, the Astor Dining Room stages one wine-pairing dinner per cruise, and the Show Lounge hosts wine tastings with Oregon and Washington vintners on hand.
"Riverlorians" circulate seamlessly among passengers, swapping tales of the Columbia's rich history as the sternwheeler retraces the final stages of Lewis and Clark's Voyage of Discovery. From Clarkston, Idaho, on the raging Snake River to Astoria, Ore., a historic trading post and sea captains' town at the Columbia River's mouth, shore excursions are free on the ship's fleet of Hop On, Hop Off buses, augmented by more elaborate optional tours including flights over Mount Hood, drives along the historic Columbia Gorge Highway and a visit to Bonneville Dam's hydroelectric turbines and fish ladders. Passengers can also borrow bikes to tour ports on their own. It is a deluxe cruise but also an educational one, a voyage of discovery along the shores of America's journey west.
The American Queen Steamboat Co. was also instrumental in recently revitalizing river cruising on the Mississippi River with the launch of another paddle wheeler, the American Queen. A second operator, American Cruise Lines, quickly followed suit with the first of five newly built luxury paddle wheelers, the Queen of the Mississippi. In 2015, Viking River Cruises, king of the European river fleets, plans to become the first European company to ply the Mississippi, employing two vessels customized for North American navigation, minus the paddle wheels of their native competitors.
Viking River Cruises is widely credited with spearheading the surge of new river cruise construction. Across Europe, Viking christened no fewer than 16 of its brand-new Longships in a 24-hour period in 2014, achieving a certified Guinness world record for "the most ships inaugurated in one day by one company." The Viking Longships are the benchmark for luxury river cruise ships worldwide, each one accommodating 190 passengers in 95 staterooms, including very spacious two-room suites with large verandas. The Longship's signature indoor-outdoor Aquavit Terrace features retractable floor-to-ceiling glass doors, enabling guests to enjoy panoramic views while dining alfresco. Longships are also equipped with organic herb gardens, solar panels and vibration-reducing engines.
Keeping pace with Viking, Emerald Waterways, Europe's first new river cruise company in six years, launched the first of its four new "Star Ships" this year, the 182-passenger Emerald Star, christened by British icon Twiggy in Amsterdam. Among its luxury highlights are a sundeck swimming pool with retractable sun roof, a full-sized cinema, a gym, a hair salon and a massage room, as well as a variety of suites, once the marks of ocean-going rather than river-sailing cruise ships. Emerald Waterways' parent company, Scenic Cruises, will also introduce "Space Ships" to its river fleet in Europe with plenty of luxury appointments, including private balconies that convert into all-weather lounges at the push of a button.
Whether sailing the rivers of Europe or North America, these and other new and refitted ships are for the first time striving to deliver ocean-cruising comforts to the burgeoning river cruise market. For river voyagers, the scenic shorelines and historic towns, rather than onboard entertainment and recreation outlets, remain the chief lures, but river cruise lines are rapidly introducing the luxuries of blue-water sailing upstream in less explored, but no less enchanting, inland waterways.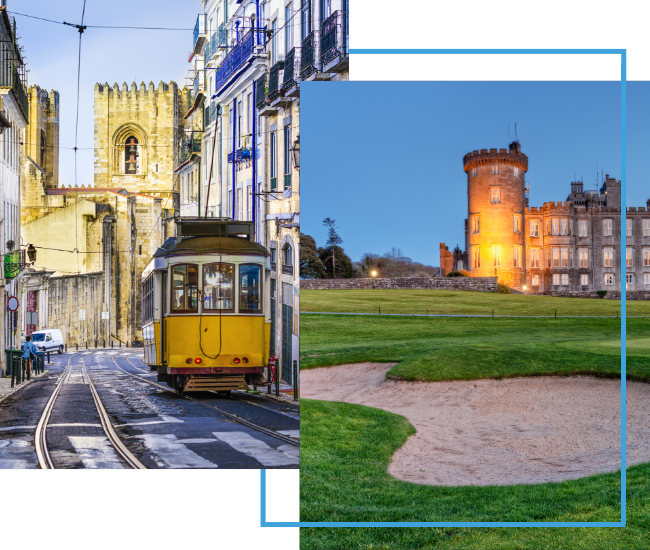 FX Excursions
FX Excursions offers the chance for once-in-a-lifetime experiences in destinations around the world.
Explore Excursions
There's no doubt the northern lights are awe-inspiring and spectacular. Unfortunately, they're also fickle and fleeting, and despite your best-laid plans of checking this item off your bucket list, sometimes Mother Nature's luminescent show just doesn't cooperate. But one cruise line has a new fail-safe in place.
Sponsored Content
United Airlines is in the midst of a major initiative to modernize its fleet over the next several years. After first announcing the plan in 2021, planes fitted with United's signature interior are finally beginning to appear across the airline's narrowbody fleet of Boeing and Airbus planes. United flyers are sure to notice these enhancements from the moment they step on board: Each new or updated plane sports remodeled seats, seatback entertainment screens for everyone, Bluetooth connectivity and more, all adding up to a better experience on every journey.
Think you need a degree in sailing to enjoy a yachting holiday? Dream Yacht Worldwide, a leader in yacht charters, wants you to relax and enjoy the journey. Newly expanded to include the British Virgin Islands, Martinique, Tahiti and the Seychelles, the "Easy Crewed" offered by Dream Yacht Worldwide also include charter options in Greece and Croatia.