When Cunard Line inaugurated the original trans-Atlantic passenger cruise, departing Liverpool July 4, 1840, it carried 115 first-class passengers, 600 tons of coal, three cats to chase rats and one cow for fresh milk. With some luxurious upgrades 175 years later, a trans-Atlantic crossing remains the iconic ocean cruise, although Cunard is the sole line still offering such voyages on a regularly scheduled year-round basis. Cunard's 2,620-passenger Queen Mary 2, a state-of-the-art megaship designed for the rigors of such a passage, is packed with posh amenities far exceeding those of the RMS Britannia, the humble wooden paddle steamer that made the original voyage.
Trans-Atlantic cruises enjoyed a golden age from the 1920s through the 1950s, when Cunard's Queen Elizabeth and Queen Elizabeth 2 made these crossings romantic and glamorous. Modern air flights rendered such trips superfluous for most transcontinental travelers, but if one desires to do more than merely save time in shuttling between the Old World and the New, a trans-Atlantic cruise is still the grandest way to go. Some travelers even prefer covering the 3,000-mile stretch by sea rather than by air, a cruise ticket being not so far out of line with an air ticket, provided one has the leisure.
The QM2 certainly produces a paean to the heyday of ocean cruises, delivering a relaxing holiday at sea lasting seven or eight days, unbroken by harried back-to-back port calls. Cunard's trans-Atlantic routes, plying the Atlantic east and west — most often between New York City and Southampton, England — cast off each April, enriched by stores of onboard diversions. Passengers are separated by cabin categories but no longer by social classes, as Leonardo DiCaprio and Kate Winslet were in the movie version of the Titanic's ill-fated trans-Atlantic crossing. Today's trans-Atlantic experience is closer to that portrayed by Cary Grant and Deborah Kerr in the 1957 film An Affair to Remember. One can still put on the ritz on an ocean cruise, as such celebrities as Fred Astaire, Frank Sinatra and Elizabeth Taylor once did, although it's no longer a requirement.
A week on the QM2 is geared to keeping one as occupied or as happily unoccupied as one chooses. This vessel boasts the largest dance floor and library at sea, a 3-D cinema, a comprehensive spa facility, a two-tiered theater and even a planetarium, not to mention a daily whirlwind of programs from watercolor workshops and bridge games to Royal Academy of Dramatic Arts lessons and performances. Trans-Atlantic passengers aboard the QM2 can also avail themselves of a top-flight lecture series, first-run films, wine tastings with winemakers, a resident jazz band and string quartet, a Monte Carlo-style casino, shuffleboard, tennis, shopping at Harrods, an afternoon tea with scones and white-gloved waiters, five swimming pools and even a kennel with "staterooms" and gift packs for up to 12 pets.
This year Cunard is staging a 175th Atlantic crossing July 2–14 from Southampton to New York that retraces the original route across the Atlantic, with gala dinners, commemorative cakes, special speakers and 175th-anniversary souvenirs. QM2's anniversary crossing includes calls on Liverpool, Halifax and Boston.
Despite Cunard's apparent lock on the iconic crossing it pioneered, scores of other lines shift their ships from one side of the Atlantic to the other. These aptly named repositioning cruises occur every spring and fall when major lines move their vessels between ports in Europe and those in America, and they represent tremendous bargains. Repositioning cruises cross the Atlantic to Europe in April and May and return September through November, adding ports of call on either end of the voyage, making the overall cruise closer to two weeks than one. Along with bargain fares, repositioning cruises often throw in return airfares, and the departure/arrival points run a wide gamut, from Miami and the Caribbean to ports in the Mediterranean and the Baltic.
The 3,560-passenger Regal Princess, for example, offers a 15-night Atlantic crossing departing Copenhagen Sept. 12. This Princess Cruises' repositioning act balances busy days of sightseeing with relaxing days at sea, calling on ports in Denmark, Scotland, Ireland and Canada on the way to New York City. Likewise, but in the opposite direction, Holland America Line will shift the 1,258-passenger ms Maasdam from Fort Lauderdale to Rome (Civitavecchia) on a 22-day Atlantic cruise departing Oct. 30. Stops in Puerto Rico, the Canary Islands, Morocco and Spain will offset seven consecutive days at sea.
Among small luxury cruise ships, Silversea Cruises' 540-passenger Silver Spirit makes a 15-day crossing from Barcelona to Fort Lauderdale beginning Nov. 9 this year. The Silver Spirit pauses at Valencia, Cartagena and Madeira (Funchal) before undertaking an eight-day crossing. Celebrating its silver anniversary, Crystal Cruises will reposition its two ships this winter and next spring: the 1,090-passenger Crystal Serenity on an 11-day voyage in December from Lisbon to Miami, with stops in the Canary Islands and Key West; and the 960-passenger Crystal Symphony on a March 25–April 10, 2016, crossing from Miami to Monte Carlo. Crystal's western crossing next year musters an overnight in Bermuda and adds on stops in the Azores, Spain and France. Crystal's repositionings, featuring ballroom dancing and big bands, are a favorite of some repeat groups. Another small premium cruise line, Seabourn, trans-navigates the Atlantic in 15 days from Barcelona to Fort Lauderdale this October, as the 450-passenger Seabourn Odyssey pauses in Gibraltar, Spain and Portugal before sailing nine uninterrupted days at sea.
Some caveats: Trans-Atlantic crossings are not to everyone's taste since, unlike most cruises calling on an array of ports, they involve numerous consecutive days at sea without scenic variations or cultural stops. Some passengers find oceanic cruises monotonous, tedious, even maddening. For those who enjoy the cruise experience itself, however — with opportunities for private relaxation, extended socializing and repeated use of onboard amenities and activities — a long ocean cruise is paradise. Those prone to seasickness should consider the potential for rough weather and strong winds on the Atlantic, but jet lag should hardly prove a problem, as the ship's clock is set forward or back an hour each day during the crossing. For some, an open ocean voyage is about as inviting as an eight-day bus trip through the desert; but for others, no cruise could be as invigorating or romantic as a slow passage between continents.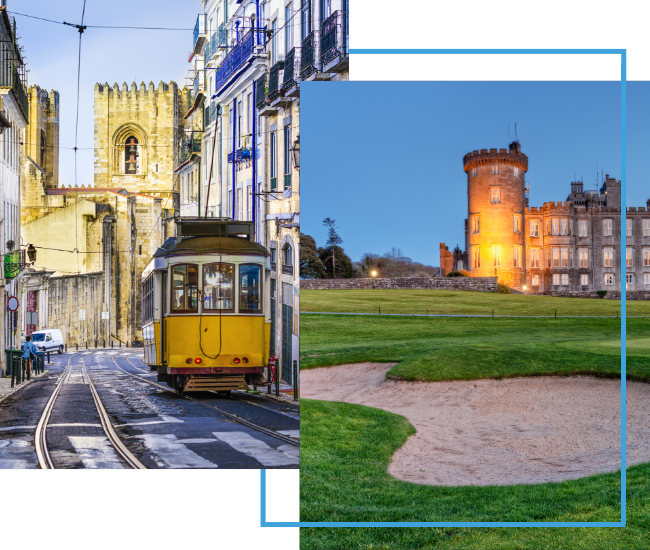 FX Excursions
FX Excursions offers the chance for once-in-a-lifetime experiences in destinations around the world.
Explore Excursions
The Perelman Performing Arts Center (PAC NYC), the cultural cornerstone and final public element of the World Trade Center site, opened this September.  The new performing arts center in Lower Manhattan provides a dynamic home for the arts, serving audiences and creators through flexible venues enabling the facility to embrace wide-ranging artistic programs.
Sponsored Content
Learning more about our readers' travel habits and preferences ensures Global Traveler delivers the content you desire. As the travel industry has adapted and changed over the last few years, it's more important than ever to connect. To best meet your short- and long-term travel content needs, please help us!
Whether you call secondhand fashion treasure troves "thrift stores," "fripperies," "charity shops," "vintage boutiques" or something else, shifting the paradigm from "old clothes" to "new finds," you may find the best, most conversation-starting souvenirs inside these shops and neighborhoods located in the world's most fashionable cities and a few unexpected places.