When Lord Byron, first cousin of the famous English poet, dropped anchor in the Galapagos Islands in 1825, he found an Eden stranded in the wilds of the Pacific Ocean.
"The place is like a new creation," he wrote. "The birds and beasts do not get out of your way; the pelicans and sea-lions look in our faces as if we had no right to intrude on their solitude; the small birds are so tame that they hop upon our feet. … Altogether, it is as wild and desolate a scene as imagination can picture."
Travelers today see the same scene when they cruise this remote volcanic archipelago situated 600 miles off the west coast of Ecuador. A UNESCO World Heritage site and Biosphere Preserve, the Galapagos feels as pristine and primeval as any place on Earth, as abundant with its own indigenous wildlife as the savannas of Africa.
Consisting of 21 islands and 107 islets and rocks, the Galapagos archipelago is an Ecuadorian National Park with just 26,000 residents. Vastly outnumbering humans are the giant tortoises, sea lions, penguins, marine iguanas and birds so unique to the place their existence set one early visitor, Charles Darwin, on course to formulating the theory of evolution. Darwin wrote that what he first encountered in 1835 in the Galapagos was "that mystery of mysteries — the first appearance of new beings on this earth."
On our first island-hopping cruise to the Galapagos, we encountered new creatures, too, beginning at our first stop, North Seymour Island. Going ashore on an inflatable panga, we hiked the starkly beautiful island, which is edged with black cinder hunks, its interior red with volcanic sands. Blue-footed boobies tending their nests along the sandy path did not scatter at our approach. The utter tameness of all the creatures of the Galapagos was quite remarkable, and has been since the first human explorer, the Bishop of Panama, set foot here in 1535, finding "such big tortoises that each could carry a man on top of itself" and birds "so silly they do not know how to flee."
Nothing flees visitors to the Galapagos, not even sea lions. At our second stop, Bartolome Island, we hiked to the summit of a volcanic pinnacle and descended to a bay where we made our first swim with the affable sea lions, becoming part of their games as they encircled us in hoops of bubbles and pirouettes. On other islands came other enchantments. On Santa Cruz Island, home to the Galapagos' largest settlement, Puerto Ayora, we shopped, ate and then toured the Charles Darwin Research Station, the main breeding center for long-lived Galapagos tortoises. On Isabella Island, the largest in the archipelago, formed by the convergence of six volcanoes, we observed the only colonies of penguins indigenous to the Northern Hemisphere. On Floreana Island, we left postcards in the barrel at Post Office Bay, where visitors, beginning with whalers in the 19th century, relied on other visitors to pick up their letters and packages and deliver them to matching home ports postage-free.
For those wanting to embark on their own Galapagos safari cruise, the islands offer 85 registered yachts and ships. No vessel may carry more than 100 passengers; shore excursions are limited to groups of no more than 16 persons, organized in two- to four-hour shifts; and guides, certified by Ecuador's National Park Service, are required to conduct each group. Local charter companies carry the bulk of visitors through the archipelago. Major tour operators, such as Abercrombie & Kent, frequently charter luxury yachts from local companies for their own Galapagos expeditions, while online travel specialists such as AdventureSmith provide complete Galapagos cruising packages. AdventureSmith currently lists nearly 30 Galapagos cruise options employing a variety of high-quality small ships, luxury motor yachts and sailboats, most carrying 12 to 40 passengers.
For something closer to a full cruise experience, three major international lines — Silversea, Celebrity and Lindblad Expeditions/ National Geographic — maintain year-round schedules in the islands, sailing the largest ships permitted in these waters. Although large by Galapagos standards, these ships are small and compact, the size of mega-yachts rather than ocean liners, so passengers should not expect the same lavish facilities, amenities and meals offered by larger cruise ships worldwide.
Silversea Cruises' 100-passenger Silver Galapagos is dedicated year-round to two itineraries in the archipelago. The western route takes in major islands including Isabella, Bartolome, Floreana and Santa Cruz, with a special stop at Wizard Hill on San Cristóbal Island, location of the Galapaguera de Cerro Colorado giant tortoise breeding center. The north-central route includes the same breeding center along with stops on North Seymour, Genovesa and Rábida islands. The Silver Galapagos, an all-suite liner, offers ocean views from every stateroom; a small sauna; a very small pool; glass-bottom boats; kayaks; and an elegant, open-seating, buffet-style dining room — but no shows, spa or casino.
Celebrity Cruises' 98-passenger Celebrity Xpedition also sails year-round in the Galapagos and offers open-seating casual dining, an outdoor grill, a hot tub (no pool), a small beauty salon and an exercise room. Like the Silver Galapagos, the Celebrity Xpedition is essentially a boutique ship for luxury ecotourism and adventure cruising. Celebrity Cruises offers two seven-day itineraries and several tour packages. The Galapagos Experience package takes care of pre- and post-cruise accommodations in Quito, the roundtrip flight from Quito to the Galapagos, the park entrance fee ($100) and the tourist card fee ($10). The Celebrity cruise covers two shore excursions a day, gratuities, Internet charges and most drinks.
Lindblad Expeditions/National Geographic's 96-passenger National Geographic Endeavour is often the first choice of those seeking an expedition cruise with academic experts and a professional photographer aboard. It departs every Friday on a seven-day island-hopper, part of a 10-day package tour from Guayaquil, Ecuador. The Endeavour contains a library, a lounge, a sauna, a fitness center and a unique floating massage platform. Kayaks, a glass-bottom boat, wet suits and snorkeling gear are all provided, and the captain invites passengers to gather at will on the open bridge. Lindblad Expeditions/National Geographic also operates a 48-passenger yacht, the National Geographic Islander, more typical of the size of vessels in the Galapagos. Although diminutive, the Islander incorporates space for same-day laundry service, kayaks, snorkel gear and deckside hammocks, as well as an onboard undersea specialist and National Geographic photographer.
Whether via a five-cabin sailboat or a 54-cabin small luxury ship, a Galapagos cruise provides entrance to one of the world's premier wildlife environments, entrancing and magical — a place novelist and seafarer Herman Melville dubbed the "Encantadas," or "Enchanted Isles," where cruise passengers today can comb the shores of a lost world like time travelers from a distant evolutionary future.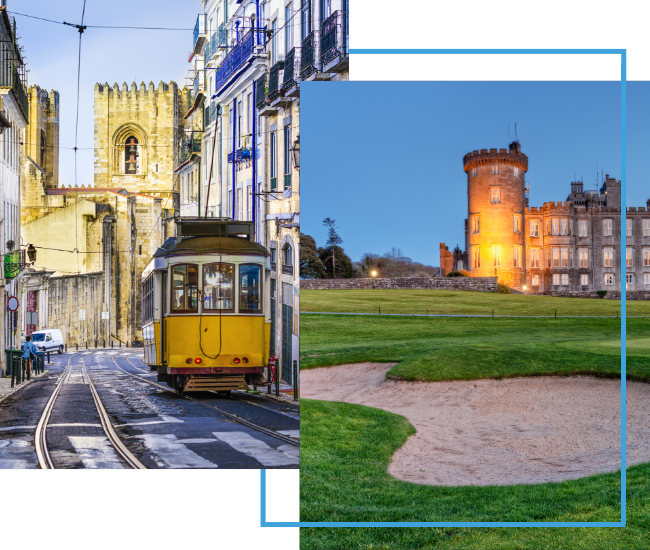 FX Excursions
FX Excursions offers the chance for once-in-a-lifetime experiences in destinations around the world.
Explore Excursions
If fabulous food and beverages are a must-have for any weekend getaway, then look no further than the City of Brotherly Love. Whether your palate has a penchant for vibrant Latin American fare or cozy French cuisine, whether you're an oenophile looking to swirl, sniff and sip your way around the globe or you'd rather sample farm-to-glass cocktails, Philly's got it all this fall. (With the exception of Bolo, which is a short taxi or Uber ride away and definitely worth the trip, the rest of these spots are all within walking distance of each other.)
Sponsored Content
Many small- and medium-sized businesses face time and budget constraints when organizing corporate hotel travel for employees. To address this problem, IHG® Business Edge emerged as a cost-free business travel solution for small- to medium-sized enterprises, offering travel managers exclusive access to enticing perks, handpicked educational resources and comprehensive company travel metrics. IHG Business Edge connects our loyal customers to our portfolio of 5,800 hotels and resorts across 18 brands in more than 100 countries.
From Santoríni to Dubai to New York, some hotels just have that "it" factor that draws visitors far and wide. For some hotels it's their proximity to popular landmarks and attractions, for others it's their amenities. But these hotels have something few can claim: a true room with a view.