The idea of getting away from it all is the driving force behind many vacation plans. That's easier thought than done. Oftentimes, as soon as "all" seems far behind, the trip is over and reality brings "it" back.
A cruise around the world changes all that. The generous amount of time allotted to each sailing allows passengers to not only leave "it" all behind but also discover better things to replace "it."
First-time world cruisers Vanessa and Todd Marino, both in their 50s, planned a cross-country move to be closer to family. Since they quit their jobs to make it happen, a world cruise sounded like the perfect way to kick off their new life. So they hopped on board Oceania Cruises' Insignia for an Around the World in 180 Days trip. Vanessa said the sailing attracted her because the itinerary included many of her bucket-list destinations. "Asia and Africa were especially appealing," she said.
Oceania Cruises' Around the World luxury cruise highlights the Hawai'ian Islands, French Polynesia, New Zealand, Asia, India and the Mediterranean. Plus, it includes more than 100 stops at UNESCO World Heritage sites in 96 destinations.
The types of people who sail these world cruises are those with time, said Erik Elvejord, public relations director, Holland America Line. "These are the folks that love to explore but also embrace the idea that they just have to unpack once and then engage and enjoy."
After the government lifted the pandemic stay-at-home orders, many people jumped at the chance to explore countries on their bucket list to ensure they wouldn't just stay on that to-visit list. When Vanessa Marino tried booking their January 2022 trip in October 2021, it already appeared too late. "Many cabins were already sold out," she said. But as sailing time neared, COVID restrictions still sealed the borders of some countries planned for the voyage. "Because New Zealand and Australia were still closed, some cabins opened up," said Vanessa. As the Insignia set sail, everyone hoped the fluidity of the situation would evolve into a favorable outcome for other restricted countries. However, the ship was in Tahiti when they found out Asia would remain closed. To mitigate passenger disappointment, Oceania offered everyone who continued the trip a 15 percent discount off their original fare. The Marinos opted to stay. "They did a great job trying to make up for the changes. We spent a lot of time around the Hawai'ian Islands, which was terrific."
Vanessa and Todd expected to be amazed during the six months they'd spend traveling the world. What they didn't expect were the connections they'd make with their fellow passengers. "We made such good friends on the boat," said Vanessa. "We're even stopping to see some of them as we drive cross-country for our move."
Don't look for the ATW sailing with Oceania in 2024, though, because cruisers rushed to book this trip as soon as it became available. The trip sold out within 30 minutes of its March 2022 sale date.
"The response to our 2024 world cruise clearly illustrates the resiliency, enthusiasm and passion that drive our guests to travel the world," stated Howard Sherman, president and CEO, Oceania Cruises.
One cruiser, Patricia Neidhardt, CEO, travel agency Cruises-N- More, Inc., said, "We've traveled to all seven continents and have been to the Seven Wonders of the new and old world." Neidhardt has sailed on nine world cruises and says she plans to go every year. "It's become a way of life. Each year we reconnect with friends from around the globe."
Passengers like Neidhardt, who appreciate the best and most luxurious travel modes, are drawn to companies like Regent Seven Seas Cruises, which describes itself as the world's most luxurious fleet. New to its cruise offerings for 2025, Regent unveiled its Away in Wonder itinerary, sailing on board the all-suite Mariner, with an ocean balcony in each spacious cabin.
"World cruises provide seamless access to some of the most hard- to-reach destinations. For example, Regent's 2025 Away In Wonder cruise will sail three oceans for 150 nights, visiting 97 ports of call in 25 countries on five continents. Destination highlights include South America, South Pacific, Australia, New Zealand, Asia and Alaska," said Jason Montague, president and CEO, Regent Seven Seas Cruises.
One of the most wonderful things about exploring so many fantastical locations at one time is enjoying the ride instead of trying to coordinate all the details. "Regent has curated 395 free shore excursions and 16 overnight stays in ports that allow for extended exploration of exotic destinations including Rio de Janeiro, Bora Bora and Ho Chi Minh City. The itinerary also provides guests special access to 48 UNESCO World Heritage sites, including Rapa Nui National Park, Hanga Roa on Easter Island and the Sydney Opera House," said Montague.
These long cruises are not the norm in cruising, though. "They're a fantastic sabbatical from life," said Neidhardt.
"On average, these ships are a bit more intimate when it comes to their capacity," said Chris Mastrippolito, director of global research, Cruise Lines International Association. "Typically, such a long cruise would be associated with a higher-end luxury brand. The ships that perform these kinds of sailings tend toward smaller vessels and higher crew-to-guest ratios." Once a traveler commits to a world cruise, the next step is deciding how to take that adventure.
If sailing in a two-story villa sounds appealing, then consider the 52-night world sailing on Celebrity Edge's Grand Journey. The Grand Journey starts in Rome and disembarks in Sydney. Along the way, excursions take passengers deep into Sicily, Athens, Singapore and Sri Lanka. The Edge is one of Celebrity Cruises' newest vessels and features a contemporary and open design. Suites offer ceiling-to-floor glass walls and infinity verandas and pools. A floating deck called the Magic Carpet has outdoor seating and a bar for live music that is raised or lowered between the 13 stories of the boat. Top chefs prepare unforgettable meals, and Peloton workouts aim to keep them in your life only as great memories.
One cruise line stands out from the others by circumnavigating the world along its rivers. The 2023 Rivers of the World tour with Uniworld offers sailors passage through two continents and nine different countries over a span of 46 days on four different ships.
Travelers set off down the Nile River to begin their journey through history on Uniworld's newest ship, S.S. Sphinx. This 11-day trip that ends in Lisbon includes day excursions with an Egyptologist through UNESCO World Heritage sites like the temples at Abu Simbel. Next, hop on the included flight to set sail for an 11-day trip through Switzerland and Italy. The next seven days take guests through Germany, Austria and Hungary, with private tours of exclusive locations. Then cruise through France's Seine River and its spectacular wine country, complemented with decadent dishes. Finally, set sail along the Douro River Valley, stopping alongside charming villages in Spain and Portugal. Everything is included during this slow and savory journey.
Travelers who want to see the world and also have a hand in saving it will love the two Pole to Pole expeditions by the pioneer of long-haul cruising, Hurtigruten Expeditions. After leading explorers on discovery missions for 126 years, Hurtigruten learned how to appreciate the Earth without hurting it. Details of the two 2023 sailings vary, but both start at the top of the world at the Arctic Circle and wind down following different paths, finding their way to the Northwest Passage and through the Panama Canal. After almost 100 days, the ship ends up in Antarctica, after stops in 11 countries. Both ships are the most sustainable in the world, redefining green travel. Both are hybrid battery-powered cruise ships, with one being the first such ship on the planet. Obviously, using anything plastic on board would lead to a walk along the plank. Hurtigruten Expeditions also boasts the only permanent scientist on staff overseeing its citizen scientist program. Passengers are invited to collect samples during their day expeditions to help in ongoing research, often undertaken by visiting scientists cruising alongside regular guests. Hurtigruten sold out its 2022 sailings almost immediately, and its 2023 trips are selling fast.
This great demand for longer sailings inspired cruise lines like Oceania to create new, longer itineraries such as its four new Grand Voyages that explore the world between 72 and 82 days. In addition, Holland America Line, Seabourn, Aida Cruises, Costa Cruises, MSC Cruises, Peace Boat, Phoenix Reisen, Silversea Cruises and Viking Ocean Cruises offer their own versions of around-the-world voyages.
After her first world sailing, Vanessa Marino is hooked. "We already booked one of those new 77-day Grand Voyage trips that sail to countries in Asia and Africa that were closed on our first trip." The captain of their last voyage left the Marinos with a thought that stayed with them. "You're not cruisers," he said. "You're travelers. You're here because you want to see the world."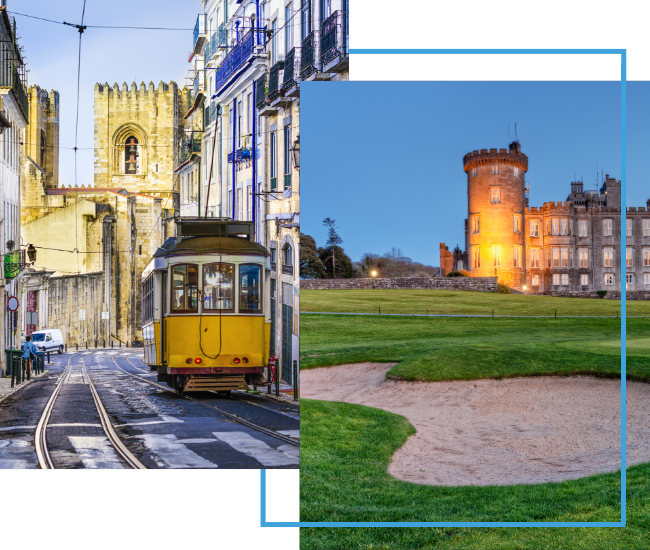 FX Excursions
FX Excursions offers the chance for once-in-a-lifetime experiences in destinations around the world.
Explore Excursions
If fabulous food and beverages are a must-have for any weekend getaway, then look no further than the City of Brotherly Love. Whether your palate has a penchant for vibrant Latin American fare or cozy French cuisine, whether you're an oenophile looking to swirl, sniff and sip your way around the globe or you'd rather sample farm-to-glass cocktails, Philly's got it all this fall. (With the exception of Bolo, which is a short taxi or Uber ride away and definitely worth the trip, the rest of these spots are all within walking distance of each other.)
Sponsored Content
Are you looking to enhance your business trip with a little leisure? Look no further than Portugal, a country renowned for its captivating blend of history, culture and natural beauty. And with TAP Air Portugal, you can effortlessly transform your business trip into an unforgettable bleisure adventure. Discover why Portugal and TAP Air Portugal are the perfect combination for an enriching and rejuvenating experience.
From Santoríni to Dubai to New York, some hotels just have that "it" factor that draws visitors far and wide. For some hotels it's their proximity to popular landmarks and attractions, for others it's their amenities. But these hotels have something few can claim: a true room with a view.