In this era of 6,500-passenger mega-ships, any cruise vessel conveying fewer than a thousand voyagers is considered a small ship, including high-end luxury liners, deluxe expedition ships and the world's riverboats. The focus on many small ships is the destination rather than the conveyance, the expert chat rather than the Broadway show, the watersport rather than the casino, the scenery and culture rather than the full-service spa and specialty restaurant. Passengers make a travel style choice, forgoing the options and pleasures of a resort-sized vessel for the deeper, more immersive experience of a yacht-scaled ship.
The smallest of these small passenger ships, those carrying 100 or fewer passengers, make up a tiny but growing share of the cruise market. For some destinations, a very small ship is the best choice — and even the only choice. This can apply to large, popular destinations as well as to exotic, faraway locations. Take Alaska, for example. After the pandemic scuttled Alaska cruises last year, this year's much-anticipated turnaround faces some rough waters. Canada extended its ban of all cruise ships carrying more than 100 passengers through February 2022.
No big ships can sail this summer to Alaska from Vancouver, nor from Seattle, unless they are U.S.-flagged. (America's cabotage rules require foreign-flagged cruise ships sailing between American ports to stop at least once in a foreign port, and nearly all major cruise lines and big ships are foreign-registered.) The two powerhouse cruise lines serving Alaska, Princess Cruises and Holland America Line, are currently too large to call upon or sail from Canada and lack American registration to boot. Cruise operators are working feverishly to modify or suspend these restrictions.
UnCruise Adventures will launch seven of its boutique ships (22–86 passengers) into Alaskan waters from Juneau starting this May. American Cruise Lines will operate three itineraries in Alaska and five in New England. Five of Lindblad Expeditions/National Geographic's expedition ships (62–100 passengers) will head up north. And starting May 7, Alaskan Dream Cruises, the native-owned operator with six tiny ships (10–76 passengers) will cruise Alaska from Sitka, Juneau, Ketchikan and Yakutat. These five operators have Alaska cruising pretty much to themselves for the year, barring changes in maritime regulations. One of the biggest cruise destinations on Earth has suddenly become the exclusive realm of very small cruise ships.
Alaska is not alone. By law, Ecuador's magical Galápagos Islands is closed to any cruise ship carrying more than 100 passengers. Several international cruise lines serve the Galápagos year-round. Avalon Waterways runs frequent four-day island cruises on the 16-passenger Treasure of Galapagos. Lindblad Expeditions stationed two of its very small expedition ships in the Galápagos, too: the 48-passenger National Geographic Islander and the 96-passenger National Geographic Endeavour II, with 7- to 16-day cruises departing twice a week. Two major luxury cruise lines maintain year-round operations in the Galápagos, as well. Celebrity Cruises' 100-passenger all-suite Celebrity Flora offers two seven-night itineraries, while Silversea's new 5-star, all-suite 100-passenger Silver Origin does much the same.
Wherever big ships can't go, whether due to geography, regulation or pandemic, small ships fill in. And riverways worldwide remain the special preserve of the small ship, especially in Northern Europe, where demand is strong for this year's tulip festival and Christmas market cruises. In 2022 the European river cruises will focus on Floriade, Holland's international floral exhibition and garden festival held just once every 10 years in Almere (near Amsterdam), April 14–Oct. 9. But better book now. Floriade cruises are expected to sell out at least a year ahead.
BARGE SPLURGE
When it comes to very very small-ship cruising, what's more fun than a barge? With this in mind, luxury travel company Abercrombie & Kent curates weeklong barge cruises throughout Europe and the United Kingdom that can be booked individually or by whole-boat charter. Each barge trip includes onboard dining and beverages, sightseeing excursions and transfers to and from the barge.
The vessels are long and slim, accommodating just 6–20 passengers, with outside-facing staterooms, en suite bathrooms, bicycles and sundecks. Many are based in France, such as the six-guest Meanderer, which wanders the upper Loire, and the six-guest Roi Soleil, a private charter fit for a king on the Canal du Midi.
Farther afield, La Nouvelle Etoile is a Dutch treat for eight springtime guests, La Bella Vita accommodates 20 passengers on the Venetian Lagoon, the Magna Carta has room for eight on the River Thames, and the Scottish Highlander charms search parties of eight on Loch Ness. Not to be outdone, the Shannon Princess transports 10 guests at a time along the River Shannon, calling at local pubs and a whiskey distillery.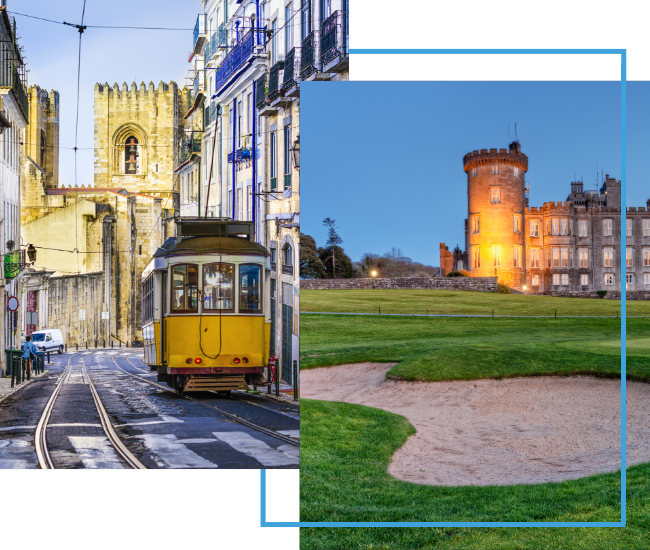 FX Excursions
FX Excursions offers the chance for once-in-a-lifetime experiences in destinations around the world.
Explore Excursions
Ever since opening in 2021, Nobu London Portman Square has served as the focal point for many gatherings, stays and experiences. This fall the hotel's Nobu Bar adds four more reasons to visit with an exciting array of offerings, menus and events.
Sponsored Content
Exclusive Sailing with Global Traveler
There's no doubt the northern lights are awe-inspiring and spectacular. Unfortunately, they're also fickle and fleeting, and despite your best-laid plans of checking this item off your bucket list, sometimes Mother Nature's luminescent show just doesn't cooperate. But one cruise line has a new fail-safe in place.