You arrive at your hotel after a long flight, pleased to learn your room is ready. You head to the room and collapse, exhausted, on the bed, only to sense a strong antiseptic smell. You hope the scent goes away soon, but you wonder: How safe for your health are the products used to clean your guestroom and bathroom?
Handley Page Transport, an airline company founded in 1919, served the first meals in the sky on a London–Paris route in October of that year. Passengers could choose from a variety of sandwiches and fruit. In-flight meals have changed a great deal since then.
World Mosquito Day, observed every Aug. 20, commemorates Sir Donald Ross, the British medical researcher who discovered the mechanism of malaria transmission. His discovery laid the foundations for scientists around the world to better understand the deadly role of mosquitoes in disease transmission and to come up with effective, innovative interventions. Sir Ross received the Nobel Prize for Medicine for his work on malaria in 1902. Our understanding of the mosquito vector and its role in transmitting malaria and yellow fever — and now, of global importance, dengue, chikungunya and Zika — transformed our world. About 1,500 cases of malaria are diagnosed in the United States each year, the vast majority of the cases in travelers and immigrants returning from parts of the world where malaria transmission occurs, including sub-Saharan Africa and South Asia. The World Health Organization estimates 214 million clinical cases of malaria occurred globally in 2015 and 438,000 people died of malaria, most of them children in Africa. Prevention is essential, and attempts at producing an effective vaccine and clinical trials are ongoing. Yellow fever is preventable by a relatively safe, effective vaccine. Yellow fever vaccine is recommended for people older than 9 months traveling to or living in areas with yellow fever virus transmission in South America or Africa. Some countries require visitors to provide proof of yellow fever vaccination. Contraindications to receiving this vaccine include infants younger than 6 months; people with a history of acute hypersensitivity reaction to any component in the vaccine such as eggs, egg products, chicken proteins or gelatin; and those with altered immune status, HIV or AIDS. Dengue fever is prevalent in at least 100 countries in Asia, the Pacific, the Americas, Africa and the Caribbean. The WHO estimates 50 to 100 million dengue infections occur yearly, including 500,000 dengue hemorrhagic fever cases and 22,000 deaths, mostly in children. Nearly all dengue cases reported in the 48 contiguous United States were acquired elsewhere by travelers or immigrants. There is no vaccine for dengue fever. Outbreaks of chikungunya virus occurred in parts of Africa, Europe, Southeast Asia and the islands of the Indian and Pacific oceans. It was found in the Americas in 2013 and spread to the Caribbean and South, Central and North America. No vaccine to prevent or medicine to treat infection is available. The mosquitoes that spread chikungunya bite aggressively during the day. Pregnant women should strictly follow steps to prevent mosquito bites while traveling, as Zika infection in a pregnant woman is linked to serious birth defects and miscarriage. The Centers for Disease Control and Prevention recommend pregnant women not travel to areas with Zika outbreaks. There is no vaccine or medicine, and it can be passed from an infected man during unprotected sex. This is preventable by using condoms the right way every time during all types of sex. To date there is no evidence of transmission from a woman during sex. Reduce your risk by taking steps to prevent bites. Use EPA-registered insect repellent that contain at least 20 percent DEET for protection against mosquitoes. Use Picaridin or products that contain oil of lemon eucalyptus (OLE) or para-menthane-diol (PMD). The effectiveness of insect repellents not registered with the EPA, including some natural repellents, is not known. When using repellent, follow the package instructions and reapply as directed. In general, higher percentages of the active ingredient provide longer-lasting protection. However, this increase in protection time maximizes at about 50 percent DEET. If you are also using sunscreen, apply it first, let it dry, then apply repellent. Do not use products containing both sunscreen and repellent. Do not spray repellent on the skin under clothing. Consider using clothing and gear treated with permethrin, an insecticide. Buy pre-treated clothes or treat your own clothes, following instructions carefully. Do not use permethrin directly on skin. Wear long-sleeved shirts, long pants, socks and a hat. Tuck your shirt into your pants, and tuck your pants into your socks for maximum protection. Choose accommodations that are air-conditioned or have good window and door screens. If mosquitoes can get into your sleeping area, sleep under a permethrin-treated bed net that can be tucked under the mattress. When outdoors, use area repellents such as mosquito coils containing metofluthrin or allethrin. Do not use insect repellents on babies younger than 2 months. Do not use products containing OLE or PMD on children younger than 3 years. Children should not touch repellent. Adults should apply it to their own hands and gently spread it over the child's exposed skin. Do not apply repellent to children's hands because they tend to put their hands in their mouths. Keep repellent out of the reach of children. Protect babies younger than 2 months by draping mosquito netting over their carrier or car seat; netting should have an elastic edge for a tight fit. When used as directed, EPA-registered insect repellents are safe and effective for pregnant and breastfeeding women. The content of this article is for informational purposes only. It is not intended to be a substitute for professional medical advice, diagnosis or treatment. Always seek the advice of your physician or other qualified health care provider with any questions you may have regarding a medical condition.
With the start of spring, travelers have their choice of new design-centric boutique properties opening in the coming months. Check out these properties for travel inspiration.
Sponsored Content
Europe is more fun with a Portugal Stopover.
Mendocino County is a self-contained universe of effortless, California-centric joy enveloped within the Redwood Forest National and State Parks, the rocky Pacific Coast and several prime wine production areas like Anderson Valley. If Highway 1 and Route 128 are the ribbons holding this package together, Elk Cove Inn & Spa can be considered the bow. Mendocino Coast's first vacation destination, established in 1968, is an ideal 16-room gateway to the destination.
YOTEL recently announced plans to open YOTELPAD London Stratford at the end of this year, making it the seventh YOTEL property in the United Kingdom and third in London, joining YOTEL London City and YOTEL London Shoreditch. YOTEL currently features properties in the United States and United Kingdom, with hotels in Boston, New York, San Francisco and, more recently, Washington, D.C.
Sponsored Content
Now through May 8, sign up for a free six-month trial of the Global Traveler app and be automatically entered for a chance to win a $500 gift card of your choice for Amazon, Apple or American Express.
Hotel El Convento, one of Old San Juan's most popular landmark hotels, recently completed a multimillion-dollar design and architectural renovation to its 81 rooms. The renovation blends Old World charm with Puerto Rico's vibrant and modern energy.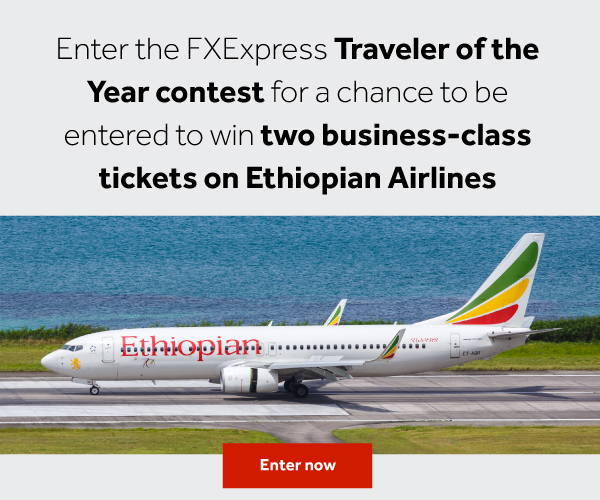 This May, London celebrates as King Charles III will officially be crowned in the coronation. To help travelers get into the royal spirit, Red Savannah recently introduced a variety of itineraries and destinations in the United Kingdom, including the homes of monarchs and historical figures, castles and gardens.
Sponsored Content
Learning more about our readers' travel habits and preferences ensures Global Traveler delivers the content you desire. As the travel industry has adapted and changed over the last few years, it's more important than ever to connect. To best meet your short- and long-term travel content needs, please help us!
Love small-ship cruising and the California coast? You're in luck: American Cruise Lines offers an eight-day San Francisco Bay excursion, taking in some of the best wine country in the United States. The itinerary for American Jazz — one of 10 new riverboats in American Cruise Lines fleet — includes ports in San Francisco, Stockton, Sacramento and Vallejo. Sailing time takes in San Francisco Bay, San Pablo Bay and the Napa and San Joaquin rivers. American Jazz reaches the California Coast following a repositioning journey from Mississippi,  including a transit through the Panama Canal.