You arrive at your hotel after a long flight, pleased to learn your room is ready. You head to the room and collapse, exhausted, on the bed, only to sense a strong antiseptic smell. You hope the scent goes away soon, but you wonder: How safe for your health are the products used to clean your guestroom and bathroom?
Handley Page Transport, an airline company founded in 1919, served the first meals in the sky on a London–Paris route in October of that year. Passengers could choose from a variety of sandwiches and fruit. In-flight meals have changed a great deal since then.
World Mosquito Day, observed every Aug. 20, commemorates Sir Donald Ross, the British medical researcher who discovered the mechanism of malaria transmission. His discovery laid the foundations for scientists around the world to better understand the deadly role of mosquitoes in disease transmission and to come up with effective, innovative interventions. Sir Ross received the Nobel Prize for Medicine for his work on malaria in 1902. Our understanding of the mosquito vector and its role in transmitting malaria and yellow fever — and now, of global importance, dengue, chikungunya and Zika — transformed our world. About 1,500 cases of malaria are diagnosed in the United States each year, the vast majority of the cases in travelers and immigrants returning from parts of the world where malaria transmission occurs, including sub-Saharan Africa and South Asia. The World Health Organization estimates 214 million clinical cases of malaria occurred globally in 2015 and 438,000 people died of malaria, most of them children in Africa. Prevention is essential, and attempts at producing an effective vaccine and clinical trials are ongoing. Yellow fever is preventable by a relatively safe, effective vaccine. Yellow fever vaccine is recommended for people older than 9 months traveling to or living in areas with yellow fever virus transmission in South America or Africa. Some countries require visitors to provide proof of yellow fever vaccination. Contraindications to receiving this vaccine include infants younger than 6 months; people with a history of acute hypersensitivity reaction to any component in the vaccine such as eggs, egg products, chicken proteins or gelatin; and those with altered immune status, HIV or AIDS. Dengue fever is prevalent in at least 100 countries in Asia, the Pacific, the Americas, Africa and the Caribbean. The WHO estimates 50 to 100 million dengue infections occur yearly, including 500,000 dengue hemorrhagic fever cases and 22,000 deaths, mostly in children. Nearly all dengue cases reported in the 48 contiguous United States were acquired elsewhere by travelers or immigrants. There is no vaccine for dengue fever. Outbreaks of chikungunya virus occurred in parts of Africa, Europe, Southeast Asia and the islands of the Indian and Pacific oceans. It was found in the Americas in 2013 and spread to the Caribbean and South, Central and North America. No vaccine to prevent or medicine to treat infection is available. The mosquitoes that spread chikungunya bite aggressively during the day. Pregnant women should strictly follow steps to prevent mosquito bites while traveling, as Zika infection in a pregnant woman is linked to serious birth defects and miscarriage. The Centers for Disease Control and Prevention recommend pregnant women not travel to areas with Zika outbreaks. There is no vaccine or medicine, and it can be passed from an infected man during unprotected sex. This is preventable by using condoms the right way every time during all types of sex. To date there is no evidence of transmission from a woman during sex. Reduce your risk by taking steps to prevent bites. Use EPA-registered insect repellent that contain at least 20 percent DEET for protection against mosquitoes. Use Picaridin or products that contain oil of lemon eucalyptus (OLE) or para-menthane-diol (PMD). The effectiveness of insect repellents not registered with the EPA, including some natural repellents, is not known. When using repellent, follow the package instructions and reapply as directed. In general, higher percentages of the active ingredient provide longer-lasting protection. However, this increase in protection time maximizes at about 50 percent DEET. If you are also using sunscreen, apply it first, let it dry, then apply repellent. Do not use products containing both sunscreen and repellent. Do not spray repellent on the skin under clothing. Consider using clothing and gear treated with permethrin, an insecticide. Buy pre-treated clothes or treat your own clothes, following instructions carefully. Do not use permethrin directly on skin. Wear long-sleeved shirts, long pants, socks and a hat. Tuck your shirt into your pants, and tuck your pants into your socks for maximum protection. Choose accommodations that are air-conditioned or have good window and door screens. If mosquitoes can get into your sleeping area, sleep under a permethrin-treated bed net that can be tucked under the mattress. When outdoors, use area repellents such as mosquito coils containing metofluthrin or allethrin. Do not use insect repellents on babies younger than 2 months. Do not use products containing OLE or PMD on children younger than 3 years. Children should not touch repellent. Adults should apply it to their own hands and gently spread it over the child's exposed skin. Do not apply repellent to children's hands because they tend to put their hands in their mouths. Keep repellent out of the reach of children. Protect babies younger than 2 months by draping mosquito netting over their carrier or car seat; netting should have an elastic edge for a tight fit. When used as directed, EPA-registered insect repellents are safe and effective for pregnant and breastfeeding women. The content of this article is for informational purposes only. It is not intended to be a substitute for professional medical advice, diagnosis or treatment. Always seek the advice of your physician or other qualified health care provider with any questions you may have regarding a medical condition.
DIYS.com, the world's largest D.I.Y. community, sought to find out which of the world's iconic Christmas trees are the most popular; the website analyzed monthly global search volume to rank the trees.
Sponsored Content
This holiday season, escape to the Caribbean with Celebrity Cruises and reconnect with family and friends in luxurious accommodations that make you feel right at home. Savor globally inspired cuisine designed by our Michelin-starred chef, paired with the most awarded wine collection at sea. Elevate "me time" with a soothing spa treatment sure to renew. With both long and short cruises to celebrate in December, and even three special Ultimate Holiday Cruises that sail over Christmas and into the New Year, the time to gift an experience and create unforgettable memories is now. Celebrity Cruises' Always IncludedSM pricing — drinks, WiFi and tips — ensures a seamless, carefree vacation with the ones you love.
Hilton Lake Como recently unveiled a new winter culinary offering at its exclusive rooftop restaurant and bar, Terrazza 241. Executive chef Alessandro Ramella crafted the new menu to ensure each dish complemented the garden and 360-degree panoramic views of the surrounding landscape and lake. The hotel first opened in 2018, continually drawing in visitors for its gorgeous scenery, fine dining and luxury accommodations.
For the 11th consecutive year, Global Traveler honors the best of the best in the industry, naming 2021's Airline of the Year and Hotel of the Year.
Sponsored Content
GBTA's Convention 2021 will bring the business travel industry together for the first time in a long time. Once again, you'll learn and connect with experts and each other, along with discussions with leading thinkers, entrepreneurs and change makers addressing the issues that matter most.
It's not an overstatement to say we've been through it all in the past 18 months as milestones, celebrations, and even hallmarks of our day-to-day lives were upended. But 2021 has certainly brought us a bit more due north with vaccine deployment, a return to in-person everything, countries around the world re-welcoming Americans and, more recently, with U.S. borders re-opening to vaccinated individuals from around the world. With all that good news, we chose the theme "Open the World" to celebrate the 2021 winners of the GT Tested Reader Survey awards, our 18th year honoring the best of the best in the world of travel.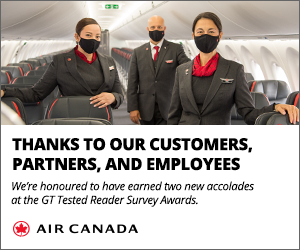 After being closed to travelers for a long period of time, Chile is officially ready to welcome fully vaccinated travelers from around the world. The National System of State Protected Wildlife Areas comprises 22 percent of domestic territory in Chile, and with 43 national parks, 45 national reserves and 18 natural monuments, the country is the perfect destination for travelers to participate in sustainable tourism.
Sponsored Content
IHG® Business Edge: Working Together with SMEs for a smarter way to manage travel
Visitors to Paris are familiar with the Champs Elysées — the broad, tree-lined boulevard connecting the Place de la Concorde and Arc de Triomphe — and all the fashionable streets that lead from it, including Avenue George V. The flagship Louis Vuitton store and the red awning at Le Fouquets are the two gatekeepers to this stylish street, which boasts chic Hermes, Bulgari and Kenzo boutiques — and elegant hotels, including Prince de Galles, a Luxury Collection hotel.