THE FLU, ALSO KNOW AS INFLUENZA, is a respiratory infection caused by several viruses. The viruses pass through the air and enter your body through your nose or mouth. Between 5 and 20 percent of the U.S. population gets the flu each year. The flu can be serious or even deadly for elderly people, newborn babies, young children and individuals with certain chronic illnesses. The best way to prevent flu is by getting a flu vaccine each year.
There are two main types of influenza virus, type A and type B; they routinely spread to humans and cause seasonal flu epidemics each year. The flu differs from a cold. Flu usually comes on suddenly and presents with some or all of the symptoms: fever, cough, sore throat, runny or stuffy nose, body aches, headache, chills, fatigue and sometimes diarrhea and vomiting. If symptoms are severe, seek medical attention immediately.
While seasonal flu viruses are detected yearround in the United States, they are most common during the fall and winter. Flu activity often begins to increase in October and peaks between December and February or March; however, activity may last as late as May. In the temperate regions of the Southern Hemisphere, influenza typically occurs April to September. In the tropics, influenza occurs throughout the year.
Travelers in the Northern and Southern hemispheres can be exposed to influenza during months that fall outside of those listed above, especially when traveling as part of large tourist groups (as on cruise ships) that include people from areas of the world where influenza viruses are circulating. If you are sick with flu-like symptoms, you should not travel. Stay home until at least 24 hours after you no longer have signs of a fever without the use of fever-reducing medications such as acetaminophen.
Most experts believe flu viruses spread by tiny droplets made when those with flu cough, sneeze or talk. These droplets can land in the mouths and noses of people nearby. Less often, people get flu from touching a surface with the flu virus on it and then touching their own mouth, nose or eyes.
People with flu are most contagious in the first three to four days after the illness begins. Some otherwise healthy adults may infect others beginning the first day, before symptoms develop, and up to five to seven days after becoming ill. Children and people with weakened immune systems might be able to infect others for an even longer period.
Complications of flu include bacterial pneumonia; ear infections; sinus infections; and worsening of chronic medical conditions such as congestive heart failure, asthma, diabetes, chronic lung disease, blood disorders, cardiac disease and neurological and neurodevelopmental conditions. Anyone can get flu, even healthy people, and serious complications can happen at any age. Those at high risk of developing serious complications include people 65 years or older, people of any age with chronic medical conditions, pregnant women and children younger than 5 years. Residents of nursing homes or long-term care facilities, Native Americans and Alaska natives are also at higher risk.
Your doctor diagnoses by performing a physical exam and possibly ordering a test that detects influenza viruses. A rapid influenza diagnostics test looks for substances (antigens) on a swab sample from the back of the nose or throat.
The most important step in preventing flu is to get the flu vaccine each year. Flu vaccine has been shown to reduce flu-related illnesses and the risk of serious complications that can result in hospitalization or even death. The Centers for Disease Control also recommend everyday preventative actions such as staying away from people who are ill, covering coughs and sneezes and frequent handwashing to help slow the spread of germs that cause respiratory illnesses.
Flu vaccines cause protective antibodies to develop in the body about two weeks after vaccination. There are many different flu viruses which are constantly changing. The composition of U.S. flu vaccines is reviewed annually and updated to match circulating flu viruses. The seasonal flu vaccine protects against the three or four flu viruses CDC research indicates will be the most common during the upcoming season. The vaccine is delivered via a needle, usually in the arm.
The flu vaccine is available in several forms, but the most important thing is for all people ages 6 months and older to get the vaccine every year. Quadrivalent (four-component) vaccines protect against a second lineage of type B viruses. The adjuvanted flu vaccine helps create a stronger immune response. If you have questions about which vaccine is best for you, talk to your health care professional.
Most people who get the flu can treat themselves at home and often do not need to see a health care provider. If you have flu symptoms and are at risk of complications, see your provider right away. Taking antiviral medications within the first 48 hours after your first symptoms may reduce the length of your illness and prevent serious problems. The flu vaccine is not 100 percent effective due to the various strains of the flu viruses. Follow smart safety measures to reduce the spread of infection: Wash your hands frequently, contain your coughs and sneezes and avoid crowds during flu season.
The content of this article is for informational purposes only. It is not intended to be a substitute for professional medical advice, diagnosis or treatment. Always seek the advice of your physician or other qualified health care provider with any questions you may have regarding a medical condition.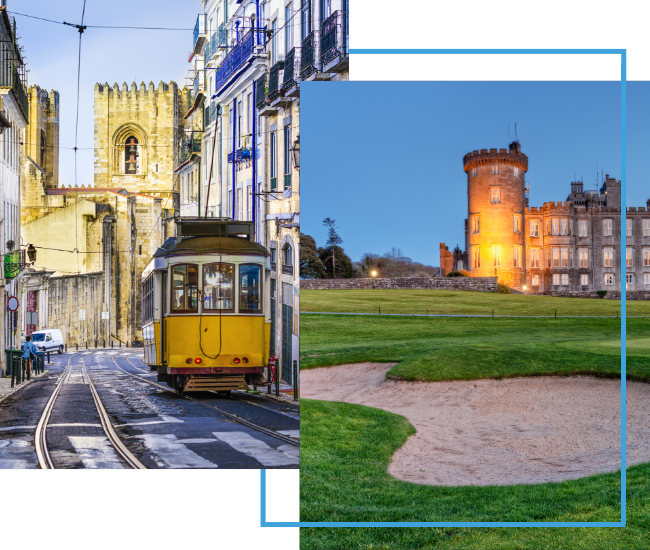 FX Excursions
FX Excursions offers the chance for once-in-a-lifetime experiences in destinations around the world.
Explore Excursions
Pleasant weather, autumn foliage and vibrant flowers are among the many delights awaiting nature lovers at botanical gardens and arboretums across the United States. However, some of these green spaces take on additional color this month and through Halloween when enterprising gardeners, landscape architects, management and other creative minds cast a spell with themed environments running the gamut from spooky to utterly bewitching.
Sponsored Content
Learning more about our readers' travel habits and preferences ensures Global Traveler delivers the content you desire. As the travel industry has adapted and changed over the last few years, it's more important than ever to connect. To best meet your short- and long-term travel content needs, please help us!
For travelers who love all things autumn, Crystal Springs Resort, New York City's closest destination resort, features special offers and experiences to meet the demands of everyone's fall bucket list. Located only 80 minutes outside New York City in Sussex County, New Jersey, Crystal Springs Resort offers a quick getaway to enjoy fall foliage. Are any of these new offers or experiences on your bucket list?