MULTIPLE SCLEROSIS is an autoimmune disease that damages the nerves in the spinal cord and brain as well as the optic nerves. MS affects women more than men. The disorder is most commonly diagnosed between ages 20 and 40 but can be seen at any age. MS damages the myelin sheath, the protective covering surrounding the nerve cells, causing nerve signals to slow or stop.
An MS diagnosis should not keep you from seeing destinations you have always wanted to visit. You can use your disease as a call to explore new places; travel can be a reality if you address any restrictions or concerns you may have. Before you travel, especially outside of the country, contact your neurologist or MS treatment provider, who can help plan and renew any medications you need to take with you. If you use injectable medications or other treatments that require refrigeration, your provider can help ensure they are shipped safely to your destination. Notify your hotel directly that a package requiring refrigeration will arrive prior to your arrival.
Notify the airline ahead of time about your disability. The airline can arrange transportation through the airport to your gate and provide you with a disability notification card to expediate access through TSA and early boarding. Let the airline know of any special needs, including refrigeration of medications. It is also helpful to notify TSA and apply for TSA PreCheck or the new CLEAR ID, which is a safer, simpler and more secure identification. CLEAR is currently available at only 50 U.S. airports. Ensure your passport is current and will not expire while you are abroad.
If you plan on making foreign transactions with a credit card, call the number on the back of your card prior to travel to advise customer service of two things: the location of your travel and your need for a custom PIN. This can prevent fraudulent transactions on your card, provide a favorable exchange rate and allow you to purchase and confirm train tickets.
Contact your cellphone carrier to understand the costs associated with travel abroad. As soon as you leave the country, you will be roaming for both data and voice. You may have unlimited data and text, but international calls may be expensive. WhatsApp is a free communication service that uses a phone's internet connection to make voice calls, but only when you call your contacts.
Book hotels or short-term rentals that are handicapped accessible, on one floor or level. Many places in older countries do not have elevators. If you have limited mobility and cannot manage stairs, take that into account when booking your stay. Consider newer hotels offering handicapped accessible suites.
Countries in Europe and some other older countries have an outdated infrastructure of roads and sidewalks in poor condition. Cobblestone sidewalks can be difficult to navigate with mobility issues. Consider bringing or renting assistive devices such as a cane, walker on wheels, wheelchair or power wheelchair. To rent these devices, you must order them in advance and have them sent to your hotel room. Supportive, cushioned shoes are essential for uneven walking surfaces or standing in long lines.
Pack light if you will be taking trains or other public transportation since you do not want to be lugging suitcases over uneven streets. Use luggage with four spinner wheels with 360-degree mobility and a pull-up handle with a push-button system that adjusts to several heights, plus padded top and side handles for comfort.
Take time to research and plan your daily activities beforehand. Identify the top sites, museums and areas of interest you would like to visit. Ensure these locations are handicapped accessible. Plan rest breaks into your days so you do not exert yourself and become fatigued. Travel with a friend or a small group of friends in case you need assistance.
Once abroad, protect your identity. Beware of pickpockets and scammers who can scan your information. Purchase a wallet that protects against RFID scanning. You can also purchase a wallet to wear around your neck. If you carry a purse, make sure it has zippers that lock. Consider using free Google Maps and Translate to help you navigate a new location. Google Maps helps you walk and navigate by mapping each step; Google Translate translates spoken or typed words into your primary language.
Locate nearby hospitals and emergency numbers. Many hotels can provide a list of close hospitals and local English-speaking doctors to call if you require medical assistance. Ask for this information on arrival and keep it handy for emergency situations. Designate one of your companions to be responsible for your medical history, medications list and the names and phone numbers of your neurologist and primary care provider in the United States.
Avoid fatigue, stress, infection and overheating whenever possible so you do not have an exacerbation of MS symptoms. Bring cooling devices such as seat pads, vests and cooling packs to reduce overheating. Book a direct flight so you do not have to wait for connections. Use the restroom before boarding the plane. Keep your medications in your carry-on bag. Stay hydrated on the plane and throughout your trip. If you must sit for long periods, reduce muscle spasms by frequently performing simple stretches. Maintain reasonable expectations; do not try to do 21 cities in 21 days.
The content of this article is for informational purposes only. It is not intended to be a substitute for professional medical advice, diagnosis or treatment. Always seek the advice of your physician or other qualified health care provider with any questions you may have regarding a medical condition.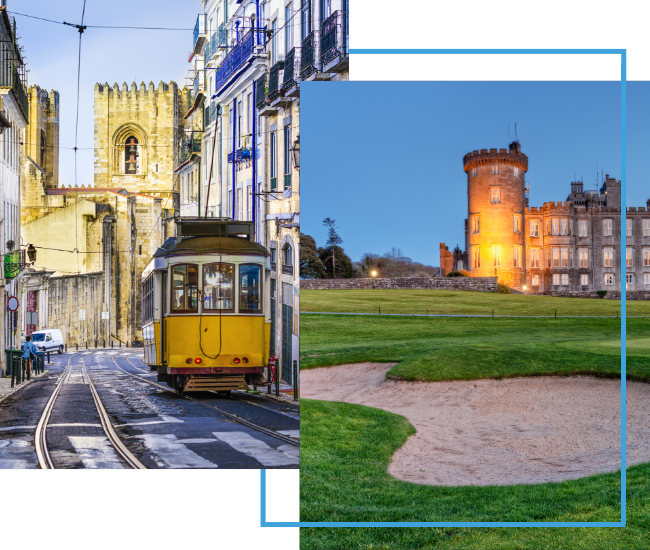 FX Excursions
FX Excursions offers the chance for once-in-a-lifetime experiences in destinations around the world.
Explore Excursions
Pleasant weather, autumn foliage and vibrant flowers are among the many delights awaiting nature lovers at botanical gardens and arboretums across the United States. However, some of these green spaces take on additional color this month and through Halloween when enterprising gardeners, landscape architects, management and other creative minds cast a spell with themed environments running the gamut from spooky to utterly bewitching.
Sponsored Content
Don't risk losing all the money you've spent if you must cancel your trip at the last minute. Allianz Travel Insurance can give you:
For travelers who love all things autumn, Crystal Springs Resort, New York City's closest destination resort, features special offers and experiences to meet the demands of everyone's fall bucket list. Located only 80 minutes outside New York City in Sussex County, New Jersey, Crystal Springs Resort offers a quick getaway to enjoy fall foliage. Are any of these new offers or experiences on your bucket list?