The air above the shallow fire pit quivered from the heat rising off the hot rocks and coals. Young Beqa islanders, clad only in ceremonial grass skirts and floral leis, positioned the rocks with sticks while an elder barked out ritual commands in an ancient Melanesian dialect.
Once the rocks were in place, the men formed a line near the fire pit. The elder started a slow resonant chant, and one by one, each of them walked across the white-hot stones. A few paused in the middle of the pit, arms raised skyward as if to make a point — or perhaps it was just for photos. Regardless, it was a daring display that left my feet squirming in my sandals.
Beqa firewalkers are renowned throughout the South Pacific for their daring. There is no real scientific explanation why males from the island's Sawau tribe can walk on 1,000-degree rocks without charbroiling their feet. But legend says a Vu, or spirit god, taught the great Sawau warrior Tui na Iviqalita how to walk on fire, and his descendants continue to teach other tribesmen the technique. Firewalkers must have no female contact and abstain from certain foods for three weeks prior to the ceremony or risk serious burns.
A meke — a traditional Fijian song and dance ceremony — with a customary cup of kava followed the firewalkers. Kava is a traditional South Pacific welcome drink made from the dried roots of the mildly narcotic shrub Piper methysticum. It's foul-tasting, but you need only take a tiny sip as a sign of respect to your hosts.
But Beqa (pronounced "mben-ga") isn't all about firewalkers. The island also boasts the country's top dive site, Beqa Lagoon. It's easiest to describe Beqa Lagoon as an enormous, natural, 100-square-mile aquarium encased within one of the most spectacular fringing reefs in the Pacific. The world-famous lagoon is known for its giant broccoli-like clusters of pink, red and purple soft corals and thick schools of tropical fish, but its big draws are its electrifying shark and manta dives.
After a futile attempt to gyrate my hips with the dancers at the kava ceremony, I donned my dive gear and joined Beqa Adventure Divers for a shark dive in the lagoon. Unlike most other shark dives around the world, where typically only one or two shark species show up, Beqa shark dives attract eight different varieties, including 15-foot tiger and 10-foot bull sharks. We dropped into the calm, blue water and descended to 100 feet. As we settled into position on a sandy shelf amid the brightly colored corals, schools of giant trevally jacks and barracuda circled overhead, waiting for the show to start. A curious hammerhead came by to check us out but quickly disappeared when the other sharks arrived.
Within minutes, dozens of gray, blacktip and whitetip sharks surrounded us, some passing at barely an arm's length away. Then the shark feeder opened his box of fish scraps and all heck broke loose. They swooped in like hungry pigeons gobbling up fish heads and tails while the jacks streaked in to vacuum up the tiny scraps floating in the clear water. The feeding continued for about 20 minutes, then all of a sudden most of the sharks disappeared. As we scanned the depths searching for them, our dive master tapped his tank and pointed. Two large bull sharks and a huge tiger shark lumbered out of the deep blue and headed our way.
Apparently there is a pecking order in the deep, and the bull and tiger sharks are near the top. The tiger came in and gently snatched a fish head from the feeder, followed by the two bulls. But it would take more than a snack of fish heads to satisfy these big predators, so they soon lost interest and swam off. As the big boys departed, the not-so-finicky pigeons returned, hungrier than ever.
My day on Beqa (a one-hour boat ride from Viti Levu) was only one of many adventures I had visiting this tiny nation of 332 islands. Most visitors elect to spend their entire vacation kicking back on one island, but if you really want to get a feel for Fiji's marvelous cultural diversity, it's best to do a little island hopping.
One of the first things you notice when you step off the plane is that Fiji's friendly people aren't your typical South Pacific islanders. That's because about half the population are indigenous Fijians (basically Melanesians) while the other half are Indo-Fijian, descendants of Indian indentured workers brought to the islands in the late 1800s by the British to work the cane fields. For the most part, the two cultures coexist peacefully.
Most visitors start out on Viti Levu, Fiji's largest island, known locally as the "mainland." On the wetter east coast is Suva, Fiji's cosmopolitan capital and home to about half the country's population. On the drier west coast sits Nadi, the country's main international airport and Fiji's prime resort area of Denarau Island.
Nestled in a sweeping bay, Suva is the largest city in the South Pacific and the perfect place to start exploring Fiji. Suva's old town with its jigsaw of modern and old colonial architecture (Queen Victoria made Fiji a British colony in 1874) and large Indian population has a colonial Raj ambience more like old Bombay than Melanesia.
Off the grassy central square, you'll find the 1909 Suva City Library and the impressive Parliament Buildings with their statue of Ratu Cakobau, the great cannibal king who created a united Fijian Kingdom in 1871. In the heart of Suva's historical Thurston Gardens is the city's top attraction, the fascinating Fiji Museum. The exhibits of musical instruments, cooking tools and war clubs provide a unique look into the islands' cannibalistic past and explain much of the country's diversity.
Fiji's newer and third-largest city is Nadi (pronounced "nan-di"). The much drier west coast of Viti Levu spawned most of the island's upscale tourist resorts, which are concentrated between the airport and the predominantly Indian-populated Nadi Town and along the coast of Denarau Island. Thick mangrove forests blanket the west coast, so don't expect to find any of those spectacular Fijian beaches you've heard about.
Many visitors use Nadi as a stopover to adjust to the time zone and climate before heading out to some of the more picturesque islands. That said, the city offers outstanding shopping and dining, so it's definitely worth staying a couple of days.
Nadi is home to the Sri Siva Subramaniya Swami Temple, the largest Hindu temple in the South Pacific. Completed in the early 1990s, the temple's traditional Dravidian architecture is rarely seen outside India and offers a stunning example of Fiji's rich cultural diversity. Eight of India's top craftsmen created the intricate statues that adorn the temple's three main sections.
Hugging Viti Levu's spectacular Coral Coast (about 40 minutes' drive south of Nadi) is secluded Natadola Beach. This sensuous, mile-long arc of soft, white sand with its fabulous romantic sunsets provides an ideal spot for quiet afternoon swims and sunset horseback rides.
With more than 10 locations on Viti Levu, Jack's of Fiji is one of the largest handicraft retailers in the South Pacific. Besides traditional handicrafts such as cannibal forks, lali masks and war clubs, Jack's also stocks souvenirs such as tapa cloth (made from the leaves of the local pandanus tree), brightly patterned bula shirts and sulu wraps. The larger outlets in Nadi carry black pearl and gold jewelry and island fragrances.
The beat of a log drum resonates through the Arts Village Cultural Centre in Viti Levu's Pacific Harbour, signaling visitors to gather on the banks of the small lagoon. Here they board a drua (double-hulled canoe) for a journey back in time through a traditional 18th-century Fijian fortress village. Brightly costumed warriors skillfully pole the craft through the lagoon's narrow, mangrove-fringed canals and past bures (thatched huts), where traditionally clad men and women dye tapa cloth, fish with spears, weave baskets and sing.
Just offshore from Nadi, the 20 Mamanuca Islands boast a wide variety of various-sized luxury resorts. Fringing these flat coral islands are many of those spectacular beaches you see on all the postcards. The Mamanucas average more than 300 sunny days a year and offer a host of water sport activities including deep-sea fishing, snorkeling, scuba diving and wind surfing. Regular high-speed catamarans service the islands from Nadi.
Like a string of emeralds fringed with ivory, the gorgeous and unspoiled Yasawa Islands stretch north of the Mamanucas Islands for about 50 miles. Hillier and greener than their southern siblings, the Yasawas possess Fiji's finest beaches. The islands provided the backdrop for both the original 1949 movie The Blue Lagoon and the 1980 remake starring Brooke Shields. Daily high-speed ferry service from Nadi, and day cruises offered by Blue Lagoon Cruises and Captain Cook Cruises, make the islands accessible.
Set sail aboard Captain Cook Cruises' brigantine, Ra Marama, for a daylong adventure to secluded Tivua Island. Built in 1957 for the governor general of Fiji, the tall ship got its name from a famous 19th-century Fijian war canoe. Ringed with soft, white-sand beaches and 500 acres of pristine coral reefs, peaceful Tivua provides the ideal spot for snorkeling and sunbathing. A hearty buffet luncheon, the highlight of the tour, includes local delicacies like kakoda (marinated fish steamed in coconut cream and lime), barbecued chicken and Fiji Gold beer and fruit drinks.
Fiji's diversity of cultures and its warm, tranquil and friendly people make it a perfect destination for unwinding from a busy schedule. But most important, you'll discover a whole new meaning to the phrase Singa na lenga — "No problem."
Info To Go
Air Pacific offers daily flights from many U.S. gateways into Nadi International Airport (NAN). Other airlines, such as Qantas and Air New Zealand, offer limited service from the United States. It's only a 20-minute drive from the airport to the resorts on Denarau Island, and a taxi or shuttle bus costs $18. Sun Air and Pacific Island Air offer daily flights to many of Fiji's outer islands.
Lodging
At this 5-star complex, guests access facilities at three Sheraton and Westin resorts, including six swimming pools and the Heavenly Spa by Westin. Denarau Island South, P.O. Box 9761, Nadi $$$$
This intimate resort on tiny Viwa Island in the Yasawa chain offers luxurious traditional bures (bungalows) with thatched roofs and high, vaulted ceilings. Viwa Island, Yasawa Islands $$$$
Tucked away on a small Mamanuca island, private villas with sundecks just steps from the beach offer personal pampering in an intimate setting. P.O. Box 5650, Lautoka $$$$
Dining
The finest seafood eatery on the island serves a seafood platter with lobster, crab, prawn, tuna, pineapple scorched squid and salad. Port Denarau, Denarau Island $$$
Enjoy some of the best Indian and Asian cuisine on Denarau Island. Signature dishes are crab masala and lamb roganjosh. Port Denarau, Denarau Island $$$
Enjoy meke dancing and a lovo (luau) every Tuesday night, capped off with a Beqa firewalker performance. Sigatoka, Viti Levu $$$$
Weblinks
Arts Village Cultural Centre
Beqa Adventure Divers
Blue Lagoon Cruises
Captain Cook Cruises
Fiji Museum
Jack's of Fiji
Tourism Fiji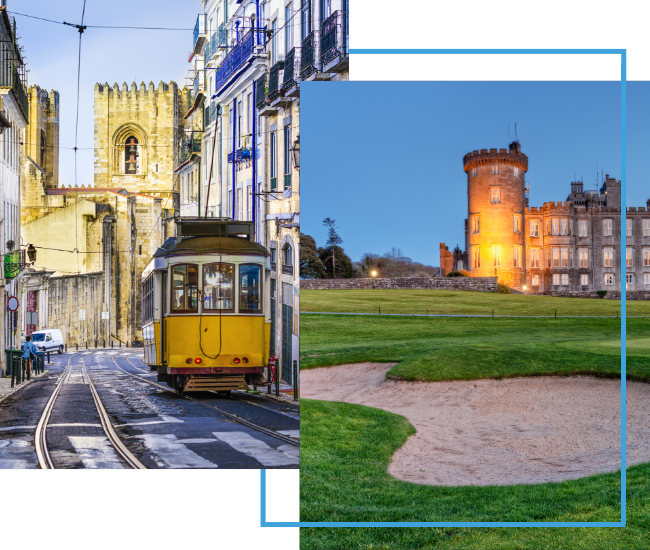 FX Excursions
FX Excursions offers the chance for once-in-a-lifetime experiences in destinations around the world.
Explore Excursions
In addition to intimate settings, smaller staff-to-passenger ratios, and personalized food and beverage options, river cruises have the advantage of providing a deeper dive into a region's culture, food and history. The Rhine, Rhône and Danube in Europe and the Mississippi River and St. Lawrence in North America have much to offer travelers with their itineraries, tying together beloved cities and lesser-known destinations along their routes.
Sponsored Content
Embracing a life well lived often means embracing a life well-traveled. Every journey becomes a canvas for experiences that shape our lives and at the heart of every adventure lies the indispensable companion: quality luggage.
With the holidays right around the corner, travelers are preparing for holiday travels. For those looking for a last-minute getaway filled with holiday cheer, consider Croatia. With a variety of winter activities perfect for travelers and locals alike, the Christmas countdown in Croatia is in full swing. Leading up to Christmas, Advent in Croatia makes it even more worth your while to visit the country with free winter incentives. If you plan on visiting Croatia, here are five cities going all out for the holiday season: