If St. Louis were a woman, she'd be the kind of woman everyone thinks they know, when in truth nobody really understands her. She'd be hardworking, maybe a little plain. She'd be the kind of person people describe as "nice." She'd be a woman you might forget about for years and years, then run into her — quite by accident — and discover she's become drop-dead gorgeous. Successful. Happy. Maybe there's a bit of an edge to her you never noticed. Stunned, you'd ask yourself, "How did this happen? How did I let her get away?"
For years, St. Louis had a reputation as a stop on the way to someplace else. Corporations like Anheuser-Busch, Ralston Purina and Eveready Battery never abandoned the city, but for a time it seemed as though everyone else had. Once the nation's fourth largest city — now the 34th — St. Louis watched its population dribble away during the second half of the 20th century as rail and river trade routes became less important and its downtown neighborhoods emptied out into the suburbs.
Everyone has his own idea as to when things began to swing back. Some say it began in 1966, when the St. Louis Cardinals built Busch Stadium in the heart of the city, drawing suburbanites back to downtown. Others say it happened in the late 1980s and early '90s, when the MetroLink light rail system turned a city long defined by the car (St. Louis was the home of the nation's first gas station, as well as its first traffic accident) into a more walkable community. Many point to the 1995 opening of the Edward Jones Dome at America's Center — a $280 million combination football stadium, convention center and concert venue that opened in 1995 — as the moment when the "Gateway City" stopped being a point of departure and became a destination in its own right.
"When it opened, a lot of people said, 'Wow! What's this? What else is going on in this city?'" said Mary Hendron, director of public relations for the St. Louis Convention and Visitors Commission. "It brought in hotels and was a really good thing for business. When 9/11 happened, things slowed down for a while, but now they're getting back up to speed again."
For a city that's seen a lot of change (it was passed from Spain to France to the United States on one day in 1803), St. Louis comes across as stable. People lost jobs during periods of economic decline, but not on the same scale as in Boston or San Francisco.
"Things here are even-keeled," Hendron said. "We didn't experience the big drops in real estate volume that so many other places did."
That may be because St. Louis' economy is a unique blend of old and new. The city's industrial giants are still here, aided by low labor costs, but they stand side by side with companies specializing in computer systems analysis, hardware engineering and software applications. Research at the city's two top universities, Washington and St. Louis, have made health care and biotechnology two of its three strongest industries.
Hospitality is the third. Here again, the industry is thriving by combining the traditional with the modern. Union Station, once the largest and busiest rail terminal in the world, is now an enclosed mall and hotel complex. A nine-block section of abandoned riverfront warehouses is now the Laclede's Landing entertainment district. And those beautiful art deco brick and stone buildings that seem to rise from every corner of the St. Louis skyline are being snapped up, renovated and reopened — a testament to the city's red-hot hotel market.
The 112-year-old Merchants-Laclede Building reopened as the Hilton St. Louis Downtown in March. The former Embassy Suites St. Louis Downtown will become part of a $250 million Pinnacle Entertainment casino. And the St. Louis Marriott Downtown will open its doors as the Hilton St. Louis at the Ballpark on Jan. 1.
The business of these hotels isn't all business. With meeting space for 13,000 people, the Millennium St. Louis Downtown hosts its share of corporate gatherings. But it also welcomes the annual conventions of Pez collectors and Tin Can Sailors, the Steel Guitar Hall of Fame and dozens of family reunions. More than 16.7 million tourists come to St. Louis every year, spending $33.8 billion — which is surprising, considering that so much of what there is to do in the city costs nothing at all.
"We have world-class attractions, more than in any U.S. city outside of Washington, D.C.," Hendron said. "You can see a lot without spending a lot of money. And there's a lot for the kids."
Take the Saint Louis Zoo, one of the nation's finest, which opened its new "Fragile Forest" great apes exhibit in May. Or the Saint Louis Science Center. Or the Saint Louis Art Museum. They're all free, and they're all located in Forest Park — the country's largest, 500 acres bigger than New York's Central Park and ringed with brand-new paths for runners and cyclists. Nearby is Grant's Farm, once owned by Ulysses S. Grant, now home to more than 1,000 animals, including the Budweiser Clydesdales. On the river is the Old Courthouse, a great domed temple where judges once declared a man named Dred Scott to be a slave no matter where he lived, a decision that set the United States on a path toward civil war. It's now a museum of the city's history.
"All of the cultural attractions of a major city are available here," Hendron said. "People don't feel they're missing out on anything. You don't have to leave if you want to see Wicked, or the Rolling Stones."
Or the World Series. Sports are the city's biggest draw. In the past year alone, St. Louis has hosted the NCAA Final Four, the U.S. Figure Skating Championships, U.S. Olympic trials and NCAA wrestling events. But it's the city's three professional teams — the Blues, the Rams and especially the Cardinals — that inspire an almost religious devotion. Visit downtown St. Louis during baseball season, and it's as though a sea of red, the Cardinals' color, is surging down every sidewalk, filling every public place.
And yet, despite the amount of beer sold at Busch Stadium, no one in the stands seems drunk, obnoxious or rude — even to a visitor wearing a Boston Red Sox shirt. Families bring their children to games here, and everyone seems to be on good terms with everyone else. Baseball is still a matter of life and death, just as it is at Fenway Park or Yankee Stadium. There's just no reason to be nasty about it.
"People are friendly here," Hendron said. "We're nice Midwesterners."
It's a bit more complicated than that. The divisions between red state and blue, so starkly drawn in other U.S. cities, are murkier here. This is a city where liberals and conservatives coexist in relative harmony; where a Democratic city government and a Republican governor manage to work together to get things done. And it's a city where, after years of living apart, whites and blacks are working together to change the future — without sweeping the past under the rug. For all its apparent stability, there's the sense that there are things going on in St. Louis that aren't happening anywhere else. Maybe that's why those who once thought of the city as a meeting place are now deciding to stay.
"People are starting to live downtown again," Hendron said. "There's a lot of building. You see restaurants with lofts going condo. There are more shops. And I'm finally seeing people walking their dogs downtown. When you see that, you know it means that people are really living there."
---
LODGING
MILLENNIUM HOTEL ST. LOUIS
Located within walking distance of the Gateway Arch, Busch Stadium and the city's central business district, the Millennium Hotel St. Louis is equal parts work and play. Its North Tower features everything a business traveler might need: plenty of space to work and sleep, high-speed Internet connections and easy access to the health club, pool and business center. The South Tower's standard economy rooms are set up for families and leisure travelers. There's a wide variety of meeting spaces, including the expansive Grand Ballroom. But the hotel's real jewel is Top of the Riverfront, a rotating restaurant on the 28th floor with amazing views of the city and a terrific Sunday brunch. $$
MILLENNIUM HOTEL ST. LOUIS
200 S. Fourth St.
tel 314 241 9500, fax 314 241 6171
http://www.millenniumhotels.com
HILTON ST. LOUIS DOWNTOWN
Since opening in March, the Hilton St. Louis Downtown has provided spacious rooms and a high level of service a short distance from the Edward Jones Dome and many corporate and financial institutions. All 195 rooms include two-line phones with voicemail, high-speed Internet service and the hotel's newly designed "The Bed by Hilton." Built in the renovated Merchants-Laclede building, the hotel has incorporated the former bank's vaults into a gift shop and Internet cafe. The Hilton also includes 5,000 square feet of meeting space and a 24-hour fitness center. $$
HILTON ST. LOUIS DOWNTOWN
400 Olive St.
tel 314 436 0002, fax 314 436 4252
http://www.hilton.com
RENAISSANCE GRAND HOTEL AND RENAISSANCE ST. LOUIS SUITES HOTEL
The Renaissance Grand Hotel and its sister property, the Renaissance St. Louis Suites, opened next door to America's Center in 2003 in a bid to become St. Louis' newest convention headquarters. The $265 million complex, which incorporates the 918-room Grand and 165-room St. Louis Suites, also includes the 11,053-square-foot Landmark Ballroom, the 20,203-square-foot Majestic Ballroom and up to 30 meeting rooms. Rooms at both hotels offer high-speed Internet access, down pillows and coffee/tea services. Chef Larry Forgione's An American Place restaurant features traditional American fare. $$
RENAISSANCE GRAND HOTEL
800 Washington Ave.
tel 314 621 9600, fax 314 621 9601
http://www.marriott.com
RENAISSANCE ST. LOUIS SUITES HOTEL
827 Washington Ave.
tel 314 621 9700, fax 314 621 9702
http://www.marriott.com
---
DINING
BB'S JAZZ, BLUES AND SOUPS
Strolling down the St. Louis Walk of Fame in the Delmar Loop is like taking a tour of American musical history. St. Louis may not have invented jazz, blues or rock 'n' roll, but one could make a strong argument that its musical heavyweights — Scott Joplin, Chuck Berry, Miles Davis — helped perfect them. For a taste of the city's musical history (and its hearty, spicy cuisine), spend an evening at BB's Jazz, Blues and Soups. The little brick building with barred windows has been a hotel, reception hall and house of ill repute in the past; it's now a venue for local jazz and blues artists, who appear nightly. Start with a cup of file gumbo (with fresh peppers, onions, shrimp and andouille sausage) before launching into St. Louis' signature dish, toasted ravioli. Don't pass up a slice of pecan pie. $$
BB'S JAZZ, BLUES AND SOUPS
700 S. Broadway
tel 314 436 5222, fax 314 436 0084
http://www.bbsjazzbluessoups.com
FITZ'S AMERICAN GRILL & BOTTLING WORKS
James Fitzpatrick began selling root beer in 1949 as a way to finance his daughter's college education. Today, the former drive-in has become Fitz's American Grill & Bottling Works, and still serves the homemade root beer, cream soda and grape pop that St. Louis teenagers brought their dates in the 1950s. Try the Elvis Burger with barbecue sauce and a frosty mug of root beer — check out the bottling works to see how it's made. $$
FITZ'S AMERICAN GRILL & BOTTLING WORKS
6605 Delmar Blvd.
tel 314 726 9555, fax 314 862 6253
http://www.fitzsrootbeer.com
LITTLE SAIGON
Beautiful Vietnamese paintings line the walls at Little Saigon, a quiet lunchtime destination near the Washington University medical center. The bun xao — nutmeg-flavored Singapore-style stir-fried vermicelli with chicken and shrimp — is tasty, and goes well with a side order of goi cuon spring rolls. Depending on the time of day, you'll want to finish with a Vietnamese iced coffee or a Saigon beer. $$
LITTLE SAIGON
10 N. Euclid Ave.
tel 314 361 8881
---
INFO TO GO
Lambert St. Louis International Airport (STL) is located 13 miles from downtown. Ten major and 15 commuter airlines use the airport's 83 gates. MetroLink (http://www.metrostlouis.org), the city's light rail system, is the easiest way to reach central St. Louis from the airport. A trip from Lambert to the city center costs $3. MetroLink train or bus tickets to other destinations cost $1.25. Gem Shuttles/Trans Express (tel 314 427 3311) provides shuttle service to downtown hotels for $13 one way or $21 round trip. A taxi ride from the airport to downtown will cost about $32.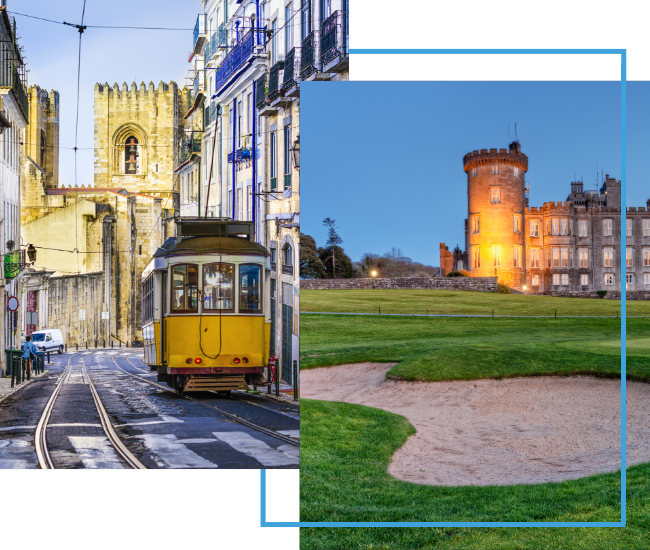 FX Excursions
FX Excursions offers the chance for once-in-a-lifetime experiences in destinations around the world.
Explore Excursions
Think of Tokyo and your mind may wander to the neon signs and bustling crowds of Shibuya and Shinjuku, or the tranquility of the Meiji Jingu shrine, but this huge city offers much to those who explore away from the main tourist areas.
Sponsored Content
Experience the life-changing destination of Greece by exploring its island gems in the Ionian Sea. Scattered off the western coastline of Central Greece, to the south of Peloponnese, the Ionian Islands are an island group comprising large and small islands.
Automotive museums of all sizes will always capture the imaginations of car and racing aficionados. However, the best deliver a lot of substance beyond the machine itself. Some place an emphasis on science and technology or history, while others display iconic cars from film and television. Museums established and operated by the world's top automakers (think Mercedes, BMW, Audi and Porsche in Germany, and Toyota, Honda and Nissan in Japan) have built-in followings.