When England first reached across the Atlantic, Bristol was its launch point. In 1497, John Cabot sailed out of the city heading west. The precise location of his eventual landfall is still debated, with opinions ranging from Newfoundland to Maine. Regardless, it is widely accepted that Cabot set foot on what is now the American mainland before his friend and fellow explorer Christopher Columbus.
In the late 1970s, Bristol was instrumental in another trans-Atlantic milestone when British Airways introduced scheduled supersonic flights between England and the United States using Concorde jets built at the city's Filton plant. And when the giant Airbus A380 enters service next year, it will do so with Bristol-designed wings, landing gear and fuel system.
Bristol has long been an industrious and outward-looking city. A replica of Cabot's tiny wooden vessel, the Matthew, sits in Bristol Harbor, dwarfed by the original SS Great Britain — the world's first iron-hulled, screw-propeller-driven, steam-powered passenger liner. Launched in 1843, the revolutionary ship was designed by legendary engineer Isambard Kingdom Brunel, who was also responsible for Bristol's most awe-inspiring landmark — the magnificent Clifton Suspension Bridge that spans the 250-foot-deep Avon Gorge.
Despite its undoubted attractions, tourists tend to overlook Bristol in favor of the neighboring World Heritage city of Bath, 13 miles to the southeast. So, in the absence of a booming tourism industry, Bristol has remained true to its historical role as a mercantile center. So much so that in 2004, the London Financial Times named Bristol the United Kingdom's most successful city outside London.
More than 160 major companies have their national headquarters here. The city's per capita gross domestic product is the second-highest in England and 34th-highest in Europe, beating Berlin, Madrid and Rome. Among Bristol's key business sectors are finance (which employs 40,000 people), aerospace, microelectronics and silicon design. The emphasis on technology will be further bolstered in 2006, when construction begins on a $500 million state-of-the-art business park. Recognizing Bristol's emergence as a genuine player on the European stage, Continental Airlines will introduce the first direct scheduled flights to the city from the United States — from Newark (N.J.) Liberty International Airport (EWR) — in May.
Bristol has also carved out a unique creative niche. The Oscar-winning production company Aardman Animations (www.aardman.com), responsible for the popular claymation characters Wallace and Gromit and the movie Chicken Run, is based here. Bristol is also the home of the British Broadcasting Corp.'s celebrated Natural History Unit, which produces many of the finest television wildlife documentaries. Every two years, Bristol plays host to the Wildscreen Festival (www.wildscreenfestival.org), the equivalent of the Oscars for wildlife documentaries.
The wildlife theme is an integral part of the city's fabric. Bristol Zoo (www.bristolzoo.org.uk) was voted the best in the country in 2004, while the innovative $200 million At-Bristol complex (www.at-Bristol.org.uk) beside the harbor features an indoor walk-through rainforest; the complex is the centerpiece of a $1 billion urban regeneration plan.
For centuries Bristol has looked out at the world. The time has come for the world to start looking at Bristol.
---
LODGING
James Boswell, in his famous book Life of Samuel Johnson (published in 1778), wrote: "We were by no means pleased with our inn in Bristol." For the next two centuries, little changed: Accommodations in Bristol remained mostly uninspiring and provincial. No longer. The city now boasts a wide range of decent hotels, some of which are as elegant or trendy as any in London.
BRISTOL MARRIOTT ROYAL HOTEL
Occupying a grand building overlooking the open space of College Green, this venerable hotel has been one of the city's best since it opened in 1863. A monument of Queen Victoria stands immediately outside the entrance, and the popular Park Street, excellent for shopping and dining, is on the doorstep. Facilities include an indoor swimming pool, a fitness center and a sauna. The Michael Caines restaurant (named after the resident two-star Michelin chef, not the actor) is set within a beautiful Georgian atrium and offers some of the finest dining in the city. $$-$$$
BRISTOL MARRIOTT ROYAL HOTEL
College Green
Bristol BS1 5TA
United Kingdom
tel 44 117 925 5100, fax 44 117 925 1515
www.marriotthotels.co.uk/brsry
BRIGSTOW HOTEL
This riverside hotel is as cool as they come. From the minimalist reception to the stylishly designed rooms to the plasma TV screens installed in every bathroom, the hotel exudes cosmopolitan sophistication. The location is ideal, within walking distance of the city center. And because the hotel is owned by the famous London-based Fuller's Brewery, the beer on tap in the bar is superb. There are 115 rooms and one suite; be sure to ask for a river view. $$$-$$$$
THE BRIGSTOW HOTEL
5-7 Welsh Back
Bristol BS1 4SP
United Kingdom
tel 44 117 929 1030, fax 44 117 929 2030
www.brigstowhotel.com
DAYS SERVICED APARTMENTS
If you're going to be in the city for more than a couple of nights, these well-appointed apartments in Redcliffe, close to the city center, are a worthwhile alternative to a hotel. They come complete with kitchen and laundry facilities and are clean, bright and reasonably spacious. There is secure parking behind the property and a wide range of shops and restaurants within walking distance. The complex includes 41 one-bedroom apartments and 21 two-bedroom apartments. $$$-$$$$
DAYS SERVICED APARTMENTS
30-38 St. Thomas St.
Bristol BS1 6JZ
United Kingdom
tel 44 117 954 4800, fax 44 117 954 4900
www.daysinn.co.uk
THE RAMADA GRANGE
If you're a fan of the movie Gosford Park, why not stay in a real country house? The Ramada Grange sits within 18 acres of pretty woodland just a six-mile drive north of the center of Bristol. The house, built in 1851, retains an air of gentrified elegance. Renovated in 2001, the modern additions provide all the facilities you'd expect of an upmarket hotel, including the Poolside Leisure Club, with its pool, sauna and spa. (For the full Gosford Park experience, the 68-room hotel runs regular "Murder at the Grange" weekends.) $$
THE RAMADA GRANGE
Northwoods, Winterbourne
Bristol BS36 1RP
United Kingdom
tel 44 1454 777333, fax 44 1454 777447
www.ramadajarvis.co.uk
---
DINING
No more British food jokes. The nation's cuisine has been completely transformed in the past decade, incorporating many international influences. At the cheap end of the market you'll find more Indian and Chinese takeouts than fish-and-chips shops. And at the top end, you'll be spoiled for choice. Bristol has a range of eateries to suit any budget or taste.
BELL'S DINER
How adventurous are you? The cuisine does not easily fit within any recognizable category. How would you classify anchovy foam? Or beetroot (red beet) and cream lollipops? Or mashed vanilla? The menu is quirky, fun and full of surprising delights. Under the guidance of owner and Chef Christopher Wicks, this unique restaurant has gained a reputation as one of the best places to eat in Bristol. Can't decide what to choose? An eight-course tasting menu is available for $85 per head. $$-$$$
BELL'S DINER
1-3 York Road, Montpelier
United Kingdom
Bristol BS6 5QB
tel 44 117 9240357, fax 44 117 9244289
www.bellsdiner.co.uk
THE CLIFTON SAUSAGE BAR AND RESTAURANT
The good old sausage — or "banger," as it's known in English slang — has long been a staple of the British diet. Now this most modest of dishes has been given a gourmet transformation. This chic "gastropub" opened in 2002 and has earned rave reviews from the food critics. Besides a comprehensive selection of mouth-watering sausages, many other traditional British favorites are served here, including the ever-popular "toad-in-the-hole" (the "toad" is, in fact, a sausage — but you knew that). $$$
THE CLIFTON SAUSAGE BAR AND RESTAURANT
7-9 Portland St., Clifton
Bristol BS8 4JA
United Kingdom
tel 44 117 9731192
www.cliftonsausage.co.uk
SEVERNSHED RESTAURANT AND BAR
This building, designed by the great Isambard Kingdom Brunel, is an entertainment in and of itself, featuring Europe's only "floating bar," which glides back and forth within the building. The restaurant is large (seating for 200) and very popular, especially in the early evening when there's a $15 two-course special menu. Cuisine is an inventive blend of British and European influences. A disc jockey provides music on Friday nights, and on Sunday nights there's a live jazz band. $$-$$$
SEVERNSHED RESTAURANT AND BAR
The Grove, Harbourside
Bristol BS1 4RB
United Kingdom
tel 44 117 9251212, fax 44 117 9251214
www.severnshed.co.uk
---
SHOPPING
Whiteladies Road is an all-purpose shopping venue with a nice range of shops. Halfway down the street there's a modern indoor mall, the Clifton Down Shopping Centre. Park Street also provides a good variety of shops, though the street's steep grade can make shopping there quite a strenuous activity. Bristol's markets, centered on Corn Street, have been going strong since 1743. The emphasis changes from day to day. The Farmers' Market on Wednesdays specializes in fresh local produce. From Monday to Friday, the St. Nicholas Market offers an eclectic mix of second-hand goods, antiques, food and clothing. The Nails Street Market, on Fridays and Saturdays, is the place to browse for arts and crafts. The market trading hours are generally from 9:30 a.m. to 5 p.m.
---
SIGHTSEEING
The Clifton Suspension Bridge (www.clifton-suspension-bridge.org.uk) is a must-see. Even 150 years after it was built, it remains an amazing engineering achievement. It was from this bridge that the sport of bungee jumping was invented in 1978. Brunel's magnificent ship the SS Great Britain (www.ss-greatbritain.com) and its visitors center are currently undergoing an exciting $20 million upgrade expected to be completed by July. The SS Great Britain Trust also runs voyages on the replica of John Cabot's ship, the Matthew (www.matthew.co.uk) in June and July — a two-day trip costs from $380. The Red Lodge (www.bristol-city.gov.uk/museums) is a wonderfully preserved ancient house, with one of the finest Elizabethan oak-walled rooms in England: Get a glimpse of life in the 17th century. The Industrial Museum (www.bristol-city.gov.uk/museums) celebrates Bristol's tradition of cutting-edge design, from the Industrial Revolution to the development of the Concorde. There's also a gallery devoted to the city's role in the slave trade, and in its eventual abolition. If you have a day to spare, be sure to visit the neighboring city of Bath (www.visitbath.co.uk), one of the most beautiful cities on earth.
After dark, check out the Bristol Old Vic (www.bristol-old-vic.co.uk), one of the top regional theaters in the United Kingdom; visit the Web site to see what's playing. The city is full of wonderfully traditional pubs; walk along any street and you'll find one. There are also plenty of style-conscious bars, such as Il Bordello (www.ilbordello.co.uk), a members-only bar aboard a river barge (membership is not required on Tuesdays). Be warned that after about 9 p.m., especially on weekends, some city nightspots can become unpleasantly rowdy.
---
INFO TO GO
Daily direct flights from Newark (N.J.) Liberty International Airport (ERW) to Bristol (BRS) start May 20 on Continental Airlines (www.continental.com). International flights arrive at Bristol International Airport (www.bristolairport.co.uk), eight miles south of the city center. Bristol International Flyer provides an express coach service between the airport and the downtown Temple Meads Station, $7.60 one way; the journey takes 30 minutes, no advance booking necessary. For general background on the city, visit www.visitbristol.com. For information about business opportunities in the region, contact the South West of England Regional Development Agency (www.southwestrda.org.uk, tel 44 1392 214747).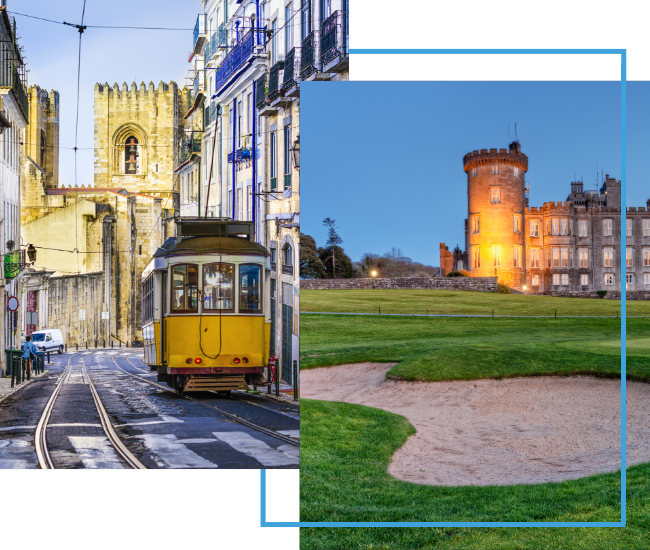 FX Excursions
FX Excursions offers the chance for once-in-a-lifetime experiences in destinations around the world.
Explore Excursions
The Perelman Performing Arts Center (PAC NYC), the cultural cornerstone and final public element of the World Trade Center site, opened this September.  The new performing arts center in Lower Manhattan provides a dynamic home for the arts, serving audiences and creators through flexible venues enabling the facility to embrace wide-ranging artistic programs.
Sponsored Content
One affordable plan can protect an entire year of trips: business or pleasure, short or long, domestic or international.
Whether you call secondhand fashion treasure troves "thrift stores," "fripperies," "charity shops," "vintage boutiques" or something else, shifting the paradigm from "old clothes" to "new finds," you may find the best, most conversation-starting souvenirs inside these shops and neighborhoods located in the world's most fashionable cities and a few unexpected places.