Nearly a month after becoming roommates with Kate, I earned brownie points when I invited her to accompany me to New York City on a beautiful June afternoon for a visit to Spa Merge, a day spa epitomizing the phrase "urban sanctuary."
Only weeks after the move, we were finally beginning to settle in, and a girls' afternoon at the spa was the perfect ending to the exciting but frenzied month. From our apartment in the Philadelphia suburbs, a daytrip to New York City is feasible — a 25-minute ride to the New Jersey train station and an hour into the city. We gave ourselves plenty of time to leisurely navigate to our appointments, walking from Penn Station to Spa Merge's West 57th Street location, stopping along the way for a quick salad.
The minute we swung open the glass doors and stepped into the light-filled lobby of Spa Merge, the buzz of the streets and the flurry of foot traffic melted. After a quick tour of the facilities, we were led to a tiny sitting room off the lobby to fill out paperwork and wait for our therapists.
Aside from providing an escape from the hassles of city life or a chance for a pampering daytrip, Spa Merge prides itself on melding science and nature into a peaceful spa experience. The treatments, a fusion of scientific and natural techniques, attain a blend of clinical results and relaxation. The spa employs SkinCeuticals skincare, a leading brand in the cosmeceutical industry, and Naturopathica botanical and herbal products in its treatments. Spa Director Margaret Lora brought more than a decade of experience to the philosophy and execution of Spa Merge, a member of the Hilton Hotels and Resorts' Spa Collection.
Lora aptly sums up the Spa Merge experience: "Spa Merge is so much more than just a typical spa; it is an urban haven where clinical and result-focused skincare blends with the gifts of nature to nourish both mind and body."
Spa Merge's hours are conducive to the city lifestyle, staying open until 8 p.m. Monday through Friday, allowing professionals a few hours of unwind time after a stressful day at the office. Weekend hours are Saturday 9 a.m.–7 p.m. and Sunday 10 a.m.–6 p.m.
Kate and I were more than prepared for mind and body nourishment. My treatment room was calming, with tones of cream and purple, candles providing warm ambience. Each treatment suite offers a shower/bathroom. There is no central locker room area for men and women, but the facility offers several full bathrooms throughout. I hoped to find a fully stocked locker room, as I needed to prepare for a nighttime work function downtown after the treatments. While the shower facilities were adequate, I couldn't find some accoutrements I was hoping for, and the lack of space made getting ready a more rushed experience.
The most unique part of the Spa Merge experience was a 15-minute bathing ritual that accompanied our 60-minute sports massages. The hot arnica oil soak is designed to ease muscle strain, an appropriate complement to the deep-tissue techniques of the massage. The tub's 310 water and air jets and high-intensity back jets move across seven different body zones in a rhythmic motion, working muscle groups on a timed basis. The tub, in the middle of a mood-lit darkened room, is intense — we had to put our legs under a bar to keep us in place. About seven minutes into the session, my therapist came in with cold water and an ice compress for my eyes and head. Quite different from any treatment I'd experienced, I had to release some feelings of awkwardness and modesty, but once I did, the effect of the jets on my muscles was noticeable. Knots in my back felt looser, sore calves eased and tense shoulders relieved. The hydrotherapy session usually takes places before the massage, but as both Kate and I were booked at the same time, Kate sampled the tub pre-massage, and I indulged post-massage. The deep-tissue sports massage includes stretching and alternating hot and cold therapies.
A 45-minute Spa Merge Facial followed the massage and hydrotherapy. My knowledgeable technician offered tips for my skin, all while accomplishing each element of the facial — even the dreaded extractions — with a gentle touch. Irksome dark circles under my eyes mar my complexion; my therapist sensed my displeasure with them, using a massaging technique to lessen the severity, a benefit I wish lasted permanently. Nonetheless, several days with a brighter under-eye area made the memories and effects of the day linger longer than usual.
More than anything, the little touches made a big impression at Spa Merge. Each time I shuffled between my treatment room and the hydrotherapy room, I was greeted with a delicious smoothie shooter and biscotti. After the treatment, glasses of crispy, bubbly Champagne awaited us alongside banana chips (one of Kate's favorite touches) and other healthy snacks. Everyone, from the check-in attendants to the therapists, was attentive and cordial. The afternoon flew by far too quickly.
As we emerged onto the streets of New York City following our treatments, we found ourselves smack in the middle of afternoon rush-hour traffic. Horns blared, cellphones rang out, people pushed past. We remained immune to the omnipresent noise. Spa Merge is a truly blissful place in a busy city.
102–108 W. 57th St.
New York, NY 10019
tel 646 484 4104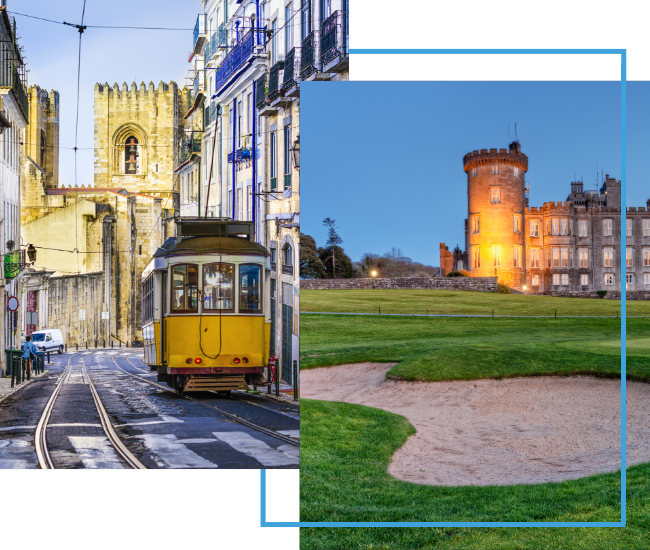 FX Excursions
FX Excursions offers the chance for once-in-a-lifetime experiences in destinations around the world.
Explore Excursions
If fabulous food and beverages are a must-have for any weekend getaway, then look no further than the City of Brotherly Love. Whether your palate has a penchant for vibrant Latin American fare or cozy French cuisine, whether you're an oenophile looking to swirl, sniff and sip your way around the globe or you'd rather sample farm-to-glass cocktails, Philly's got it all this fall. (With the exception of Bolo, which is a short taxi or Uber ride away and definitely worth the trip, the rest of these spots are all within walking distance of each other.)
Sponsored Content
One affordable plan can protect an entire year of trips: business or pleasure, short or long, domestic or international.
From Santoríni to Dubai to New York, some hotels just have that "it" factor that draws visitors far and wide. For some hotels it's their proximity to popular landmarks and attractions, for others it's their amenities. But these hotels have something few can claim: a true room with a view.