Ever since brave Odysseus set sail on the "wine-dark sea" for a 10-year Mediterranean cruise, the Greek islands have sounded their siren call for thousands of travelers. The mythos and flavor of these fair waters is little changed. Keen to sail the isles of the Aegean for the first time but lacking a latter-day Homer as our guide, we decide to book a seven-day Athens-to-Athens voyage on Variety Cruise's 25-cabin yacht, the Harmony V. Small-ship cruising long sounded its call for us — promising luxury without formality and shore excursions without crowds. Variety Cruises delivers all these virtues, calling on eight enchanted islands during its Classical Greece odyssey, an ideal sampler of the best the Aegean offers.
The voyage sails southeast of Athens through the whitewashed Cyclades Islands of Kéa, Míkonos, Delos and Santoríni, southward down to Crete, then northward toward the Peloponnese with stops at the Ionian islands of Kýthira and Monemvasía and the Saronic island of Ídra. Shore excursions deliver passengers to the major Minoan, Mycenaean, Homeric and Hellenic archaeological sites along the way, with ports of call at villages famed for their Byzantine labyrinths of narrow lanes, smooth white buildings and dazzling blue domes.
We board the Harmony V in the port of Piraeus at the end of the metro line from Athens and quickly round the promontory at Soúnion, where the ancient Temple of Poseidon presides, then sail 40 miles farther to Kéa, just off Attica, the first of several Cycladic islands on our itinerary. Within mountainous Kéa's capital of Ioulis there's a quaint town square, a medieval castle, numerous old churches and monasteries, and an archaeological museum showcasing Kéa's pre-Archaic (700–500 B.C.) treasures, but we have time only for a downtown stroll along the harborside.
A further sailing that night sweeps us westward to Míkonos, the jetsetters' favorite island, glittering with iconic windmills and the "Little Venice" old town. For us it's merely a stepping-stone to a smaller island, Delos, a remarkable time capsule linked to Míkonos by ferry. Here our consummate cruise director, Iossif Serafimidis, hands us over to a Greek national guide, Amarylis Grypari, who proceeds to stitch into life the shards of Delos, the largest archaeological park in Europe. A barren islet in an azure sea, Delos contains the tatters of the city Homer extolled as the birthplace of Apollo and Artemis. The private homes, temples, archways and public squares, as well as the monumental statuary of Greek gods and a chorus of roaring lions, date from the Bronze Age, more than 3,000 years ago. This island, however, whose population once exceeded 30,000, is also home to the world's oldest synagogue site (150–128 B.C.). Sheer size and the pristine condition of these Mycenaean ruins make Delos the most breathtaking ancient site on our voyage, a sacred capital around which the Cycladic islands themselves continue to orbit.
Ferried back from Delos to cosmopolitan Míkonos, we explore its twisting, carless lanes, charmed by the whitewashed cubic dwellings housing art galleries, chic shops, boutique hotels and intimate gourmet cafés. The signature architecture of Míkonos, its ranks of cylindrical windmills, evokes the long occupation of the island by the Venetians, who claimed Míkonos in 1207. Today Míkonos is besieged by a new occupying force — the rich and the famous — and it is said to be Greece's most expensive island getaway.
An overnight sail to the south side of the Cyclades brings us to Greece's most-photographed island, Santoríni (Thíra), where we anchor in a massive caldera, the watery remnant of a blown volcano many times the size of Krakatau. A towering wall of cliffs plunges straight into the massive volcanic harbor, affording superb views from the whitewashed town of Fira, which we reach by cable car from the harbor. In Fira we catch a bus south to Akrotiri, a Minoan city leveled by the same volcanic blast that hollowed out the harbor. The excavations at Akrotiri, recently reopened after eight years of repair, constitute a buried city long predating Pompeii, its squares, shops and three-story houses buried in ash. The citizens of Akrotiri somehow escaped the cataclysm, but their artifacts, including the earliest examples of large-scale paintings in Europe, now fill the Museum of Prehistoric Thíra in Fira.
At the other end of Santoríni is the village of Oia. Here the cliff-hugging terraces, lime-white galleries and blue-domed churches typical on many a Greek isle are magnified and the subjects of some of the world's most popular postcards and posters. Even off-season the narrow streets are clogged with tourists, for Oia does live up to its photo-op reputation.
The "Minoan Eruption" of 1630 B.C. that shaped Santoríni may have fueled the legends of Atlantis. The tsunami from that eruption swept 60 miles south to Crete, our next destination, and perhaps ended the Minoan civilization there abruptly. Sailing down to Crete after dark, we tie up at Réthimno. Once serving its Venetian and Ottoman masters as a flourishing trading center, Réthimno today is a holiday destination, its flawless white sands spread across the long beach like a tablecloth for revelers who pour every summer into Europe's sunny south end.
Our destination on Crete is not the beach but the Minoan ruins at Knossos. A palace site from Neolithic times, Knossos (along with Akrotiri on Santoríni) dominated the pre-Greek world from about 2000 to 1400 B.C., when the Mycenaeans unseated the Minoans. By 1930, archaeologist Sir Arthur Evans uncovered most of the remains we see at Knossos today — the palaces of King Minos and other rulers; the passages, courtyards, columns and remarkable wall paintings of the royal capital; the Throne Room with its basin; and the Grand Staircase descending underground, possibly the model for the myth of the labyrinth and the Minotaur which haunted the Western imagination for 3,000 years.
From Crete, our vessel turns back toward the Peloponnese peninsula, settling first into the picturesque harbor of Kýthira, birthplace of Aphrodite, Greek goddess of love. Larger cruise ships seldom call on this Ionian beauty, sandwiched between the Aegean and Ionian seas. Arriving on May 1, we find the pretty town of Chora even more shy than usual, its 13th-century castle shuttered for the holiday. But in compensation, its tiny shops are bedecked in wildflower wreaths, a May Day tradition. Another signature product of this "Island of Love" is in abundance, too: thyme honey. We end up without bouquet or honeycomb as a souvenir, succumbing instead to two tiny bottles of a seductive, locally produced liquor, Faturada, enriched with cinnamon and cloves, which we sample at Stavros, a tiny shop of consumable treats at the entrance to town.
After another night's sail, we tie up at the medieval castle-island of Monemvasía, a Venetian wonder, now land-linked to Greece's Laconian coastline by a bridge. Known as the Gibraltar of the Eastern Mediterranean, Monemvasía is marked by scores of Byzantine churches, a mosque converted into a small village museum, carless streets capped by stone arches and a medieval fortress topping this massive island of rock — as well as a series of art galleries and smart cafés affording splendid views of the sea.
From Monemvasía it is a quick afternoon sail up to Nafplion, often hailed as the most beautiful town in Greece. Near enough Athens to be an extremely popular weekend getaway, Nafplion is on our Classical Greece cruise chiefly as the gateway to a crowning archaeological site, Mycenae. Situated between Corinth and Argos, Mycenae's citadel palace was excavated in the late 19th century by German archaeologist Heinrich Schliemann, who believed he found the home of the Homeric hero Agamemnon, leader of the Greek assault on Troy in the 13th century B.C. Indeed, Schliemann proclaimed he found the very tomb of Agamemnon, as well as his golden death mask. The beehive tomb assigned to Agamemnon (but now dated three centuries earlier) stands open today, its interior vast, resounding and chillingly empty. From the Bronze Age and the days of Homer's Iliad down to the dawn of the Hellenic era, Mycenae served as the royal center of all the forces and rival city-states that would come to constitute Classical Greece. Now the ample ruins of Mycenae, capped by its 15th-century B.C. Lion Gate and ancient cemetery, solemnly attest to the sovereignty of time.
On our final leg back to Athens we call on Ídra, a lovely isle in the Saronic Gulf, our one last nod to the magic of the Greek Mediterranean. From the compact, crescent-shaped boat basin — flanked by the National Merchant Marine Academy, the first in Greece (1749) — to the mansions (archontika) of ship captains, Ídra still has one foot firmly planted in the gritty traditions of maritime Greece. Open boats unloading crates of oranges and other cargo tie up in the harbor. Sidestepping the pricey jewelry shops lining the harbor, we hike up the cobbled lanes where donkeys transport supplies to stores and visitors' luggage to boutique inns. Ídra is the island where Canadian singer-poet Leonard Cohen fell victim to the sirens and purchased a house in 1960. When electric wires first appeared, Cohen penned "Bird on a Wire." Ídra still attracts hardscrabble artists, and the "time of common silence" — the afternoon siesta from 2–5 p.m. — is still honored; but the bars and cosmopolitan cafés light up after dark as Greeks file in for holiday on the ferries from Piraeus. Film buffs might find Ídra oddly familiar. Boy on a Dolphin, starring Sophia Loren, was shot here in 1957, just before Cohen but well after Odysseus himself first set foot on this or some similar, equally glorious Greek isle.
If you count every rough spot that breaks the water's surface, Greece includes some 5,000 islands, constituting one-fifth of its total land mass. Five hundred of these islands are inhabited, but few are as enchanting as the eight on this cyclic cruise — each a gem of Aegean architecture, sunlight and antiquity.
INFO TO GO
Variety Cruises, the largest Greek cruise line in the Mediterranean, specializes in upscale but informal small-ship cruising (40–70 passengers) in the Mediterranean and beyond, with knowledgeable cruise directors aboard and national guides on hand for shore excursions. Greek isle itineraries depart from Piraeus April through October. Athens International Airport (ATH) and major downtown hotels are connected by public transport and taxi to the port of Piraeus, where many ferries and cruise ships depart for the Greek islands. Piraeus is within 30 minutes of Athens via Metro Line 1 ($1.50) or taxi ($19) and within 90 minutes of the airport via the X96 bus ($6.25) or taxi ($44).
LODGING
BELVEDERE HOTEL Providing full luxury appointments and superb Greek, sushi and Latin restaurants, the swank island resort has a downtown location a short walk to Míkonos' signature windmills and Little Venice. Agiou Ioannou, Míkonos $$$$
HILTON ATHENS HOTEL This early-1960s landmark in the international modern style is fully updated for demanding business travelers. Executive floors provide top-notch services and spacious guestrooms with astonishing Acropolis views. Vassilissis Sofias Ave. 46, Athens $$$$
TSITOURAS COLLECTION HOTEL The five villas (with art work courtesy of owner/artist Demitris Tsitouras) come with kitchenette, wet bar, WiFi and caldera views. The resident chef helps you design meals suitable for paradise. Firostefani, Santoríni $$$$
DINING
BYZANTINO Politicians and celebrities made this Athens' top buffet. The elegant, bright and airy space is divided into three stations, offering appetizers, Greek entrées and sumptuous desserts. Hilton Athens Hotel, Vassilissis Sofias Ave. 46, Athens $$$
TO MAEREIO Twin brothers tend this cozy, hard-to-find, six-table bistro where, in the open kitchen, mom raises home cooking to an art form combining fresh ingredients, herbs and olive oil. Kalogera 16, Míkonos $$–$$$
XERI ELIA DOUSKOS With its own square festooned with ancient trees, checkered tablecloths, cases of seafood on ice, friendly service, begging cats and live bouzouki music, this 200-year-old taverna is pure Greek. Ídra Square, Ídra $–$$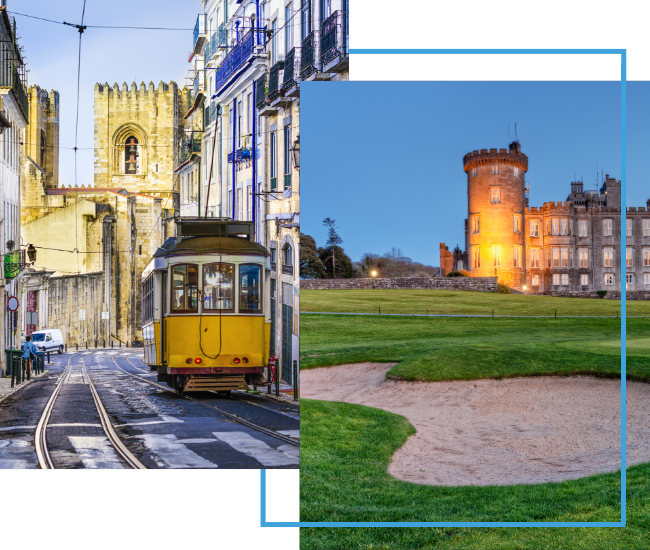 FX Excursions
FX Excursions offers the chance for once-in-a-lifetime experiences in destinations around the world.
Explore Excursions
Corsica with steep, gray cliffs overlooking the Mediterranean and sandy beaches attracting summer visitors, is a French-governed island sometimes confused with Sardinia and Sicily, Italian islands to the south. Fortunately, all three islands share the same love for good wine, food and sun-splashed beaches.
Sponsored Content
United Airlines is in the midst of a major initiative to modernize its fleet over the next several years. After first announcing the plan in 2021, planes fitted with United's signature interior are finally beginning to appear across the airline's narrowbody fleet of Boeing and Airbus planes. United flyers are sure to notice these enhancements from the moment they step on board: Each new or updated plane sports remodeled seats, seatback entertainment screens for everyone, Bluetooth connectivity and more, all adding up to a better experience on every journey.
If you're ready to do a little holiday catch-up with your besties, make a beeline for Conrad New York Downtown. The lobby metamorphosed into a holiday forest of heavenly scented, decorated Virginia Spruce trees. Make your first stop ATRIO Barista Station in the lobby for a complimentary hot spiced apple cider (until Dec. 3) or hot chocolate (Dec. 22­–24).