Executive floors at hotels are usually billed as a "hotel within a hotel." On these floors, you receive VIP attention from the staff, a special desk for checking in and out, and privacy from the crush of travelers on the hotel's regular floors. In the club lounge, you can enjoy a good breakfast and unwind with a drink at the end of the day. Often, you'll be staying in rooms that are larger and have upgraded furnishings and amenities.
These are just some of the benefits travelers expect when staying on executive floors. But are these floors worth the extra money? It depends who you ask, the amount of time you expect to spend in a hotel room and the quality of the executive floor's club lounge.
Ken D'arcy, the former president of Crosman Corp., always opts for a room on executive floors. He explains, "Because they are executive-level, they are usually full of executives or frequent travelers. They are in town to work, not for pleasure; thus, peace and quiet usually prevails. Most of these floors offer club lounges where one can either work or simply relax and enjoy a drink or light snack." He adds there's a safety factor, too, because access to these floors often requires the use of a special key card in the elevators.
Donald Jacobs, president, Inteck, a management consulting firm, says, "I like these floors because of the concierge room that is set aside. There I can get some hors d'oeuvres and relax instead of just staying in my room. It feels like a comfortable family room."
Some frequent travelers, however, are more interested in the price of a room than the amenities offered on executive floors. They claim the ability to book discounted rooms through such online websites as Priceline.com and Hotels.com is more appealing. Dan Herman, managing principal, Aspen Advisors, says, "I don't have loyalty to any hotel brand, and I use Priceline to secure a hotel the day I land in a new city." As a frequent visitor to certain hotel chains, however, he is often bumped up. "I sometimes get upgraded at Marriott and Hilton for access to the executive floor for breakfast. The benefit to me is a complimentary breakfast and meeting place with business colleagues."
Other travelers, such as Jamie Bernstein, a hospital consultant, had access to executive floors at some hotels but spent more time in regular guestrooms. "I traveled 80 percent of the time and typically didn't 'bond' with my room. I just wanted things to work, such as short lines to check in, a key that worked and a wake-up call that happened."
Loyalty programs provide another route to executive floors. While some travelers pay to stay, members in the top elite tiers of a hotel's loyalty program, or an airline program with a reward-sharing agreement, may be placed on an executive floor even though they paid for a regular room. United 1K and 2 million-miler Takao Nagai, for example, received Gold Status at Marriott, so when he checked into The Ritz-Carlton, Bachelor Gulch at Beaver Creek, Colo., he was upgraded to the club level. Nagai recalls his experience: "I don't know how to describe all that good food in the lounge. It is so much better than going out for dinners. In the evenings, maybe it is meant to be just for an appetizer before going out for dinner, but we always ended up just staying in the lounge, enjoying the food and relaxation and, needless to say, the value we got."
On the industry side, many hotels see the value of maintaining and primping executive floors. Bjorn Hanson, clinical professor at the Preston Robert Tisch Center for Hospitality, Tourism, and Sports Management, says, "The U.S. lodging industry is pursuing ways to increase rates and providing a way for those guests willing to pay more for exclusivity. Upgraded furnishings, services and such features as higher floors is one solution." He also points out, "If these special rooms are not occupied by guests paying the higher rates, the rooms are still in the inventory and can be available at regular rates, and it can be effective in creating guest loyalty by offering free upgrades to some guests."
Sheraton Hotels & Resorts made enhanced club floors a priority, and it paid off. In 2011, Sheraton invested $120 million to improve its club lounges worldwide, according to Hoyt Harper, global brand leader, Sheraton Hotels & Resorts. "Today's travelers understand the option to upgrade whether it is extra legroom on the airline or a fee for an airline lounge at the airport; we applied the same approach to our Club product." He adds, "We recognized a tremendous revenue opportunity that many of our competitors were overlooking or discontinuing and bet big on the investment paying off. The results are beating our expectations."
Sheraton Club offers Club Lounge access to nearly 26,000 guestrooms worldwide. Since the investment, the number of people buying up to Club level worldwide doubled, says Harper. Club guests tend to be younger, more highly educated and tend to be professionals. Some 46 percent of Club guests are leisure travelers, 41 percent are business and 11 percent are a business-leisure mix.
Club floor managers and other personnel on executive floors vie to make their hotel within a hotel the most special in the city or region through personal attention, attractive lounges and food offerings. At the Hyatt Regency San Francisco, the Regency Club floors, which encompass about 150 of the hotel's 804 guestrooms, are on the top two of 17 guest floors in a waterfront building near Pier One. "Our guests like a private space, either to socialize or work, and they see the club lounge as an extension of their guestroom. They get food and the beverages, but they are really purchasing an experience beyond the guestroom," says Stacey Edinger, the hotel's director of sales and marketing. "I think that's what the guests see as the value of purchasing an upgrade."
The Fairmont Gold floors are designed as a boutique hotel within a hotel. Each Gold floor offers amenities that reflect the destination, whether it's a Thai fighting fish in a goldfish bowl in the room at Vancouver's Fairmont Pacific Rim, a welcome card with ingredients to create the island's famous Dark & Stormy cocktail at The Fairmont Hamilton Princess in Bermuda, or a white-chocolate replica of the city's historical monuments at The Fairmont Washington, D.C. The club lounges also reflect the local ambience. The Fairmont Chateau Whistler features an Alpine-style lounge with a wood-burning fireplace. The lounge at The Fairmont Orchid, Hawaii includes an outdoor space with lanai tables and quiet areas for reading. Fairmont Gold guests also have access to iPads with pre-loaded national and local newspapers.
"We try to provide more exclusive and more personalized service," says Liam Ramsone, Gold manager, The Fairmont Banff Springs, popular with international visitors from the United States and as far away as Australia and India. "It's all about the details," he says. Guests check in at the private lounge, where they receive a warm hand towel on arrival, get a personal tour of the amenities and then discover welcome letters with bear-shaped cookies in their rooms. Wake-up calls come with coffee at the door of the guestroom. In the lounge, which is staffed from 6:30 a.m. to 10 p.m., they get a breakfast buffet (with treats like vanilla waffles or spiked Grand Marnier French toast), snacks throughout the day, and light appetizers and an honor bar in the evening. Families enjoy free use of PlayStations and Wii in the guestrooms.
The quality of executive floors and their club lounges varies dramatically. If the amenities are important to you, ask about what's offered before deciding whether to spend the extra money, which can range from approximately $75 extra (at the Hyatt Regency San Francisco) to $160 extra a night (at The Fairmont Banff Springs) or more. Some hotels only have a basic breakfast buffet and coffee throughout the day, while others deliver outstanding perks. The JW Marriott Marquis in Dubai, for example, features an entire floor dedicated as a lounge open 24/7, with Internet stations, bookable meeting space and high tea with sandwiches and scones. Guests on the club floor at the Sheraton Grand Hotel & Spa in Edinburgh, Scotland, have access to the award-winning Escape at One — a series of heat and water experiences including the Thermal Suite and rooftop Hydropool.
The executive floors that offer the ambience and personalized service of a boutique hotel, even though they are tucked into large properties, give frequent travelers a place to unwind from a hectic work day or relax after exploring on vacation. This is why executive floors with good club lounges remain so popular.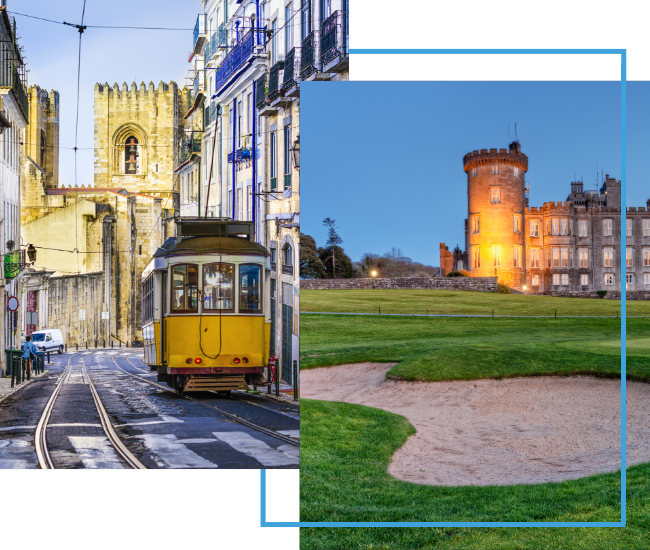 FX Excursions
FX Excursions offers the chance for once-in-a-lifetime experiences in destinations around the world.
Explore Excursions
In addition to intimate settings, smaller staff-to-passenger ratios, and personalized food and beverage options, river cruises have the advantage of providing a deeper dive into a region's culture, food and history. The Rhine, Rhône and Danube in Europe and the Mississippi River and St. Lawrence in North America have much to offer travelers with their itineraries, tying together beloved cities and lesser-known destinations along their routes.
Sponsored Content
The Saronic or Argo Saronic Islands of Greece call travelers to explore its seven small islands and islets brimming with history, natural sites and more. With most easily accessible by boat, the islands' proximity to ports of Athens make the Saronic Islands an ideal destination for those preferring shorter boat rides. In fact, trips from Athens ports to the islands take only between 10 minutes and two hours, depending on the island you choose, making them perfect for day or weekend trips. From Piraeus port, you can access Hydra, Spetses, Aegina and Poros directly. Come explore these stunning islands with us and find the inspiration to plan your next trip to these islands. Hydra Hydra town curves around a slope overlooking the Argosaronic Gulf like an amphitheater and is considered one of the most romantic destinations in Greece. Most unique to the island is its lack of vehicles. People on the island get around on mules and donkeys as well as water taxis, making for a peaceful and laid-back day. Hydra lies a two-hour ferry ride from Piraeus port in Athens.
With the holidays right around the corner, travelers are preparing for holiday travels. For those looking for a last-minute getaway filled with holiday cheer, consider Croatia. With a variety of winter activities perfect for travelers and locals alike, the Christmas countdown in Croatia is in full swing. Leading up to Christmas, Advent in Croatia makes it even more worth your while to visit the country with free winter incentives. If you plan on visiting Croatia, here are five cities going all out for the holiday season: