New Zealand's South Island is known for its unparalleled beauty, endless diversions and scrupulously executed eco-tourism. And it all comes together in the island's east coast town of Kaikoura; the name comes from the Maori words kai, meaning "food," and koura, meaning "lobster." Kaikoura, once a sleepy whaling town, is now a year-round escape destination and a whale-watching mecca. The unusually deep waters off Kaikoura, which is on a jutting peninsula, host a complex marine system that makes an ideal habitat for sperm whales, dusky dolphins, orca, fur seals, penguins, birds and a lavish supply of lobster.
At first glance, Kaikoura appears to be flirting with tourism oversaturation, but this potentially off-putting effect is completely diffused by the gorgeous surroundings and the extraordinarily friendly locals, who will make you feel like a cherished old friend minutes after you arrive. With the deep blue South Pacific Ocean right on its doorstep, the town is an ideal location for sighting unusual marine life and birds – not to mention totally wicked surf, dude. The magnificent 8,500-foot Seaward Kaikoura Mountain Range is visible from just about every spot in town, providing a stunning snowcapped backdrop for much of the year. The mountains complement the kaleidoscopic rainbow of color that comes at sunset each evening. And since Kaikoura sits comfortably in New Zealand's "sun belt," boasting more than 2,000 sunshine hours per year, you can bank on picturesque sunsets almost any time of year.
Ironically, the only thing that takes away from New Zealand's heaven-on-earth reputation is its unfortunate location in an ozone no-man's-land. The sun here is powerful. You must wear sunscreen if you are going to be outdoors for any length of time, particularly if you are going to be near the water. Even if it's cloudy. Even if you are in the shade. The water will reflect – and magnify – the undiluted ultraviolet rays to scorch you in a most uncomfortable way. You have been warned!
That said, Kaikoura, indeed all of New Zealand, is achingly scenic, thrilling, welcoming, and as safe a locale as you are ever likely to find. Bikes are left unlocked on the street, hitchhiking is customary, and police are armed with flowers and candy. Just kidding, but barely.
Kaikoura is preparing to launch a five-year expansion that includes new hotels, rental properties and a general fortification of the tourism infrastructure. It remains to be seen if this can be executed without robbing the town of its charm and spirit, but short of draining the Pacific and leveling the mountains, significant detriment seems doubtful.
---
LODGING
HAPUKU LODGE
Situated eight miles outside of central Kaikoura, Hapuku Lodge is the first and last word in Kaikoura's luxury accommodations. The lodge's designers have seamlessly melded the buildings, surrounding ornaments and landscaping. Throw in the mountain backdrop, an olive farm, free-range chickens, a deer stud corral, a pet goat and the respectable surf at Mangamaunu Bay (10 minutes away by foot), and you will feel as if you've entered a world of harmonized perfection. There are six immaculate guestrooms and an apartment on the property, all custom decorated, warm and featuring "the most comfortable beds on the South Island." The peace and beauty of the lodge and environs will have you earmarking a full day for simply wandering the property, cycling the side roads on the lodge's mountain bikes, strolling the seaside, deer-spotting and lounging at the award-winning breakfast and lunch cafe. Rooms are equipped with CD and DVD players, SkyTV cable, cordless phone and data ports. $$$$
HAPUKU LODGE
State Highway 1 at Hapuku Road
Kaikoura, New Zealand
tel 64 3 319 6559, fax 64 3 319 6557
www.hapukulodge.com
WATERFRONT APARTMENT
New in December, Waterfront was still adding last-minute trim and paint at the time of writing. Unlike most of the area's upmarket accommodations, which are located outside of town, Waterfront is directly across the beach in central Kaikoura, within easy walking distance of numerous restaurants and services. The apartments are fully loaded, two-bedroom affairs (master and spare with two single beds), each with a fold-out couch, full kitchen in wood and stainless steel, laundry, plasma TV with SkyTV cable and terrace/balcony with sea and mountain views. Apartments with spas are also available. $$$$
WATERFRONT APARTMENTS
126 The Esplanade
Kaikoura, New Zealand
tel 64 3 319 7880
www.waterfrontapartments.net.nz
FYFFE COUNTRY LODGE
Just four miles out of Kaikoura and seconds from the airport, Fyffe Country Lodge is yet another oasis of peace and leisure within striking distance of Kaikoura's many attractions. With only six rooms, luxurious bed linen, an award-winning restaurant and its very own signature seafood chowder, this boutique lodge is the place to unwind. Adhering to the New Zealand propensity for an all-natural approach to everything, the mud blocks (rammed earth) and recycled native timbers used to construct the Fyffe buildings succeed in adding a country charm that is in sync with the surrounding farms and mountains. $$$$
FYFFE COUNTRY LODGE
State Highway 1
Kaikoura, New Zealand
tel 64 3 319 6869, fax 64 3 319 6865
www.fyffecountrylodge.com
KINCAID LODGE
The mother-daughter team of Judith and Helen Costley have made Kincaid Lodge into a true home for guests. With only four pleasantly decorated rooms, a lavish breakfast buffet, two friendly sheepdogs, cows, black Escorial sheep and a horse milling around the property, the host-guest relationship begins to melt away, replaced by a welcome at-home sensation. Rooms are heavily stocked with toiletries, bathrobes, hair dryers, heaters, electric blankets, tea and coffee, homemade cookies, chocolates and complimentary port. Bikes and golf clubs are available, and guests can enjoy clay bird shooting and tennis. $$$$
KINCAID LODGE
611 Main North Road
Kaikoura, New Zealand
tel 64 3 319 6851, fax 64 3 319 6801
www.kincaidlodge.co.nz
---
DINING
WHITE MORPH RESTAURANT
Kaikoura's highest-rated restaurant, voted best of 2003 by the Montana Food and Wine Challenge, White Morph is Kaikoura's appropriately restrained nod to elegant dining. Opened in 1991 and housed in the former Bank of New Zealand building – the bar now occupies the vault – the White Morph takes advantage of New Zealand's seafood-intensive offerings, going as far as to print a useful seafood and seasoning glossary on the menu to help those of us who have not had the chance to (fish)bone up on the local offerings and preparation techniques. The wine list is epic, all-New Zealand tome, with accompanying taste breakdowns for each selection. Main courses $$$; lobster $$$$
WHITE MORPH RESTAURANT
94 The Esplanade
Kaikoura, New Zealand
tel 64 3 319 5676
INDO KAI RESTAURANT
Just under the bridge from Westend Road (Kaikoura's main street), Indo Kai specializes in fresh organic dishes in a quiet, candlelit atmosphere. Corrina and Richard are the prototypical Kiwi hosts, being warm, friendly and determined to satisfy each individual guest with excellent cuisine created with natural ingredients whenever possible. Their "blackboard menu" allows them to change their offerings to fit the up-to-the-minute produce brought in from the Marlborough region and local seas. The refreshing "bring-your-own" practice in New Zealand is honored here, so you can arrive for dinner with a choice bottle plundered from the day's winery tour (corking fee applies). Main courses $$$; lobster $$$$
INDO KAI RESTAURANT
6 Beach Road
Kaikoura, New Zealand
tel 64 3 319 5553
HISLOPS WHOLEFOODS CAFÉ
The concept of fresh, organic meat and produce rules at Hislops Wholefoods Café. The understated atmosphere is enriched by a short but tempting menu heavy on kiwi and natural goodness. Breakfast, lunch and dinner menus are available. Or, just enjoy a coffee with homemade cakes on the terrace. $$$
HISLOPS WHOLEFOODS CAFÉ
33 Beach Road
Kaikoura, New Zealand
tel 64 3 319 6971
www.hislops-wholefoods.co.nz
FINZ OF SOUTH BAY RESTAURANT AND BAR
Located on the south side of Kaikoura Peninsula, off the main drag, Finz's seeming liability dos not deter determined diners – including an avalanche of locals who frequently recommend it. Just a few yards from the fishing boat docks, the menu here is heavy on seafood, including shellfish, prawns and lobster that couldn't possibly be more fresh. If seafood isn't your thing (sacrilege, baby!), lamb, beef, chicken and vegetarian dishes are suitably represented.
FINZ OF SOUTH BAY RESTAURANT AND BAR
1063 South Bay Parade
Kaikoura, New Zealand
tel 64 3 319 6688, fax 64 3 319 6687
---
NIGHTLIFE
The heart of Kaikoura is essentially one, long, oceanfront road known as Westend or The Esplanade depending on where you're standing, with some action bleeding out onto adjoining State Highway 1. Apart from a few notable restaurants, this is where Kaikoura's reserved nightlife is situated. Countless cafes, bars, restaurants and takeout joints line both sides of the street, but most close relatively early. For after-11 p.m. endeavors, Sonic on the Rocks on Westend (across from the information center) is open late and often features live music. A few steps down Westend is Strawberry Tree, a popular haunt for locals and tourists alike, with a harbor-themed back patio. For a profound taste of the eclectic community hangouts, visit Lobster Inn or the Blue Pacific Hotel, where you'll be chatted up by well-marinated, but disarmingly friendly and curious locals.
---
DAY TRIPS
DOLPHIN ENCOUNTER
Dolphin Encounter's wildly popular tours take visitors out year-round to swim, watch and learn about Kaikoura's plethora of dusky dolphins. The dolphins loiter around Kaikoura in pods anywhere from 200 to 1,000 strong. Though the dolphins are completely wild and not coerced into hanging around the Kaikoura coast or interacting with swimmer, the duskies are the most playful and acrobatic of the dolphin family, so chances are good that they will put on a memorable show. Book way ahead or you'll end up on a nail-bitingly long waiting list and have to appear in person for a shot at a tour spot.
DOLPHIN ENCOUNTER
96 The Esplanade
Kaikoura, New Zealand
tel 64 3 319 6777 (toll free within New Zealand 0800 733 365)
www.dolphin.co.nz
ALBATROSS ENCOUNTER
Run by the same people as Dolphin Encounter, these surprisingly delightful albatross tours will have birding enthusiasts going cuckoo over the world's largest birds that fly (the condor is a close second) from a distance of just a few feet. In an open boat with a chum line in tow, albatrosses, great albatrosses, petrels, prions, shearwaters, terns, gulls, gannets and shags will be on you like, well, like birds on chum. The knowledgeable and eagle-eyed guide/skipper can accurately identify a black speck on the horizon and motor you up close to the best birds in the area.
ALBATROSS ENCOUNTER
96 The Esplanade
Kaikoura, New Zealand
tel 64 3 319 6777 (toll free within New Zealand 0800 733 365)
www.oceanwings.co.nz
DIVE KAIKOURA
While Dive Kaikoura offers scuba training and tours as well as a full dive shop, the main attraction for tourists is the seal swimming. Small groups are ferried out to one of three seal colonies on the tip of Kaikoura Peninsula to frolic with the inquisitive seals, some weighing up to 420 pounds, that won't think twice about getting a good look at you. Unlike the short-attention-span dusky dolphins that sprint up, zoom around for a few seconds and then move on, the seals spend much of their time in the water floating upside down, rolling and scratching themselves while stealing glances to see what you're up to. The calm is occasionally broken by a spirited chase, but mostly the seals are just happy to sit back and share the sea with you.
DIVE KAIKOURA
94 Westend
Kaikoura, New Zealand
tel 64 3 319 6622 (toll free within New Zealand 0800 SCUBADIVE), fax 64 3 319 6868
www.scubadive.co.nz
WHALE WATCH
Whale Watch employs a super-fast, two-level boat, with a completely enclosed seating area and underwater microphones to home in on whales that are preparing to surface. The crew entertains you with a fascinating multimedia whale presentation as the boat whisks from one surfaced whale to another. You get an up-close and startling perspective of the immense size of the area's sperm whale population, with the occasional pilot whale and monstrous blue whale making cameo appearances. Incidental encounters with penguins, dolphins and albatrosses are virtually a given. Prone to seasickness? Be advised, the trip can get a bit rough.
WHALE WATCH
Whaleway Station Road
Kaikoura, New Zealand
tel 64 3 319 6767 (toll free within New Zealand 088 655 121), fax 64 3 319 6545
www.whalewatch.co.nz
WINGS OVER WHALES
Want to see the whales, but not all that keen on a boat ride? Wings Over Whales can get you to whales faster and with much less potential for motion sickness. A preflight whale briefing and daily sighting report is given by the whale-savvy pilots before the 30-minute flight. Circling just a few hundred feet above the ocean allows you a bird's-eye view of the full length of the whale, and – because of speed and mobility – affords a potentially higher number of sightings than a boat ride.
WINGS OVER WHALES
Kaikoura Airfield
Kaikoura, New Zealand
tel 64 3 319 6580 (toll free within New Zealand 0800 2CMOBY)
www.whales.co.nz
SKYDIVING NEW ZEALAND
The Kaikoura branch of Skydiving New Zealand opened last September and promises to give the utmost personal attention to each skydiver. Tandem drops go from 9,000 to 12,000 feet with a free fall of up to 45 seconds. On a clear day you can see all the way to Christchurch and even North Island. Ages 16 to 75. Personalized dive video and still photos available.
SKYDIVING NEW ZEALAND
Kaikoura Airfield
Kaikoura, New Zealand
tel 64 3 319 7874 (toll free within New Zealand 0800 NZSKYDIVE)
www.skydivingnz.com
PILOT-A-PLANE
Literally. They take you up, let go of the controls, and you have a Lindbergh moment that lasts 20 minutes. No experience necessary.
PILOT-A-PLANE (AKA KAIKOURA AERO CLUB)
Kaikoura Airfield
Kaikoura, New Zealand
tel 64 3 319 6579
www.virtual-kaikoura.com/aeroclub
---
KAIKOURA WINERY
This very young tourist vineyard produces a limited amount of Pinot Noir, Chardonnay, Pinot Gris, Gewürztraminer, Sauvignon Blanc and Riesling each year, and it distributes only within New Zealand. Take the hourly tour, settle in for a tasting or buy by the glass in the cafe and settle down on the terrace with a view of both the mountains and the ocean. The cavernous underground cellar, which is appropriately cool, with sharp acoustics, is available for events. The Kaikoura Winery was the first vineyard in the world to achieve Green Globe 21 (www.greenglobe21.com) sustainable travel and tourism benchmarking, in August 2002. Mail order available.
KAIKOURA WINERY
140 State Highway 1
Kaikoura, New Zealand
tel 64 3 319 7966, fax 64 3 319 7967
www.kaikourawines.co.nz
---
INFO TO GO
Kaikoura's tiny airfield (KBZ) is minutes from town with two 45-minute flights daily from Wellington (WLG) on Sounds Air (tel 64 3 520 3080 or toll free 0800 505 005; .(JavaScript must be enabled to view this email address)

; www.soundsair.com). Charter flights from Christchurch can be easily arranged. Several bus companies and a modest train line also connect Kaikoura to Picton, Christchurch, Nelson and points beyond. Car rental in New Zealand is surprisingly cheap, and the drive into Kaikoura from Picton or Christchurch (each about 2 hours away) is an engaging, twisting and gorgeous trip. By sea, the Interislander and Lynx ferries cross the Cook Strait from Wellington to Picton several times a day. From there connecting to Kaikoura by bus, train or your own vehicle is trouble-free. For more information, visit www.kaikoura.co.nz.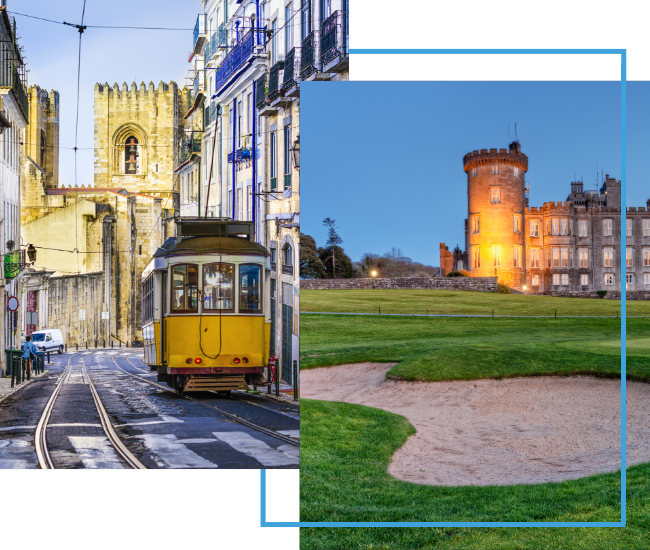 FX Excursions
FX Excursions offers the chance for once-in-a-lifetime experiences in destinations around the world.
Explore Excursions
Pleasant weather, autumn foliage and vibrant flowers are among the many delights awaiting nature lovers at botanical gardens and arboretums across the United States. However, some of these green spaces take on additional color this month and through Halloween when enterprising gardeners, landscape architects, management and other creative minds cast a spell with themed environments running the gamut from spooky to utterly bewitching.
Sponsored Content
Learning more about our readers' travel habits and preferences ensures Global Traveler delivers the content you desire. As the travel industry has adapted and changed over the last few years, it's more important than ever to connect. To best meet your short- and long-term travel content needs, please help us!
For travelers who love all things autumn, Crystal Springs Resort, New York City's closest destination resort, features special offers and experiences to meet the demands of everyone's fall bucket list. Located only 80 minutes outside New York City in Sussex County, New Jersey, Crystal Springs Resort offers a quick getaway to enjoy fall foliage. Are any of these new offers or experiences on your bucket list?