Every city has its main drag. In Montreal, it's quite literally "The Main," which years ago was the dividing line between the city's English- and French-speaking neighborhoods. These days the street (officially Boulevard Saint-Laurent) is less a partition than it is an artery, funneling Anglophones and Francophones, American tourists and European business travelers alike past used bookstores and neon-lit boutiques toward one common destination: Schwartz's Deli, home of the best smoked-meat sandwich on planet earth.
It's 10 o'clock on a Sunday night, but the line outside Schwartz's runs for half a block. It always does. That's because Schwartz's, like the Montreal Canadiens (known locally as "les habitants," or "the habs"), is one of the few things on which almost everyone in this city of more than 1 million agrees. Which isn't to suggest that Montreal is a city of bitter divisions. In fact, considering its diversity of cultures and long-running debates (should Quebec secede from Canada? should Molson sell out to Coors?), everyone here gets along amazingly well.
One of the rare exceptions occurred in 1644, when Paul de Chomedey, sieur de Maisonneuve and leader of a tiny but determined band of French colonists, challenged an Iroquois chief to a duel at the Place d'Armes in the heart of Old Montreal. It wasn't much of a fight, since Chomedey, unlike his opponent, was armed with pistols. Nor was it decisive: Although the French gained the upper hand, the two cultures continued to live side by side, neither understanding nor trusting the other. Much the same thing happened when the British conquered the city in 1760, adding another culture to the mix. At the Chateau Ramezay, a colonial mansion turned seat of government turned museum, I learned what happened when Benjamin Franklin and Benedict Arnold tried to persuade Montrealers to join the American Revolution. The city's French speakers made it clear in no uncertain terms that they preferred to live in a nation that allowed them to retain their language and culture. (Perhaps they envisioned a future society in which "freedom fries" would supplant their own pommes frites.)
During the next 200 years, the city's English speakers created a thriving financial empire, as Montreal's French speakers built churches: the most beloved, Notre-Dame-de-Bon-Secours, stands along the St. Lawrence River welcoming returning sailors. That relationship changed in the Quiet Revolution (1960-66), when Francophones demanded a share of power. The results included the Expo '67 World's Fair and the 1976 Olympic Games, possibly the greatest achievements in the city's history. But they also included 1977's Bill 101, which requires everyone in Quebec to speak French while teaching or conducting business.
Sitting in a cafe among a group of other English-speakers in the picturesque, French-speaking neighborhood of Outremont, it's difficult to imagine the immediate impact of Bill 101 and the threat of Quebecois secession on Montreal's business community. The city's chairmen and CEOs were almost exclusively English-speaking. Ultimately, many left for Toronto, and Montreal was transformed from Canada's financial capital to a city known more for its jazz, film and comedy festivals.
But a funny thing happened in the last decade. It turns out that if you put enough creative minds together — and Montreal, with its four universities and its reputation as a haven for the brilliant, the misunderstood and the just plain weird, is nothing if not creative — interesting things are bound to happen. Thanks to a heavy dose of government subsidies, the same city that produced Cirque du Soleil has also become a center for information technology, aerospace research and biotechnology. Every major pharmaceutical company now has a facility in Montreal, and more than 300 biotech firms employ 24,000 of its residents. Both the city and the province are also relaxing regulations in order to attract business.  Foreigners moving to Montreal are exempt from provincial income taxes for five years and no longer have to send their children to French-speaking schools, though they still need to conduct business in French.
To someone strolling along rue St.-Denis, with its used record stores, tiny Middle Eastern restaurants and boutiques hawking medieval clothing alongside Euro-chic fashion, Montreal might seem more like the world's largest college campus than a place where a company like Kraft (which saw the advantage of buying sugar without a U.S. tariff) would relocate its Detroit LifeSavers plant. Creative approaches to everyday problems pop up in the most unexpected places. It's hard, for example, to call the Biodome a zoo. Built inside the former Olympic Velodrome, the Biodome is what a zoo might look like if the animals who lived there designed it. You can walk into a chamber that looks for all the world like a stretch of the St. Lawrence, with a beaver lodge at one end — and then travel underground to see the beaver busy at work beneath the water. It's not a bad way to honor an animal whose fur was the city's No. 1 export for hundreds of years.
Montreal also does elegance better than any other city in North America (and most of Europe too, though Europeans would never admit it). It's one thing to sit down to a delicious four-course French meal (at Canadian prices!) in a mahogany-paneled restaurant with a little jazz combo playing in the background. It's quite another to eat the same meal under the stars, on a terrace outside the restaurant, surrounded by the tone of multilingual conversation and the music of the streets. In a city where winter weather dominates for six months out of the year, Montrealers, as visitors will discover, know how to make every precious moment count — whether relaxing in a horse-drawn calèche for a ride around the Place d'Armes, watching the skyline and the ships along the river from the tower of the Tour de l'Horloge, or simply sitting down to a steaming plate of spicy meat at Schwartz's Deli.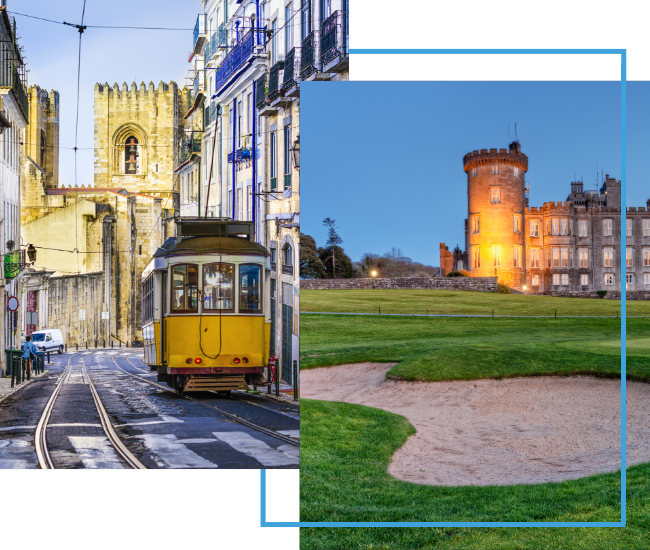 FX Excursions
FX Excursions offers the chance for once-in-a-lifetime experiences in destinations around the world.
Explore Excursions
The Perelman Performing Arts Center (PAC NYC), the cultural cornerstone and final public element of the World Trade Center site, opened this September.  The new performing arts center in Lower Manhattan provides a dynamic home for the arts, serving audiences and creators through flexible venues enabling the facility to embrace wide-ranging artistic programs.
Sponsored Content
IHG Hotels & Resorts is thrilled to announce the launch of a new mobile product feature for members: IHG Wi-Fi Auto Connect. This feature is now available exclusively in the IHG One Rewards mobile app for both iOS and Android users and will automatically connect IHG One Rewards members to WiFi upon arrival at more than 5,000 IHG hotels worldwide — no separate passwords or log-ins needed. This is in addition to the exciting benefits of being an IHG Business Edge member. IHG Business Edge provides small- and medium-sized businesses access to a user-friendly portal that displays comprehensive spending and savings data while providing the convenience of direct booking with a guaranteed discount.
Whether you call secondhand fashion treasure troves "thrift stores," "fripperies," "charity shops," "vintage boutiques" or something else, shifting the paradigm from "old clothes" to "new finds," you may find the best, most conversation-starting souvenirs inside these shops and neighborhoods located in the world's most fashionable cities and a few unexpected places.