Arrival/Check-In: It's a beautiful property in the financial center, and the Presidente InterContinental Santa Fe does not disappoint. The Santa Fe area is an up-and-coming neighborhood in the western region of vast Mexico City; that is, it's a nice area but a long drive from the airport. When you reach the hotel, a handsome circular stone entrance driveway and a team of valets welcome you. The hotel entrance is a short but cavernous walk to a covered outdoor elevator bank that rises through ceilings seemingly 30 feet high, then disappears into the hotel lobby on the fourth floor. Checking in was a breeze, even taking time to speak with the staff. My bags were brought to the room ahead of me as I took a few minutes to enjoy the ambience, the view and the company of the exuberant concierge. Up to the room I went.
Guest Quarters: The room was spacious, even if minimalist in artistic detail. It had the feel of a corporate apartment with the dining area in the entryway. From there, the short hallway, narrowed by the adjacent bath, opened up to a large bedroom with a king-sized bed with plush, plentiful pillows and bedding, a wall-mounted flat-screen TV and a desk area stretching the room length. Floor-to-ceiling windows with automatic curtains revealed the mountainous surroundings. On a clear morning I could even see the smoke from a distant volcano rising to join the clouds. The bathroom had a large vanity and tub as well as a generously sized separate shower with a full-sized hinged glass door. The water pressure was impressive, but the toilet was woefully low-flow.
Services/Amenities: The gym was brand-new, with an outdoor entrance to a balcony pool overlooking the bustling financial district. For better or worse, the gym and pool are located next to the bar and cocktail lounge. The area is a business center; the best restaurants are actually located in the downstairs portion of the hotel. A world-class steakhouse and French fine dining are on premises. There are also two upscale dining options to enjoy without suit or tie but are best with company.
Nearby is a large conference center and a mall, but the neighborhood is not built for entertainment. There are no sidewalks or storefronts that make the area walkable, but shopping and dining options are available by short taxi ride. Your best bet is to stay on site and enjoy the drinks, food and view at the hotel.
The Experience: For a business stay, this is a great hotel in an area that is growing quickly. Whether entertaining clients for dinner at the Palm, closing a deal over wine at Au Pied de Cochon or watching the sunrise from the comfort of your bed with a cup of fresh-brewed coffee, you will find the Presidente extremely accommodating.
GT CHECKLIST
Doorman/valet
Less than 10 minutes for check-in
Separate tub and shower
Large vanity
High-quality towels
Powerful, unattached hair dryer
High-quality bed linens
Large, flat-screen television
Large desk with convenient outlets
Large, complimentary laptop safe
Complimentary in-room WiFi
Complimentary bottled water
Stocked minibar
Ample lighting
In-room coffeemaker
Iron and ironing board
On-site restaurant and bar
24-hour room service
State-of-the-art fitness center
Presidente InterContinental Santa Fe Mexico
Av. Juan Salvador Agraz 97
Mexico City, 05300
Mexico
tel 52 55 11050170
ihg.com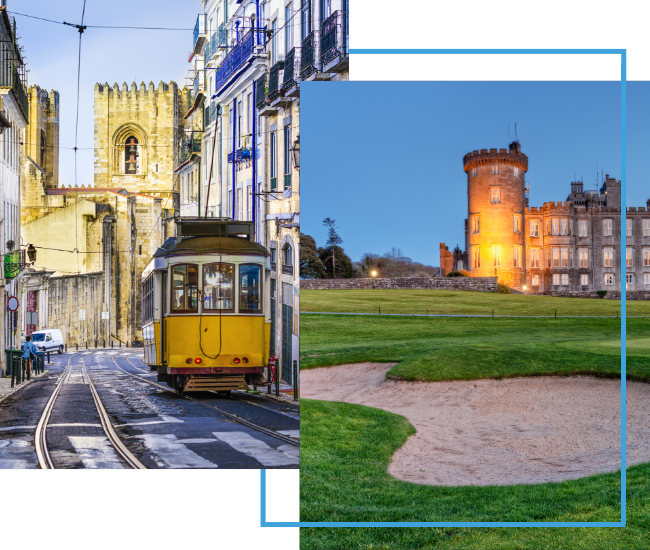 FX Excursions
FX Excursions offers the chance for once-in-a-lifetime experiences in destinations around the world.
Explore Excursions
Corsica with steep, gray cliffs overlooking the Mediterranean and sandy beaches attracting summer visitors, is a French-governed island sometimes confused with Sardinia and Sicily, Italian islands to the south. Fortunately, all three islands share the same love for good wine, food and sun-splashed beaches.
Sponsored Content
Are you looking to enhance your business trip with a little leisure? Look no further than Portugal, a country renowned for its captivating blend of history, culture and natural beauty. And with TAP Air Portugal, you can effortlessly transform your business trip into an unforgettable bleisure adventure. Discover why Portugal and TAP Air Portugal are the perfect combination for an enriching and rejuvenating experience.
If you're ready to do a little holiday catch-up with your besties, make a beeline for Conrad New York Downtown. The lobby metamorphosed into a holiday forest of heavenly scented, decorated Virginia Spruce trees. Make your first stop ATRIO Barista Station in the lobby for a complimentary hot spiced apple cider (until Dec. 3) or hot chocolate (Dec. 22­–24).