Anyone who's done their spa homework is likely familiar with the tradition of the Kur — or taking the waters — so well known in Germany. Lately, a surge of interest in Ayurveda, India's centuries-old approach to well-being, is gaining hold in German resorts and long-established spa towns, with exotically named treatments popping up on spa menus from Baden-Baden to Berlin.
Wondering what all the fuss is about, I head to the small spa town of Bad Wildstein, just outside historic Traben-Trarbach on the Moselle River, to sample an authentic Panchakarma detoxification program at the elegant Parkschlösschen Bad Wildstein. The Ayurvedic health retreat is housed in a stunning Art Nouveau castle designed at the turn of the 20th century by Berlin architect Bruno Möhring. The spa team includes doctors and other health professionals who are experts in Indian medicine.
A gracious staff greets me on arrival and shows me to a spacious room decorated in soothing colors. In keeping with the Ayurvedic tenet of living life in a balanced way, a 2002 renovation involved replacing furnishings with natural, non-toxic elements including wood, pure silk wallpapers, marble, slate, and wool carpets. Double insulation now wraps electric cables, and water pipes are buffered over with marble. The original springs still feed the property's water supply and bathing complex, the Veda Thermal Baths.
Often described as Ayurveda's master therapy, Panchakarma lies at the heart of the Ayurvedic health regimen. Its goal is to detoxify the body and gently restore balance to body, mind and spirit through nutrition, exercise and specific therapies. I'm a little nervous as I head to my first appointment with Kumaran Rajsekhar, the resident vaidya — the preferred term for an Ayurvedic physician and healer who's studied both medicine and India's ancient Vedic scriptures. He spends about an hour examining me, checking my pulse and tongue, and asking detailed questions that include my likes, dislikes and sleeping habits — information crucial to determining my individual dosha, or constitutional type. Ayurveda recognizes three doshas — Vata, Pitta and Kapha — each related to food, exercise and lifestyle choices.
Once the exam is complete, Vaidya Rajsekhar prescribes a four-day course of treatments and offers guidance on food choices that suit my dosha. He reminds me to eat for more than nutrition — the enjoyment of food should also feed the soul. Smiling, he then delivers the bad news: During my detoxification, I'm to forgo both caffeine and anything alcoholic. I ponder the ramifications as I make my way back to my room. While I never drink coffee, I'm not sure I can do without my standard three to four cups of strong, black tea each day — a habit that began in infancy, when my mother kept my baby bottle filled with warm, milky tea in an effort to keep me quiet. And as for alcohol, the resort is surrounded by some of the most magnificent Riesling vineyards in the entire world. Reluctantly, I postpone my sipping plans and comfort myself with a pre-dinner walk through the lovely parkland surrounding the resort. There are trees from all over the world, including a tremendous redwood from California.
Chef Eckhard Fischer, also an Ayurvedic therapist, is known for his gourmet vegetarian cuisine with its focus on seasonal, organic ingredients. Dinner, as well as the rest of the meals I enjoy here, proves to be sensational, though I find the small glass of hot ginger water that precedes lunch and dinner to be less enjoyable than, say, a glass of local wine. There are plenty of substitutions available, however. Before bed and every morning, a staff member delivers a pot of hot water to each guest's room. Ayurveda discourages drinking cold beverages, and the hot water can be sipped plain or infused with an herbal tisane.
In the morning, clad in a warm robe, I make my way downstairs to the spa therapy center. My first treatment is an Udvartana, an exfoliating and circulation-stimulating massage with two therapists working as a team. While I'm seated upright, they massage my head and feet, then help me onto a table for a full body treatment. Ayurvedic massage, I soon learn, includes the breasts and buttocks, where a surprising amount of tension can be stored. I find it deeply relaxing and doze off for the last few minutes of the treatment. I'm then directed to an herbal steam enclosure for a Svedana therapy, and spend the next 20 or so minutes within a vapor of herbs before being led to a private relaxation room with a shower and day bed.
The next day includes a Vishesh deep muscle massage, again with two therapists. It's followed by a Nabi Basti, one of the more unusual treatments I've experienced. First, a therapist surrounds my navel with warm rings of a pliable, doughy substance. Next, she pours warm oil into my navel, replenishing it over the next half hour each time it begins to cool. At first, I feel slightly silly; gradually, though, I'm overcome with a sense of well-being and tranquility.
The serenity lasts all evening and into the next day, even as I set off for my afternoon stroll. While the offerings here include cooking classes, lectures, tennis, Nordic walking and a host of other activities, I'm heading for a nearby path through the forest leading to ancient standing stones, perhaps erected by people who recognized the curative powers of the local thermal waters.
In the morning, I take a taxi to the station in time to catch my train to Wiesbaden. Upon arrival, I immediately locate a café and waste no time ordering a pot of tea and — because I'm also feeding my soul — a slice of apple cake.
Parkschlösschen Bad Wildstein
Wildbadstrasse 201D-56841
Traben-Trarbach, Germany
tel 49 6541 7050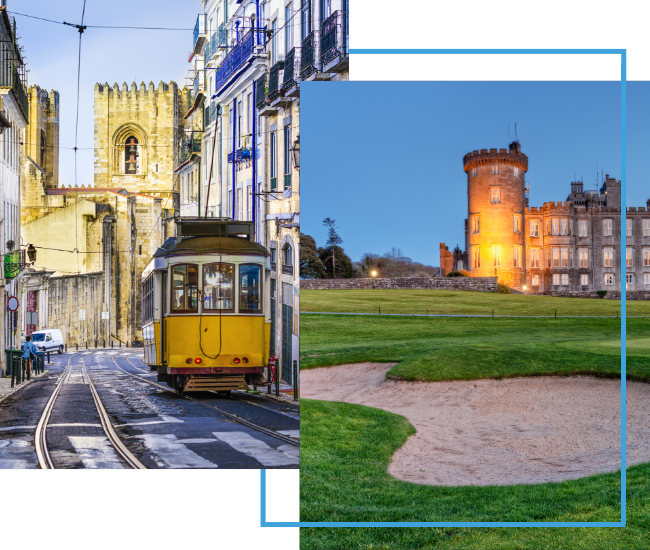 FX Excursions
FX Excursions offers the chance for once-in-a-lifetime experiences in destinations around the world.
Explore Excursions
Did the new film Oppenheimer rouse your interest in the nefarious world of international espionage? You can go straight to the real-life setting for covert actions this November (Nov. 10–12), when La Fonda on the Plaza in Santa Fe hosts a specially themed "Spies, Lies and Nukes" weekend. The hotel actually served as the retreat location for Manhattan Project scientists, who stayed at La Fonda on the Plaza to take a break from the stress of their work. During the weekend, the property's La Fiesta Lounge will make a tasty nod to those days by serving up a special Atomic Martini.
Sponsored Content
Many small- and medium-sized businesses face time and budget constraints when organizing corporate hotel travel for employees. To address this problem, IHG® Business Edge emerged as a cost-free business travel solution for small- to medium-sized enterprises, offering travel managers exclusive access to enticing perks, handpicked educational resources and comprehensive company travel metrics. IHG Business Edge connects our loyal customers to our portfolio of 5,800 hotels and resorts across 18 brands in more than 100 countries.
Ever want handcrafted martinis and freshly shucked oysters delivered straight to your room? The Read House's New Martinis & Pearls service has you covered. Shining in 1920s-themed decor, the historic hotel in the heart of Chattanooga offers a true Gatsby-esque experience, now further elevated with this upscale amenity. Guests can now indulge in their perfectly chilled martini, made to order, and "pearls" (oysters) in the comfort of their room.