Copenhagen, Denmark Nov. 16–Dec. 23, Dec. 26–30
The world's oldest amusement park is all aglitter with its own Christmas market, special rides and the replica of a frosty Russian city. Check out the nightly performances of traditional ballet (The Nutcracker) and ensemble comedy (Crazy Christmas Cabaret in its 30th edition, with something called Hitchcock-Up).
Oslo, Norway Oct. 29–Nov. 4
Thirteen stages fill with sounds from chaabi to chanson. Hot tickets include Mali's Boubacar Traoré, guitarist and "father of African blues" (Nov. 1); the Kronos Quartet (Nov. 3), with a special world-music program; and fado sensation Ana Moura (Nov. 4).
Brussels, Belgium Through Jan. 27, 2013
The Royal Museums of Fine Arts give us a new picture of a forgotten 17th-century master, Jacob Jordaens, a contemporary of Van Dyck. The 80 paintings, drawings, tapestries and sculpture — especially the lively mythological and antique scenes — show how Jordaens was once able to steal a substantial share of the market from another fellow Flemish rival, Rubens.
Banff and Lake Louise, Alberta, Canada Nov. 1–Dec. 2
Snow comes early to the heart of the Rockies and so do the Lake Louise WinterStart World Cup Races (Nov. 24–25, Nov. 30–Dec. 2), where ski fans get free access to the finish line. Meanwhile, in Banff, "Christmas in the Rockies" gets rolling Dec. 1 with strolling carolers, competing ice sculptors and a twinkling Santa Claus Parade of Lights.
Leipzig, Germany Nov. 6–11
The Lord Mayor of Leipzig is patron of this festival of contemporary theater which presents 23 performances by 12 visiting avant-garde and innovational dance and theater troupes from nine European countries on eight stages. The play to book is Miranda, a modern take on Shakespeare's The Tempest.
Adelaide, Australia Nov. 7–18
Gleneig Beach, Christies Beach and the State Aquatic Centre at Marion are awash with the world's worthiest rescuers, 4,000 of them from 40 countries. See how they fare in surf boat competitions, during emergency situations and aboard inflatable rescue boats.
Marysville, Wash. Nov. 9–10
Start out with the Celebration Dinner, punctuated by premium wines from around the globe, and finish at the Grand Taste as 120 wineries from the West Coast, France and Italy pour their best. In between there are cooking demos, workshops with legendary vintners and a Magnum Party where you can splash out with rare wines.
Oamaru, New Zealand Nov. 14–18
This Victorian-era port slips back into a bygone era as locals don 19th-century corsets and beards, compete in penny-farthing bicycle races, stage pipe and brass band concerts, and chip in at the annual World Stone-Sawing Championship and resulting art auction.
Innsbruck, Austria Nov. 15–Jan. 6, 2013
It's four markets in one, with traditional Tyrolean arts and crafts in Old Town; glass and crystal shopping along Maria-Theresien Street; a Family Market with a carousel, petting zoo and puppet theater at Marktplatz; and the not-to-be-missed Hungerburg Christmas Market perched at the top of the new funicular.
Dates may change; always check in advance to confirm.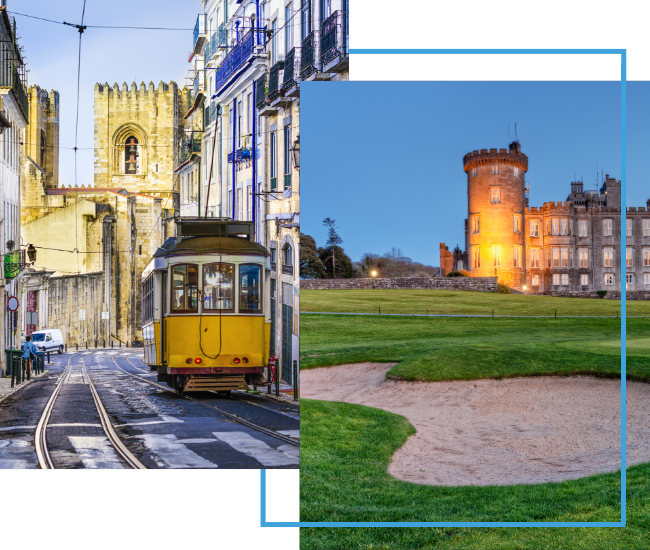 FX Excursions
FX Excursions offers the chance for once-in-a-lifetime experiences in destinations around the world.
Explore Excursions
Pleasant weather, autumn foliage and vibrant flowers are among the many delights awaiting nature lovers at botanical gardens and arboretums across the United States. However, some of these green spaces take on additional color this month and through Halloween when enterprising gardeners, landscape architects, management and other creative minds cast a spell with themed environments running the gamut from spooky to utterly bewitching.
Sponsored Content
Learning more about our readers' travel habits and preferences ensures Global Traveler delivers the content you desire. As the travel industry has adapted and changed over the last few years, it's more important than ever to connect. To best meet your short- and long-term travel content needs, please help us!
For travelers who love all things autumn, Crystal Springs Resort, New York City's closest destination resort, features special offers and experiences to meet the demands of everyone's fall bucket list. Located only 80 minutes outside New York City in Sussex County, New Jersey, Crystal Springs Resort offers a quick getaway to enjoy fall foliage. Are any of these new offers or experiences on your bucket list?