In 2020 we felt Cream Ridge Golf Course was the perfect place to meet for the annual Turkey Bowl during COVID with its easy access from New York and Philadelphia. In 2021 we decided to try a reboot of the course and found the weather was far from our friend. Participants were dropping like flies as the date approached and the forecast predicted nearly freezing temperatures and wind gusts up to 35–40 mph. Even old standbys, like myself and Chris Ottaunick (also known as Yammi and our staff photographer), were second-guessing. When I turned in Thanksgiving evening, I assumed we would cancel.
The morning brought a plethora of text messages — should we go or not, was it going to rain as well — but, in the end, a small group headed out to play. Once again we had father-and-son combos playing from the Advisory Board including Chris and John Ottaunick; Carlos and Chris Cappuccio; and Steve Montgomery (winner of last year's trophy), who brought his two sons, Matt and Mike, for the day's festivities.
We ended up with two foursomes: The Ottaunicks joined the Cappuccios, and I teamed up with the Montgomery clan.
HOLE 1
520 yards, par 5
The Cappuccios and Ottaunicks teed off before us with clear weather but a raging wind. The Montgomerys and I were up next, the boys pushing their drives left, me hitting right and Steve heading right down the middle, which is the smart play. He continued with a perfect 3-wood shot to land within green striking distance and putted in for a bogey. The rest of us, freezing and swinging, ended with double bogeys. The chatter was all about the previous year and what happened on Hole 2.
HOLE 2
138 yards, par 3
I made Turkey Bowl history in 2020, scoring the first hole in one. Well, 2021 was not quite the same. Up to bat first were Matt and Mike Montgomery. They teed up and overshot this par 3, one right and one back. Steve landed left of the pin but pin high and in good position. Trying to repeat the legend of 2020, I hit a high shot, but it landed just short of the green. (The famed hole in one hit the front collar and rolled slowly to the cup and in.) Trying to save par, we chipped up, Matt over- shooting and rolling off. The best score this year was a 4. For those historians, I am proud to say the club added a plaque in my honor. Mind the velvet ropes.
HOLE 5
343 yards, par 4
From an elevated tee box you can clearly see this dogleg to the right. Just below lies another pond, but this should not come into play. Steve hit his drive long, slightly left and under some tree branches — seems like a common place to land. He went in so far, the ball rolled into a pile of leaves, lost forever in Cream Ridge, New Jersey. I secured a drive that was not long but on the fairway. My approach overpowered the green, landing on the back and rolling off; it was a long chip back. Matt and Mike made friends with a lone pine tree; we never really got their score.
When we reached the ninth hole, which I birdied, the Montgomerys had enough of the wind, cold and impending rain. They took off for home to enjoy some hot cocoa. I joined the Cappuccios and Ottaunicks in an illegal fivesome.Yammi killed a drive and landed squarely about 40 yards from the green. I seem to recall he was nearly on the green the prior year. The course groomed some of the trees to the left, opening up this hole and making tee shots easier. John put everything into his shot, but, unfortunately, it went straight into a tree (we allowed a redo).
The Cappuccios, more skilled at fishing, both dumped their balls into the woods. Often, a magnetic attraction seems to pull a ball as close as possible to the left side, clipping a branch and sending the shot out of bounds. I struggled with my lackluster drive but came back to card a double bogey. This hole should not be as difficult as we made it; a nice shot left center would leave you with a mid-iron to the green. Yammi secured a birdie … was he thinking of the trophy?
HOLE 18
488 yards, par 5
A great finishing hole and tricky to match, but a hole that needs a little TLC from the maintenance crew. We were forced to park our carts 60 yards short of the tee box and tiptoe through the mud to the tee markers. The tee box is set back and positions you over a pond, making most players aim too far right. I warned the others, but all except Yammi went too far left. I hit another killer drive, overflying my ball, which landed on the devilish right side.
My second shot was better, sailing over the trees on the right and landing in the fairway within 100 yards of the green. Yammi followed me and landed within a few feet of my shot. Both Yammi and I managed to land on the green in three and two-putted for par. The rest limped their way in, losing balls and shots to the defiant Team Turkey. We wrapped up the 27th annual Turkey Bowl without needing to count or review the secret ballots. It was clear Chris "Yammi" Ottaunick was the winner for 2021!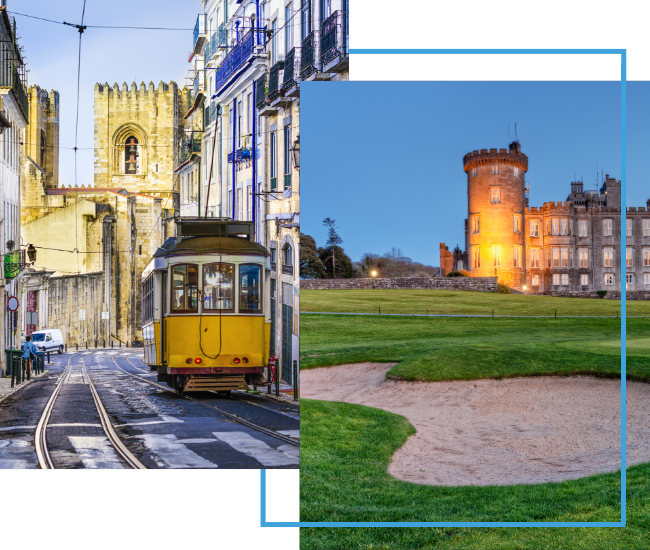 FX Excursions
FX Excursions offers the chance for once-in-a-lifetime experiences in destinations around the world.
Explore Excursions
There's no doubt the northern lights are awe-inspiring and spectacular. Unfortunately, they're also fickle and fleeting, and despite your best-laid plans of checking this item off your bucket list, sometimes Mother Nature's luminescent show just doesn't cooperate. But one cruise line has a new fail-safe in place.
Sponsored Content
Are you looking to enhance your business trip with a little leisure? Look no further than Portugal, a country renowned for its captivating blend of history, culture and natural beauty. And with TAP Air Portugal, you can effortlessly transform your business trip into an unforgettable bleisure adventure. Discover why Portugal and TAP Air Portugal are the perfect combination for an enriching and rejuvenating experience.
Think you need a degree in sailing to enjoy a yachting holiday? Dream Yacht Worldwide, a leader in yacht charters, wants you to relax and enjoy the journey. Newly expanded to include the British Virgin Islands, Martinique, Tahiti and the Seychelles, the "Easy Crewed" offered by Dream Yacht Worldwide also include charter options in Greece and Croatia.