The sound of water rushing over stones scattered along the 315-mile-long Hudson River fills the air, from the northern tip near Albany and Troy in the Capital Region down to Westchester County. The Hudson Valley, well-known for its agriculture, produces local meats, cheeses, milk and seasonal vegetables and boasts vineyards full of plump grapes used to create some of the best wine in the region. Aside from its valuable farming and production efforts, the area features plenty of eateries, galleries, small businesses and history.
Begin your Hudson Valley discovery in Hudson, New York. If traveling by train, you'll take Amtrak's Empire Service route or Metro North's Hudson Line. The area is full of quaint local shops, eateries and boutique hotels. Stroll along Warren Street to explore the antique stores such as Antigo and local businesses like The Spotty Dog Books and Ale, a bookstore where you can grab a pint of beer while you browse through its collection. While scanning the river and surrounding landscapes, view Hudson Athens Lighthouse, around since the mid-1870s and still operating today.
Enjoy a hike to Dover Stone Church in Dover Plains, New York, a hidden gem in the woods of the Hudson Valley. Across from Dover Elementary School, a blue historical sign points to a tree-lined path. After a brief walk, approach the creek that leads to a cave opening, revealing a small waterfall inside. Be sure to wear proper shoes if you want to go into the cave; it'll be wet and slippery, so enter at your own risk. From Hudson you can take an hour's drive southwest to the Catskill Mountains if you have your own vehicle.
The 700,000 acres of Catskill Park encompass the beautiful Catskill Mountains. The Catskills branch off of the Appalachian Mountains as a dissected plateau that offers trails to the tallest two- tiered waterfall in New York, Kaaterskill Falls. Plan to get there in the morning; there can be an hours-long line to enter the parking lot. Alternatively, keep an eye out as you near the park entrance, as locals offer parking spots on their property for a price. The hike begins at an easy pace, with level footpaths that lead to a long, narrow set of steep stone steps. The close-up waterfall views are worth the strenuous ascent in any season. After the day's activities, reward yourself with a local cheese plate or something heartier, such as the house-made chicken pot pie at Last Chance Antiques & Cheese Café in Tannersville.
Besides hiking, there are other seasonal activities and charming small towns to explore. Woodstock, best known for the music festival that drew half a million people in 1969, is a delightful little town in the Catskills with small shops, an award-winning flea market and beautiful Airbnbs nearby. Glasco, in Saugerties, is perfect for larger groups with its huge kitchen, incredible mountain views, a hot tub, multiple firepits and accommodations for up to 16 people. Explore Tinker Street, Tannery Brook Road, Mill Hill Road and Rock City Road within the neighborhood, popping into local boutiques and bakeries like Bread Alone for fresh sticky buns. The Mud Club makes a great spot to stop for a sourdough wood-fired pizza to share, with bagels offered on the weekends. About 20 minutes southeast of Woodstock find Kingston, a city full of colorful street murals and history. Rough Draft Bar & Books, for example, makes up one-quarter of the Four Corners, featuring four stone houses at an intersection established prior to the Revolutionary War.
Across the Hudson River, east of Kingston, lies Rhinebeck, within Dutchess County. (Use the Rhinecliff train station stop, about seven minutes from Rhinebeck, on Amtrak's Empire Service if taking the train.) Along the main strip, Paul Rudd and Jeffrey Dean Morgan own a candy shop together called Samuel's Sweet Shop that sells nostalgic candies and treats. The art and history in the area contribute to some outstanding architecture, including the Fisher Center at Bard, where you can listen to music or see a show. Take a stroll through Poets' Walk Park in nearby Red Hook, exploring the connection between the natural elements and poetry. The Old Rhinebeck Aerodrome displays vintage aircraft dating back to World War I, some still flown in its summer air show. Attendees even have the opportunity to take a biplane ride after the show. The Trevor Zoo at Millbrook School in Millbrook is known for not only residing at a high school but also actually being primarily run by students. In the 1930s Frank Trevor wanted to involve students in wildlife care, and the zoo still operates today with more than 180 exhibits. The Millbrook Vineyards & Winery offers wine tastings and invites visitors to explore the grounds. To end the evening, book a massage and a dip in the Aqua Terrace at Mirbeau Inn & Spa Rhinebeck.
Just shy of an hour south and a stop along Metro-North Railroad's Hudson Line, Beacon is primarily known for its massive collection of con- temporary art. The Dia Beacon Gallery holds one of the most bountiful collections of contemporary art in the country, with pieces dating back to the 1960s. The small local shops filled with crafted art pieces and gifts stretch throughout the surrounding neighborhoods; you'll find everything from accessories at Lucky Thirty One to gag gifts at Zakka Joy. The year-round holiday shop, Kringles Christmas House, overflows with decorations and ornaments to collect for the holiday season. To escape the cold, stop into the Yankee Clipper Diner for a cup of steaming hot coffee or a hand- crafted doughnut from Peaceful Provisions before continuing your shopping spree along Main Street.
The Hudson Valley demonstrates there's more to New York than the bustling city, bringing visitors back to discover more small towns and hidden gems for years to come.
LODGING
Hotel Tivoli
The minimalist hotel incorporates art and pops of vibrant color in a century- old building, giving the boutique accommodations a French feel. Tivoli village, near Rhinebeck, features bookshops, a general store and cafés serving latte.
53 Broadway, Tivoli
$$$$
The Roundhouse
Splurge for a penthouse suite and revel in a private deck overlooking Beacon Falls, plus a spacious bathroom, separate living room and bar, comfortable bed and luxurious round soaking tub with waterfall view.
2 E. Main St., Beacon
$$$–$$$$$
The Roxbury Hotel
Each room sports an imaginative theme such as Superheroes, Dracula, Cinderella or Fairies, bringing unique flair to the luxury accommodations.
2258 County Highway 41, Roxbury
$$–$$$$$
DINING
American Glory
The contemporary barbecue spot dishes out smoky comfort food: crisp, smoked wings; charred, tangy ribs; creamy mac and cheese; fluffy cornbread; and daily specials like jambalaya or kielbasa pierogi.
342 Warren St., Hudson
$$–$$$$
Bread Alone Bakery
Despite the name, the team not only bakes fresh, organic pastries and breads daily, it also serves quick bites like the halloumi cheese sandwich with roasted tomato, green olive pesto, arugula and red wine vinaigrette on organic ciabatta.
22 Mill Hill Road, Woodstock; and 45 E. Market St., Rhinebeck
$$
Prospect
In the heart of the Catskills, Prospect offers beautiful dishes incorporating handmade pastas, locally sourced ingredients, fresh produce, Hudson Valley cheeses, Highland Hollow meats and handcrafted desserts. Enjoy the mountain views or outdoor firepit.
Scribner's Catskill Lodge, 13 Scribner Hollow Road, Hunter
$$$$$
INFO TO GO
When navigating the Hudson Valley, the easiest and most convenient method is always having a car on hand, be it yours or a rental from a local option. Having your own car gives you the freedom to deeply explore the region and the Catskill Mountains within the Hudson Valley, where it can be difficult to find public transportation or rideshares. However, if a car isn't a possibility, the train offers a worthy alternative, with Metro- North and Amtrak stops throughout the Hudson Valley and boasting beautiful views along the way.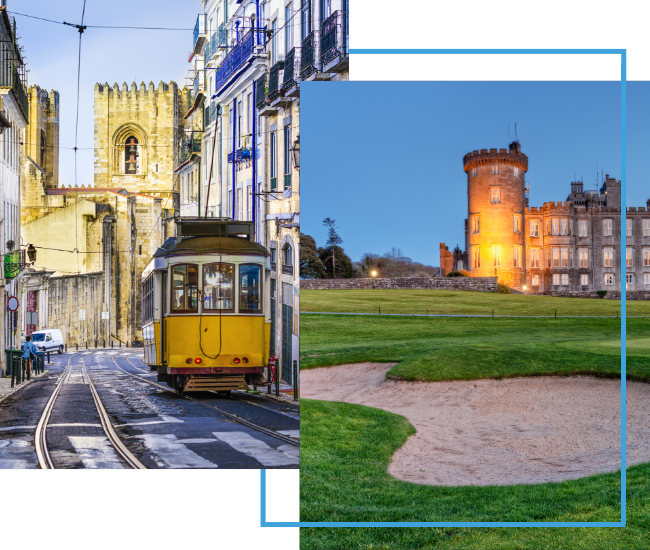 FX Excursions
FX Excursions offers the chance for once-in-a-lifetime experiences in destinations around the world.
Explore Excursions
Did the new film Oppenheimer rouse your interest in the nefarious world of international espionage? You can go straight to the real-life setting for covert actions this November (Nov. 10–12), when La Fonda on the Plaza in Santa Fe hosts a specially themed "Spies, Lies and Nukes" weekend. The hotel actually served as the retreat location for Manhattan Project scientists, who stayed at La Fonda on the Plaza to take a break from the stress of their work. During the weekend, the property's La Fiesta Lounge will make a tasty nod to those days by serving up a special Atomic Martini.
Sponsored Content
The Global Business Travel Association (GBTA) believes business travel is a fundamental force for good and brings the industry together to connect, innovate and set new standards. With members from across the globe, GBTA engages the many voices of business travel to build a collective future, providing a platform for buyers and suppliers to come together, connect with peers, grow their network and shape the future of the industry.
Ever want handcrafted martinis and freshly shucked oysters delivered straight to your room? The Read House's New Martinis & Pearls service has you covered. Shining in 1920s-themed decor, the historic hotel in the heart of Chattanooga offers a true Gatsby-esque experience, now further elevated with this upscale amenity. Guests can now indulge in their perfectly chilled martini, made to order, and "pearls" (oysters) in the comfort of their room.