Bleary-eyed after an overnight flight to Paris, I stumble off the plane and wend my way toward passport control. Before I've had a chance to take the inevitable, jet lag-inspired wrong turn, an elegant man catches my eye. He's holding a placard with my name and waving to me. "I'm with the Ritz," he says, taking my bag and leading me to the one passport control aisle with nobody waiting in line. "She's a VIP," he says to somebody as we pass, and I see a man gape at me, then, not recognizing me as a tabloid star, turn away, disappointed. I want to tell the poor fellow I'm nobody, actually, that every guest with a reservation at Ritz Paris gets this de rigueur spin through the crowds. As if proving my point, my companion ushers me efficiently through passport control, baggage claim and customs, then puts me into a limousine. There's traffic, but even Ritz Paris can't eliminate that. Eventually we arrive at Place Vendome, where the Ritz — a grand palace hotel, the first in the world to introduce electricity and telephones to every room — presides over the square.
But that's not all. It's 8 a.m., and my suite is ready. When I show surprise (and relief because, as all international travelers know, the room is never ready after those overnight flights), the front desk manager explains, "At the Ritz, your suite will always be ready, Madame." And it's true. The Ritz reigns as the only hotel in Paris to guarantee your room will be ready the moment you arrive. Not only that, there's a petit déjeuner waiting (warm croissants, fresh-squeezed orange juice and coffee in a silver pot), a bottle of Champagne and a bathtub flaunting gilded-bird faucets. My room overlooks an astonishing garden. Classical paneling and boiserie line my walls, sumptuous fabrics — gaufrage velvet, satin damask, fringe and braided trim — abound, and the hotel's original, gilded electrical switches gleam. It's all so extraordinary, I almost forget we're in a pandemic. Ritz Paris, with its assiduous attention to detail, its history, magnificence and commitment to COVID safety makes one thing strikingly clear: We need not turn our backs on dream travel.
One obvious emerging trend with post-quarantine travelers is an urgency to travel large. People who have waited years for a long-planned anniversary trip, spent time dreaming of a honeymoon or saved up for their jaunt of a lifetime likely found their hopes dashed and their plans dissolved — or at least sorely postponed — during the pandemic's earlier phases. "I couldn't wait to make up for lost time," said Boulder-based Beryl Stafford, founder, Bobo's Bars, who began booking trips as soon as she was vaccinated. "Every trip should be a bucket-list trip," she said. Like the lesson learned when that fine china reserved for special occasions gets broken before it ever was used, travelers gleaned from the pandemic's limitations and losses that waiting for the perfect time to travel might not be an option ever again.
"Clients are wanting the best, and they're staying longer. COVID taught us that life is too short and too unpredictable to not go explore and do it right," explained Keith Waldon, owner, Austin-based Departure Lounge, a Virtuoso-affiliated travel agency focused on luxury leisure travel. With his agency's sales at 89 percent above where they were in 2019, Waldon believes Departure Lounge's numbers show luxury travel is the first segment to come back strong. "Current trends are a return to cities, domestic and abroad, plus continued strong sales for private homes/villas, beach and nature resorts in North and Central America and the Caribbean, much of Europe, the Middle East, Egypt, South Africa and the South Pacific," he said.
Indeed, dream trips, such as safaris to Africa, top the list. "We are virtually sold out for most of 2022, with large multigenerational families and milestone celebrations — such as anniversaries, birthdays and honeymoons — making up most of the demand," said Dennis Pinto, managing director, Micato Safaris. Laura Davidson, president, Laura Davidson Public Relations, an agency with myriad luxury clients, has been delighted to see optimism return to the travel industry. "Whether it's local weekend trips, heading across the pond to see friends in the U.K. or planning family reunions put off for two years, everyone is making some type of plan for travel in 2022. With the right precautions (masks, vaccines, cleanliness protocols), the travel industry will certainly see a rebound next year [2022] as our freedom to roam returns with a vengeance," she explained.
But Brandon Berkson, founder, Hotels Above Par, warns consumer confidence may have a way to go. "After a traumatic, unprecedented pandemic, it's understandable why many people might not be at ease hopping on the next overseas flight," he said. His company's HAP Concierge helps trip-goers navigate the irregularities of the new post- pandemic travel world. "Our team of experts plan everything, from start to finish. This includes making sure health and safety protocols enhancing comfortability are employed at every capacity on the itinerary, which in turn helps travelers thoughtfully plunge back into this great big world and all the opportunities for exploration that come with it."
The way we travel always evolves, pandemic or not. Hilton Hotels kept track of its guests' preferences and travel styles before and during the pandemic. Aware of how travel habits change, it's noticed a few trends emerge during COVID's various phases. Interest in wellness and health maintenance, for example, has been paramount. "As workplaces were reimagined and new routines and habits solidified, travelers sought — and will continue to seek — more grounding and balance into their travel schedules," said a spokesman for the hotel group. This means during the past two years gyms and pools have become vital to Hilton guests. "We've also noted that travelers have been willing to utilize smaller spaces, such as their own hotel room, for workouts," said the spokesperson.
Pets also hoofed it to the forefront, according to Hilton's research. Since 23 million U.S. homes welcomed new pets during the last two years, no wonder that recent Hilton data shows the "pet-friendly" booking filter has been the third-most used search filter on hilton.com. As a result, it's vowed to make as many of its hotels pet-friendly as possible, with Homewood and Home2 Suites by Hilton in the United States and Canada going completely pet-friendly in January 2022. Its affiliation with Mars Petcare, whose portfolio includes IAMS and Pedigree, further supports pet parents and their brood. Finally, in response to statistics that show work and play merged for people both at home and on the road, Hilton plans to continue to promote work-from- home hotel offers. "Workcation will only increase in popularity," said Hilton's spokesperson.
It's been a topsy-turvy ride during the last two years, with regulations, directives and news ever-evolving, and this year appears to continue with new challenges in the face of the omicron variant … and perhaps others. Travelers going forward, though, should do what they've always done: Research a destination before you travel, double-check the current regulations and choose places that support you (as Ritz Paris does when it helps organize your COVID test to return home, or Hilton does when it allows your pet to be your plus-one). But, most important, don't be afraid to leap into the world of travel. As Oprah Winfrey put it, "The biggest adventure you can take is to live the life of your dreams." Bon voyage!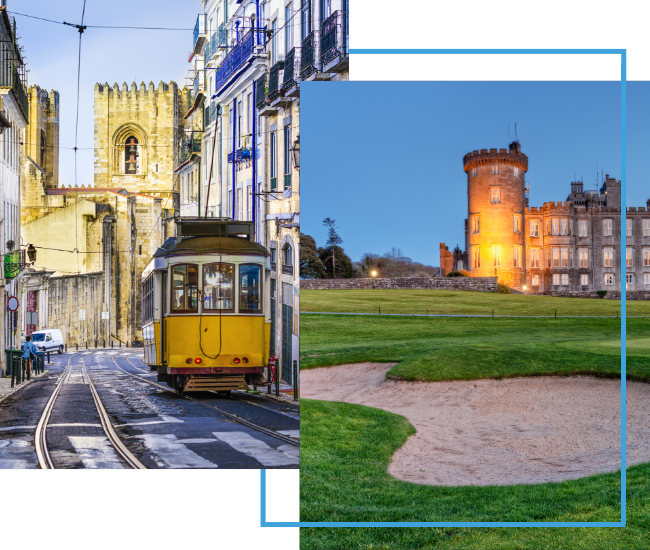 FX Excursions
FX Excursions offers the chance for once-in-a-lifetime experiences in destinations around the world.
Explore Excursions
There is something magical about sipping a glass of local wine while watching the sun slip into the Aegean Sea as the afterglow tinges traditional, white-washed Cycladic houses with glorious shades of rose, purple and gold. Ancient Greeks believed Helios, the Sun God, caused sunsets by driving his fiery chariot into the sea. Standing at water's edge in Mykonos, watching the sky slowly turn from purple to inky black, you almost believe it.
The prospect of a post-visit treasure hunting session inside the shops of landmark museums such as the Louvre in Paris, the Uffizi Gallery in Florence and The British Museum in London can be irresistible. However, some of Europe's smaller and more unusual museums boast retail spaces with a surprising "wow" factor, often as well-curated as the galleries.