Revisiting Fukuoka after two decades, we were first struck by the sheer increase in its population. Long the largest city in western Japan, Fukuoka has become its nation's second-fast growing city, and for the first time in history its population (2.5 million in Greater Fukuoka) exceeds that of Kyoto. In quick order it rose from Japan's 10th-largest city to its seventh. Location certainly propelled this dynamic thrust.
Perched atop the western island of Kyushu, Fukuoka is Japan's nearest major contact point with rising stars in the region — South Korea, Taiwan and, foremost, China. Fukuoka today is not only a leading commercial center in Southeast Asia, but, to our surprise, it is also a sought-after tourist stop, a metropolis with an international flair. Frequent visitors rank it among Japan's most cosmopolitan cities, and one magazine recently hailed it the 14th most-livable city in the world.
When we first visited in the early 1990s, Fukuoka had little for foreign visitors to savor. It was overwhelmingly an up-to-date, thoroughly modern, Westernized city — a plus for visitors doing business, perhaps, but a minus after hours when a foreign couple might be seeking historical treasures or tourist attractions. Fortunately, Fukuoka's recent economic rise has gone hand in hand with the creation of new urban attractions, as well as the renovation of the city's sparse but superb historical treasures. There are new shopping streets and entertainment districts that no couple could easily resist, as well as temples begging for a second look. So whenever a break in business allowed, we took to the city streets to refresh our view of what Japan is becoming in the 21st century.
Fukuoka consists of two city centers, Hakata on the east bank of the Naka River and Tenjin on the west. The Shinkansen bullet train linking Tokyo with the Kyushu region arrives and departs at Hakata Station, the cultural nexus of Fukuoka. The subway links Hakata to the business center of Tenjin. Hakata and Tenjin — the former twin towns merged in 1889 — are divided by the liveliest stretch of new Fukuoka, the bulging Nakasu entertainment district.
Happy to eat and shop our way through Fukuoka, we started on the Tenjin side of Nakasu. This has long been the city's red-light district, and it remains true to form, but the sleazy bars are barely noticeable these days. Literally thousands of restaurants and almost as many shops are the rule here. The IMS shopping complex houses plenty of clothing and fashion boutiques as well as the Toyota Gallery, which displays the latest in automobile design.
The Tenjin side also offers some of Fukuoka's most entertaining shopping venues, particularly Tenjin Chikagai (underground city), where kiosks, stalls and stores snake below Watanabe Street. Equally colorful on the Hakata side of Nakasu is the Kawabata-dori covered shopping arcade, which links the city's premier shopping complexes, Canal City and Riverain. If you have time for but one extended shopping fling in Fukuoka, this is the fast track. Canal City is the high-tech monster, a mall the size of a city-state teeming with hundreds of boutique shops, bars, bistros and its own canal and symphonic fountain, making it a futuristic mega-casino without gaming. To this mall of the future, built in 1996, there's a new addition, opened last September: Canal City Hakata East, with 11 additional upscale shops. At the other end of this window-shopping marathon is Riverain, anchored by a shopping mall called Eeny Meeny Miny Mo. Riverain is capped by the Fukuoka Asian Art Museum, displaying contemporary art from across Asia; the seventh-floor café with a striking view is the perfect spot to drop after you shop.
Shopping Fukuoka hardly ends at Nakasu. Northwest of Tenjin, beyond the modest ruins of old Fukuoka Castle in the Momochi district, is Hawks Town, yet another sleek mall. This is also the location of Yahoo! Japan Dome, the domed stadium that's home to the high-flying SoftBank Hawks baseball team. For real fans, Yahoo! Japan Dome houses a museum devoted to "Japan's Babe Ruth," homerun slugger Sadaharu Oh. Other diversions in the area include the city's most popular shore on the bay, Momochihama Beach, and the city's highest pinnacle, 767-foot Fukuoka Tower, with a stunner of an observation deck and festooned with 8,000 mirrors. Next door is one of those offbeat museums Japan seems to specialize in, ROBOSQUARE, where man meets machine head on.
Fukuoka has two shining Buddhist shrines to balance its modern shopping sanctuaries. Tochoji Temple, not far from Hakata Station at the Gion subway stop, is a modern reconstruction, but it houses two delights. One is Japan's second-largest seated Buddha statue, 33 feet tall. The other is a passageway that winds through depictions of Buddhist hell into darkness and finally into light. There are other ancient attractions housed nearby. The Hakata Machiya Folk Museum showcases artisans at work in a 150-yearold weaver's house, while the Kushida Shrine displays an elaborate Yamakasa Festival float decorated in Hakata's signature handcrafted dolls. Fukuoka's traditional festivals (matsuri), featuring parades of massive portable shrines, are among Japan's liveliest, headlined by the Dontaku Matsuri in early May and the Yamakasa Matsuri in July.
Fukuoka's most venerated sacred site is the Shofukuji Temple, a Hakata landmark near Gion Station. Founded in 1195 by the monk Eisai after a pilgrimage to China, this massive shrine is considered the birthplace of Zen in Japan as well as the site where tea was first introduced.
Tea and Zen notwithstanding, noodles won our hearts in the end. Hakata ramen noodles are renowned throughout Japan. Hundreds of mobile food stands (yatai) and small outdoor cafés serve up the savory noodle soup dish, especially on Yatai-Dori Street near the wharfs, along Tenjin's Oyafuko Street and by the river at Canal City. Hakata ramen consists of thin noodles, a pork-rib broth, pickled ginger, sesame seeds and whatever ingredients you want to stir in.
We ate our fill at the ramen stands. As far as shopping went, we marched and marched but finally kept our credit card sheathed like a samurai sword and spent our pocket yen on souvenirs and toys at Fukuoka's dollar store, the Hundred Yen Shop on the fourth floor at Hakata Station.
That evening, we returned to the river between the two cities that are now one brand-new, fast-rising Asian metropolis and joined the tens of thousands of visitors strolling the neon-lighted banks of the Naka. It's said this is the busiest walkway in western Japan, and so it seemed — just as Fukuoka is the busiest city in the region, perhaps the most vibrant and certainly the most confident. Fukuoka was strident enough to place a serious bid to host the Summer Olympics in 2016, although Rio won that round. But after savoring the rising tide of Fukuoka's progress in the new century, we are certain we haven't seen the last of this gateway's presence on the world stage.
Info To Go
From Terminal 2 at Fukuoka Airport (FUK), it is just two subway stops to downtown's JR Hakata Station, a five-minute ride (about $3). The international terminal is 10 minutes from Terminal 2 via a free shuttle. Both the Kyushu and the Sanyo Shinkansen bullet train lines terminate at JR Hakata Station, where connecting to the city's subway system is easy. The subway links the Hakata, Nakasu and Tenjin districts and serves the major sightseeing, shopping and dining sites. One-way subway rides start at about $2.50 (daily pass, $7.50). Taxi fares begin at about $7 around town (about $21 from the airport). Most of Fukuoka can be explored on foot from subway stops.
Lodging
A favorite of international travelers, this 370-room Hyatt is grand, with free high-speed Internet, a florist, a bakery and a 25-meter indoor pool. 1-2-82 Sumiyoshi, Hakata-ku $$$$
Towering over Momochihama Beach, this thousand-room Hilton is north of downtown but offers a fine fitness center and 11 restaurants. 2-2-3 Jigyohama, Chuo-ku $$$
New Otani Hakata
This favorite of Japan's royal family combines East/West luxuries and serves discerning business travelers with executive rooms, free high-speed Internet and eight restaurants/bars. 1-1-2 Watanabe-Dori, Chuo-ku $$$$
Dining
Chikae
Pick fish fresh from the tank or select the sashimi of your dreams. A fine choice for a romantic dinner or a business lunch. 2-2-17 Daimyo, Chuo-ku $$$–$$$$
Push-button Hakata ramen, served in silence at curtained counter seats, is nearly a religious experience at this chain famous for the city's best noodles. 5-3-2 Nakasu, Hakata-ku; and 2-1-57 Daimyo, Chuo-ku $$–$$$
Ramen Stadium
If you're nuts for noodles, this is your "souper" bowl. Eight restaurants serve eight styles that span Japan. Adjacent is a ramen souvenir store. 1-2 Sumiyoshi, 5/F, Cinema Building, Canal City, Hakata-ku $$–$$$
Weblinks
Canal City
Fukuoka Asian Art Museum
Fukuoka City
Fukuoka Tower
Hakata Machiya Folk Museum
Hawks Town
IMS
|New Otani Hakata
Riverain
ROBOSQUARE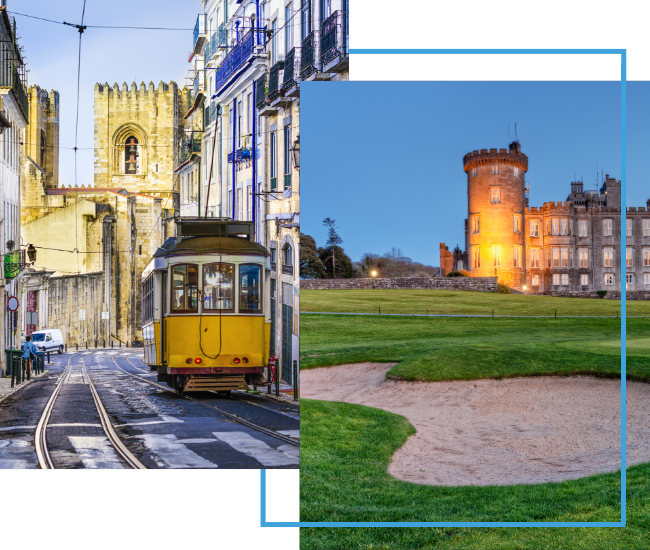 FX Excursions
FX Excursions offers the chance for once-in-a-lifetime experiences in destinations around the world.
Explore Excursions
Red Savannah launched a new series called In the Footsteps of…, which debuts itineraries of well-known figures, the first being Coco Chanel. As Chanel No. 5 celebrates its 102nd anniversary this year, the travel company invites fashion lovers, history enthusiasts and admirers of Coco Chanel to experience the new itinerary, In the Footsteps of Coco Chanel. The experience allows travelers to step into the remarkable life of one of most iconic figures in the fashion world.
Sponsored Content
The Islands of Tahiti offer a range of captivating activities for travelers with diverse interests, from hiking to breathtaking waterfalls, riding horses on secluded beaches; swimming with sharks; or immersing in Polynesian culture through traditional dance, music and art. For watersports enthusiasts, the crystal-clear lagoons offer exhilarating experiences like surfing, kiteboarding and paddleboarding. And if you're looking to relax, the pristine beaches, overwater bungalows and tropical sun offer the perfect setting. With 118 islands and atolls to explore, island hopping is an excellent way to experience the full diversity of The Islands of Tahiti. With its blend of adventure, culture and relaxation, The Islands of Tahiti offer a truly unique travel experience.
Mazatlán, Mexico, has long been an attractive home destination for Canadian and American retirees, but, in recent years, young, digital nomads have also discovered the charms of this coastal city, finding inexpensive accommodations, beautiful weather and plenty of bandwidth for working remotely. The laid-back beach scene definitely eases the transition of relocating to Mexico's West Coast.