As I wander the canals of Amsterdam on a bright spring morning, the sun plays on the water as shoals of cyclists navigate the tight streets. The city's inimitable narrow houses teeter overhead, and one particular street erupts in a riot of color as the De Wallen red light district gives way to the Singel canal to the south.
It's Bloemenmarkt, a historic flower market that lines the canal with bright blooms and has become a major attraction for visitors to the Dutch capital. Browse the stalls and settle into one of the cafés to watch the world go by as you drink a morning coffee. Spending a morning here proves a great way to soak up the atmosphere of the city, and the market comes with an interesting backstory.
Founded in 1862, Bloemenmarkt sits on the Singel canal between Koningsplein and Muntplein. Originally, the stalls were set up on houseboats, and the only floating flower market in the world took deliveries from the water. These days vendors sell their wares from platforms fixed over the water, and offerings expanded to clogs, cheese and other typical souvenirs, but the market retains its charm.
Bouquets, flowers and bulbs are available, heavily featuring the famed Dutch tulips that arrived in the Netherlands from the Ottoman Empire around 400 years ago. The flowers have since become synonymous with the country and a huge tourist attraction, to boot. Other popular flowers at the market include snowdrops, carnations, peonies and orchids; and you can also buy houseplants and herbs. Green-thumbed visitors beware: Taking bulbs home as souvenirs requires some extra care. Be sure to choose firm bulbs that will survive the journey, and ask the seller whether they are approved for export. Some aren't, and they could be confiscated when you leave the country.
Whether you are interested in buying or not, Bloemenmarkt remains a must-see in Amsterdam. It sits on the northern edge of the UNESCO-listed Canal Ring area, which covers the canals and historic houses built around the end of the 1500s. Plus, it's a lovely part of town to stroll around, with great shopping around Kalverstraat and a number of good places to eat and drink. Head to fishmonger Frens Haringhandel on Koningsplein to try the traditional raw herring sandwiches, known as broodje haring in Dutch, or tuck into some deep-fried morsels of fish called kibbeling, normally served with herb mayonnaise.
At the other end of the market, Muntplein is best known for its historic bell tower, cinemas and fast-food outlets like McDonald's. However, you can also eat at burger joint Ter Marsch & Co, or venture slightly farther east to Pho King, renowned as the place to get the best pho — Vietnamese noodle soup — in the city. Try to avoid peak times, as there are only a handful of seats indoors, with around half a dozen more outside.
Other attractions in the area include KattenKabinet, a fine-art museum which houses a huge number of artwork featuring cats, and the FOAM Photography Museum, which hosts lectures and events alongside exhibitions from contemporary photographers. If you want to see more flowers, make the short trip to the Keukenhof flower gardens (temporarily closed, but offering a virtual tour online) or the tulip farms of Noordoostpolder from March to May each year, when the blooms make for a spectacular sight. (This year, farms closed to visitors due to the coronavirus; however, several farms wrote messages in the flower fields, visible from the air, saying "Stay strong" and "See you next year.") Visitors in Amsterdam at other times of the year can rest assured Bloemenmarkt stays open year-round, typically 9 a.m.–5:30 p.m., with reduced operating hours on Sundays.
Cycling is by far the best way to get around Amsterdam; but if you're not on two wheels, you can get a tram to either Koningsplein or Muntplein stations. The market is a six-minute stroll from Rokin metro station, just one stop from Amsterdam Centraal, the national and international rail hub. The Bloemenmarkt is conveniently located, making for an easy visit even if you are only in Amsterdam for a limited time, and offers the perfect spot to pick up some souvenirs while appreciating the long history of the Dutch capital and its beautiful canals.
INFO TO GO
Amsterdam Airport Schiphol proves the most convenient option, and its status as a European hub affords connections to a vast number of destinations. The airport station is just 15 minutes from Amsterdam Centraal and also offers connections to other cities in the Netherlands. Alternatively, you can take a bus to the center of Amsterdam in around 30 minutes, or hop in a taxi.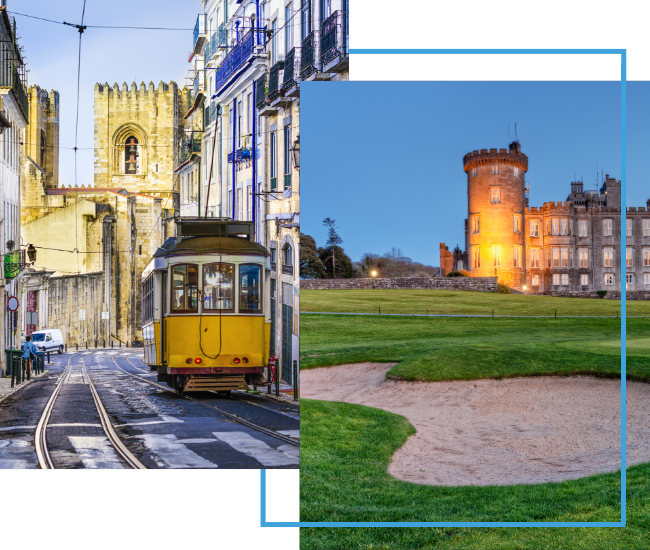 FX Excursions
FX Excursions offers the chance for once-in-a-lifetime experiences in destinations around the world.
Explore Excursions
If fabulous food and beverages are a must-have for any weekend getaway, then look no further than the City of Brotherly Love. Whether your palate has a penchant for vibrant Latin American fare or cozy French cuisine, whether you're an oenophile looking to swirl, sniff and sip your way around the globe or you'd rather sample farm-to-glass cocktails, Philly's got it all this fall. (With the exception of Bolo, which is a short taxi or Uber ride away and definitely worth the trip, the rest of these spots are all within walking distance of each other.)
From Santoríni to Dubai to New York, some hotels just have that "it" factor that draws visitors far and wide. For some hotels it's their proximity to popular landmarks and attractions, for others it's their amenities. But these hotels have something few can claim: a true room with a view.