Motorola ATRIX 4G
Billed as the world's most powerful smartphone, the ATRIX 4G was first unveiled to widespread acclaim at CES. Motorola's revolutionary webtop application changes mobile computing forever by dramatically boosting the already formidable power of the smartphone. Its webtop application runs a full Mozilla Firefox 3.6 browser and supports Adobe Flash Player to open up all the rich graphics, animations and video on the web. While in the webtop application, you can run Android applications in a window, browse your favorite websites with the full Firefox desktop browser, send instant messages and make phone calls, all at the same time. Motorola ATRIX 4G includes a dual core processor with each core running at 1 GHz, delivering up to 2 GHz of processing power. It also runs Android 2.2, with access to more than 100,000 apps and games in the Android Market. The ATRIX 4G even features the AT&T U-verse Mobile application, which lets you schedule recordings and download and watch hit TV shows on your phone. And a Batman-esque biometric fingerprint reader keeps this little powerhouse safe and secure. Available exclusively to AT&T customers.
Samsung Sliding PC 7 Series
Another CES debut, this nifty computer is high-tech guru Samsung's first sliding tablet PC equipped with the Microsoft Windows 7 operating system and powered by the upcoming Intel Atom processor platform, currently codenamed "Oak Trail." The PC 7 Series maximizes the benefits of a tablet PC with its compact, 2.2-pound design; and it incorporates a sliding keyboard for easy typing, enhanced productivity and top performance. The display slides up to reveal a physical keyboard, giving you the option of a multi-touch display or full keyboard and mouse interface. Additionally, the built-in webcam and audio speaker make the 7 Series ideal for video communication with family, friends and co-workers across the globe. And in a nod to green thinking, an innovative Eco Light Sensor conserves energy and adjusts screen brightness based on available ambient light, allowing the 7 Series to last for up to eight hours. Available in 32GB or 64GB starting this month. Available in March 2011 starting at $699.
GE DV1 HD Digital Video Camera
Colorful, rugged and pocket-sized, this user-friendly debut from GE is the perfect companion for your next vacation. Designed for simple one-hand operation, it records in high-definition 1080p-quality video with the touch of a button. The built-in USB arm flips out, making it simple to upload and share videos and photos on any computer instantly, while the built-in HDMI jack offers full HD output and easy connection to HD- compatible TVs. And given that it's waterproof to 16 feet and shockproof to five feet, it's clearly ready for action. Available in five splashy colors — lime green, aqua blue, citrus orange, red velvet and graphite gray — and equipped with a 2.5-inch LCD monitor, it's high style at a low price. $129.99.
Aegis Padlock
Designed specifically with business travelers in mind, this 750GB storage drive packs a wallop: It uses 256-bit AES hardware encryption, which encrypts all data on the drive in real time. "Data at Rest Protection" ensures that all PINS and encryption keys are encrypted even when the drive is at rest; these features combine to safeguard your data even if the drive is dismantled. It can also be used on any operating system and requires no software to install. To access the drive, you simply use a unique six-digit PIN. Apricorn's Brute Force Self Destruct feature protects the drive from hacking attempts by blocking automated attempts to enter PIN numbers. If the Padlock senses it is being systematically attacked, it will destroy the encryption key and lock the drive, keeping your data safe. Very James Bond, no? $199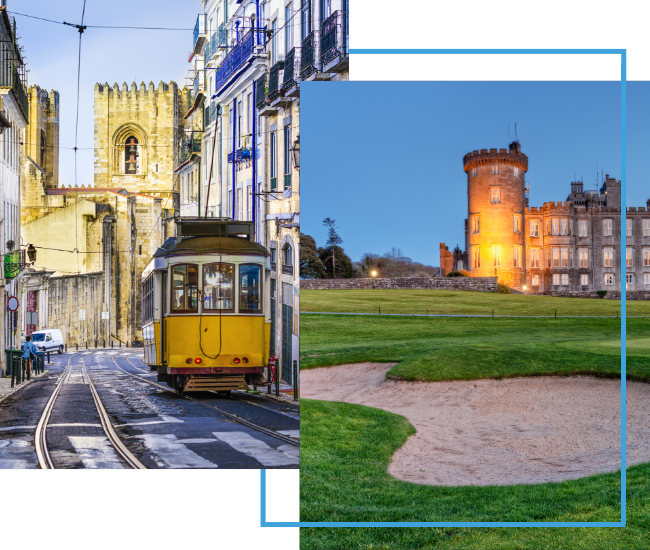 FX Excursions
FX Excursions offers the chance for once-in-a-lifetime experiences in destinations around the world.
Explore Excursions
Corsica with steep, gray cliffs overlooking the Mediterranean and sandy beaches attracting summer visitors, is a French-governed island sometimes confused with Sardinia and Sicily, Italian islands to the south. Fortunately, all three islands share the same love for good wine, food and sun-splashed beaches.
Sponsored Content
In an increasingly digital and interconnected world, the Global Business Travel Association (GBTA) Convention remains an indispensable platform for business travel industry professionals seeking to make the most of the power of face-to-face connections. Taking place August 13–15 in Dallas, the 2023 GBTA Convention provides the unique opportunity for professionals and companies to join visionaries, thought leaders and industry experts for meaningful networking, cutting-edge insights and inspiring innovation.
If you're ready to do a little holiday catch-up with your besties, make a beeline for Conrad New York Downtown. The lobby metamorphosed into a holiday forest of heavenly scented, decorated Virginia Spruce trees. Make your first stop ATRIO Barista Station in the lobby for a complimentary hot spiced apple cider (until Dec. 3) or hot chocolate (Dec. 22­–24).