It's not quite business class and it's not quite economy class, so what exactly is premium economy? Travelers who are in the know —like you — would define premium economy as the cabin that has fewer perks than a premium class but one that's far more comfortable and roomier than economy.
The perks of premium economy typically include more legroom, greater recline and complimentary amenities. In today's world of à-la-carte flying, the bonuses associated with a premium-economy ticket make the in-between cabin an attractive option.
Here again for 2011 is Global Traveler's premium-economy class survey, bringing you the most-up-to-date information on airlines offering the service. It remains a small cast of characters, with only 20 carriers on our chart. However, the list grows each year; note this year's newbies, Delta Air Lines and Turkish Airlines.
To compile the information, we reached out to the airlines directly. In cases where we failed to receive a response, we used GT research to complete the chart. An asterisk indicates those airlines.
Learn more about what's what in the world of premium economy.
What's New
In 2011, Delta Air Lines announced plans and began installation for its Economy Comfort class. Available on all long-haul international flights, the enhanced seats offer approximately four additional inches of legroom and 50 percent more recline.
In addition to enhanced comfort and the traditional economy-class amenities, Economy
Comfort travelers receive early boarding privileges and complimentary spirits. The announcement of the new cabin came on the heels of the airline's decision to introduce full flatbed seating in its BusinessElite cabin on international flights. As Delta looks to the future with an eye on the discerning traveler, the decision to add a premium-economy cabin emphasizes the offering's growing importance in the industry.
Beginning last year, with full implementation continuing through 2011, Turkish Airlines' Comfort Class is available on 12 Boeing 777s. The airline eliminated first-class cabins on these routes, opting instead to add a premium-economy product.
According to the airline website, Comfort Class appeals to "passengers who currently fly economy class but who would appreciate more spacious legroom, more onboard catering and better in-flight entertainment options without the cost of a business-class seat."
The seats, in a 2-3-2 configuration, have a 46-inch pitch (the distance between the seat's headrest and the headrest in front), about 15 inches more than its economy-class counterpart, and a comfortable 111-degree recline. Internet, GSM and television broadcast capabilities will be available in the future.
Air New Zealand first introduced its premium-economy cabin in 2006. This year, the airline upped the ante with a redesigned Premium Economy Spaceseat, first available in April. Angled at a 123-degree recline, the new seat is not front-facing, providing ample legroom for passengers.
British Airways, offering premium economy since the turn of the century, also debuted a new seat recently. With a pitch, seat width and recline similar to its predecessors, the new World Traveller Plus seat includes improved in-seat functionality, with two USB ports and an RCA port. The hammock-style, fully adjustable headrest and footrest are advanced enhancements.
Even More Perks
Added legroom and more wiggle room are definite bonuses, but they are not the only hallmarks of the premium-economy cabins. Most include amenity kits, an extra not offered in traditional economy cabins. All Nippon Airways' onboard amenity kit includes slippers, a toothbrush set, an eye mask, earplugs, tissues and a letter kit. The carrier also provides a blanket and pillow, bringing travelers to their destination well rested and freshened up.
Ditto for Japan Airlines. JAL Premium Economy passengers are given noise-cancelling headphones, extra-large blankets and pillows and a plush amenity kit including an eye refresher and a moisture mask.
Alitalia introduced its Classica Plus cabin in 2010, and it is among the finest in terms of added offerings. Dedicated check-in, a welcome drink and a hot towel are a few benefits borrowed from business-class cabins. The onboard linens were designed by Italian luxury brand Frette, and passengers receive an extra baggage allowance.
As iPods and other technologies become omnipresent on airplanes, airlines are making adjustments and offering more than standard power outlets in the premium cabins.
Air New Zealand, British Airways, Turkish Airlines and Alitalia are among the airlines offering iPod and USB ports in the premium-economy cabin.
But it's not just the airlines that recently introduced premium economy that get it right. EVA Air, one of the pioneers of premium economy since the early 1990s, offers the most spacious seats with the largest degree of recline. At 169 degrees, EVA's Premium Laurel seat is nearly lie-flat.
Virgin Atlantic also introduced premium economy in the 1990s. Its seat is unique, particularly with its seat pan and seat back. According to the airline, "When reclined, people need more support under their thighs. Virgin Atlantic's designers added extra cushion that is hidden until the seat slides forward. A track angles the seat upward, moving the passenger's center of gravity and distributes body weight more evenly." The seat also features an S-curve seatback and adjustable back support. Similar to Alitalia, passengers are eligible for priority check-in and increased baggage allowances.
More to Come
Premium economy is continually evolving as more and more airlines add the in-between class.
Cathay Pacific announced plans to add a premium-economy cabin on flights between Hong Kong and Toronto in March 2012. According to the website, 32 premium-economy seats will be offered; be sure to check out our charts next year for more information on the new cabin.
Following its merger earlier this year, United Continental Holdings, Inc. recently reported its intention to add the existing United Economy Plus product to all Continental aircraft. Look for the additional seating beginning in 2012.
And beyond 2012? All signs point to the proliferation of premium economy, to the delight of passengers worldwide.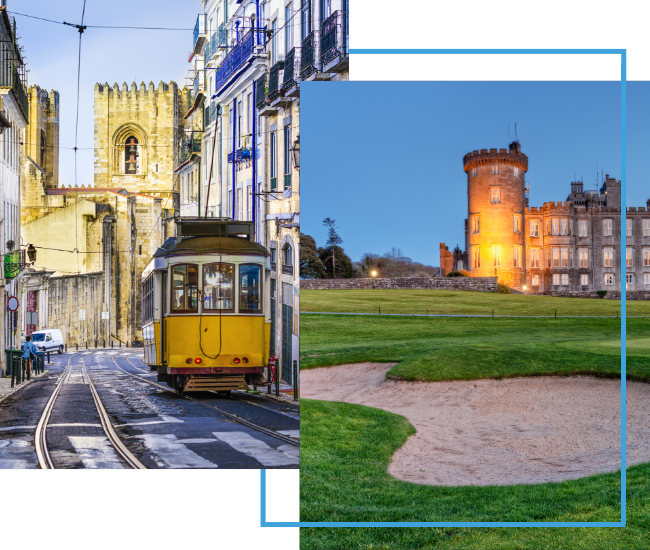 FX Excursions
FX Excursions offers the chance for once-in-a-lifetime experiences in destinations around the world.
Explore Excursions
Think of Tokyo and your mind may wander to the neon signs and bustling crowds of Shibuya and Shinjuku, or the tranquility of the Meiji Jingu shrine, but this huge city offers much to those who explore away from the main tourist areas.
Sponsored Content
Embracing a life well lived often means embracing a life well-traveled. Every journey becomes a canvas for experiences that shape our lives and at the heart of every adventure lies the indispensable companion: quality luggage.
Automotive museums of all sizes will always capture the imaginations of car and racing aficionados. However, the best deliver a lot of substance beyond the machine itself. Some place an emphasis on science and technology or history, while others display iconic cars from film and television. Museums established and operated by the world's top automakers (think Mercedes, BMW, Audi and Porsche in Germany, and Toyota, Honda and Nissan in Japan) have built-in followings.