The business community in Cologne, aka Köln, defies quick classification. If you were to read only the first page of the city's economic report, you might come away thinking, "Detroit with schnitzel."
The automotive industry does indeed dominate, but the city boasts fantastic economic depth and diversity. With 1 million inhabitants, Cologne is Germany's fourth largest city. Situated at the intersection of the Rhine river and a major trade route between Eastern and Western Europe, the city has been a player in the game of world commerce since Roman times. Several of Germany's largest retail and insurance companies operate out of Cologne. Additionally, the German television networks RTL, WDR, ProSeiben and VOX are either based in or keep major branches in Cologne.
Though less commercially important these days, one of Cologne's claims to fame is Eau de Cologne (Water of Cologne). Originally developed by Giovanni Maria Farina in 1709 as a citrusy, all-purpose cosmetic scent, Eau de Cologne enjoyed increasing popularity into the 1800s — Napolean was among its primary boosters. Eau de Cologne's prominence eventually resulted in its name's becoming the generic term for all men's perfume. Yet the original Eau de Cologne is still being produced at what is now the world's oldest fragrance company, overseen by the eighth generation of the Farina family in partnership with Procter & Gamble.
These days, Cologne's undeniable focus is automobile manufacturing. When Nikolaus August Otto invented the four-stroke motor here in 1876, he unwittingly helped to pave the way for Cologne's eventual automotive-construction boom. Henry Ford started the trend by proclaiming the city to be the most attractive overseas location for his plant. Cologne is now the seat of Ford Europe. Moreover, a 2000 poll revealed that Cologne boasted 22 car manufacturers — including Citroën, Mazda, Toyota and Volvo — with a total of 28,000 employees and a collective annual revenue of $7.7 billion. Not surprisingly, a strong ancillary machine-building industry has emerged, with names like Deutz, Alfred Schütte and Linde among the 143 businesses that collectively employ 19,000 and bring in a yearly revenue of $3.8 billion (2001). In short, the city is thriving, and its forward thinking means even better times are yet to come.
Cologne's tourist offerings remain relatively humble, with the obvious exception of the massive spires and staggering size of Cologne Cathedral, which miraculously survived World War II bombing. Cologne also has several notable museums devoted to the arts, Roman artifacts and — it's true — chocolate. Kölsch, a pale-top fermented beer that can be legally brewed only in and around Cologne, is a local obsession. It's on offer at all bars, restaurants and traditional pubs, known locally as kneipes, where it's only sort of jokingly suggested that ordering anything else is a faux pas punishable by instant ostracism. The height of the city's social calendar is Carnival, an Oktoberfest-caliber event complete with goofy costumes and a river of kölsch. Carnival opens in November and builds to the "Three Mad Days" weekend, which generally falls in the last week of February.
---
LODGING
INTERCONTINENTAL COLOGNE
Built on historic Roman grounds (with the relics to prove it), this recently opened InterContinental business hotel offers service and amenities that flirt with luxury classification. Guests have access to the wellness wonderland of the neighboring Holmes Place Health Club, as well as two swish restaurants and a New York–style bar. Convenient to the shopping district, it offers views of the cathedral from most of its rooms. $$$-$$$$
INTERCONTINENTAL COLOGNE
Pipinstrasse 1
tel 49 221 280 60, fax 49 221 280 61111
http://www.cologne.intercontinental.com
CROWNE PLAZA COLOGNE CITY CENTRE
Crowne Plaza is located in the true center of Cologne, within easy distance of notable restaurants, nightlife and shopping. Rooms are especially bright due to configurations allowing for long windows, with large workspaces. There is a small fitness facility and pool as well as a three-meal restaurant serving buffet or à la carte. $$$
CROWNE PLAZA COLOGNE CITY CENTRE
Habsburgerring 9-13
tel 49 221 2280, fax 49 221 251206
http://cologne-citycentre.crowneplaza.com
HOTEL IM WASSERTURM
A location in what was once Europe's largest water-tower wasn't unique enough for Hotel im Wasserturm, so the powers-that- be upped the ante by having Andrée Putman design the interior, focusing on round elements and open, bright rooms. The unforgettable lobby will stop you in your tracks. The restaurant, La Vision, is the only Michelin-starred eatery in central Cologne. Note: Due to its being a nationally protected structure with stringent regulations against alterations, much of the hotel is without air conditioning. $$$$
HOTEL IM WASSERTURM
Kaygasse 2
tel 49 221 200 80, fax 49 221 200 8888
http://www.hotel-im-wasserturm.de
DORINT SOFITEL AN DER MESSE
This branch of the Sofitel chain sits across the Rhine in the Deutz part of Cologne, next to Kölnmesse, Germany's largest convention center. The rooms are modern, bright tributes to scrubbed-down minimalism. The wellness center has a fitness facility that is compact but passable, with spa services. There's also a feng shui–designed pool, Jacuzzi, Asian sauna and a Turkish steam bath. Each room is stocked with bath products by Jean Marie Farina (of the Eau de Cologne family). $$
DORINT SOFITEL AN DER MESSE
Deutz Muelheimer Strasse 22-24
tel 49 221 801 900, fax 49 221 801 90800
http://www.sofitel.com
---
DINING
FISCHERMANNS'
This small and wildly popular restaurant is known for its awards as well as its defiantly low-priced main dishes. The hip, 30-something crowd is packed into tightly arranged tables, where a meal on the weekend requires advance reservations and a tolerance for the dull roar of Cologne's gregarious foodies. This writer enjoyed the best beef he's been served in nearly a year for less than $20. No credit cards. $$-$$$
FISCHERMANNS'
Rathenauplatz 21
tel 49 221 801 7790, fax 49 221 283 6285
http://www.fischermanns.com
FISCHER'S
Christina Fischer, Germany's best-known female sommelier, put all her years of experience into her wine-centric restaurant. The wine list — a 70-page volume — features 25 wines by the glass and more than 700 by the bottle. Fischer's short, ever-changing menu is style-free, allowing for a unique experience each visit. The wait staff and Fischer herself work hard to keep the dining experience loose and informal, while focusing on leading each diner to a wine that is the quintessential accompaniment to his or her meal. $$$
FISCHER'S
Hohenstaufenring 53
tel 49 221 310 8470, fax 49 221 310 84789
http://www.fischers-wein.com (German only)
VINTAGE
Vintage is another of Cologne's wine-centric restaurants, with a wine-only menu that could anchor two staff sommeliers. This is the city's best-priced restaurant. In addition to a heart-stopping international menu, Vintage has made a name for itself with an on-site shop selling world-class wine, olive oil and chocolate. Closed Sundays. $$$
VINTAGE
Pfeilstrasse 31-35
tel 49 221 920 710, fax 49 221 920 7119
http://www.weinseminare.de
---
NIGHTLIFE
Predictably, many tourist spots are located in the Altstadt (Old Town), but locals converge farther west, particularly on Friesenstrasse. The perennial night-out staging area is All Bar One (Friesenstrasse 82, tel 49 221 120 6953), a two-level gentrified-warehouse space with a sprawling street-front courtyard where professionals meet to down their first few kölsch before moving on to the main event. Päffgen (Friesenstrasse 64-66, tel 49 221 135 461) is a local institution, with traditional kölsch-mongers racing through the room and a full menu that will test the stomach capacity of the proudest eater. In Altstadt, visitors are strongly encouraged to visit Früh (Am Hof 12-18, tel 49 221 261 3211, http://www.frueh.de) which is adjacent to the cathedral and one of Cologne's top kölsch breweries. If you're looking for a late night with some of Cologne's young and beautiful, the Stadtgarten complex (Venloer Strasse 40, tel 49 221 952 99410, http://www.stadtgarten.de) offers a park-front terrace (summer only), a modest restaurant and a small but much-loved nightclub in the basement, Studio 672, that is famed for its dance music.
---
SIGHTSEEING
Cologne Cathedral (http://www.koelnerdom.de), built over the course of 600 years, has been Cologne's primary landmark for centuries. Its immense Gothic spires made it the world's tallest structure between 1880 and 1884, when it was dethroned by the Washington Monument. The cathedral made the UNESCO World Heritage List in 1996, but it also found itself on the World Heritage in Danger List in 2004 because of the visual intrusion of nearby high-rise buildings. Once you've torn your attention away from the mind-bending expance of the cathedral's interior, you'll note that the stained-glass windows and floor-tile art are exquisite.
The Museum Ludwig (tel 49 221 221 26165, Bischofsgartenstrasse 1, http://www.museenkoeln.de/english/museum-ludwig) keeps a hefty collection of 20th century art, including pop, abstract and surrealism, as well as hosts one of the largest Picasso collections in Europe. The Schokoladenmuseum, or Chocolate Museum (Rheinauhafen 1A, tel 49 221 931 8880, http://www.schokoladenmuseum.de), starts out slow with a lengthy display on cocoa history and production methods, but finishes with a flourish in the walk-in production area, where you can see the making of everything from bite-size chocolates to 2-foot hollow Santas.
Though it isn't exactly a tourist sight, you may want to pay a visit to 4711, Eau de Cologne's flagship store (4711 Glockengasse, tel 49 221 572 89250, http://www.4711.com), to buy the essential Cologne souvenir or just to run your hands under the Eau de Cologne fountain.
---
INFO TO GO
Cologne/Bonn-Konrad Adenauer Airport (CGN) is located 10 miles southeast of Cologne. The S-Bahn train station, located between the terminals, and myriad shuttle buses departing from both terminals provide service to central Cologne 24 hours a day. A taxi into the city runs about $30. Düsseldorf International Airport (DUS) has direct rail service into Cologne ($10, approximately 30 minutes). The city is served by an extensive bus/tram/subway system.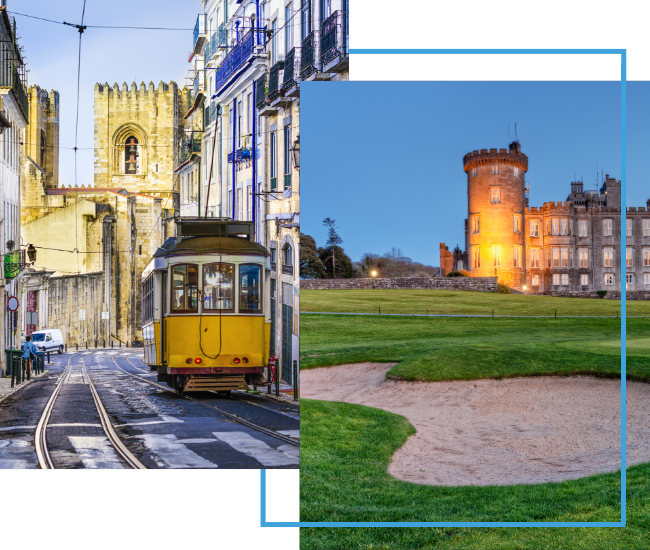 FX Excursions
FX Excursions offers the chance for once-in-a-lifetime experiences in destinations around the world.
Explore Excursions
It's time to start dreaming of your next trip. Here's some destination inspiration for you. Take a visual journey through these U.S. Christmas markets with us.
Sponsored Content
From the moment you step onboard Air Tahiti Nui's Tahitian Dreamliner, you will be transported to The Islands of Tahiti. The French Polynesian carrier considered every detail to awaken its passengers' senses, creating the feeling you are already on the Islands while 30,000 feet in the air.
Everyone loves a good Christmas tree, but these iconic hotels around the world take it one step further with designer-styled trees illuminating lobbies and public spaces, wowing all who enter. From Lela Rose to Louis Vuitton, don't miss these ultra-luxury trees redefining tree decorating as we know it.