Half Moon is a sprawling complex with the true Caribbean feel lacking in many newer resorts. Located only 15 minutes from Montego Bay Airport, the resort has hosted VIPs from royalty to celebrities. When I visited with my family in August, we were often the only people on our little stretch of beach where the water temperature must have been in the high 80s. Accommodations range from original cabins that have been painstakingly renovated to newer Hibiscus Suites — two-story, two-bedroom villas.
If (like me) you cannot live off the grid, be sure to request a room with high-speed Internet access when you make your reservation.
The resort's full meal plan allows access to all restaurants on the property, the shopping center, the golf course, room service and even the minibar. The Spa at Half Moon is undergoing a massive renovation including construction of a new building. Other diversions for non-golfers include horseback riding, ATV adventures, swimming with dolphins, tennis, hiking, shopping and sightseeing.
But this column is about golf, so let's get to that. Originally built in 1962 and home to dozens of games and tournaments through the years, the course at Half Moon was recently renovated to the tune of $2 million. The renovation took into consideration the original design by Robert Trent Jones Sr., but added new tee boxes to address all skill levels. The renovation design was created by renowned architect Roger Rulewich who had to accommodate the new highway — up from two lanes to four — that runs along one side of the course. Tee boxes had to be moved and some holes had to be changed to deal with this encroachment. The new layout does an excellent job of keeping golfers clear of the highway and includes several new bunkers in deference to the original Jones Sr. design. Golfers who prefer to walk will be interested in knowing this course is widely considered one of the best walking courses in the Caribbean.
The course, located across the street from the resort, features a clubhouse with all the necessary facilities and a great outside bar — The 19th Hole — for post-game cocktails.
---
Hole 4 (350 yards, par 4)
This is a dogleg left where you need to clear a ravine to get near the green. It's best to play it safe and aim straight ahead at the tall palm tree. From here you will have a shot of about 90 yards to the green; the ball will tend to run off toward the back, even with the upward sloping green. The hole was renovated to include less fairway slope and trees were removed from the ravine, making it more playable.
Hole 6 (453 yards, par 4)
This is a long par 4, but reachable in two with perfect shots. This is another renovated hole. The tee box has been moved and more trees will be planted to keep the expanded highway out of view. Your tee shot must land between two fairway bunkers perfectly positioned to catch an errant drive. If the pin is left, you need to carry a bunker at the green and stick your ball, as they tend to roll off toward the back.
Hole 8 (204 yards, par 3)
Prevailing winds off the ocean tend to make this hole play longer. Add about two clubs to what you normally would hit. Three traps around the left side and one on the right protect the green, making this hole a challenge.
Hole 9 (440 yards, par 4)
A narrow opening from the tee box makes for a challenging drive. Hole 9 is the No. 1 handicap-ranked hole on the course and it's a long par 4. There is a large fairway bunker on the right to catch big drives off the tee and brush and palms on the left for you wild hitters. At the green, bunkers man the right front and the left backside.
Hole 10 (564 yards, par 5)
You will need to bring your "A" game for three great shots. Fairway bunkers come into play from the white tees, but are probably not reachable from the blues. Avoid the left side of the fairway and its rough on your second shot, as errant shots can be lost in the brush. According to my caddy, it's better to miss right on your approach, as there is more room and less trouble. At the green, there are two bunkers on the right and left and one in the back for those who shoot over the green.
Hole 14 (450 yards, par 4)
At 450 yards from the blue tees, this is a monster of a dogleg right. Try to cut the corner and you will significantly increase your chances of getting par on this hole. Aim over the palms on the right landing with a high iron to the green. Make sure you take heed of the prevailing winds when selecting your club and beware of the traps waiting for you on each side.
Hole 16 (164 yards, par 3)
Don't let the yardage fool you. You will need to consider the prevailing winds when selecting the club for your shot. Two traps on either side guard the green. Proper club selection (usually more than expected) will help you score well on this hole.
Hole 18 (428 yards, par 4)
This is a good finishing hole with a dogleg right and two fairway bunkers placed to catch your drive from the tee box. The approach to the green will offer you a mid- to high-iron, but beware of the pond that collects mountain spring water for irrigation, and the ravine that runs along the entire front of the green. If your ball falls in, there is no way out. There is a large bunker on the right of the green that is slightly elevated and runs uphill toward the back.
HALF MOON GOLF CLUB
Rose Hall
Montego Bay, Jamaica, West Indies
tel 876 953 2211, fax 876 953 2731
http://www.halfmoon.com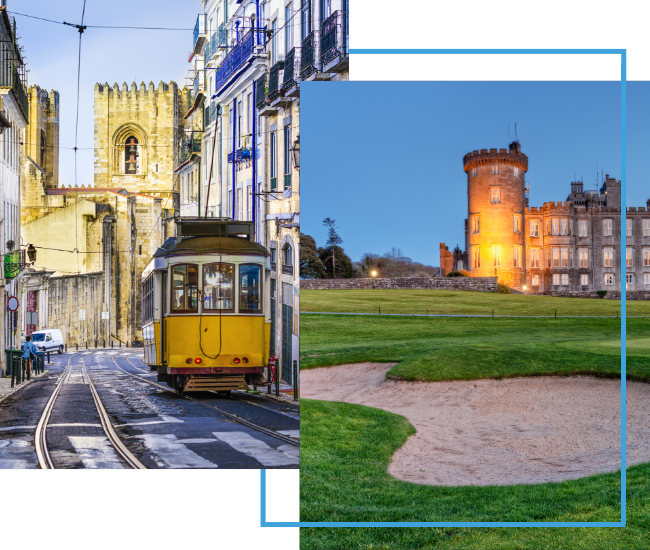 FX Excursions
FX Excursions offers the chance for once-in-a-lifetime experiences in destinations around the world.
Explore Excursions
If fabulous food and beverages are a must-have for any weekend getaway, then look no further than the City of Brotherly Love. Whether your palate has a penchant for vibrant Latin American fare or cozy French cuisine, whether you're an oenophile looking to swirl, sniff and sip your way around the globe or you'd rather sample farm-to-glass cocktails, Philly's got it all this fall. (With the exception of Bolo, which is a short taxi or Uber ride away and definitely worth the trip, the rest of these spots are all within walking distance of each other.)
Sponsored Content
Many small- and medium-sized businesses face time and budget constraints when organizing corporate hotel travel for employees. To address this problem, IHG® Business Edge emerged as a cost-free business travel solution for small- to medium-sized enterprises, offering travel managers exclusive access to enticing perks, handpicked educational resources and comprehensive company travel metrics. IHG Business Edge connects our loyal customers to our portfolio of 5,800 hotels and resorts across 18 brands in more than 100 countries.
From Santoríni to Dubai to New York, some hotels just have that "it" factor that draws visitors far and wide. For some hotels it's their proximity to popular landmarks and attractions, for others it's their amenities. But these hotels have something few can claim: a true room with a view.