My first impression of Prague was that it looked like a page torn out of a book of European fairy tales. Any minute I expected to hear the clomping of horses' hooves on the cobblestone streets and see a gilded coach being pulled by six white horses, carrying a beautiful princess and her handsome prince. The city simply oozed Old World charm at its best.
But I quickly learned, despite its dreamy exterior, Prague is a hip, happening, modern-thinking city prepared to cater to the wants and needs of the 21st-century, cutting-edge business crowd.
Prague's historic city center is relatively compact and divided into five areas. The iconic Charles Bridge provides a pedestrian walkway over the Vltava River, which separates the Staré Mesto (Old Town), Nové Mesto (New Town) and Josefov (Jewish Quarter) on one side from the Malá Strana (Little Quarter) and Castle District on the other.
There are hotels for every taste and budget, but the choices can be daunting. For price, location, space and service, the Hotel-Residence Lundborg (U Luzickeho Seminare 3, tel 420 233 920 118, www.lundborgresidence .cz/lundborgresidence) is hard to beat. Its 700-year-old building, located beside the Charles Bridge, has been sleekly renovated. Reasonably priced, a junior suite with a bedroom, a living room and a bath with a Jacuzzi tub will cost about $148–189. Particularly handy for the business traveler who needs to do some work, the living room has a desk and a computer with free Internet connection, and the extensive buffet breakfast can keep you fueled until dinner.
Thanks to a metro, trams and buses, getting around Prague via public transportation is a breeze. A tourist pass covers all types of mass transit for a specified number of days; about $17 buys a three-day pass. To plan a route in advance, go to the website of Prague Public Transit Co. (www.dpp.cz) and enter your current location and where you want to go to find the options for public transport that connect the two stops.
It's hard to imagine a better place for a power breakfast than The Café Louvre (Národní 22, tel 420 224 930 949, www.cafe louvre.cz). Since 1902, this classy establishment has served first-class food to locals, visitors and occasionally legends such as Franz Kafka and Albert Einstein. Besides the usual breakfast fare, entrées include everything from a breakfast beef goulash to poppyseed strudel with plums.
For a casual morning meeting which includes designer coffee, consider Friends Coffee House (Palackého 7, tel 420 272 049 665, http://milujikavu.cz). Conveniently located on a quiet side street off Wenceslas Square, the café roasts coffee on the premises and offers a large library of magazines and newspapers, Internet access and a friendly staff.
There are plenty of places throughout the city to meet colleagues or clients in an outdoor setting. Cafés with streetside tables are filled with locals and visitors alike sipping an espresso or beer on a sunny day.
Head to Hergetova Cihelná (Cihelná 2b, tel 420 296 826 103, www.kampagroup.com/en/index.php) for a lunch that incorporates good food with great views of the Charles Bridge and the river. The international menu boasts plenty of choices from pork loin with spaetzle to fish and chips.
For an over-the-top lunch or dinner, U Malíru (Maltézské Námestí 11, tel 420 257 530 318, www.umaliru.cz) is worth the splurge. The restaurant was established in 1543 and frequented by Emperor Rudolph II. Today, the elegant yet warm décor and superb food make dining a sublime experience. If you come for the three-course, fixed-price lunch, you may not want to book any more meetings for the rest of the day.
A far less pricey luncheon alternative, BarBar (Všehrdova 17, tel 420 257 312 246, www.bar-bar.cz) is known for its tasty and reasonably priced crêpes, both sweet and savory. Though popular and frequently busy, it's still quiet enough to carry on a conversation.
The Czech people love their beer, which is obvious considering estimates state the per capita annual consumption equates to more than 40 gallons a year. Prague's brewing history centers around the city's monasteries, with the first recorded brewing at the Benedictine Monastery in the late 10th century. Meeting over an excellent local beer at a good brew pub is a great way to break the ice with potential clients.
Beer pubs are everywhere, but one of the most popular and most crowded is Pivnice U Zlatého Tygra (Husova 17, tel 420 224 229 020, www.uzlatehotygra.cz/index_e.htm). Translated as the "Golden Tiger," the pub opens at 3 p.m., and the communal tables fill up fast. U Medvídku (Perštýne 7, tel 420 224 211 916, www.umedvidku.cz) started as a brewery in 1466. After many reinventions, the building now houses a hotel as well as the brewery, which serves its own special beer and invites customers to check out its beer-making operation. For a more upscale and quieter beer-drinking venue, head for the St. Thomas Brewery Bar (Letenská 12, tel 420 266 112 280, www.theaugustine.com/dining/brewery-bar). What is now the basement of the 5-star Augustine Hotel was originally where Augustinian monks first brewed beer in 1352. The brewery remained in business as the sole purveyor of beer to Prague Castle until 1951. Today, excellent local beer and tapas are served in this underground venue, complete with genuine stalactites and stalagmites and an authentic underground water source.
Just in case there's time between meetings for shopping, there are hundreds of specialty stores around the city, but locals go to the malls, including Myslbek Shopping Gallery (Na Príkope 19-21, Ovocný trh 8, tel 420 224 239 550, www.ngmyslbek.cz/en). Housed in a huge glass building sitting on the border between Old Town and New Town, it's easily reached by public transportation and contains stores selling everything from sporting goods to baby clothes. There are also a few food options, making it possible for a client meeting that includes a little retail therapy.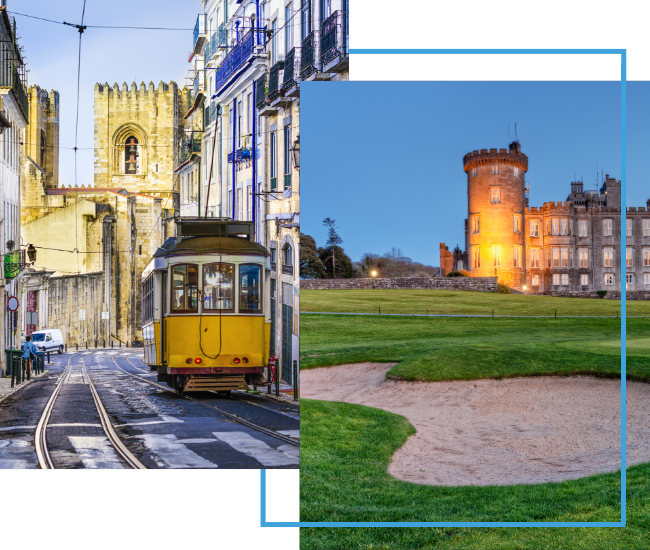 FX Excursions
FX Excursions offers the chance for once-in-a-lifetime experiences in destinations around the world.
Explore Excursions
If fabulous food and beverages are a must-have for any weekend getaway, then look no further than the City of Brotherly Love. Whether your palate has a penchant for vibrant Latin American fare or cozy French cuisine, whether you're an oenophile looking to swirl, sniff and sip your way around the globe or you'd rather sample farm-to-glass cocktails, Philly's got it all this fall. (With the exception of Bolo, which is a short taxi or Uber ride away and definitely worth the trip, the rest of these spots are all within walking distance of each other.)
Sponsored Content
Don't risk losing all the money you've spent if you must cancel your trip at the last minute. Allianz Travel Insurance can give you:
From Santoríni to Dubai to New York, some hotels just have that "it" factor that draws visitors far and wide. For some hotels it's their proximity to popular landmarks and attractions, for others it's their amenities. But these hotels have something few can claim: a true room with a view.