Arrival/Check-In: My TAP Portugal flight arrived in Lisbon early in the morning, which brought up some questions regarding hotel check-in. Although Penha Longa Resort is located in Sintra and check-in is in the afternoon, I was hoping to get into my room early and enjoy a little shuteye before exploring the property. The receptionist who helped me check in could see how tired I was. She kindly suggested I enjoy the breakfast at the resort while staff rushed to get my room ready. By the time I was finished with my meal, my room was waiting for me.
Guest Quarters: I felt guilty shutting the curtains, blocking the gorgeous view of the golf course, but it was necessary to nap. What I thought would be a quick, one-hour snooze turned into five hours thanks to the featherbed, duvet and amazing Egyptian cotton sheets. Once awake, I took full advantage of the spacious room with my windows wide open to let the breeze whisper through the balcony doors.
Services/Amenities: The resort has become a popular wellness center. With a "must-Zen" attitude, I had to try the diamond lifting multisensorial facial during my spa visit — it's definitely a "must-do" for anyone staying at this breathtaking location. I wish I had the time to try some of the other body treatments.
The Experience: Overall, the resort is absolutely perfect for every kind of traveler. Whether you're in Lisbon on business or leisure, this property provides the best experience. The team plans weekly itineraries for visitors to enjoy — labyrinth meditation in the spa, golf clinic hour in the golf club or wine tasting at one of the six restaurants, just to name a few.
GT CHECKLIST
[checklist]
[item check=yes]Doorman/valet[/item]
[item check=yes]Less than 10 minutes for check-in[/item]
[item check=yes]Separate tub and shower[/item]
[item check=yes]Large vanity[/item]
[item check=yes]High-quality towels[/item]
[item check=yes]Powerful, unattached hair dryer[/item]
[item check=yes]High-quality bed linens[/item]
[item check=yes]Large, flat-screen television[/item]
[item check=yes]Large desk with convenient outlets[/item]
[item]Large, complimentary laptop safe[/item]
[item check=yes]Complimentary in-room WiFi[/item]
[item check=yes]Complimentary bottled water[/item]
[item check=yes]Stocked minibar[/item]
[item check=yes]Ample lighting[/item]
[item check=yes]In-room coffeemaker[/item]
[item check=yes]Iron and ironing board[/item]
[item check=yes]On-site restaurant[/item]
[item check=yes]24-hour room service[/item]
[item check=yes]24-hour state-of-the-art fitness center[/item]
[item check=yes]Turn-down service[/item]
[/checklist]
Penha Longa Resort
Estrada da Lagoa Azul,
Sintra – Linhó 2714-511
Portugal
tel 35 1 21 924 9011
penhalonga.com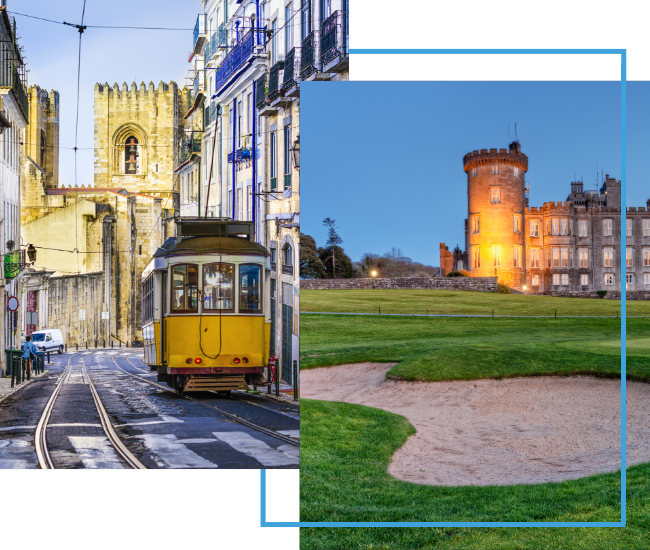 FX Excursions
FX Excursions offers the chance for once-in-a-lifetime experiences in destinations around the world.
Explore Excursions
There's no doubt the northern lights are awe-inspiring and spectacular. Unfortunately, they're also fickle and fleeting, and despite your best-laid plans of checking this item off your bucket list, sometimes Mother Nature's luminescent show just doesn't cooperate. But one cruise line has a new fail-safe in place.
Sponsored Content
Nashville's once-modest skyline continues to evolve as its luxury market grows. Lavish hotel properties are added to the landscape while acclaimed chefs stake claim in the robust culinary scene and premier cultural offerings round out the city's repertoire.
Think you need a degree in sailing to enjoy a yachting holiday? Dream Yacht Worldwide, a leader in yacht charters, wants you to relax and enjoy the journey. Newly expanded to include the British Virgin Islands, Martinique, Tahiti and the Seychelles, the "Easy Crewed" offered by Dream Yacht Worldwide also include charter options in Greece and Croatia.