Nearly everybody has heard of the Seychelles Islands, but few people actually know where they are located. South of France? The Caribbean? Nope. The Republic of Seychelles is located about 1,000 miles off the coast of East Africa, seven degrees south of the equator in the Indian Ocean. It takes around 20 hours to fly from the United States (I traveled from New York via Dubai), and the Seychelles are not inexpensive.
On the other hand, if paradise exists, it is here on these 115 granite and coralline islands, where the temperature hovers around 80 degrees. Natural disasters are a rarity; the Seychelles are situated outside the cyclone belt and, mercifully, the 2004 tsunami did very little damage. Because the climate is so temperate, you can come any time of year, although it does rain November through April.
Unlike Mauritius and Madagascar, which have more of an Indian and Austronesian vibe, the Seychelles are distinctly African. And while there's beach culture for sure, there are tons of things to do that don't involve snorkeling, scuba diving or swimming. Explore the sand cays and granitic mountain jungles. Visit the Saturday markets. Check out the oversized 100-year-old tortoises. Play golf, sail a boat, take a hike.
Which is not to say that you won't want to spend a good chunk of time immersing yourself in the azure waters. You will. And while there are no private beaches in the Seychelles, many hotels and resorts have protected beaches that are impossible to reach unless you come through their facility — an extra perk for the resort dweller.
One of the best things about the Seychelles is that you can zip from island to island —say, Mahé, Praslin, La Digue and Silhouette — easily. Then there are the private islands, boasting some of the world's most fabulous resorts: North Island, Frégate, Denis and Desroches. Each offers something different. Desroches, for instance, has the best salt-water fly-fishing and deep-sea fishing. Denis is the place for bone fishing.
With all the Seychelles has to offer, is it any wonder Prince William and his bride honeymooned here?
DIVERSIONS
The main and biggest island is Mahé, home to about 80,000 people and just as many resorts (not really; it just feels that way). It's spectacularly gorgeous, with granite boulders reaching to the heavens. Here is where you find culture: the Saturday morning market in Victoria, the capital, where you can buy textiles, crafts, fruits and vanilla; the Hindu temple, where you can get a blessing; the fish market, where you can buy the fresh-caught catch of the day.
A 15-minute plane or one-hour boat ride will shuttle you to Praslin, the second-largest island, with about 5,000 residents and fewer hotels. The island is home to two UNESCO World Heritage sites: Aldabra Atoll, the world's largest raised coral atoll, boasting the world's biggest population of tortoises; and the lush preserved forest of Vallée de Mai, where giant coco-de-mer palms grow in abundance. Coco-de-mer is to the Seychelles what the maple is to Canada. Wander the nature trails and try to identify the black parrots, hummingbirds and blackbirds that fly overhead. But beware — in some places the palm fronds are so thick that sunlight cannot seep through. Afterward, stop by Anse Lazio (said to be rated the best beach in the world by Giorgio Armani), just a short drive down the road from the Vallée de Mai. Don't miss it.
On the much smaller island of La Digue, about a 30-minute ferry ride, is Anse Source d'Argent, reportedly the most-photographed beach ever. Enormous granite boulders and white sand line the beaches on these granitic Inner Islands, and there is high potential for spotting dolphins. At L'Union Estate you can see the old copra processing plant (lest you wonder: Copra is the dried flesh of a coconut and the oil that comes from it. It was once a leading industry in the Seychelles). Tortoise Pen is where hundred-year-old tortoises loll about.
Nature fanatics should head to mountainous Silhouette Island. There are no streets here, and two paths connect the north and south parts of the island. Only one operating resort and a small village exist on this very large island; it's a perfect place to get lost (if you can).
Frégate Island is a private granitic island that's a 20-minute flight from Mahé. Legend has it the island, with seven secluded beaches, once attracted pirates; later came adventurers in search of pirate treasure, including Ian Fleming, the creator of James Bond. The island now caters to the crème de la crème. The one resort, Frégate Island Private, is designed to coexist within a fragile ecosystem that shelters some of the world's most endangered species, says Megan Bryant, the destination manager for Africa and Indian Ocean at Cox & Kings, The Americas.
The more distant islands from Mahé are mostly coral, and they're great for salt-water fly-fishing. Alphonse and its environs, along with Aldabra Atoll, are often dubbed the Galápagos of the Indian Ocean.
Most of the local restaurants are small, family-operated businesses, and they're revered for their hospitality and cuisine. Indian, Chinese, French and Creole flavors heavily influence the food. But not surprisingly, seafood is a staple, with tuna, king fish and octopus among the favorites (often fried or grilled in a garlic-butter sauce or prepared in a "cari" fashion, with green or red curries). Breadfruit, the national favorite, is ubiquitous — as is Guinness, one of the most popular beers.
Alas, if it is nightlife you're after, you'll probably have to limit yourself to star-gazing; the Seychelles aren't hotbeds of partying, though the locals do know how to have fun. Your best bet is to head to the hotels, which have live entertainment and evening barbecues. In Victoria, The Pirates Arms (Independence Avenue, tel 248 422 5001) is the main watering hole. It's a laid-back, don't-worry-be-happy kind of joint. Cinephiles must hit the Art Deco Deepam Cinema (Albert Street, tel 248 432 2585), the only movie theater in the Seychelles. Movies range from Hollywood to Bollywood; they have two film screenings on weekdays and three on weekends.
If you want to practice your dance moves, you have four options; there are only a few discos in the Seychelles. On Mahé, Katiolo's (Anse Faure between the international airport and Anse Royale, tel 248 437 5453) is the place to see and be seen, and it enforces a pretty serious dress code: no caps, sleeveless T-shirts, sandals or sneakers allowed. Ozone (La Plaine St. André, Au Cap, tel 248 451 6525) is Katiolo's main competitor on Mahé. It provides a good time, with prizes for the best-dressed guest and best dancer. On Praslin, there's The Jungle (Grand Anse, tel 248 451 2683) and Oxygen (Baie Ste. Anne, tel 248 451 2300).
Gaming houses are arguably the most glamorous offering in the Seychelles.
Try to beat the house in Victoria at The Amusement Centre (Oceangate House Ext., Independence Avenue, tel 248 422 5878); the Berjaya International Casino (Beau Vallon, tel 248 424 7878); or Planter's
Casino (Baie Lazare, tel 248 436 1361), which offers free nightly
gaming lessons. The Casino des Îles (Côte d'Or, tel 248 423
2500) on Praslin is co-owned by a former Dutch backgammon champion; you can test your mettle at slots, roulette, blackjack and, of course, backgammon.
Info To Go
Seychelles International Airport (SEZ) is on Mahé, about seven miles
southeast of Victoria, the capital. Buses run every 20 to 30 minutes
from the bus station in Victoria, and there are taxi stands galore.
A short walk from the international terminal is the domestic terminal,
where you can hop flights to the neighboring islands. For more information,
visit www.seychelles.travel.
Lodging
BANYAN TREE SEYCHELLES: The 60 villas resemble spacious
Victorian-style bungalows with sprawling verandas, each with a private
swimming pool, pavilion and king-sized bed. Anse Intendance, Mahé, tel
248 438 3500, www.banyantree.com/en/
seychelles $$$$
LE DOMAINE DE L'ORANGERAIE: For the crowd-averse,
these 45 villas are steps from magnificent beaches on an island with
few cars. Grab a bicycle and zip into the sunset. Anse Sévère, La Digue,
tel 248 429 9999, www.orangeraie.sc/en.php
$$$$
FOUR SEASONS RESORT SEYCHELLES: These
67 villas, including five suites, are designed in traditional Creole
style, featuring natural timber and brick and perched on stilts. Petite
Anse, Baie Lazare, Mahé, tel 248 439 3000, www.fourseasons
.com/seychelles $$$$
Dining
CHEZ LAMAR: Set in a gorgeous colonial-style house,
Chez Lamar draws from West European, African, Caribbean and native Indian cuisine. Banyan Tree Seychelles, Anse Intendance, Mahé, tel 248 438
3500, www .banyantree.com/en/seychelles
$$$$
LA FEUILLE D'OR: Known for its international and local
cuisine, the restaurant offers live entertainment twice weekly; shorts
are not allowed after 7 p.m. Hotel L'Archipel, Anse Government, Praslin,
tel 248 428 4700, www.larchipel.com/wine.html
$$$$
ZEZ: The open-air design takes full advantage of the
warm, sunny weather. A traditional Middle Eastern water pipe (shisha) is also available. Four Seasons Resort, Petite Anse, Baie Lazare, Mahé,
tel 248 439 3000, www.fourseasons .com/seychelles/dining/zez
$$$$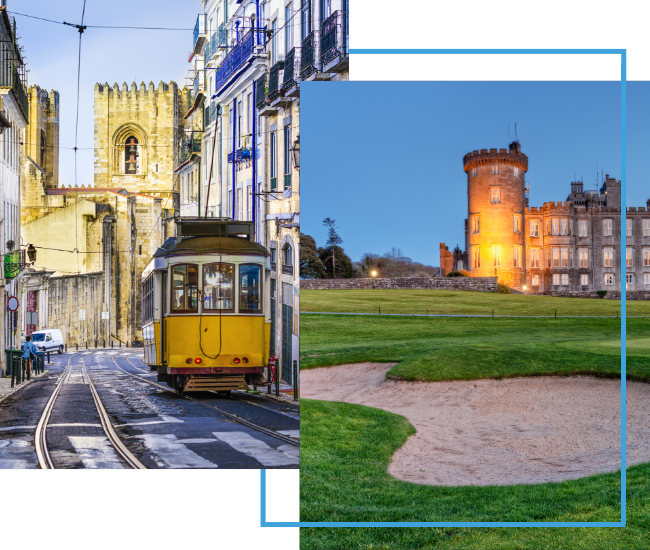 FX Excursions
FX Excursions offers the chance for once-in-a-lifetime experiences in destinations around the world.
Explore Excursions
There may not be snow in Los Angeles this season, but Waldorf Astoria Beverly Hills is certainly full of the holiday spirit, with Christmas, Hanukkah and New Year's events happening in the hotel's gorgeous event spaces.
Sponsored Content
IHG Hotels & Resorts is thrilled to announce the launch of a new mobile product feature for members: IHG Wi-Fi Auto Connect. This feature is now available exclusively in the IHG One Rewards mobile app for both iOS and Android users and will automatically connect IHG One Rewards members to WiFi upon arrival at more than 5,000 IHG hotels worldwide — no separate passwords or log-ins needed. This is in addition to the exciting benefits of being an IHG Business Edge member. IHG Business Edge provides small- and medium-sized businesses access to a user-friendly portal that displays comprehensive spending and savings data while providing the convenience of direct booking with a guaranteed discount.
Looking for fun things to stuff into the toe of a few holiday stockings? Here are some great choices: