Dawn does not come quietly to Cairo, Egypt. One of the largest and most densely populated cities in the world, the metropolis seems to leap into action, as if the rising sun is a signal to "start your engines." By the time the sun lights up the pyramids on the Giza Plateau west of the city, the predominantly Muslim population has already answered the first of five daily calls to prayer and begun their battle with traffic.
As our driver patiently made his way across the city toward Giza, I understood why tourists are discouraged from renting cars. About 8 million people reside in Cairo — twice as many as in Los Angeles, but in half the space. Nearly 20 million live in the metropolitan area. They drive 7 million cars, vying with buses, trucks, motorcycles and taxis on streets that are stop-and-speed gauntlets with vehicles separated by mere inches.
Despite the traffic, there is an innate energy in the city, as if it is bursting at the seams with productivity and potential as well as cars and people. Two-thirds of the country's gross national product is generated here. As the largest city in Africa and a major hub of the Middle East, Cairo has it all — a modern international airport; high-rise chain hotels; skyscrapers bearing international company logos; and an infinite variety of restaurants, shops and entertainment venues. Most of the studios in the thriving film industry are here, along with a majority of the publishing houses and media outlets. The city is home to the country's top universities and hospitals.
Most Cairenes are employed in the service sector: government, financial services and commerce. Inflation dropped, but unemployment remains high, and residents struggle to make ends meet. Almost half of the country's population lives below the poverty level. However, new company startups increased by almost 20 percent last summer, creating new jobs. According to Egypt's General Authority for Investment, there is also high investor interest in agriculture, including programs to educate farmers in the latest land management techniques. Thirty percent of Egypt's workers are in agriculture, but most live in poverty because of poor land use.
Egypt's economy depends primarily on the Suez Canal, oil and tourism. Because of its volatile location, security is tight on the canal, but early November 2012 saw record traffic and income. Mohab Mamish, head of the Suez Canal Authority, attributed the increase to more flexible marketing and ongoing development of the canal.
As for revenues from oil, a statement by the U.S. Energy Information Administration says Egypt is a "significant oil producer and a rapidly growing natural gas producer. The Suez Canal and Sumed Pipeline are strategic routes for Persian Gulf oil shipments, making Egypt an important transit corridor for world energy markets. … Natural gas is likely to be the primary growth engine of Egypt's energy sector for the foreseeable future."
The third economic linchpin is tourism, a staple for a country rich in historic sites and beach resorts on the Mediterranean and Red seas. Following the 2011 revolution that ousted President Hosni Mubarak, tourism revenue dropped 32 percent from 2010 levels. In the first half of 2012, under new Islamist President Mohamed Morsi, tourism rose by 23 percent over 2011, according to Egypt's Central Agency for Public Mobilization and Statistics. Most visitors were from Europe and the Middle East.
I sat down with Minister of Tourism Hisham Zaazou in Cairo to discuss the state of tourism and the role Americans play.
"The perception of Egypt in the eyes of Americans was not great following the demonstration at the American Embassy last fall," said Zaazou. "The news media conveyed a feeling of anti-American sentiment that, in truth, does not exist. A minute group of people took this violent action. Our new freedom of speech causes political clashes, but they are generally peaceful — like what happens in London's Hyde Park or in front of the White House.
"In 2011 we had half the number of American visitors we had in 2010," he said. "In early 2012 we had high hopes, but after the demonstration they started cancelling their trips to Egypt. Still, we are optimistic if we can get the word out that Egyptians love the American people — and we rely on them."
The minister explained Americans mainly do the "classical tour" of cultural attractions — visiting the pyramids of Cairo and Saqqara; the Valley of the Kings and Valley of the Queens; and the temples of Luxor, Karnak and Abu Simbel. They usually take a cruise on the Nile.
"Egyptians working in Luxor and Aswan are suffering because of a lack of American visitors," said Zaazou. "Americans traditionally spend more money than Europeans. They use regular airlines instead of charters; they stay in chain hotels, eat in local restaurants, buy souvenirs and ride in vehicles operated by locals. In contrast, Europeans mainly come for beach vacations, booking all-inclusive tours and traveling in large groups."
Rebuilding tourism is a priority for Egypt's President Morsi, according to Zaazou. The government's long-term plan is to attract 30 million tourists annually by 2020. About 14.5 million tourists visited in 2010, 9.8 million in 2011 and between 9 and 12 million in 2012.
One of the government's tourism projects is at the Museum of Egyptian Antiquities in Cairo's Tahrir Square. A memorial to the revolution and an extensive sculpture garden along the Nile will replace the burned-out building (Mubarak's former headquarters) next to the venerable museum.
In a related effort, work is progressing on The Grand Egyptian Museum next to the pyramids in Giza. When opened in 2014, it will be four times as large as the museum downtown and house treasures that, for lack of room, have not seen the light of day for decades. Cruise passengers on day trips from the Mediterranean will be able to visit the pyramids and the new museum and avoid Cairo traffic.
"On Aug. 19, we reopened the 10-night Nile cruises from Cairo to Aswan," said Zaazou. "This is an exciting development because visitors can now experience sites and activities not available on the cruises between Aswan and Luxor."
Most importantly, the government is instituting programs to train Egyptians on how to interact with tourists. Though visitors sympathize with the locals' economic plight, no one wants to be surrounded by men and boys hawking everything from camel rides to postcards.
"This practice is going to be dealt with severely," said Zaazou. "Vendors need to realize they will make a better living if they do not pressure visitors. Youngsters will be taught how to be proud ambassadors for their country."
CHECKING IN WITH NAHED SAMIR
Vice President of Operations and Business Development, Sonesta Middle East
WHAT DOES THE FUTURE HOLD FOR EGYPTIAN TOURISM?
This country has been through ups and downs, but tourism will come back stronger than ever. Schoolchildren everywhere learn about Egypt, the oldest civilization in the world. They know about the pyramids and other wonders, and it becomes a dream to see these treasures for themselves.
WHAT SHOULD THE NEW GOVERNMENT DO TO PROMOTE TOURISM?
Past campaigns to promote tourism have not recognized that interests differ from country to country. Some, like Americans, come for the historic sites, while others come for sun, sand and sea. So promotions need to be more targeted. Reopening the long cruises on the Nile after 17 years is a great step forward. Now visitors can fly into Cairo, see the pyramids and museum and board a ship rather than flying to Luxor or Aswan. There are many historic sites with beautiful statuary between Cairo and Luxor. The draft is an issue for some ships, but Sonesta will be sailing the long route in 2013. At the pyramids, it's important for the site to be organized and not overrun with vendors. The Grand Museum there will be a huge attraction when it's finished. Cairo traffic is an issue, but all big cities have traffic problems. It will help if drivers have more respect for the rules and obey traffic lights and signs.
WHAT IMPACT DID THE REVOLUTION AND POLITICAL UNREST HAVE ON CAIRO HOTELS AND CRUISES ON THE NILE?
We've had challenging times since the revolution, but occupancy started to pick up in the middle of 2012, rising to 85 percent occupancy in the Sonesta hotels and on the five Sonesta ships on the Nile. The proportion of Americans on the ships increased to 28 percent, the highest nationality represented.
INFO TO GO TO CAIRO, EGYPT
Nine miles from the city center is Cairo International Airport (CAI), a hub for Star Alliance member EgyptAir and home to 65 other airlines. Negotiate a fare (45 to 70 Egyptian pounds, about $7–11) into the city with one of the taxi drivers or hire a car at the limousine counter for a fixed price of 65 to 80 Egyptian pounds, about $10–13.
FACTS ABOUT CAIRO, EGYPT
Time Zone: GMT + 2
Phone Code: Country code: 20 City code: 2
Currency: Egyptian pound
Entry/Exit Requirements: American citizens must have a valid passport with a blank page for the required entry visa. A 30-day renewable visa can be purchased at Cairo International Airport for $15.
Official Language: Egyptian Arabic, but many Egyptians in the tourism sector speak English and other languages.
Key Industries: Suez Canal, tourism, crude oil, petroleum products, agriculture, textiles
IN CAIRO: THINGS TO DO, DIVERSIONS
In the heart of Cairo, bordering Tahrir Square, is the Museum of Egyptian Antiquities, housing more than 120,000 priceless treasures dating back more than 5,000 years. Visitor favorites are the King Tut galleries and the mummy rooms, but the building is filled with stunning sarcophagi, statuary and papyrus scrolls.
The Egyptian Museum is a warm-up for a visit to the pyramids. Lying 15 miles from Cairo is Memphis, founded in 3100 B.C. and a former capital of Egypt. Little remains of the city aside from statuary in an open-air museum, but the statues of Ramses II are worth the trip. Nearby Saqqara, buried under the sand for centuries, served as a burial ground for more than 3,500 years. It is home to 11 pyramids, hundreds of tombs and more awaiting discovery. Dominating the horizon is the very first pyramid made of limestone rather than the mud brick previously used for tombs. The Step Pyramid of King Djoser dates to 2650 B.C. and has a funerary complex not discovered until 1924.
Saqqara was relatively deserted during my visit, but the Giza Plateau at Cairo's edge was a beehive of tourists from many countries and vendors touting camel and horse rides and posing for photos. Beyond the plateau, the Sahara Desert stretches as far as the eye can see. Rising almost 480 feet above the sand, the Great Pyramid of Khufu dwarfs everything and everyone. Nearby is the 450-foot-tall Pyramid of Khafre, Khufu's son. To the east of these imposing structures are three small pyramids of Khufu's wives and sisters. On the stone causeway to the Pyramid of Khafre is the famous Sphinx, carved from the bedrock during Pharaoh Khafre's reign.
Back in the city — and fast-forwarding several millennia — Cairo's multi-domed Mohamed Ali Alabaster Mosque, in the imposing Citadel of Salah El Din, is worth a visit. Ali became governor of Egypt in the 1800s after Napoleon was ousted; he was responsible for giving Egypt a robust army and navy, public education and the "new" cash crop — cotton. His grandson opened the Suez Canal in 1869.
If you're ready for a sensory onslaught, visit the Khan el-Khalili bazaars, a warren of narrow passages with shopkeepers touting their wares as you pass by. If you see something that interests you, the shopkeeper will happily haggle the price, but this is where the knowledge of a local guide comes in handy.
CAIRO-AREA LODGING
Four Seasons Hotel Cairo at Nile Plaza Guestrooms are oversized, with balconies overlooking the Nile, Zamalek and a 12th-century citadel. 1089 Corniche El Nil, Garden City $$$$
JW Marriott Hotel Cairo Great for families, the hotel has a water park, a health club, a spa, a golf course and 12 restaurants. Ring Road, Mirage City $$$
Sonesta Hotel, Tower & Casino Cairo An attentive staff enhances the spacious, comfortable guestrooms and reasonably priced restaurants. 3 El Tayaran St., Nasr City $$$
CAIRO-AREA DINING
Abou El Sid Favored by locals and savvy visitors, the setting is colorful and quirky. The food is tasty, authentic Egyptian. 26 July Street, Zamalek $$
La Gondola A bargain! The Italian fare is good, plentiful and served in a candlelit atmosphere with live entertainment. Sonesta Hotel, 3 El Tayaran St., Nasr City $$
Rossini Seafood Restaurant and Piano Bar The Mediterranean-style restaurant is pricey but romantic and memorable. 66 Omar Ibn El Khattab St., Heliopolis $$$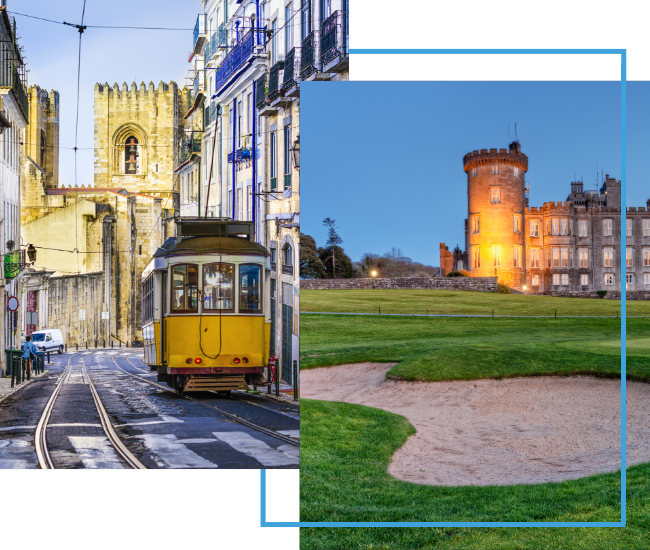 FX Excursions
FX Excursions offers the chance for once-in-a-lifetime experiences in destinations around the world.
Explore Excursions
There is something magical about sipping a glass of local wine while watching the sun slip into the Aegean Sea as the afterglow tinges traditional, white-washed Cycladic houses with glorious shades of rose, purple and gold. Ancient Greeks believed Helios, the Sun God, caused sunsets by driving his fiery chariot into the sea. Standing at water's edge in Mykonos, watching the sky slowly turn from purple to inky black, you almost believe it.
Sponsored Content
IHG Hotels & Resorts is thrilled to announce the launch of a new mobile product feature for members: IHG Wi-Fi Auto Connect. This feature is now available exclusively in the IHG One Rewards mobile app for both iOS and Android users and will automatically connect IHG One Rewards members to WiFi upon arrival at more than 5,000 IHG hotels worldwide — no separate passwords or log-ins needed. This is in addition to the exciting benefits of being an IHG Business Edge member. IHG Business Edge provides small- and medium-sized businesses access to a user-friendly portal that displays comprehensive spending and savings data while providing the convenience of direct booking with a guaranteed discount.
The prospect of a post-visit treasure hunting session inside the shops of landmark museums such as the Louvre in Paris, the Uffizi Gallery in Florence and The British Museum in London can be irresistible. However, some of Europe's smaller and more unusual museums boast retail spaces with a surprising "wow" factor, often as well-curated as the galleries.