Serene, spiritual, euphoric. Boundlessly beautiful and exotic. Kerala has a way of making you too tongue-tied to describe its essence because it's all of these — and more. In the vast Indian subcontinent, where controlled chaos and swirling currents of humanity can be mind-numbing, Kerala stands apart with an intrinsic tranquility and beauty all its own.
Kerala is a land of magnificent spice gardens, orderly British colonial tea estates, colorful street bazaars and Old World architecture. There are also tigers, elephants and monkeys, ornate palaces, forts, temples, churches and shrines. Trendy Ayurveda resorts and a fusion of international cuisines bear the distinctive Keralan stamp, as do golden beaches, perfectly swaying palms, lush hills hidden in mist and an immense inland sea dotted with villages that time somehow forgot. And in this "Land of Coconuts" — the literal translation of Kerala — groves stretch endlessly toward the horizon.
While much of India conjures images of dry, dusty landscapes, Kerala is positively verdant. The slim state, bordered by the Arabian Sea and the Western Ghat Mountains, is outlandishly fertile from moisture-laden monsoon rains and has been a hub of the foreign spice trade for at least 3,000 years. With rugged mountains protecting it from inland invaders, Kerala turned to its long coastline and developed maritime commerce with the outside world. Arab, Chinese, Roman and Jewish traders all called upon what became known as the Malabar Coast, introducing its exotic spices to an appreciative world.
With Portuguese trader Vasco da Gamma's arrival in 1489, a flotilla of European merchants began calling upon Kerala, exporting ivory, spices, peacock feathers and teak. Dutch, Spanish and especially British companies later had a heavy hand in export trade until India gained independence in 1947. But vestiges of this crossroads coalition still intermingle with the predominant Hindu culture, making Kerala an exotic amalgam of living history.
In its cities, the colonial footprint is most obvious in Kochi (formerly Cochin), Kerala's main trading port for thousands of years. Set on a peninsula where the massive Vembanad Lake joins the Arabian Sea, the city's winding streets are avenues into the past. At its heart is Fort Cochin, built in 1766 and reflecting the successive waves of European, Chinese and Indian influence. The narrow streets are enchanting, lined with 500-year-old Portuguese houses and Mattencherry Palace, the Jewtown area's Pardesi Synagogue and Dutch architecture dating back to the 1600s.
Kerala's heritage also extends into its mountains, where a handful of hill stations have matured into tourist getaways. Originally built by weary colonial British wanting to escape the oppressive lowland heat, many hill stations sprouted tea estates and spice groves that have been productive for more than 100 years. In tea circles, Munnar is the most famous, once the British summer capital in southern India. Under the ownership of the colonial Messrs. Finlay Muir & Co., Munnar's tea became part of the European standard for a good cup of tea. Today, not much has changed with harvesting as workers manually cut and haul the bulk tea that still finds its way across the globe.
Long before the British presence in Kerala, tales of a quasi-mythical "spice road" into the region's mountains prompted trader and explorer Da Gama to embark on his historic 12,000-mile voyage from Lisbon. Before his arrival, Italy dominated the coveted spice trade through a chain of Arabian and Egyptian intermediaries. But Da Gama's success shifted this profitable balance of power, and two of his four ships survived the journey home with cargo holds of cinnamon, nutmeg, turmeric and cardamom — reportedly worth 60 times the cost of his expedition.
That "spice road," it is thought, is the winding road leading to Thekkady and the nearby spice haven of Kumily in the misty Cardamom Hills of the Western Ghats. Today, the are a lives up to its past with miles of carefully maintained spice groves and tea plantations. Tourism is flourishing in the village of Kumily as adoring visitors from around the world gleefully throng to the fragrant shops and stalls selling every manner of heady spice under the Indian sun. A nearby eco-resort, Spice Village, capitalizes on the theme and makes a good base from which to explore the region.
Even as it marches headlong into the 21st century, Kerala maintains a preservationist stance with its protected wildlife parks. At the Periyar Wildlife Sanctuary near Kumily, the star attraction is the tigers, with a supporting cast of elephants and other protected animals within its rainforest boundaries. British hunters once killed for sport, and into the 1990s local tribes were still poaching to eke out a meager living, but the wildlife parks have changed the relationship between local people and the natural environment. Tribes have been relocated, educated and trained; and now are caretakers of the parks and the prized wildlife — a big draw for ecotourism.
Kerala owes its popular image as a sultry paradise of golden sands, swaying palms and lazy lagoons to an immense inland waterway known as the Backwaters. Flowing into the Arabian Sea, the staggering 1,200-mile maze of interconnected lagoons, lakes and canals is marked by rustic settlements, rice paddies and coconut plantations. For generations, boats have crossed these shallow waters to transport rice, coconuts and cashews to coastal ports. As big-scale agriculture elsewhere overshadowed production, the region reinvented itself as an idyllic tourist destination with the distinctive kettuvallam houseboats as its trademark.
Kerala is the only Indian state to faithfully practice the principles of detoxifying Ayurveda, Sanskrit for "knowledge of life." While not entirely in the same spiritual camp as Hinduism, Ayurveda rejuvenation is a medicinal offshoot that has become a quintessential Keralan experience for travelers in search of holistic health and has done more to popularize the region than any other factor in recent decades. A growing profusion of dedicated resorts, particularly in Kovalam, is taking advantage of the state's equitable climate, natural abundance of herbs and medicinal plants and the cool Juneto- November monsoon season — conditions that make for the best Ayurvedic treatments.
It's been said that India is as vast as it is crowded, as chaotic as it is serene, a place where the past and present collide. In Kerala, perhaps the more appropriate descriptions would include tranquility, natural beauty and a place preserving its history but carefully poised for the future. In the entirety of India, Kerala seems a world apart.
---
INFO TO GO
Cochin International Airport (COK) in central Kerala is the most convenient gateway for visitors. As in the rest of India, travel in Kerala can be challenging. Indian Railways (http://www.indianrailways.gov.in) may seem confusing but is a fairly dependable system, and multi-day passes can be purchased in advance. Self-drive rental cars are available in some areas, but it's advisable to hire a car and local driver. Visit http://www.keralatourism.org.
---
LODGING
BRUNTON BOATYARD HOTEL
A former shipyard is now a tranquil bayside retreat, faithfully renovated to the 17th-century Portuguese and Dutch architecture defining Fort Cochin.$$$
BRUNTON BOATYARD HOTEL
Willingdon Island, Cochin
tel 91 484 301 1711
http://www.cghearth.com
RAMADA LAKE RESORT & SPA
A 5-star resort with an expansive spa, set on eight acres of secluded waterfront. $$$$
RAMADA LAKE RESORT & SPA
Kumbalam South, Cochin
tel 91 484 322 2100
http://www.rlrs.in
TAJ GARDEN RETREAT
An idyllic century-old bungalow anchors new villas, rooms and cottages along the languid, palm-fringed canals of the Backwaters. $$$$
TAJ GARDEN RETREAT
1/404 Kumarakom, Kottayam
tel 91 481 252 4377
http://www.tajhotels.com
---
DINING
CAZA MARIA
In the heart of Fort Cochin, this colonial-chic bistro serves a fusion of Keralan and provincial cuisine, including fish molee with lime rice. $$
CAZA MARIA
6/125 Jew Town Road, Mattancherry
tel 91 484 222 5678
CHAKARA ROOFTOP SEAFOOD RESTAURANT
Chakara means "bumper catch of fish," and this is easily the classiest restaurant in Alleppey, serving fish caught daily in the Arabian Sea. $$$
CHAKARA ROOFTOP SEAFOOD RESTAURANT
Raheem Residency, Beach Road, Alleppey
tel 91 477 223 0767
http://www.raheemresidency.com
THE TEA ROOM
Enjoy Indian, Chinese, Tandoori, Continental and authentic regional dishes while looking out over elegant tea estates of the Western Ghats. $$$
THE TEA ROOM
Club Mahindra Lakeview Resort, Chinnakanal Village, Suryanelli, Munnar
tel 91 486 824 9224
http://www.clubmahindra.com .
---
DIVERSIONS
The dramatic city of Kochi (http://www.cochin.org) — Kerala's main gateway and first stop for most travelers — is an improbable blend of medieval European villas transplanted on a tropical coast sprouting coconuts as far as the eye can see. Explore the historic colonial-era Fort Cochin, strewn with Indian antique shops, fabric merchants, cafés and a ramshackle assembly of fish markets selling the day's catch. You'll find an abundance of historical buildings here, including St. Francis Church, India's oldest European-built church, and the famed Mattancherry Palace, built by the Portuguese in 1555 and used as a coronation hall for rajas. One of Kochi's most iconic sights is along the water's edge, where the fixed three-story cantilevered Chinese fishing nets — first introduced by traders from the court of Kublai Kahn in the 13th century — operate as they have for centuries.
At nearly 5,000 feet, in the cool air of the Kanan Devan Hills of the Western Ghats, Munnar (http://www.munnar.com) embodies a vanishing way of agrarian life. The town is one of the world's highest tea-growing colonies, and walks throughout its streets and manicured countryside are spectacular. Surrounded by waves of tea fields, the town is festive and exotic with bustling open-air markets and kaleidoscopic fabric bazaars. In the countryside you'll see how tea is timelessly harvested as women workers shoulder 60-pound baskets along the steep hills and trim tea bushes with metal cutter boxes. A short drive east brings you to lovely Mattupetty Lake, where small herds of wild elephants laze along the shore. Just to the north, Eravikulam National Park (http://www.eravikulam.org) is an excellent mountainous setting for short hikes where you can see the rare, protected Nilgiri tahr, a type of Asian mountain goat practically tame to visitors.
Just inside Kerala's eastern border is the renowned Periyar Wildlife Sanctuary (http://www.keralagreenery.org/thekkady.html), India's first of 16 Project Tiger Reserves (http://projecttiger.nic.in). Tour the sanctuary aboard one of the double-decker sightseeing boats plying Periyar's 26-square-mile lake, and chances are you'll spot hyena-like dhols, rotund sanbar deer and some of the 750 resident elephants. With luck you might also glimpse some of the sanctuary's 40 tigers. A more adventurous option is to accompany one of Periyar's licensed tribal trackers for a bush safari on land.
In nearby Kumily you'll find row upon row of spice shops, nearly all of which organize three-hour guided botanical walks through lush, fragrant spice gardens. Day-long bus tours through the valley are also available, or you can simply follow your nose and wander nearby free estates such as Green Land Spice Garden.
From the western town of Kumarakom (http://www.kumarakom.com), visitors can embark on a houseboat tour of the Backwaters, perhaps Kerala's signature activity. The irresistibly charming kettuvallam houseboats — numbering about 250 and offered through many Indian agents — ferry guests on multi-day excursions into a labyrinth of placid waterways. Backwater village houseboat tours offer a fascinating look at daily life in this liquid landscape.
Kovalam (http://www.kovalam.com), near the southern tip of coastal Kerala, is a fishing town known for its attractive beaches on the Arabian Sea. Varkala, a seaside resort and an important Hindu pilgrimage center, is a hit for its scenic high cliffs, mineral springs and spectacular sunsets. There is no shortage of historic temples here — visit the Vizhinjam Cave Temple with its etchings of Shiva and Parvathi or the famous Chowara Ayyappa Temple in the nearby settlement of Chowara. Kovalam's biggest claim to fame is the spa-like Ayurveda treatment and rejuvenation resorts, including the renowned Somatheeram Ayurvedic Health Resort (http://www.somatheeram.com) and Manaltheeram Ayurveda Beach Village (http://www.manaltheeram.com).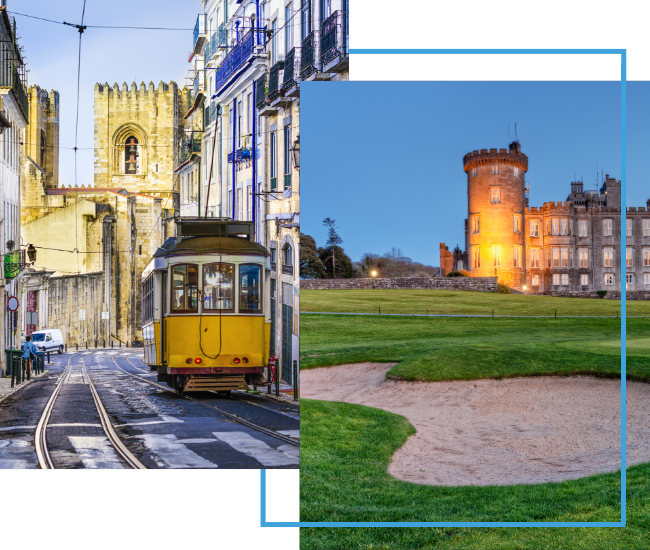 FX Excursions
FX Excursions offers the chance for once-in-a-lifetime experiences in destinations around the world.
Explore Excursions
If fabulous food and beverages are a must-have for any weekend getaway, then look no further than the City of Brotherly Love. Whether your palate has a penchant for vibrant Latin American fare or cozy French cuisine, whether you're an oenophile looking to swirl, sniff and sip your way around the globe or you'd rather sample farm-to-glass cocktails, Philly's got it all this fall. (With the exception of Bolo, which is a short taxi or Uber ride away and definitely worth the trip, the rest of these spots are all within walking distance of each other.)
Sponsored Content
Experience the life-changing destination of Greece by exploring its island gems in the Ionian Sea. Scattered off the western coastline of Central Greece, to the south of Peloponnese, the Ionian Islands are an island group comprising large and small islands.
From Santoríni to Dubai to New York, some hotels just have that "it" factor that draws visitors far and wide. For some hotels it's their proximity to popular landmarks and attractions, for others it's their amenities. But these hotels have something few can claim: a true room with a view.