There is always a certain leap of faith required in turning over one's body to a perfect stranger for a spa treatment. Add a fistful of scalding hot stones in the hands of the masseuse, and that leap becomes a plunge. In the case of the hot stone massage at the Tethra Spa at the five-star Merrion Hotel in Dublin, the leap was worth it.
Because this was not my first encounter with hot stones, I approached the appointment with caution. I knew firsthand that the experience can range from the near religious to the downright scalding, depending on the expertise of the therapist. To my relief, I quickly discovered that, despite the diminutive size of the spa — there are only two treatment rooms and four spa therapists — expertise is not in short supply.
Not surprisingly, the Hot Stone Therapy is one of the most popular signature treatments at Tethra Spa, according to senior therapist Irene Noud, who oversees the treatments and product selection. Unlike some stone treatments that mix hot and cold stones or have clients lie on a bed of hot stones at pressure points, the aim here is to relax rather than shock the system.
"Clients are treated to a traditional massage with water-heated basal lava stones and a choice of aromatherapy oils," Noud said. "With the lava stones the energy comes through the core of the earth like crystal therapy."
"If the client has aches and pains, we use an E'Spa oil called Fitness, with cloves, rosemary, peppermint, eucalyptus, lavender and Indian bay leaf as its main ingredients," she said, touting these properties as being especially beneficial for arthritis and rheumatism. "The treatment gives the same results as a deep massage, but for people who prefer a gentle touch."
If a Tethra Spa client is looking to unwind, therapists here might recommend a calming oil called Restorative, also by E'Spa, which mixes rose geranium, lavender, sweet orange and myrrh. These ingredients are designed to relieve stress and release tension, as well as reinvigorate the skin. For my treatment, I chose the latter, based, I admit, purely on the great scent. While the therapist prepared the stones, I encountered my next happy surprise: The massage table was heated.
"In Ireland we tend to get our share of cold weather, so we use a heated blanket on the table sealed in plastic" Noud said.
The advantage of the heated, moisture-proof blanket over a table with a built-in heating system is that the blanket can be used with treatments that involve oils and water. Plus, the temperature can be controlled according to the client's comfort level.
The best part of my experience, however, was the skill of the therapist, who used a deft touch throughout the 75-minute treatment and who made sure the temperature of the stones was hot — but not too hot. Or at least, that's what happened during the first hour. As the aromatherapy oils performed their magic, I slipped off to sleep — a first for me, and a testament to the comfort level the therapist induced.
"Oh, don't worry," she said, when I started awake at the sound of my name whispered ever so politely at the treatment's conclusion. "It happens all the time."
It must have been the myrrh.
Other signature treatments at Tethra Spa include the 85-minute Balneotherapy, which comprises a 20-minute candle-lit bath with detoxifying seaweed oil and mineral sea salts, followed by an hourlong detoxifying massage. As if that weren't enough the therapist also treats the eye area with pads soaked in soothing cucumber and cornflower while the client is soaking.
Additional treatments include a Holistic Back, Face and Scalp treatment with deep cleansing and exfoliation; an E'Spa Holistic Total Body Care treatment with skin brushing and a deep massage with essential oils, and even a Pre-Natal Treatment for expectant women, which allows the client to be massaged with Calendula-infused oil and soothing muds, while in a comfortable, semi-seated position. A favorite among jet-lagged guests, the 30-minute Ayurvedic Indian Head Massage involves a hot oil scalp massage that releases stress on the scalp and at sinus pressure points. The treatment can be combined with a full-body massage or algae wrap for a more total experience.
Perhaps because the Tethra Spa presents itself primarily as a spa rather than a beauty salon, a third to a half of clients are men. Still, the spa does offer a full complement of salon treatments, including manicures and pedicures. Bowing to the hot trend in youth spas, Tethra Spa staff also will perform treatments on children as young as 10, as long as a parent remains in the room. While the spa holds treatment times for hotel guests, local gym members are also eligible to use the spa, so hotel guests are strongly encouraged to book their treatment at the time of reservation.
Treatments range in price from about $63 for a half-hour Salt and Scrub treatment to about $169 for the Hot Stone Therapy. Combination packages, including full-day blowouts, also are available for up to $470.
One of the first spas to be built in Dublin, the nine-year-old Tethra Spa features an eye-popping, grotto-like swimming pool flanked with columns and murals, as well as plenty of natural light. Hotel guests also can get in a full workout in the gym, outfitted with cardio equipment, free weights and the services of a personal trainer. The 123-room Merrion Hotel is composed of four restored 18th century townhouses wrapped around interior gardens filled with original sculpture, and is a quirky mix of Old World style and off-beat modern charm. For more information, call 800 223 6800 or visit www.merrionhotel.com.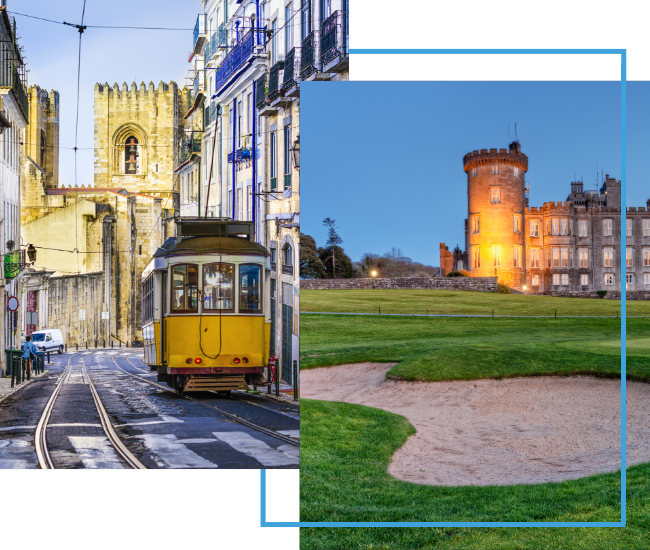 FX Excursions
FX Excursions offers the chance for once-in-a-lifetime experiences in destinations around the world.
Explore Excursions
Corsica with steep, gray cliffs overlooking the Mediterranean and sandy beaches attracting summer visitors, is a French-governed island sometimes confused with Sardinia and Sicily, Italian islands to the south. Fortunately, all three islands share the same love for good wine, food and sun-splashed beaches.
Sponsored Content
Learning more about our readers' travel habits and preferences ensures Global Traveler delivers the content you desire. As the travel industry has adapted and changed over the last few years, it's more important than ever to connect. To best meet your short- and long-term travel content needs, please help us!
If you're ready to do a little holiday catch-up with your besties, make a beeline for Conrad New York Downtown. The lobby metamorphosed into a holiday forest of heavenly scented, decorated Virginia Spruce trees. Make your first stop ATRIO Barista Station in the lobby for a complimentary hot spiced apple cider (until Dec. 3) or hot chocolate (Dec. 22­–24).