Arrival/Check-In: I enjoyed this property for many years, first as a Park Hyatt and now as the InterContinental. The location is close to everything, but the oasis within the property makes it a special place.
I was traveling with a business colleague from Los Angeles, and we arrived early in the morning for meetings. Between appointments we decided to check in and have a quick bite at the hotel's restaurant. We pulled up to the front of the hotel, where a few words and a nice tip kept my car parked outside and ready for our swift exit for afternoon meetings. (When I returned to the hotel at the end of the day, the top-notch parking team remembered me by name for the evening.) The curse of the bellman, the roll-aboard luggage, meant I needed no assistance. I quickly obtained my keys and went to my room to drop off my bag and check a few emails before lunch. In the restaurant we were pleased to chat with the hotel's director of sales and marketing about updates to the property.
Guest Quarters: My room was smartly appointed and comfortable in a classic contemporary fashion, with a hallway leading to a large living room. Several windows flanked the outside wall overlooking parts of Century City. A comfortable sofa and a coffee table faced a large, flat-screen TV on the wall. On the far end sat a desk facing a window plus a large, round dining table that could seat five. The desk featured a glass top — very neat and Mad Men-esque — with a comfortable work chair. As Global Traveler staff can attest, I like to stretch out and put my feet on the desk while composing emails and working on my laptop; I was able to take this position at the desk in the InterContinental Los Angeles Century City (of course, I used a USA Today to keep my shoes from marring the surface). Double doors led to the bedroom, which contained a king-sized bed flanked with two night tables. On the opposite wall hung a large-screen TV I immediately used to follow the news while I settled into my routine. Another door opened off the bedroom to a large bathroom with granite tops and a double sink. In traditional 5-star fashion, the hotel provides a lot of personal items (like a toothbrush) in case a guest forgets something. The bathroom supplied Agraria San Francisco hair and bath products; the lemon verbena provided a fresh scent that did not linger with me through the day.
Services/Amenities: I met my colleagues for lunch at Park Grill, which serves unique global fusion cuisine with a California look and feel under the direction of Executive Chef Jonathan Wood. I started with a ginger carrot soup that was out of this world and enjoyed an incredibly fresh Caesar salad with grilled shrimp. At the bar, make sure you order a signature cocktail made from the InterContinental's own blend of Angel's Envy bourbon — once again adding to the uniquely American touch. The restaurant also features a private dining room we utilized for a small luncheon.
The fitness center is fully equipped with state-of-the-art cardiovascular and weight equipment and steam rooms. The hotel also boasts an outside heated pool and Jacuzzi, which offer refreshing exercise at the end of the day. The spa, a favorite spot of local Angelenos, delivers various relaxing treatments.
The Experience: InterContinental Hotels Group is proud of this hotel and continues to operate the property as a wonderful business destination in Los Angeles. Global Traveler readers are fond of this brand, and its loyalty program, IHG Rewards Club, has been voted the best loyalty program for 11 consecutive years. I'm sure they would enjoy the property as much as we did.
GT CHECKLIST
[checklist]
[item check=yes]Doorman/valet[/item]
[item check=yes]Less than 10 minutes for check-in[/item]
[item check=yes]Separate tub and shower[/item]
[item check=yes]Large vanity[/item]
[item check=yes]High-quality towels[/item]
[item check=yes]Powerful, unattached hair dryer[/item]
[item check=yes]High-quality bed linens[/item]
[item check=yes]Large, flat-screen television[/item]
[item check=yes]Large desk with convenient outlets[/item]
[item check=yes]Large, complimentary laptop safe[/item]
[item check=yes]Complimentary in-room WiFi[/item]
[item check=yes]Complimentary bottled water[/item]
[item check=yes]Stocked minibar[/item]
[item check=yes]Ample lighting[/item]
[item check=yes]In-room coffeemaker[/item]
[item check=yes]Iron and ironing board[/item]
[item check=yes]On-site restaurant[/item]
[item check=yes]24-hour room service[/item]
[item check=yes]24-hour state-of-the-art fitness center[/item]
[item check=yes]Turn-down service[/item]
[/checklist]
InterContinental Los Angeles Century City
2151 Ave. of the Stars
Los Angeles, CA 90067
tel 310 284 6500
ihg.com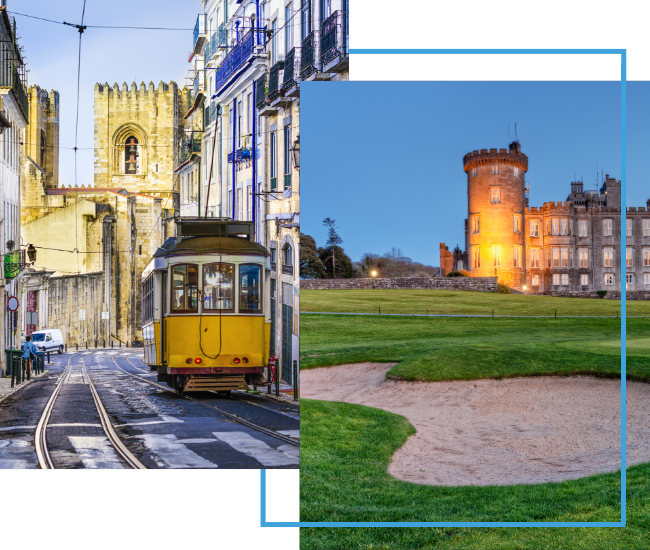 FX Excursions
FX Excursions offers the chance for once-in-a-lifetime experiences in destinations around the world.
Explore Excursions
Corsica with steep, gray cliffs overlooking the Mediterranean and sandy beaches attracting summer visitors, is a French-governed island sometimes confused with Sardinia and Sicily, Italian islands to the south. Fortunately, all three islands share the same love for good wine, food and sun-splashed beaches.
Sponsored Content
Are you looking to enhance your business trip with a little leisure? Look no further than Portugal, a country renowned for its captivating blend of history, culture and natural beauty. And with TAP Air Portugal, you can effortlessly transform your business trip into an unforgettable bleisure adventure. Discover why Portugal and TAP Air Portugal are the perfect combination for an enriching and rejuvenating experience.
If you're ready to do a little holiday catch-up with your besties, make a beeline for Conrad New York Downtown. The lobby metamorphosed into a holiday forest of heavenly scented, decorated Virginia Spruce trees. Make your first stop ATRIO Barista Station in the lobby for a complimentary hot spiced apple cider (until Dec. 3) or hot chocolate (Dec. 22­–24).