For more than 800 years, the city of Hanoi was where Vietnam's best and brightest went to make their marks in the world. Those who passed the fiendishly difficult mandarins (public administrator exams) saw their names immortalized in stone tablets at the city's Temple of Literature. They then spent the rest of their lives serving the empire – whether that empire was Vietnamese, Chinese or French. Today, Vietnam's capital is still a place where highly educated men and women — and an increasing number of foreign investors — go in search of success. Ho Chi Minh City may be the best place in Vietnam to make money, but Hanoi continues to produce the business leaders with the knowledge and political connections needed to invest it.
Hanoi is centered around Hoan Kiem Lake on the shores of the Red River. According to legend, the 15th century Emperor Le Loi was crossing the lake when a golden tortoise appeared, requesting the sword the emperor had used to drive the Chinese out of Vietnam. Le Loi agreed, giving Hoan Kiem its name, "Restored Sword Lake." Since then, Hanoi's leaders have continued to alternate between using their power to keep out foreign influences and laying down their swords. After driving out their French and Japanese occupiers, battling the United States in a protracted war, and repelling invasions by the Chinese and the Khmer Rouge, Hanoi's communist government banned all foreign investment from the country in the late 1970s, calling it a form of neocolonialism. In 1986, however, with the nation on the verge of economic collapse, Hanoi instituted a series of economic and political reforms called Doi Moi.
The new laws encouraged private enterprise, dissolved agricultural cooperatives and opened the doors to foreign investment. As a result, inflation plummeted from 400 percent in 1986 to 4 percent in 1997. The poverty rate dropped from more than 70 percent in the mid-1980s to 32 percent in 2001. A former food importer, Vietnam became the world's third-largest exporter of rice and second-largest exporter of coffee. And the number of Vietnamese firms engaged in international trade changed from 50 in 1986 to 16,000 by 2001. In 2004 alone, Vietnam licensed 630 foreign direct-investment projects worth more than $ 1.98 billion.
All of that foreign capital has left its mark on Hanoi, from the sparkling new Noi Bai International Airport (HAN) to the $ 1.4 billion in infrastructure projects earmarked for this year, including a $ 170 million urban communications network and a $ 61 million high-tech zone. And yet, the influx of money, new ideas and people — 33,000 arrived in the last year, swelling the city's population to 3,029,000 — hasn't changed Hanoi in the way Ho Chi Minh City and other parts of Vietnam have been transformed. Hanoi's tree-lined boulevards and narrow market streets retain the feel of a 19th century colonial capital, while its tiled pagodas and one-story storefronts (it was forbidden for common people to observe the passing emperor from a higher level) recall the days when the city was the seat of imperial power.
By Vietnamese standards, Hanoi is quiet and reserved. By American standards, traffic in Hanoi resembles New York at rush hour, all the time. It's often difficult to hear yourself talk, or even think. Bike horns blare and loudspeakers crackle with statements on the importance of family planning. Even crossing the street can be a challenge. As elsewhere in Vietnam, traffic never stops, and streetlights seem to be merely decorative. Pedestrians must walk slowly across the street without pause, allowing the flow of bicycles, motorbikes and the occasional lumbering bus to ripple around them.
Hanoi has the kindest climate of any city in Vietnam, especially in the winter: January, which averages 60°F and 0.7 inches of rain, is quite pleasant. August visitors may think they're prepared for the 91°F heat, but the combination of pollution and humidity can leave them feeling as if they're suffering an unearned hangover — and that's assuming they're not drenched by the monsoon rains.
But the rain is the perfect excuse to escape into one of Hanoi's restaurants. You can find pho, or rice noodle soup, anywhere in Vietnam, but only in Hanoi will you find cha ca, a kind of fish cake with noodles and leafy greens. Take a ride by cyclo, or bicycle taxi, through the alleys of the Old Quarter's market district, where every street is named for the goods once sold there. Bargain for silk robes, marble chessboards or lacquered bamboo puppets and find yourself in conversation with a shopkeeper who moonlights as an English teacher or history professor. Find yourself a local partner — you'll need one if you're planning to do business in Vietnam — and have him guide you to one of those little rooftop nightspots that aren't in any guidebook. Look out over the lake, at the new neon hotel signs reflected in the water, and then look up at the sky and wonder if, being so close to the equator, the stars aren't a little closer here. And if things seem more possible here, at that moment, than they did back home, you'll understand why so many Western business leaders are coming to visit Hanoi — and why so many of them stay.
---
LODGING
SOFITEL METROPOLE HANOI
Many of the new hotels rising around Hoan Kiem Lake are doing their best to mimic the 19th century French colonial style. The Sofitel Metropole Hanoi actually is one of the best remaining examples of colonial architecture in Hanoi. Its 232 rooms each include air conditioning, soundproof windows and data ports; the hotel also features seven meeting rooms (including the 165-person Thang Long Hall), three bars, two restaurants, a swimming pool and the Clark Hatch Fitness Center. $$$-$$$$
SOFITEL METROPOLE HANOI
15 Ngo Quyen St.
tel 84 04 826 6919, fax 84 04 826 6920
www.sofitel.com
HOTEL DAEWOO
If "luxury" and "pampered elegance" aren't words you normally associate with the capital of a communist country, you might want to check out the Hotel Daewoo. Even the relatively modest deluxe rooms feature marble bathrooms, high-speed Internet connections and same-day valet service. The 17th-floor presidential suite includes two bedrooms, a living room large enough to entertain 15 people, a dining room with chandelier and Oriental area rugs. Dedicated secretarial services and meeting space for up to 600 is available. The state-of-the-art fitness center includes a driving range, home theater and shiatsu massage. $$-$$$
HOTEL DAEWOO
360 Kim Ma St.
Hanoi, Vietnam
tel 84 04 831 5000, fax 84 04 831 5010
www.hanoi-daewoohotel.com
HOTEL NIKKO HANOI
Clean, comfortable and modern, the Hotel Nikko Hanoi, near Lenin Park, caters both to business travelers and to those with an appetite for Japanese food (its Restaurant Benkay wins raves for authenticity). All rooms include unlimited high-speed Internet access. Executivefloor rooms include DSL data ports, an in-room fitness machine, Japanese tea sets and Yucatan, or cotton kimonos. The business center provides copying, word processing and translation. The Fuji banquet and meeting rooms provide space for 140. $$-$$$
HOTEL NIKKO HANOI
84 Tran Nhan Tong St.
Hanoi, Vietnam
tel 84 04 822 3535, fax 84 04 822 3555
www.hotelnikkohanoi.com.vn
MELIA HANOI
There are plenty of places to meet in Hanoi, but the best place to hold a meeting is probably the Melia Hanoi. In addition to its 1,200-person Grand Ballroom, the Melia offers five other meeting rooms and a full-service business center with Internet and secretarial services. This all-business attitude applies to the rooms, too — each is equipped with satellite television and PowerPoint connections for laptops. The executive floor offers private breakfasts and a pillow menu. $
MELIA HANOI
44 Bly Thuong Kiet St.
Hanoi, Vietnam
tel 84 04 934 3343, fax 84 04 934 3344
www.solmelia.com
HOTEL HOLIDAYS HANOI
Located near the Temple of Literature and the Ga Hang Co rail station, Hotel Holidays Hanoi provides clean, comfortable, air-conditioned rooms and friendly service (though the hotel staff seems unaccountably fond of Kenny G). The Melody Bar is a cross between a European wine cellar and the set of the 1980s TV show "Solid Gold." A souvenir shop and conference room are also on site. Standard rooms start at $30. $
HOTEL HOLIDAYS HANOI
27 Quoc Tu Giam St.
Hanoi, Vietnam
tel 84 04 747 4106, fax 84 04 747 4338
www.holidays-hn.com.vn
---
DINING
As a truly international city, Hanoi offers a wide variety of Chinese, Japanese, Thai, Indian and some Western cuisines. That said, you'd be foolish to pass up an opportunity to sample the city's legendary French and Northern Vietnamese restaurants. The very best find ways to combine these two influences in some truly delicious meals.
LA BRIQUE
Most residents of Hanoi take great pride in having rebuilt the city's landmarks again and again following the ravages of war. So it's something of a surprise that La Brique would choose "crumbling warehouse" for its decorative motif. However, the airy, open environment seems perfect for enjoying the restaurant's French/Vietnamese delicacies, particularly cha ca served on a sizzling cast-iron skillet. $
LA BRIQUE
6 Pho Nha Tho St.
Hanoi, Vietnam
tel 84 04 928 5638
HOA SUA RESTAURANT
Who knew that helping people could be so hip? One of Hanoi's best-known places to eat and be seen, Hoa Sua is also a school where more than 200 orphans and disabled children have learned French, English and gourmet cooking skills. Lunch for two, with wine, costs about $10. For dinner, try an assortment of chicken soup with ground corn, pork and shredded chicken; banana flower salad; bone-pulled roast chicken; barbecued beef wrapped in la lot (a native plant of the black pepper family); quick-fried mixed vegetables with Dong Co mushrooms; and steamed rice. The whole feast feeds four and costs about $25. If you have any room left, try La Boulangerie next door for a selection of brioches, baguettes and pain au resin. You'll be glad you did. $
HOA SUA RESTAURANT
6C Phan Chu Trinh
Hanoi, Vietnam
tel 84 04 824 0448
www.hoasuaschool.com/restaurant_eng.htm
LEGENDS
Vietnamese food is fresh, healthy and delicious. Vietnamese beer… is not. Thank goodness for Legends, a German brewery in the heart of Hanoi. Brewmaster Werner Jung's Dunkel (at $1.50 each) is especially tasty; live music and big-screen soccer are also available. $
LEGENDS
No. 4 Vu Ngoc Phan
Hanoi, Vietnam
tel 84 04 776 1558, fax 84 04 776 1642
---
SIGHTSEEING
Today's Hanoi may be more capitalist than he would have liked, but Ho Chi Minh is still very much a hero in the eyes of his countrymen — a fact that's hard to miss when you join the respectful crowds passing through his Mausoleum (corner of Hung Vuong and Le Hong Phong streets, tel 84 04 845 5128). The Ho Chi Minh Museum (3 Ngoc Ha St.) next door is quite possibly the strangest place in Vietnam, if not the world. It's hard to say what a giant, upturned basket of fruit or a monochromatic 1958 Ford Edsel bursting through the wall have to do with the leader of the Vietminh, but crowds seem to love it.
Those with an interest in the American War will want to visit the Army Museum (28A Dien Bien Phu St., tel 84 04 823 4264) notable for its display of a Soviet MiG and colorful interpretations of history. The former Hoa Lo Prison (known to Americans as the "Hanoi Hilton") at Maison Centrale (1 Hoa Lo, tel 84 04 824 6358) is also worth a look; you'll see the guillotines used by the French and the cell where Arizona Sen. John McCain was imprisoned during the war.
Built in 1070, Van Mieu, or the Temple of Literature (Quoc Tu Giam Street, tel 84 04 845 2917) is a rare example of well-preserved Vietnamese architecture and a tribute to Hanoi's history as a center of scholarship. No visit to Hanoi would be complete without visits to the legendary Hoan Kiem Lake and West Lake, whose Tran Quoc Pagoda (Pho Than Nien) is one of the oldest in Vietnam.
Love it or hate it, the Thang Long Water Puppet Theatre (57 Dinh Tien Hoang St., tel 84 04 824 5450) has become a Hanoi icon, depicting scenes from Vietnamese folklore acted out by lacquered puppets in a pool. For a pick-me-up after the show, try a cup of weasel coffee at any Café Trung Ngyuen (locations throughout Hanoi, tel 84 04 934 6555, www.trungnguyen.com.vn), Vietnam's answer to Starbucks. Originally made by feeding coffee beans to a weasel, "weasel coffee" now uses chemical processes that duplicate the animal's stomach acids. It tastes great with a dollop of sweetened condensed milk.
---
INFO TO GO
Noi Bai International Airport (HAN) is located 28 miles north of Hanoi. China Airlines, Cathay Pacific, EVA, Korean Air, and national carrier Vietnam Airlines offer connecting flights from Hong Kong, Seoul and Taipei. There is a departure fee of $12-$14. Both minibuses ($4) and taxis (about $20) depart regularly from Noi Bai for the one-hour drive to Hanoi. Be sure your taxi driver is wearing a name badge. Otherwise you risk being stopped by the police for riding in an unregistered taxi. Ga Hang Co is the largest train station in Vietnam and provides service throughout the country, as well as twice-weekly connections to Beijing.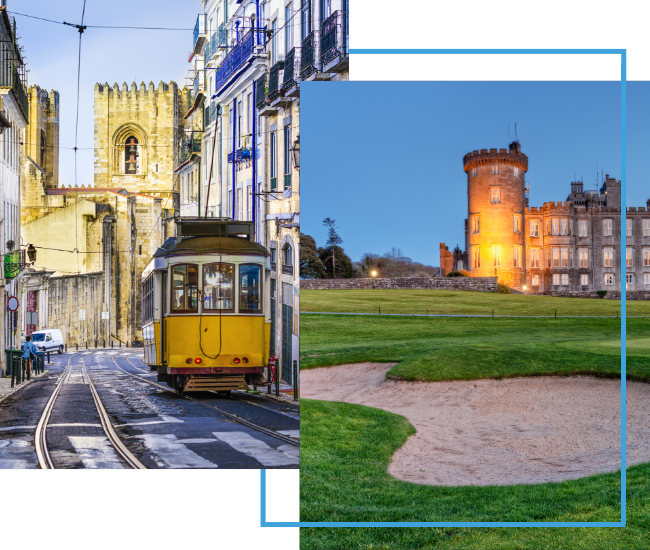 FX Excursions
FX Excursions offers the chance for once-in-a-lifetime experiences in destinations around the world.
Explore Excursions
Less than five years ago the world's first hybrid cruise ship, Hurtigruten Expeditions' MS Roald Amundsen, set sail for Antarctica in November 2019 with 450 passengers. The battery-hybrid-powered ship, named for the first man to cross the continent and reach the South Pole, was built specifically for voyages in polar waters. Its battery-hybrid power reduces the ship's consumption and CO2 emissions by 20 percent compared to equally sized ships.
Sponsored Content
The Global Business Travel Association (GBTA) believes business travel is a fundamental force for good and brings the industry together to connect, innovate and set new standards. With members from across the globe, GBTA engages the many voices of business travel to build a collective future, providing a platform for buyers and suppliers to come together, connect with peers, grow their network and shape the future of the industry.
A few months ago, I flew Polaris business class on a United flight from Dulles (IAD) to Paris (CDG). It was only when I got to my hotel in Paris I realized that I didn't have my iPad or its bag or accessories. Since I had been working on it in the restaurant in the Polaris lounge and then went directly to the gate, I knew I either left it propped up on my table when I packed up or in my business-class seat. But what was the best method to alert the airline about my careless mishap and (hopefully) retrieve it? With spotty data and WiFi, searching for information on my phone was frustrating and slow. Here's what I learned from the anxiety-inducing experience (and unexpected ending) about what to do if you leave something behind on your flight: