Arrival/Check-In: The Grosvenor House is located in the area of Dubai called The Marina. It is a beautiful area; and like many places in Dubai, it is still under construction, making the roads unpredictable. My taxi driver managed to zigzag around the construction, and I was immediately taken from a construction site to a world of luxury. A doorman escorted me up a small flight of steps into a grand lobby where a receptionist invited me to a plush sofa to complete my check-in.
Guest Quarters: The name of my Deluxe Suite says it all. The one-bedroom suite had a spacious living/ dining area, a small kitchenette, a large bedroom and a luxurious bathroom. The king-sized bed was delightfully comfortable, making it hard to leave. The two high-tech TVs provided digital TV, movies and radio. The Internet was quick, and I had enough space in the living room to host a small meeting where I could completely close off the bedroom.
Services/Amenities: The staff at the hotel helped me a lot during the stay, especially with some of the curve balls I threw at them. Clients wanted to go to the new steakhouse, but all they knew was that the name had a number in it. I can't imagine how many new restaurants open in a week in Dubai, but the concierge found the correct restaurant and secured a prime table for me.
Within the hotel there are many restaurants from which to choose, including two of the hottest nightlife spots in town. I appreciated the flexibility of the choices, especially the deli-style restaurant in the lounge that let me order and take away food in a short time that rivaled NYC speed.
The Grosvenor House also recently opened a second tower in its complex. I stayed in Tower 1, but the new tower offers a gorgeous new spa open to all guests. Be sure to be specific when making your booking, as I found miscommunication can easily happen here, and that is not the best way to begin a spa experience.
The Experience: My first thought when I walked into the hotel, although I was greeted with a warm smile, was that the hotel felt cold. The lobby is big with very high ceilings, which give it an open space but lacking warmth. However, the staff quickly warmed my thoughts to the hotel, and the service was impeccable. The location of the hotel is great for anyone doing business in Media City or Internet City. It is also minutes away from great nightlife yet far enough away to be quiet and peaceful in the guestrooms.
GT Checklist
Doorman/valet
Arrival-to-room time
Separate tub and shower
Large vanity
High-quality towels
Large, flat-screen television
Large desk with convenient outlets
Complimentary WiFi
Ample lighting
Quality bed linens
Choice of pillows
Powerful, unattached hair dryer
Iron and ironing board
Easy-to-set alarm clock
On-site restaurant and bar
24-hour room service
Coffeemaker in room
Large, complimentary laptop safe
Grosvenor House Dubai
P.O. Box 118500
Dubai, United Arab Emirates
tel 971 4 399 8888
grosvenorhouse-dubai.com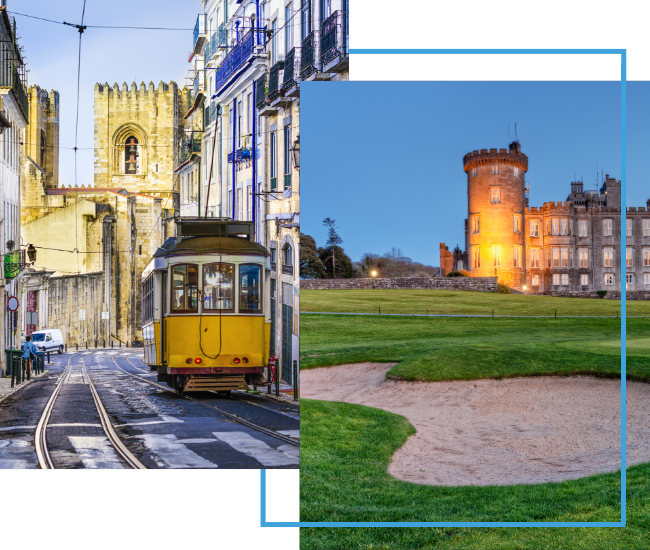 FX Excursions
FX Excursions offers the chance for once-in-a-lifetime experiences in destinations around the world.
Explore Excursions
If fabulous food and beverages are a must-have for any weekend getaway, then look no further than the City of Brotherly Love. Whether your palate has a penchant for vibrant Latin American fare or cozy French cuisine, whether you're an oenophile looking to swirl, sniff and sip your way around the globe or you'd rather sample farm-to-glass cocktails, Philly's got it all this fall. (With the exception of Bolo, which is a short taxi or Uber ride away and definitely worth the trip, the rest of these spots are all within walking distance of each other.)
Sponsored Content
Are you looking to enhance your business trip with a little leisure? Look no further than Portugal, a country renowned for its captivating blend of history, culture and natural beauty. And with TAP Air Portugal, you can effortlessly transform your business trip into an unforgettable bleisure adventure. Discover why Portugal and TAP Air Portugal are the perfect combination for an enriching and rejuvenating experience.
From Santoríni to Dubai to New York, some hotels just have that "it" factor that draws visitors far and wide. For some hotels it's their proximity to popular landmarks and attractions, for others it's their amenities. But these hotels have something few can claim: a true room with a view.